Prices and availability are subject to change from the time and date that you print this page.
6/28/2017 11:45:12 AM
For Customer Service, please call 800.967.6696
Read what people are saying.
Our reviews are verified for authenticity. Learn More.
Gran Brandy Snifter
is rated out of
5
by
16
.
Rated

5

out of

5
by
Bev24
from
Love This Snifter!
This is the perfect snifter for Cognac and other "digestifs". The ample size and shape enhance the aroma and intensity of all after dinner drinks. I can't think of a better finish to an intimate gourmet dinner!
Date published: 2017-05-15
Rated

5

out of

5
by
Tony1961
from
Great quality
I purchased the last two left in the store and wished they had more in stock. These are very fine quality Brandy sniffers at a great price. Wish I could buy more but now gone.
Date published: 2017-03-31
Rated

5

out of

5
by
TL Butler
from
Love them
I keep buying these glasses because every time some one drinks from them, they ask me where they came from and I end up giving them my glasses. The glass is largely sized, it looks and feels great in your hands.
Date published: 2017-02-14
Rated

5

out of

5
by
Bad Habits Lounge Studio
from
STEMWARE EPIPHANY
As an artist, presentation is everything.The truth is powerful in its ability to destroy myths. Yet most people cannot let go of their myths. Cognitive dissonance is sad.I just received some stemware this afternoon that changed my life.A 33 ounce handmade snifter from Slovakia is such a simple object.Yet, this vessel is a foolproof lie detector. Pour what you will into its loving embrace. Single malt scotch, cognac, bourbon, rum, even vodka and the truth will set you free!
Date published: 2016-03-29
Rated

5

out of

5
by
ten2none
from
Love The Size
Was at the store to pick up a decanter that was a in store purchase item only, the nearest Crate & Barrel is 1.5 hours away, really wanted this particular decanter as it was perfect for the bar. While I was at the store I saw these glasses, the first thing that blew me away was the size, I'm a cognac and brandy guy and I have a bunch of brandy/snifter glasses. Have not seen any, anywhere this huge, I had to have it, they are awesome. I bought two glasses spot on. They are recommended that you hand wash them and I can see why, they are on the thin side compared to all my other snifters and I can see myself breaking one easily, I can be quite clumsy, so I went on-line and ordered 2 more as a backup. I will say that because of their size they do take up quite a bit of real estate on the shelf, they need room and I definitely made room for these magnificent glasses, they are a stand out on my bar.
Date published: 2015-08-14
Rated

4

out of

5
by
TZK74
from
Good Quality
These are good quality snifters and are easy to hold, even for a woman with small hands.
Date published: 2015-05-05
Rated

5

out of

5
by
Ria4010
from
Absolutely Beautiful!
I bought four of these snifters for myself and I absolutely love them.I love drinking B&B out of them and introduced my son-in-law to thecordial when he visited. He loves it now so I had to buy him two of theseglasses for himself to drink it out of (one for him and one for me when Ivisit). They are large but beautiful!
Date published: 2015-03-02
Rated

5

out of

5
by
Glass lover
from
Grand glass, perfect for cognac
I bought four of these and have used them for a year. Their best qualities are their hand-blown appearance, large size that concentrates aroma, and comfortable feel in the hand. Their weakness is their fragility -- despite being careful I now have only three because one burst when I tapped it against the side of the sink. Because they are hand-blown they vary in the thickness of the glass and the one that broke was on the thin side. I'd recommend selecting sturdy looking specimens even if the thin ones look extra impressive.
Date published: 2015-01-04
Rated

5

out of

5
by
StubFaceJoe
from
Great for INTIHARING 22 ozers and 750s alike.
I purchased one of these and am stoked I did. Now I can has all the likes! No better way to intihar!
Date published: 2014-11-07
Rated

5

out of

5
by
MrsCJr
from
Fabulous Snifter
This is my very favorite glass in all the world. It is large, and of exceptional quality. It works really well for me since I have arthritis in my hands and the size of the glss requires holding it so the weight is supported by my palm, instead just holding it in my fingers. All other glasses held with fingers alone, get broken from drops- by me!
Date published: 2014-09-03
Rated

5

out of

5
by
cat24
from
Great glasses!
I bought a set of 6 of these glasses for my aunt and uncle and they love them. They are bigger than expected but they like the size. The quality is great. I am very happy with this purchase.
Date published: 2014-05-27
Rated

5

out of

5
by
MrsDillon43
from
Gorgeous and Impressive Style
We received four of these glasses as a shower gift and they are truly stunning. My fiancé opened them up immediately and had a drink out of one. They are large, bold and classic. They are a beautiful addition to our bar and were a great gift. I would definitely recommend adding this to your collection or purchasing as a gift for someone.
Date published: 2014-02-13
Rated

5

out of

5
by
KrisP86
from
Fun Size!
Love the over sized classic style for something different.
Date published: 2014-01-08
Rated

5

out of

5
by
Anonymous
from
Classic style, beautiful quality
Bought two of these brandy glasses on a whim on my last trip to Crate & Barrel. Love their classic shape, plus they are the perfect size! A little larger than I anticipated, but I actually appreciate the difference. They are well made and feel great in-hand.
Date published: 2013-08-29
Rated

5

out of

5
by
AveryLady
from
Perfect!
I bought 2 of these as a gift for my husband, who loves a glass of cognac after work but has never had any of the proper barware. They arrived quickly in wonderful condition but as others say, they are definitely larger than I thought they were. Don't let that put you off, however, as my husband says they are the "perfect" glass and he loves them. Wife for the win!
Date published: 2013-03-04
What Is a Brandy Snifter?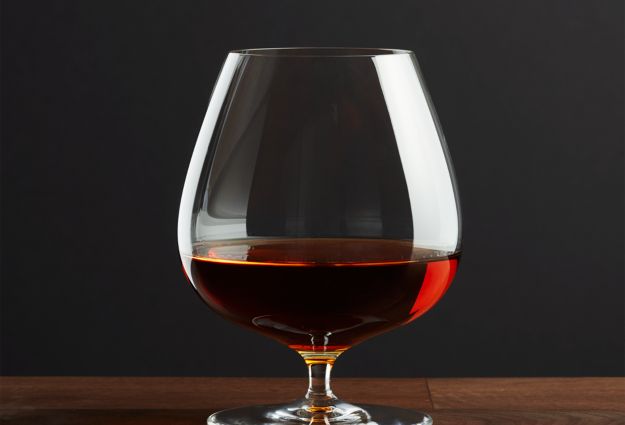 A brandy snifter is a type of drinkware used to serve bourbon, brandy, whiskey, cognac and other aged dark liquors. Traditionally made from fine crystal, these glasses have a short stem, a narrow top, and a wide, bell-shaped bottom.
What you need to know.
We will accept returns and exchanges of non-furniture items if:
Non-furniture items are returned within 90 days of customer receipt.
A valid proof of purchase is provided (see below).
Non-furniture items are returned in good condition—unused and unwashed.
If you discover an item has a manufacturer's defect or was damaged during transit, we will accept the item for return or exchange with proof of purchase. Without proof of purchase, the item can be exchanged only for the same item. A valid photo ID is required.
We are unable to accept any items for return or exchange without proof of purchase. Items purchased as final sale cannot be returned, exchanged or repaired.
Items must be returned to the store brand where the purchase originated or by mail (if the item was ordered online or by phone and received by mail). Purchases made outside the U.S. may only be returned to the purchase location.