Decor
Creative and Chic Jewelry Storage Ideas
We love accessorizing with baubles, bangles and other jewelry. But storing it can be a challenge, as standard jewelry boxes can take up lots of space, tangle pieces together and keep pieces hidden from your view. From kitchen tools to vessels designed for other uses, many home items can also double as methods for storing and displaying jewelry, providing a unique design element while taking up minimal surface real estate. Here are a few of our favorite jewelry storage ideas.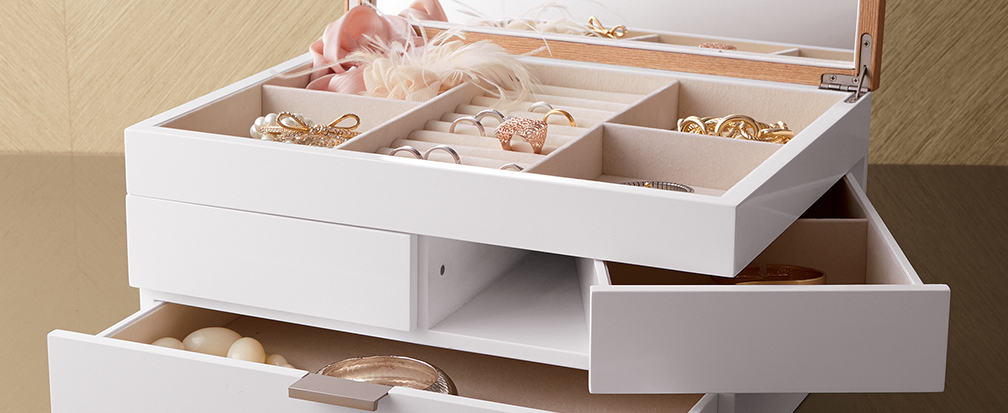 Displaying Jewelry with Kitchen Accessories
Mug trees are good for more than coffee cup storage (and ensuring you can find your favorite mug while still half-asleep). The outstretched limbs are great for hanging bracelets or necklaces, especially those delicate, easily-tangled chains. The staggered placement of a mug tree's arms help jewelry stay separated while ensuring you have a consistent visual inventory of your collection.
Rustic Storage
If your aesthetic is more rustic, emulate the mug tree while staying true to your décor scheme by placing a botanical branch in a vase and hanging bracelets or necklaces from the limbs. Just be sure to select the right branch: In terms of height and size, keep it proportional to the vase, and consider the weight factor — while a smaller or thinner branch looks beautifully delicate, it may not hold up when weighed down with gold and gems.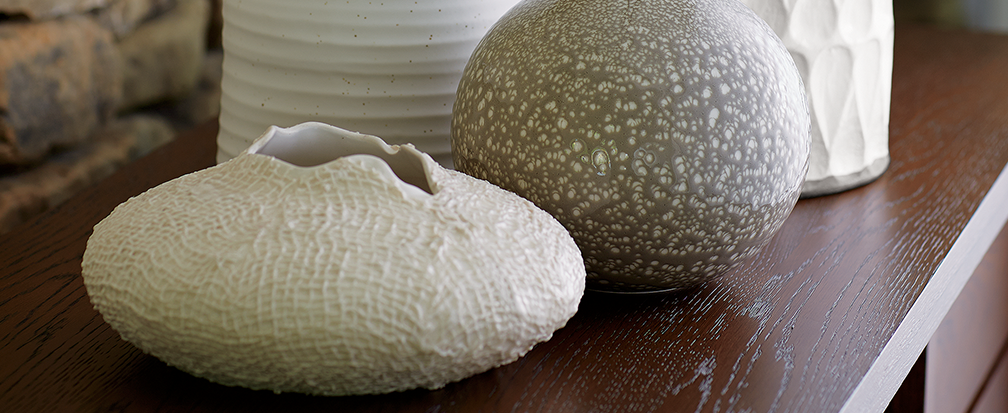 Magnetic Jewelry Holder
A common sight in both home and commercial kitchens, magnetic knife holders save space by keeping knives off counters, ensuring they are easily accessible, and protecting the blade from knicks. Using a magnetic knife holder for jewelry storage works similarly: the wall mount clears up dresser space, the open-air storage makes it easy to grab jewelry on the go, and the length allows you to avoid scratches or tangles by hanging pieces with plenty of space between them. A magnetic knife holder can also work as storage for barrettes, bobby pins and other easily misplaced hair items.
Drawer Dividers and Other Organizers
Drawer dividers keep flatware and utensils in their proper place. But those practical dividers don't have to live in the kitchen alone. Use them in dresser or desk drawers, or just place them on a surface, to hold necklaces, bracelets, earrings or other pieces. If storing more delicate jewelry pieces, line the dividers with felt for added protection.
Ceramic egg crates are also tailor-made for organizing smaller jewelry items. The divided indentations can keep earrings together, or keep rings or brooches separated. Ceramic egg crates tend to have spots for anywhere from six to 12 eggs, but if your jewelry collection demands more storage, simply place several ceramic egg crates next to each other. It's a charming look that provides additional room.
Using Serving Pieces as Storage
If you're someone who only brings out the tea saucers for dinner parties, put them to use as jewelry holders. Place one in the kitchen near the sink to remove rings or bracelets while cooking or washing dishes, or keep one on your nightstand for rings or other items you remove right before bed.
Finally, serving trays can come in handy as well. Use them as a place to set pieces, or even arrange them under a mug tree, divider or other tool to designate that area a jewelry zone.
When it comes to solving the puzzle of how to store jewelry, a little creativity can go a long way in keeping your space organized and your ensembles on point.
What are your favorite jewelry storage ideas? Share them with us by using the hashtag #CrateStyle.
Back to Top