An Under the Sea Nursery
July 9, 2018
The decisions that come along with raising a tiny human are endless. While some can feel daunting, some of them are easy and fun: like designing a nursery!
The most important thing you can do in creating this space is designing a nursery that makes you smile, relax and enjoy. After all, you're going to be spending a lot of time here. Without further ado, here is our go-to-guide for a colorful and fun Under the Sea nursery!
First, the crib. This should be the main investment piece in the room. You may be thinking that this is a temporary item and not worth the expense, but many children sleep in their cribs for three or more years. Additionally, if you're planning to have more children, a sturdy crib can last through several kiddos. Choose a neutral color, as it will be easier to redecorate around when necessary.
Together, the baby bedding and crib will be the showpiece of your nursery. In this case, we will be incorporating an under-the-sea theme! Our Marine Queen baby quilt brings all the fun!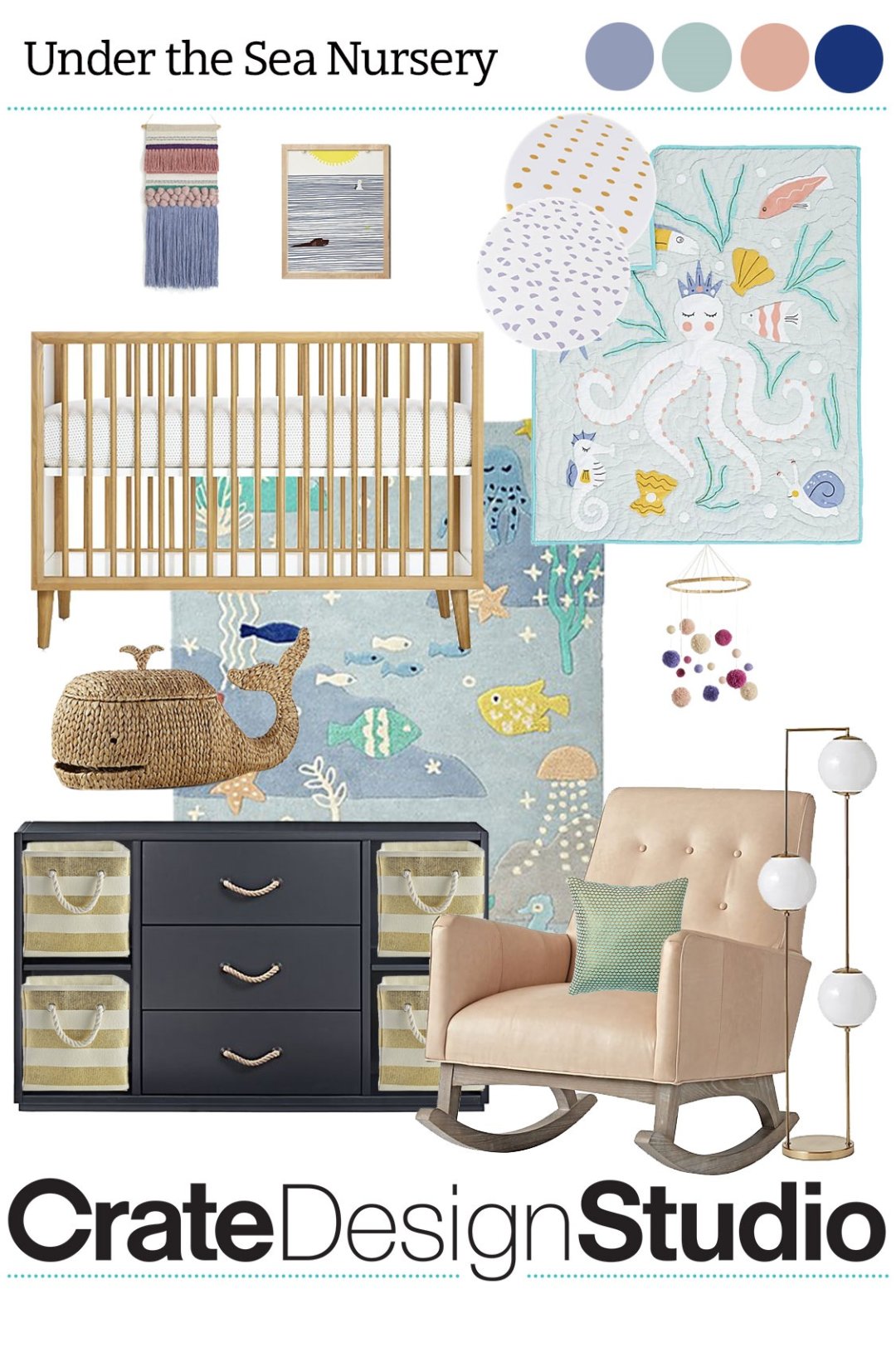 There's no way around it…with babies come dirty diapers. And, really, the only way to make this experience as pleasant as possible is to be sure that you have all the essentials close at hand. This is where your changing table comes in handy! Our Topside Wide Dresser gives you plenty of changing space and offers roomy drawers and open shelves for additional storage. Choose the navy blue finish to bring contrast in the room. The rope handles will tie the theme together!
Next, choose a comfortable place to sit. A good chair may be the most important purchase in your nursery. This is where you'll rock your baby to sleep, feed her, read to her, laugh with her, cuddle with her, and maybe even share a good 4am cry. In short, it'll be a place of a lot of parent-baby bonding; so choose your rocking chair wisely.
Now that you have most of the functional pieces of your nursery, you can really get to work decorating the space. The rug is a great place to start the fun with colors and patterns. Our Under the Sea Rug will add a lot of personality to the space. Combine it with textural pieces in the same color palette such as a mobile or a wall hanging décor.
If you're still intimidated by the process of the actual design, you can reach out to our design team. They will be happy to help!
Need some help getting started?
Our Design Experts are happy to help with design solutions big and small,
from finding the perfect sofa to a room refresh, to the whole home.
Try our Complimentary Design Service today.
We design it. You love it. And it's free.