DIY Pretend Vacuum
July 27, 2017
While your kiddo might not be ready to run the household vacuum, they certainly can practice cleanliness with this DIY pretend vacuum. Using materials you have around the house, this crafty-number will take only a couple of minutes to whip-up and will (hopefully) keep your little one entertained and tidy.
Supplies:
1 cardboard tube (gift wrap tube or a fabric roll is perfect!)
1 small box (we used a cereal box)
Craft paper
Paper bag
Fabric wrapped cord, thick twine or yarn (optional for the "power cord")
1 sheet of paper
Marker
Scissors
Double sided tape
Directions:
1. Cut a small cross into the top of the cereal box, making sure it is wide enough to securely fit the cardboard tube.
2. Once the hole is cut, wrap the box like a present using the craft paper then cut the paper over top the existing hole in the cereal box. Fold the excess craft paper under and tape.
3. Now make a small hole at the back of the vacuum and thread through the cord/twine to create a make believe power cord. Using the large opening in the top, pull the string through and tie a knot at the end so it can't fall out. The cord can just trail onto the ground for authenticity!
5. Once the cord is in – you can pop your tube in the hole on the top and use a little double sided tape to hold it in place.
6. Next, run one length of double sided tape down the center back of the tube and attach your paper bag.
7. Final touch… add your "vroom" label in any color, style you wish!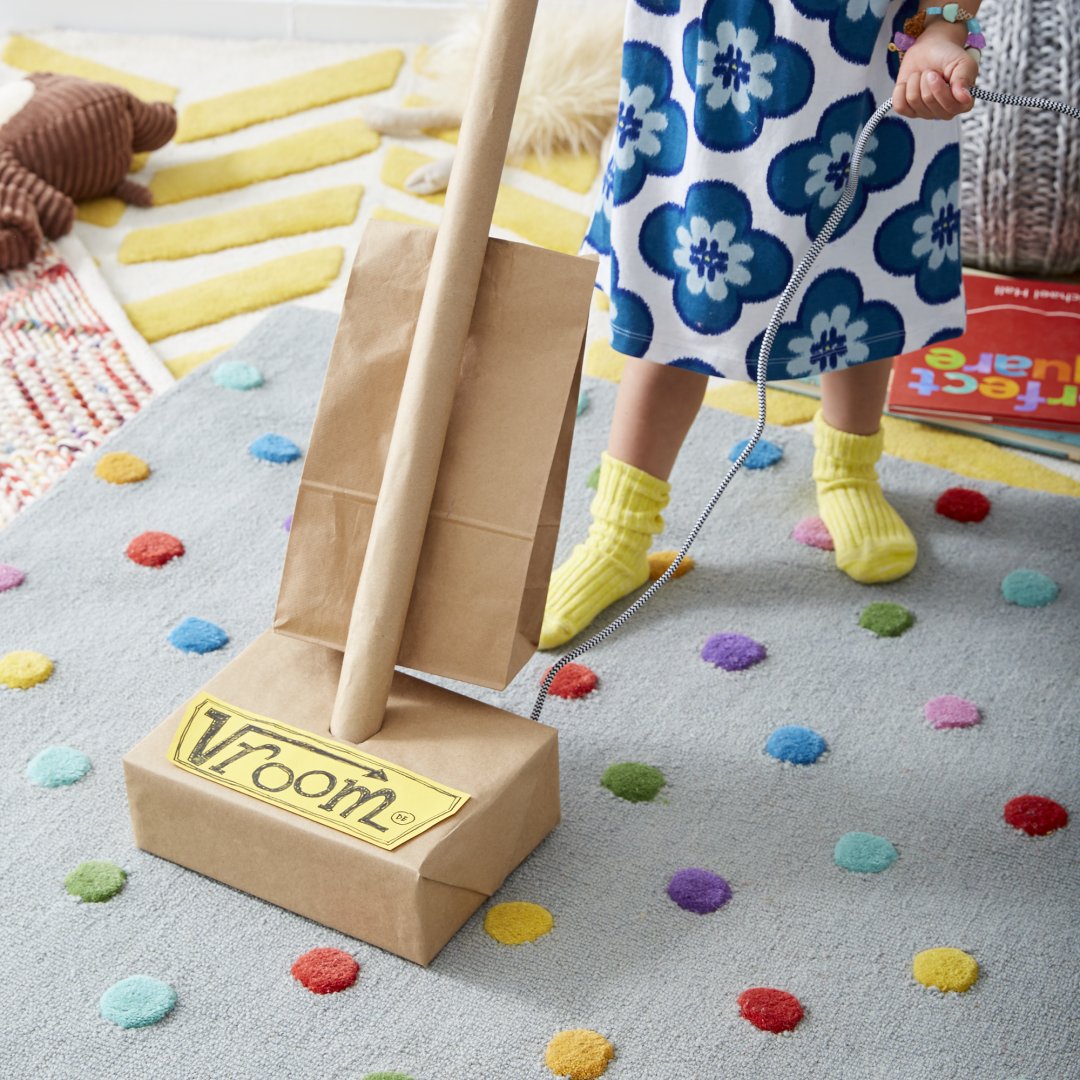 Now get vacuuming!
Emily is a New York interior and prop stylist for The Land of Nod and more! Follow @emilyrickardstylist for inspirational ideas on decor, design and life's little moments.