Whole Grain Beet Waffle Recipe
February 14, 2018
February is the month for all things pink and red, but when it comes to these beet waffles they are perfect for so much more than just Valentine's Day breakfast or brunch. Beets not only have a bunch of health benefits; they also create beautiful, all-natural shades of pink when added to foods and mixes like this one.
This whole grain beet waffle recipe is the perfect main dish whether you are serving up a fancy breakfast, or just having a festive meal with your kids. And, it is a great one to try if you or your family members are apprehensive about eating beets, as their taste is considerably more subtle when mixed into something like this waffle batter. Today, or any day of the year, give these a try. I think you'll find that when it comes to homemade waffle recipes this one can't be beet (see what I did there)!?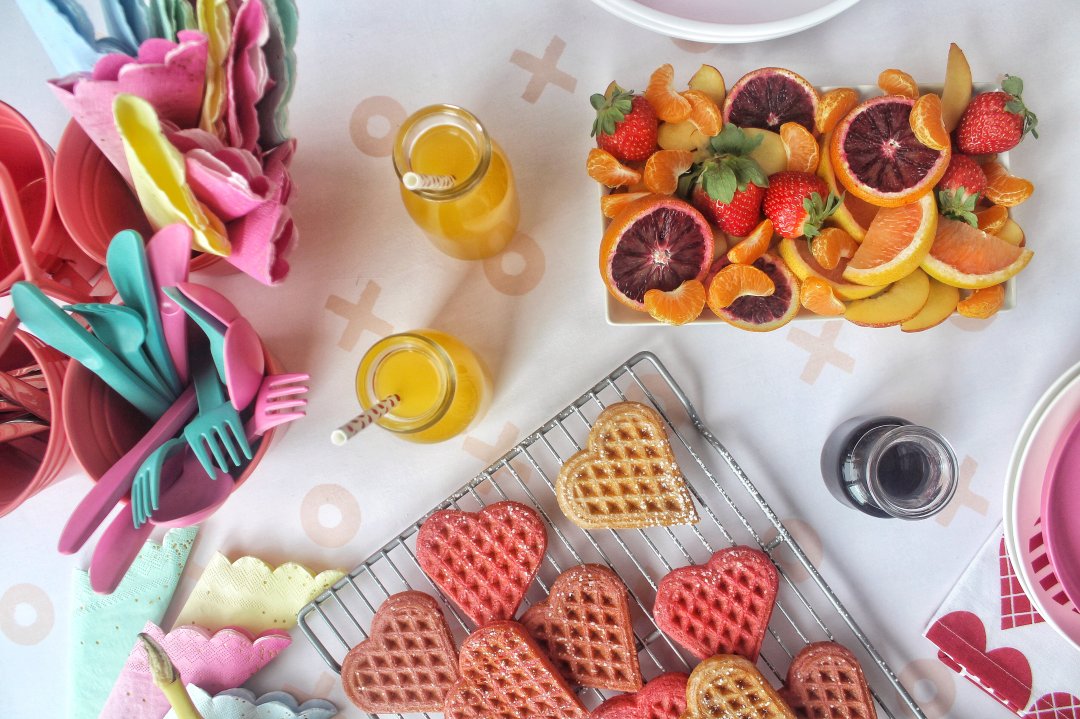 Servings:
Makes 5-6 sets of heart waffles, if using the CucinaPro Heart Shaped Waffle Maker, or approximately 4-5 Belgian waffles if using a standard maker
Ingredients:
3/4 cup whole wheat flour
1/4 cup all-purpose white flour
1/2 cup ground cornmeal
1/2 cup cornstarch
1 tsp baking powder
1/2 tsp baking soda
1/4 tsp salt
6 tbsp butter
2 large eggs
1 and 3/4 cup milk
1/2 tbsp apple cider vinegar
1/4 cup canola oil (or other neutral oil)
2 tbsp plain/ pure maple syrup
1 and 1/2 tbsp pure vanilla extract (more/ less depending on taste)
Peeled red beets, steamed (amount and size of beets dependent on preferred color of waffles)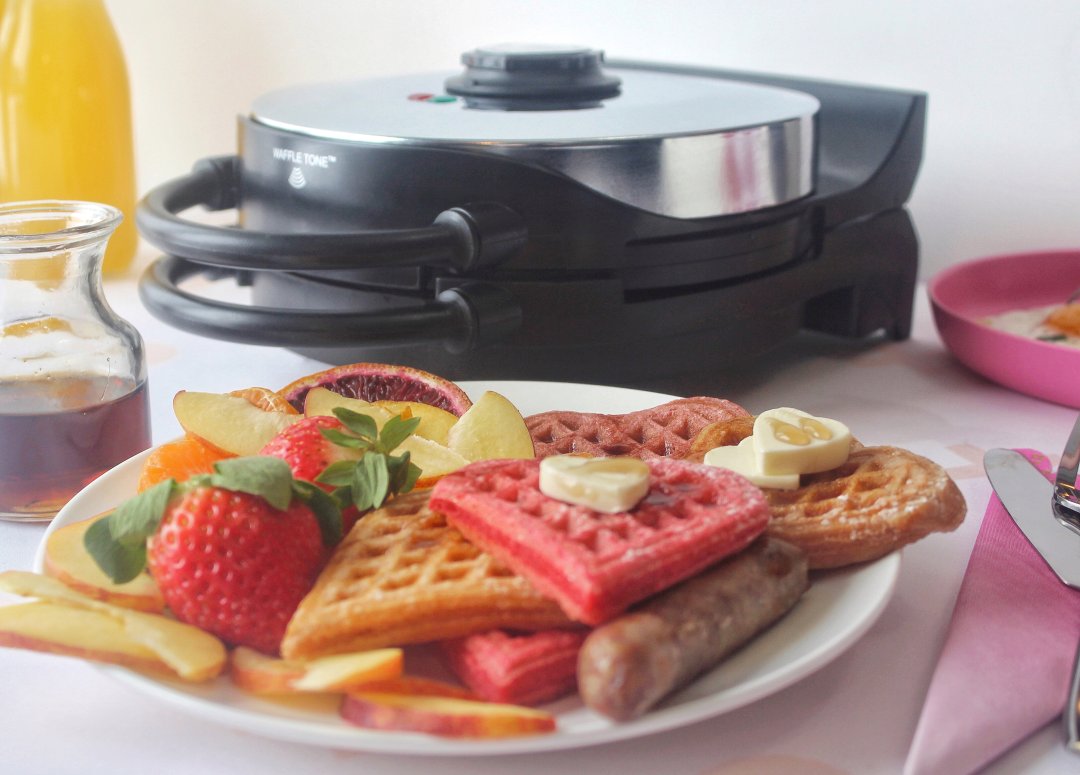 Instructions:
In a large mixing bowl combine your flours, cornmeal, cornstarch, baking powder, baking soda, and salt. Use a whisk to gently combine ingredients.
Next, in a separate, microwave-safe dish, melt butter being sure it does not splatter (you don't want to lose any!) Once melted add your milk, apple cider vinegar and oil, and whisk to combine.
Add the pure maple syrup and vanilla extract and whisk again until all ingredients are well incorporated and smooth.
Take your wet ingredients and add them to your bowl from step 1. Again, mix until all ingredients are well incorporated and smooth. Set batter aside for 20 min at room temperature. *Use this time to cut up/ slice any fresh fruit or prep any other toppings you will be using for your waffles, or sides you may be serving such as sausage or bacon, etc.)
Take steamed beets and pulse in a blender (preferably a high-powered one) until smooth, adding water as necessary to thin out you want the beet mixture to be thick, but also pourable.
Add beet puree to waffle mix. Tip: you may want to divide your batter into separate bowls if you would like some with more or less beet added in. I did this with this recipe to get a variety.
Once the desired color of batter is achieved, cook waffles per your waffle iron's instructions. If using the CucinaPro Heart Shaped Waffle Maker, let waffle hearts slightly cool then cut hearts out individually.
Repeat until all your batter is used up.
Sprinkle with a bit of powdered sugar, if desired, and top with fresh fruit, butter and/ or maple syrup.

Recipe Notes:

Store extra waffles in the freezer in an air-tight container or resealable bag, for quick breakfasts during the week!