How to Decorate a Treehouse for Kids
August 9, 2018
What child hasn't dreamed of having a treehouse to play and grow up in? Built with pieces of her great-great-grandparents home, Lay Baby Lay shows us how to decorate a treehouse for kids.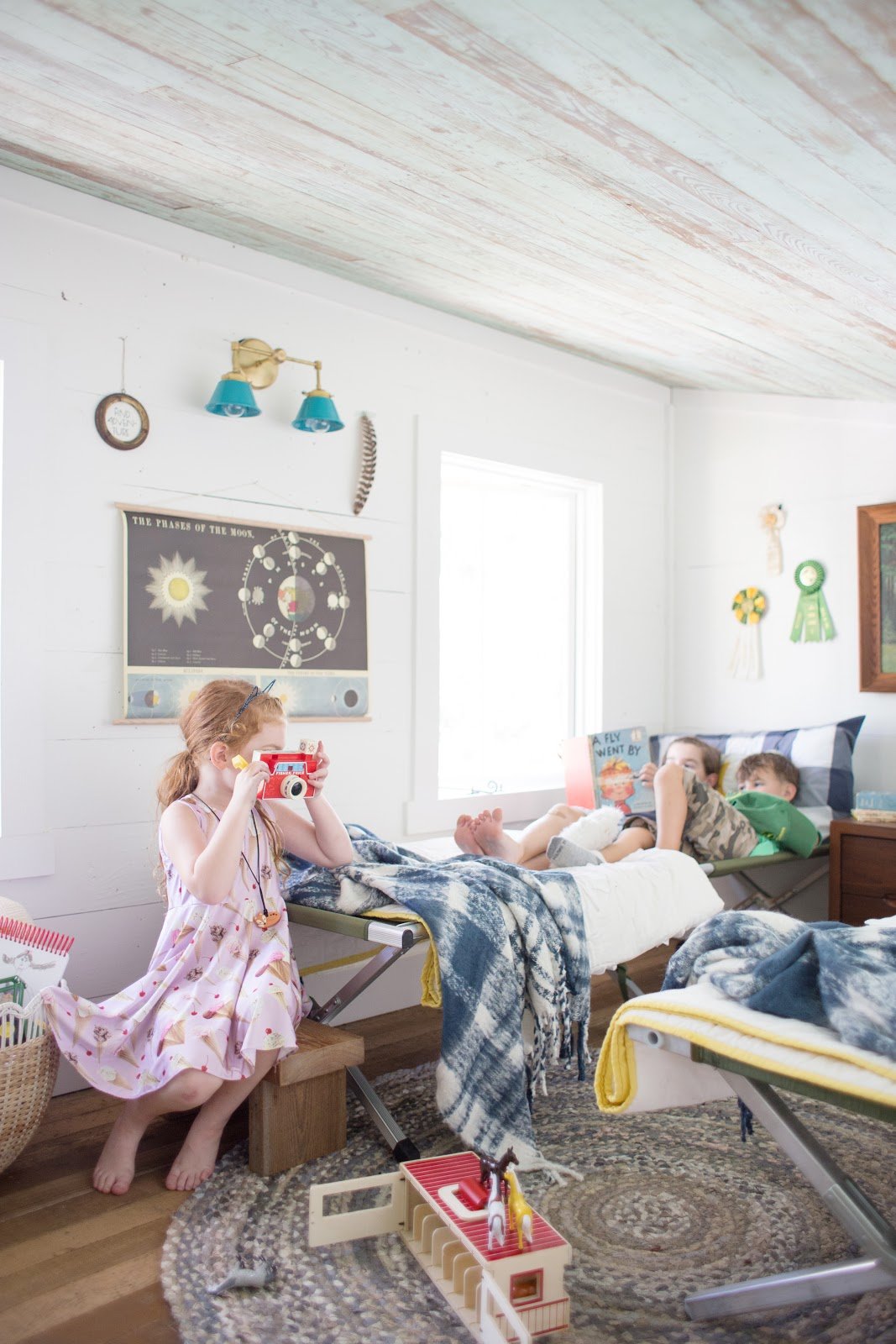 I am so excited to share this imaginative space we pulled together with Crate & Kids!  We recently completed a treehouse as a dreamy retreat for our girls and their cousins when we spend time at our family's farm.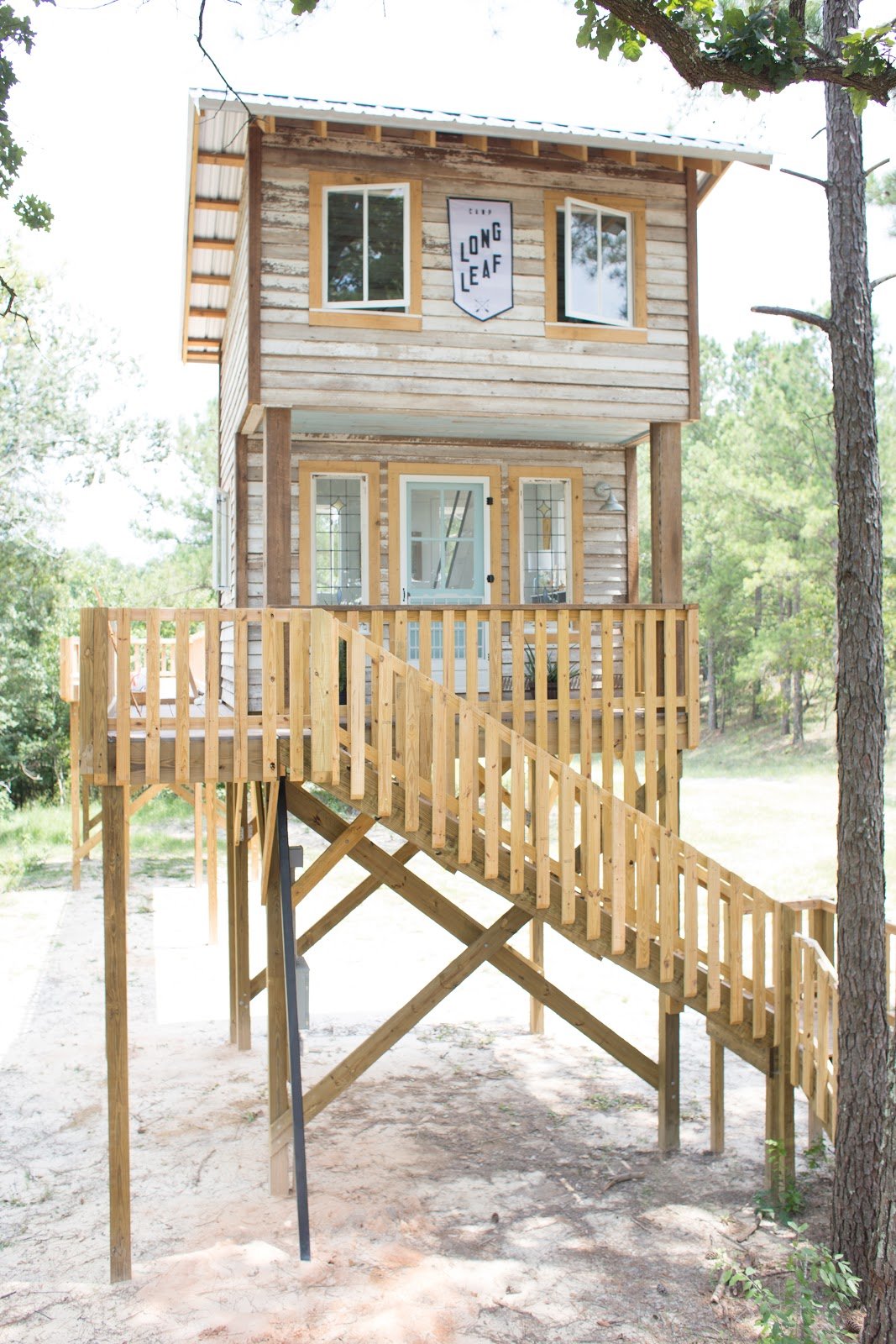 My father really wanted to build a treehouse for the grandkids, so we worked together on a design.  He specified a 12′ x 12′ deck (that is 12′ off the ground!) and wanted me to work within those dimensions. Taking some inspiration from the gorgeous Camp Wandawega treehouse, we created a two-story treehouse with a second story loft that hangs over the deck to maximize space.  It sort of has the look of an old storefront from a Western town.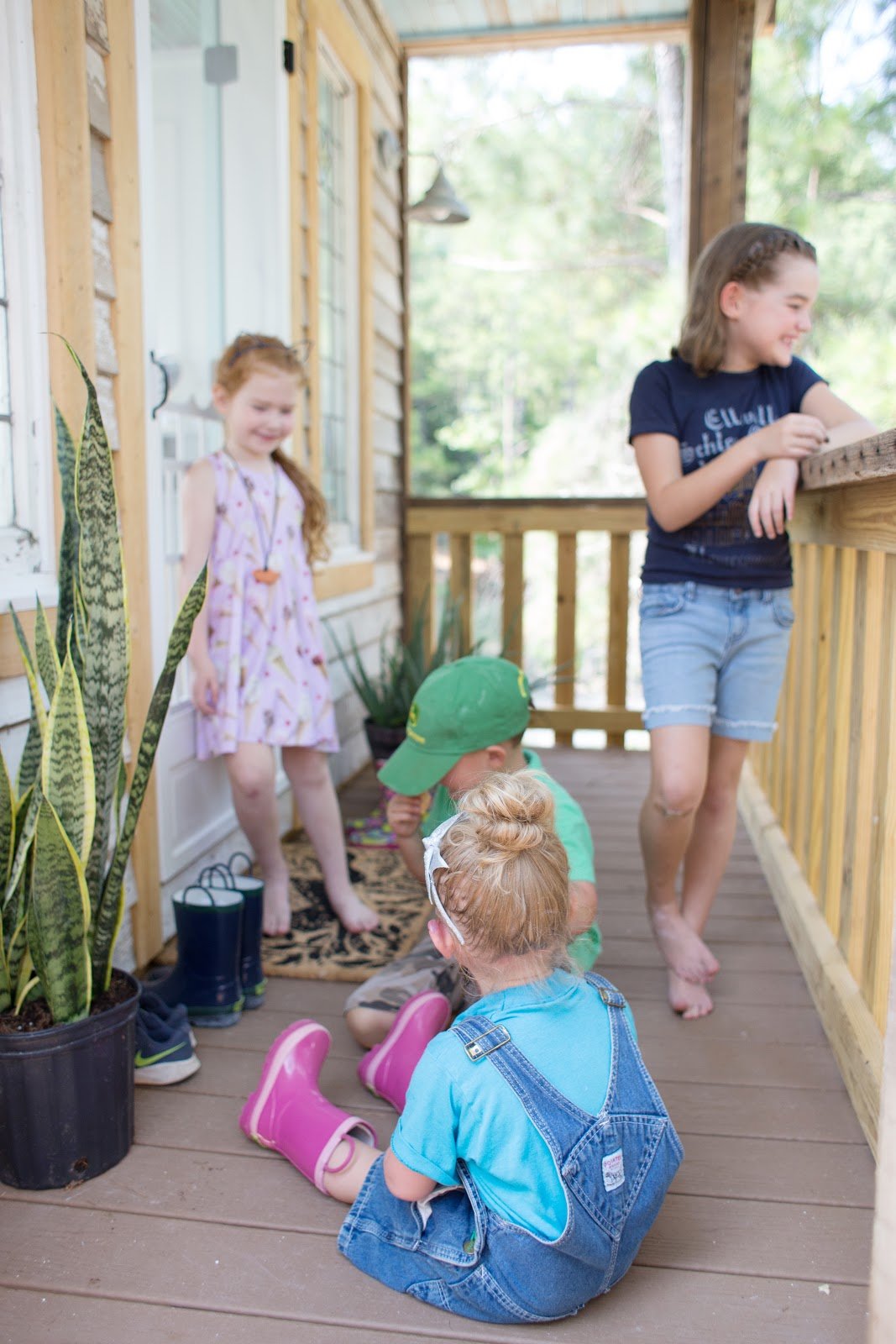 The exterior boards of the treehouse, the floors inside, the ceilings (see that blue peeking out on the ceiling above?), the front door and screen door, the windows, and the interior plank walls are all from my great-great-grandparents' home, so this place is full of history, even though it's brand new!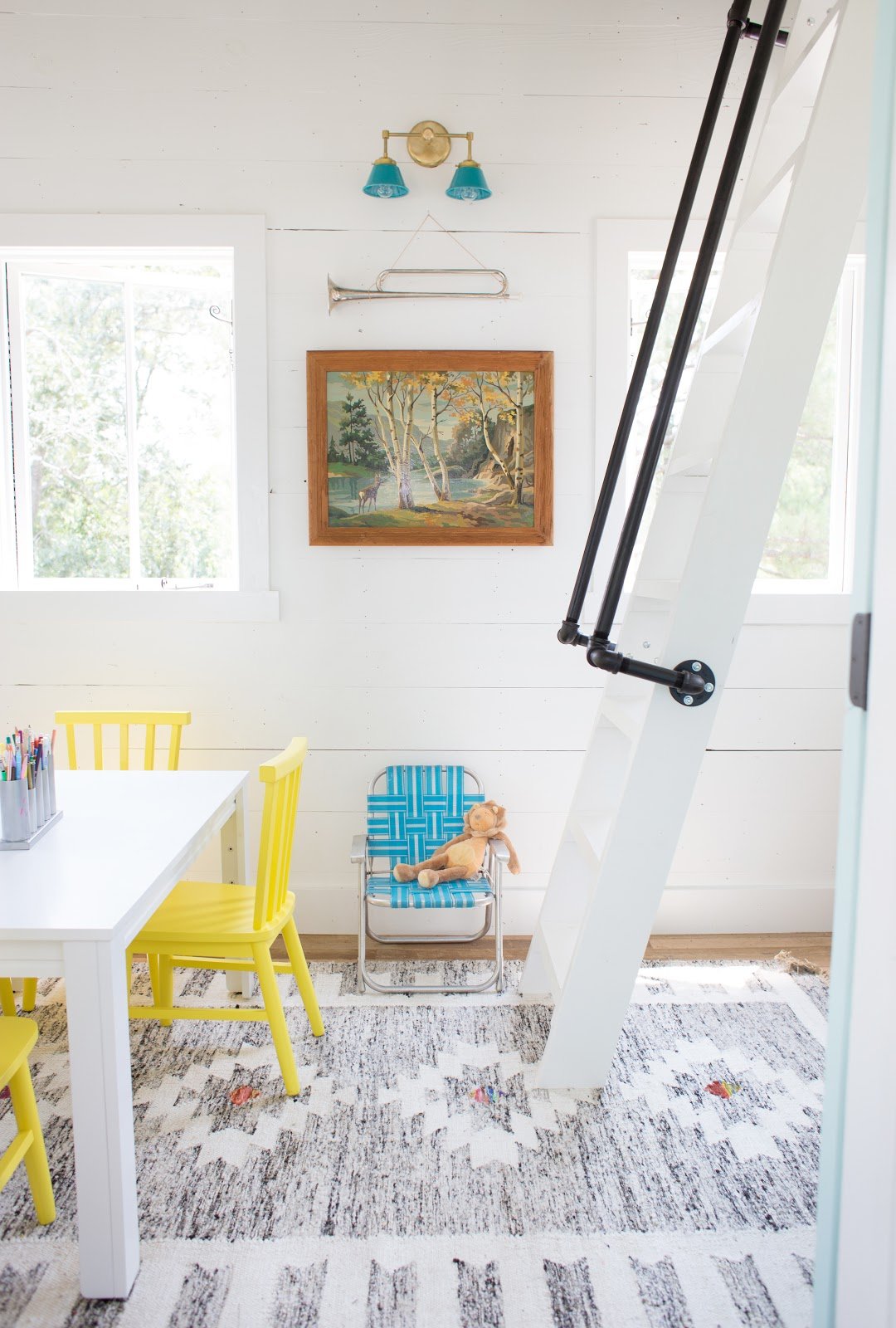 Decorating a treehouse for kids is half the fun! When you walk in the front door, you can see the ladder leading up to the loft, the craft table to the left, and the desk (i.e. camp headquarters!) to the right.  I love the cheery pop of yellow from those chairs, and pairing vintage items with Crate & Kids is my favorite.  It all just goes together so well and gives the beautiful new pieces a sense of timelessness.  I also have to say that the rug is SO beautiful – the pop of rainbow color along the middle is just so perfect.  (p.s. I have had that experience with all Crate & Kids rugs I have; you think they are pretty online, and they always end up being even more beautiful in person.)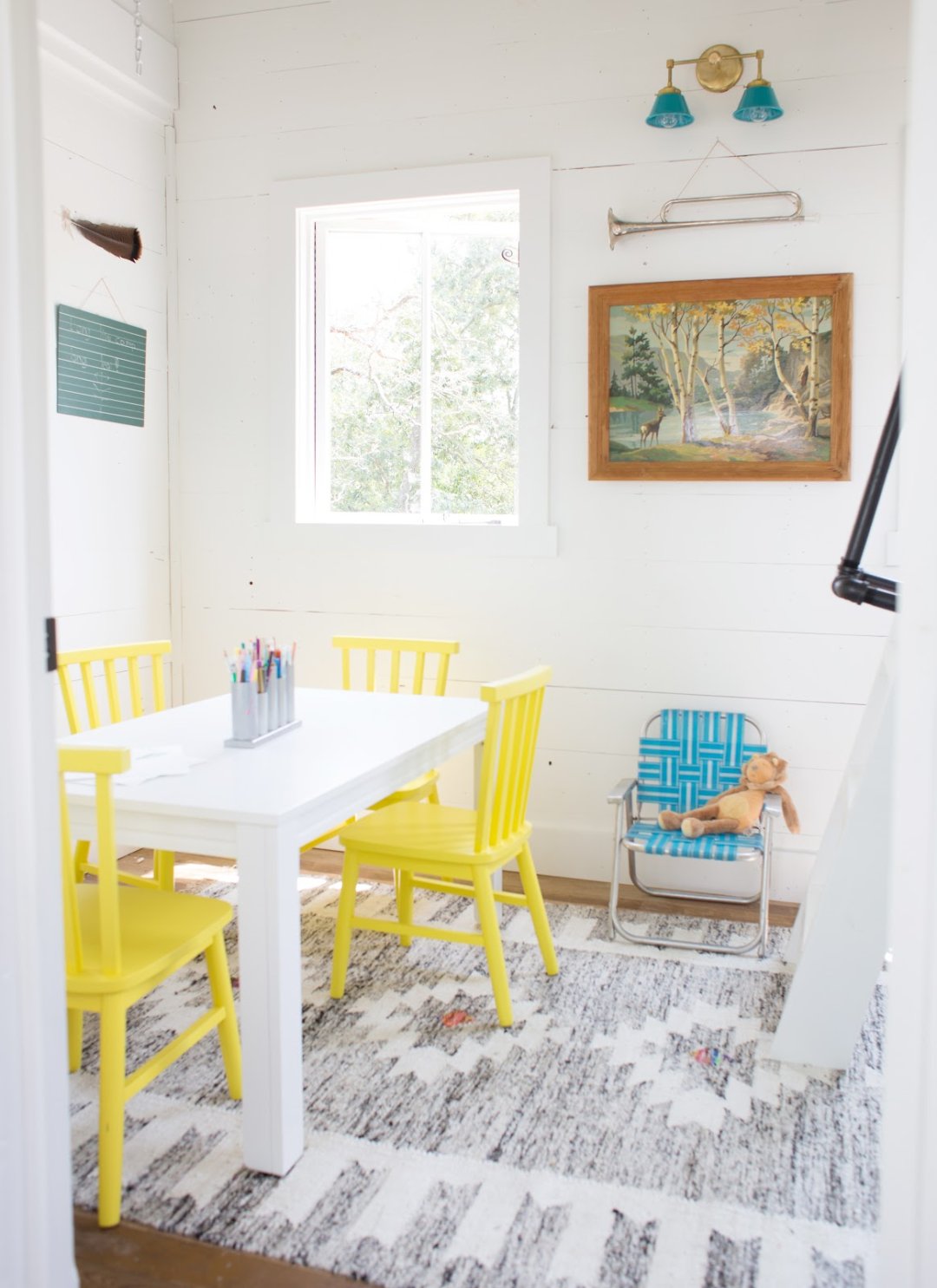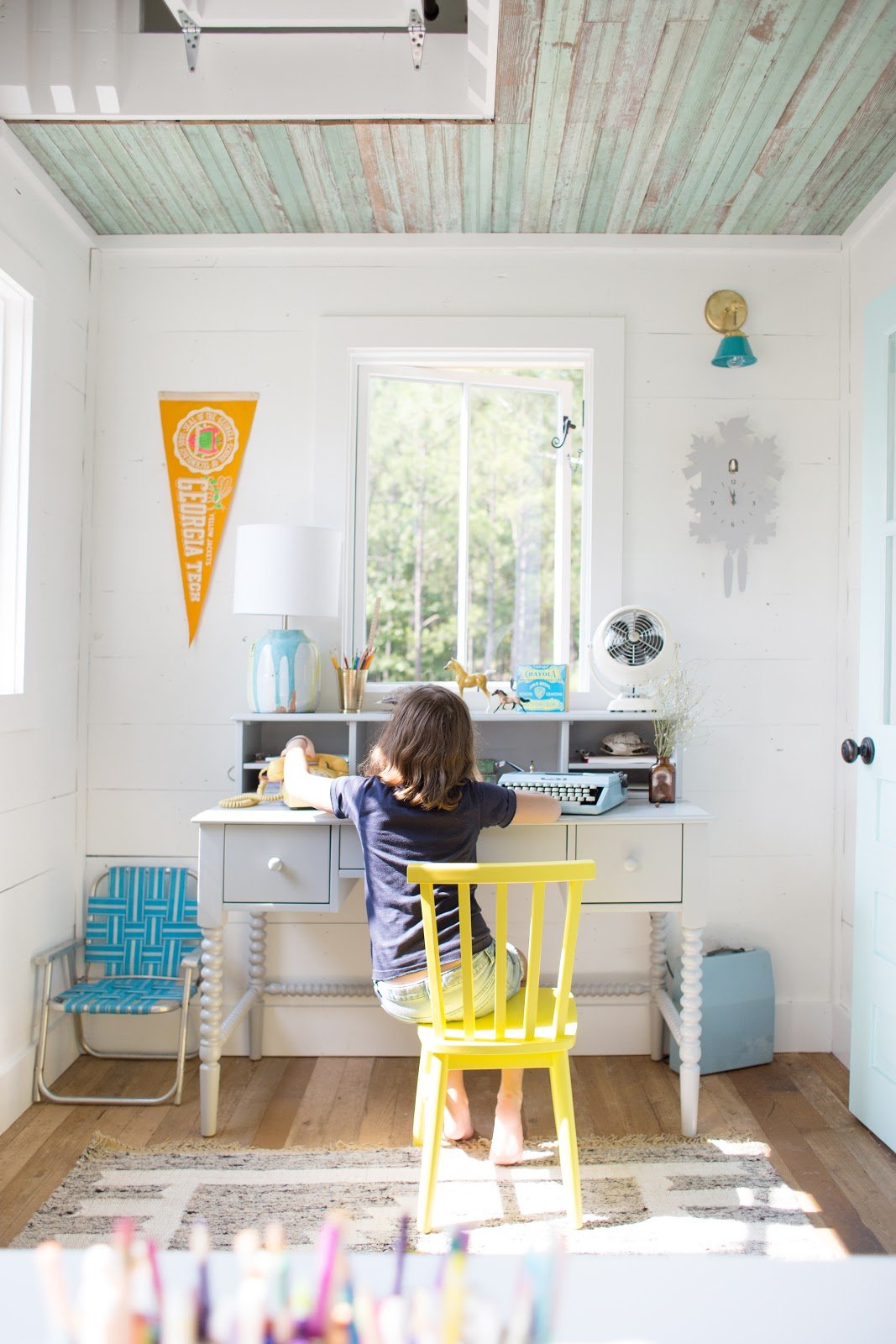 My oldest daughter, Vivi, is into all things organizing and being in charge, so she is smitten with this adorable Jenny Lind desk.  I outfitted it with that modern-meets-handmade lamp and an old typewriter and rotary phone to manage whatever camp things need to be managed, which I'm sure are many.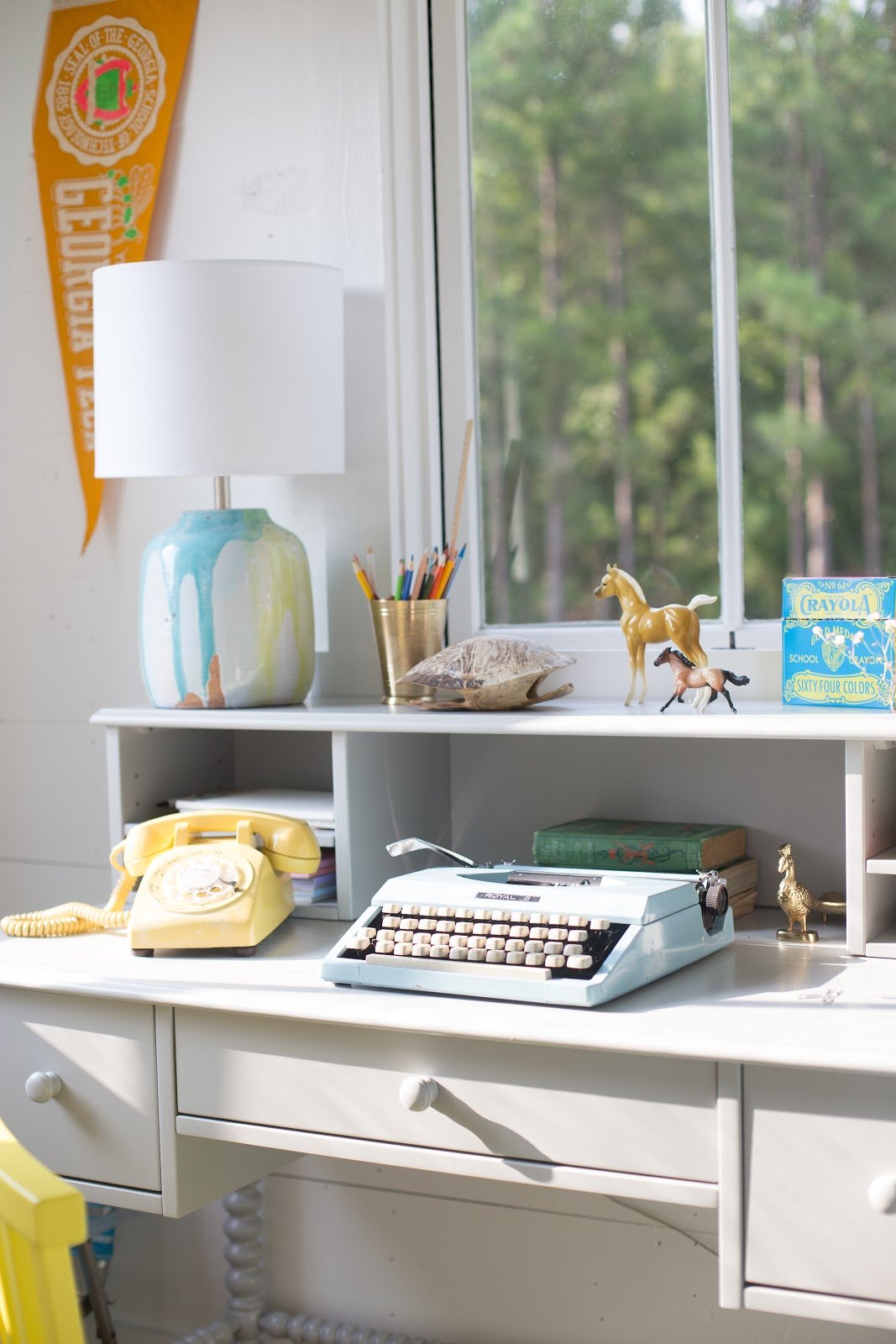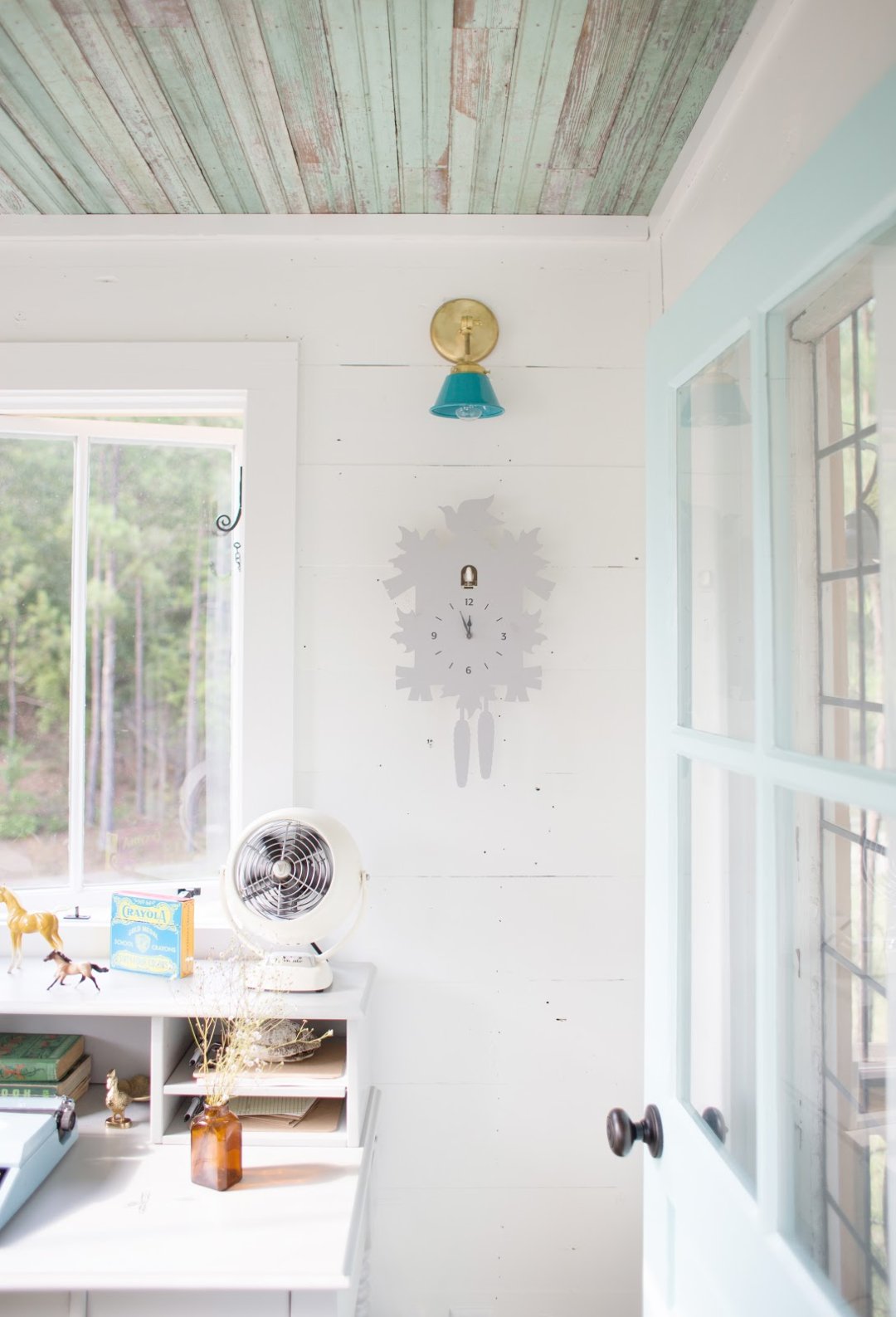 None of us can get over this cuckoo clock. The girls love the little birdie inside, and I love the modern take on this classic.  Can I also say that I love having a real timepiece in kids' (or anyone's) spaces? Being able to check the time without looking at a screen is so good.
Besides the craft table, I hung an old letterpress drawer where the kids can stash favorite rocks, acorns, and other treasures.  I think it's such a fun way to display those small things they always deem extra special.  It's also nice to have a place for the littles to put those items, so they don't end up in the dryer (or am I the only one this happens to??).  This craft table is so great – it's a perfect size as you can comfortably seat six kids, but it doesn't take up too much space.  It's the same one we have in our craft room, and I'm a big fan.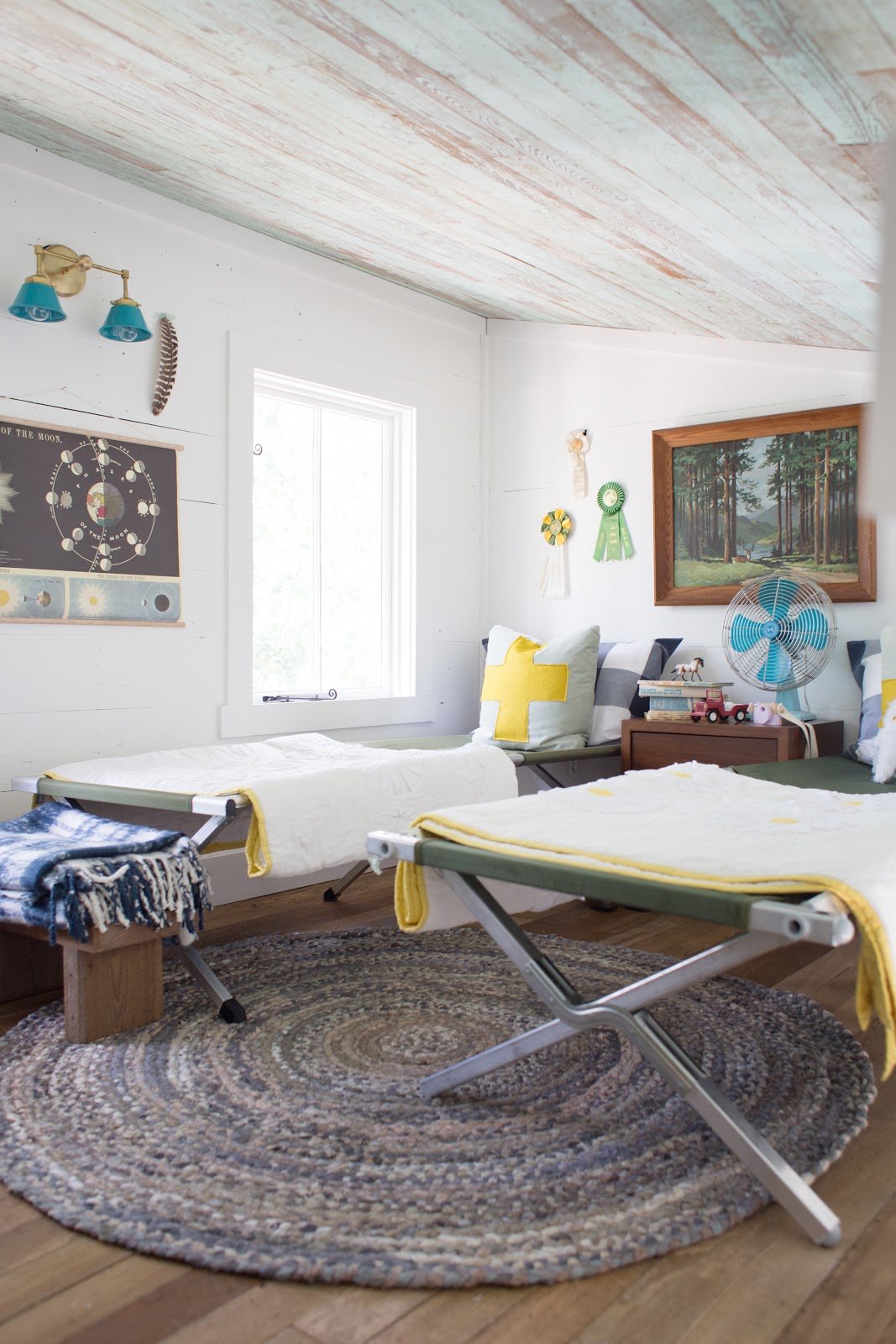 The upstairs is super cozy, and we have two vintage style army cots, which will be great for spending the night, but they can be folded up to make more floor space for play.  The kids love cozying up and reading or playing on them, though. (Also, those windows are very securely fastened, so they won't open more than a couple of inches!)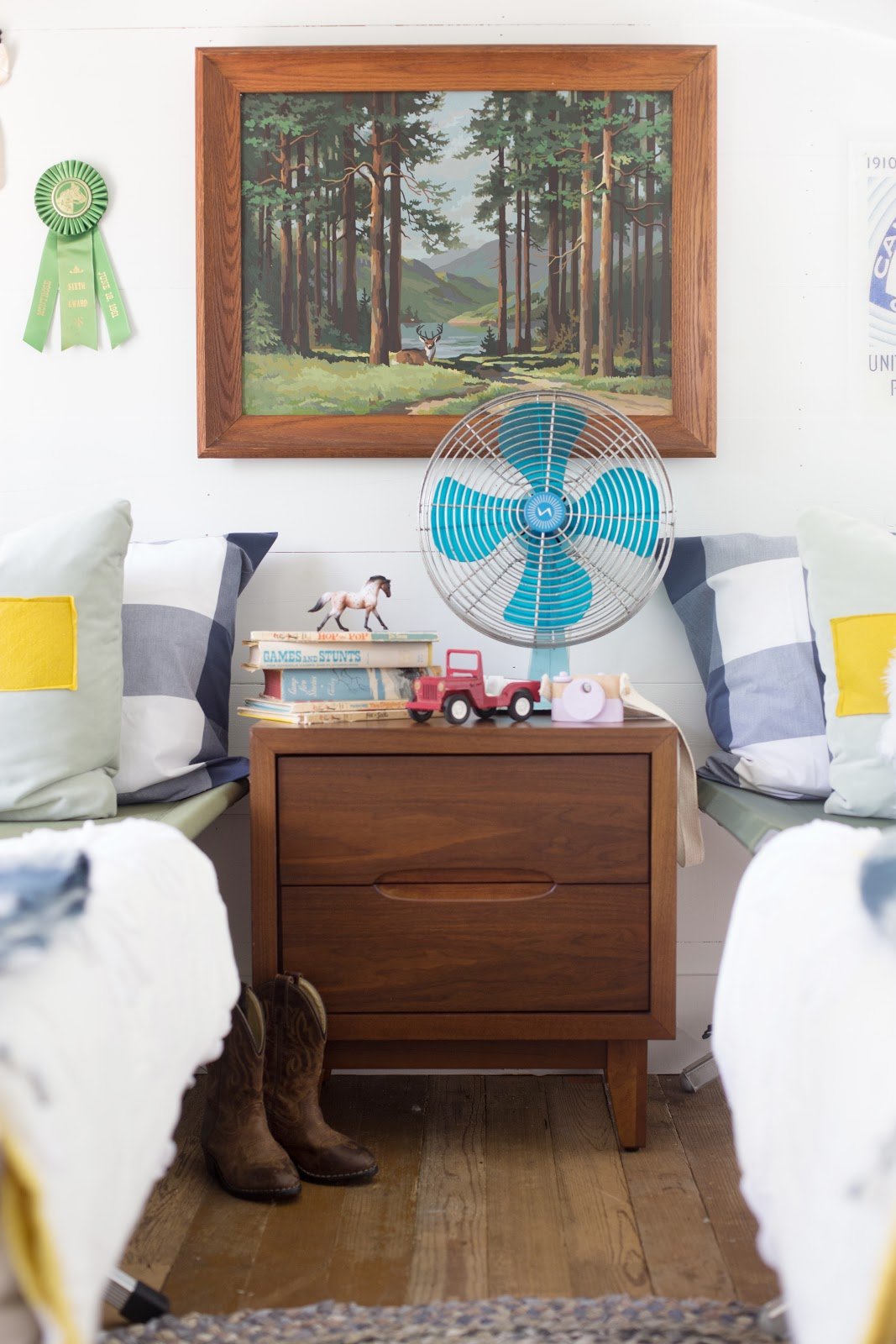 I love this nightstand – such good, mid-century lines, but fits perfectly in this outdoorsy space.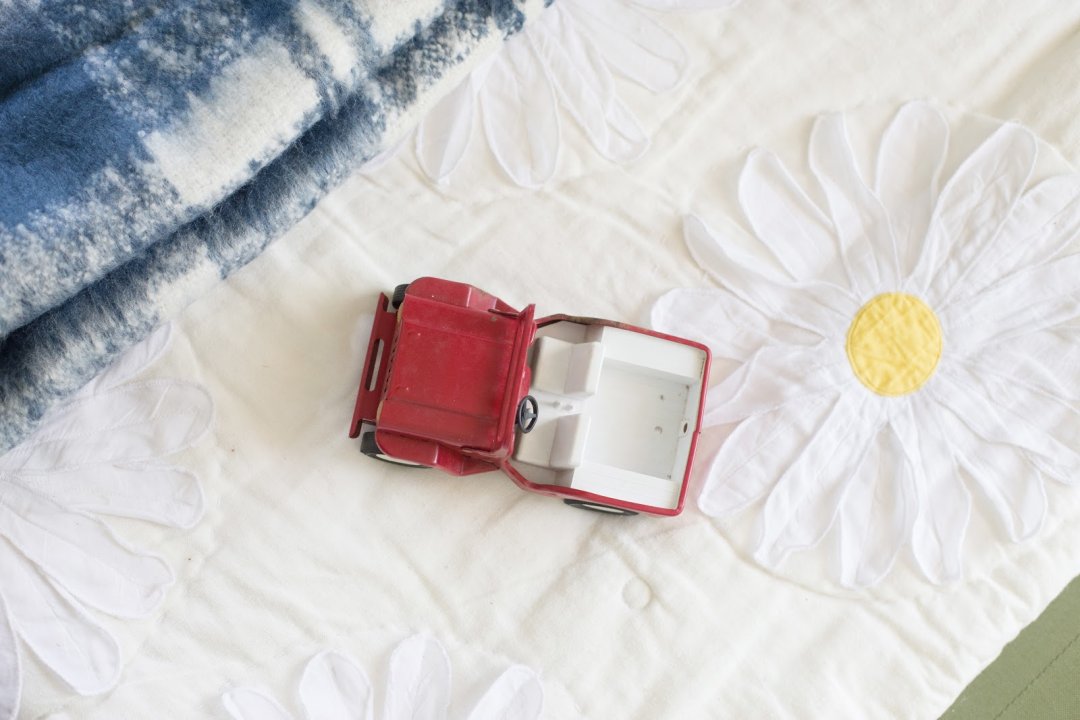 I love the details on these beautiful daisy quilts.  It's such a sweet detail that you could definitely take more feminine, but it still works great in this neutral space!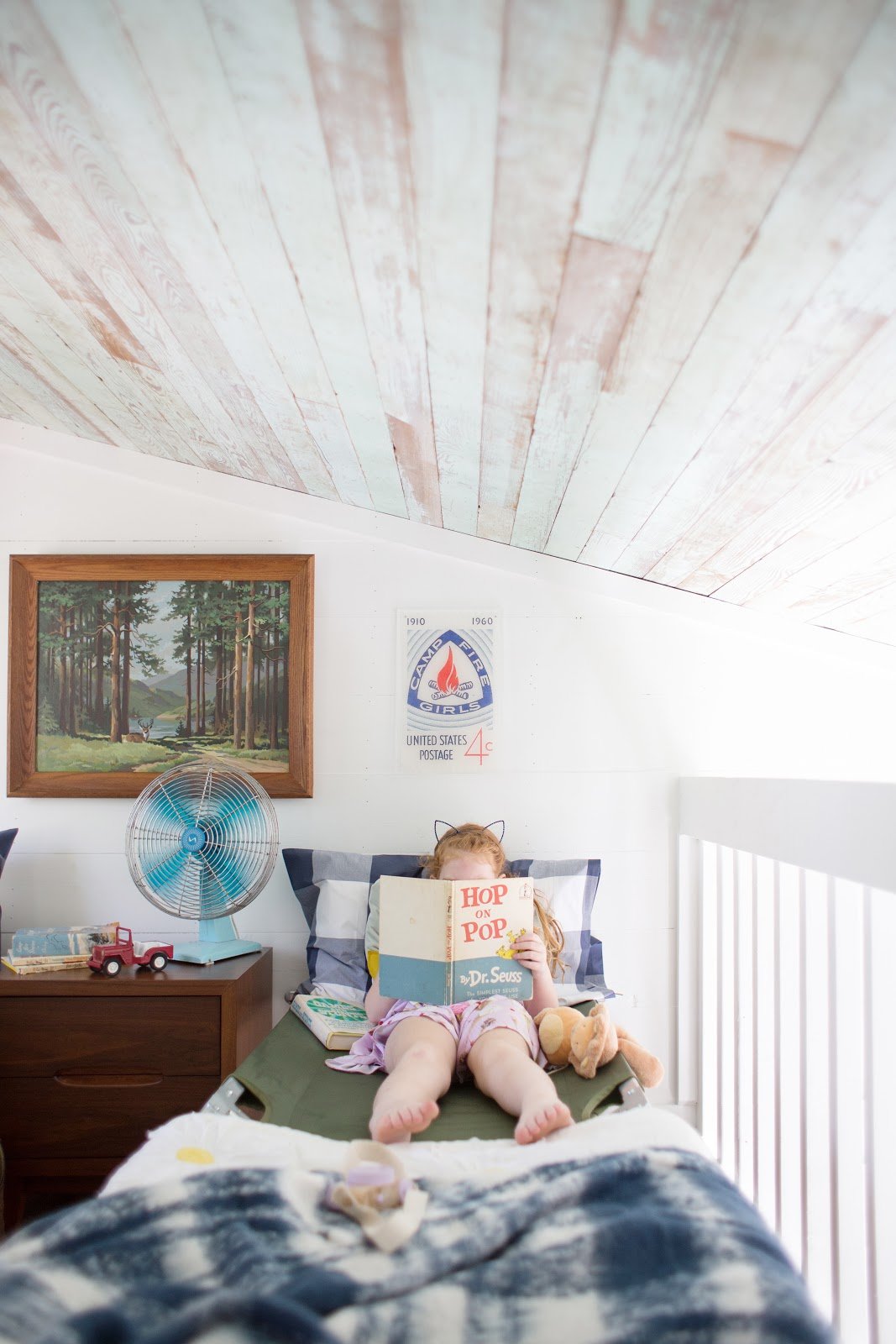 Those sheets are my fave, too.  I kind of want to steal them for my bed, except they won't exactly fit.  I love the graphic pop!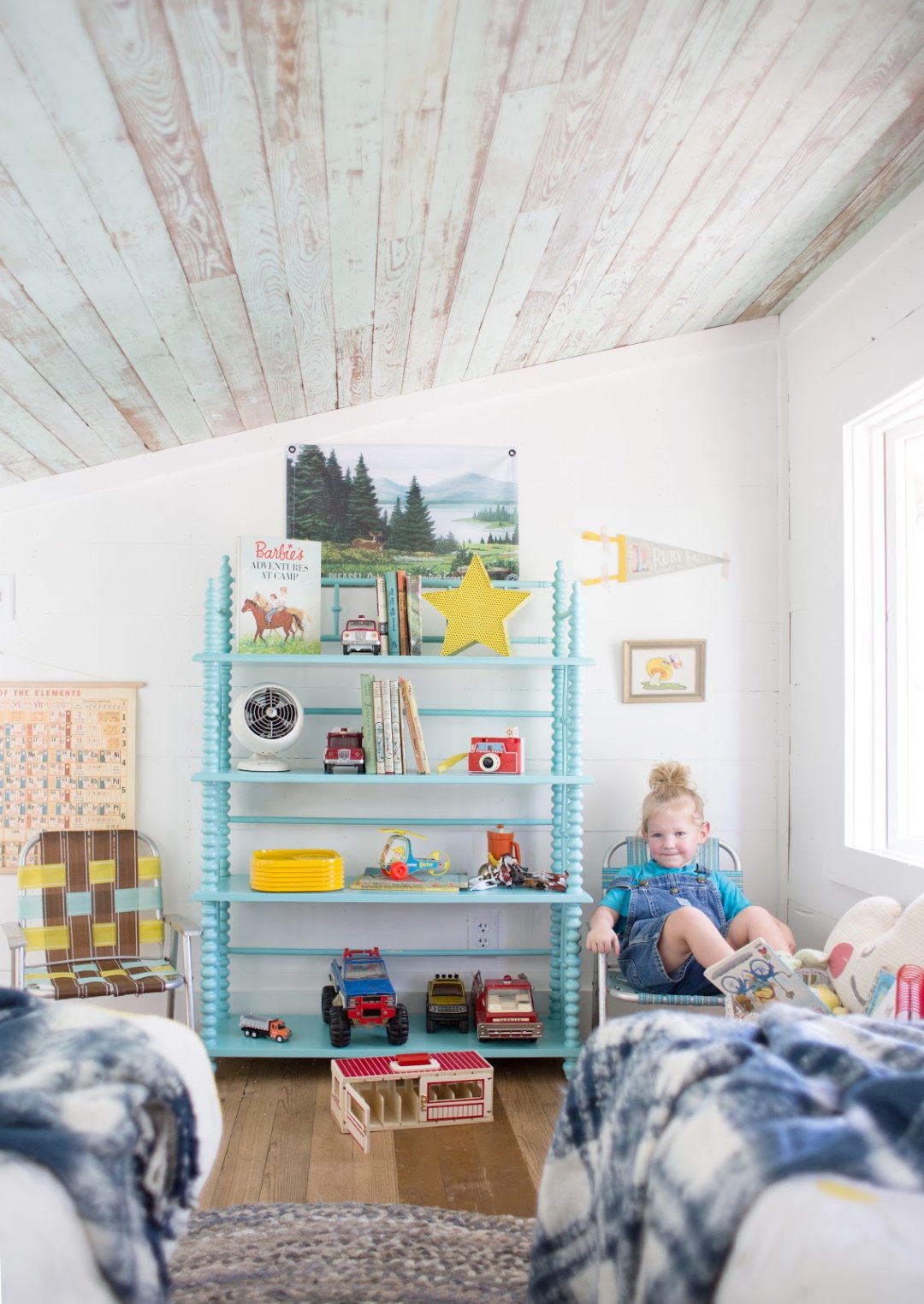 On the other wall, we added a pop of color with this Jenny Lind bookcase, which is so great for stashing and organizing toys.  I adore that Periodic Table Chart – it feels like it was torn from a vintage chemistry textbook.  The star nightlight will be perfect for overnights; my girls love having a nightlight and it gives off such a good glow.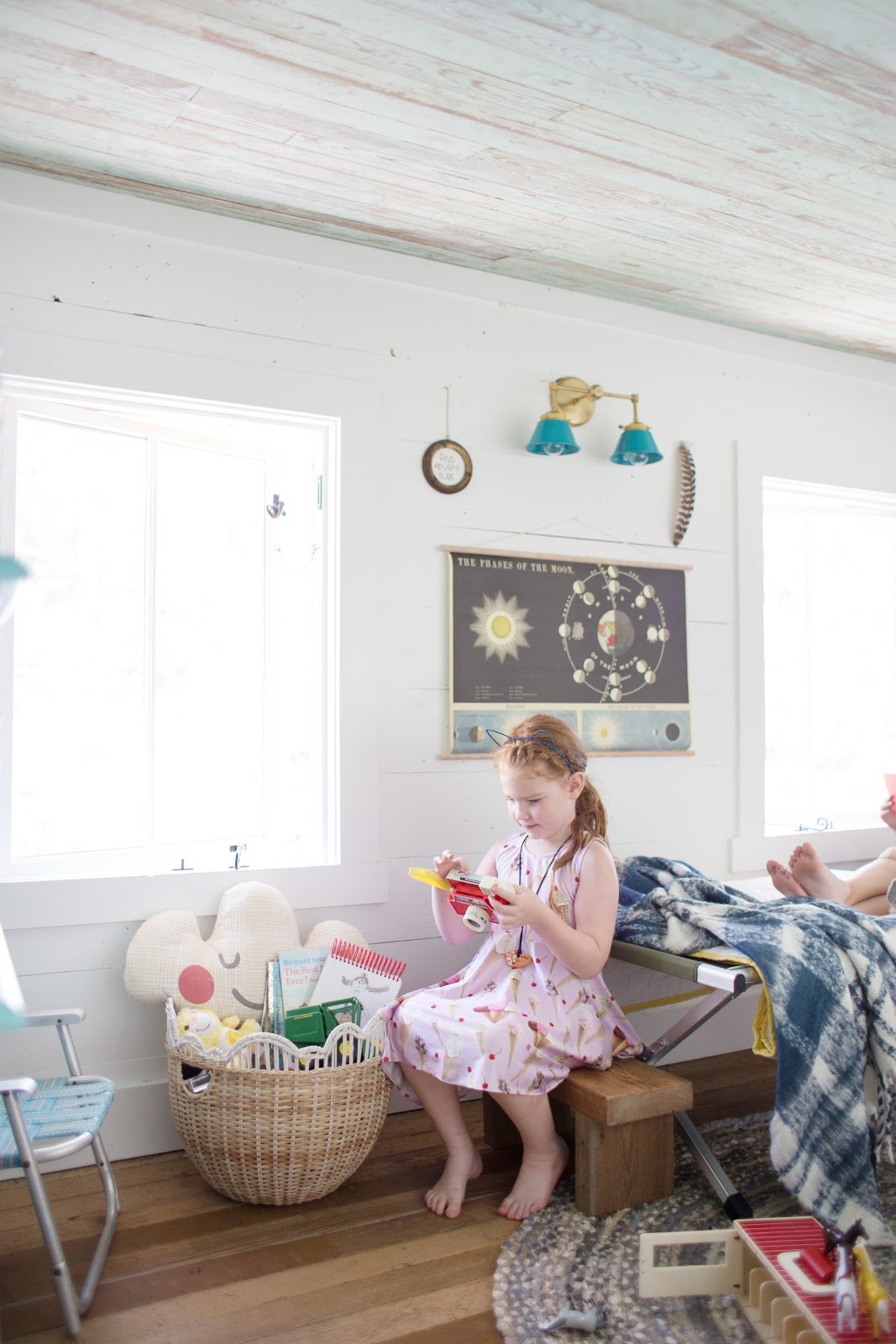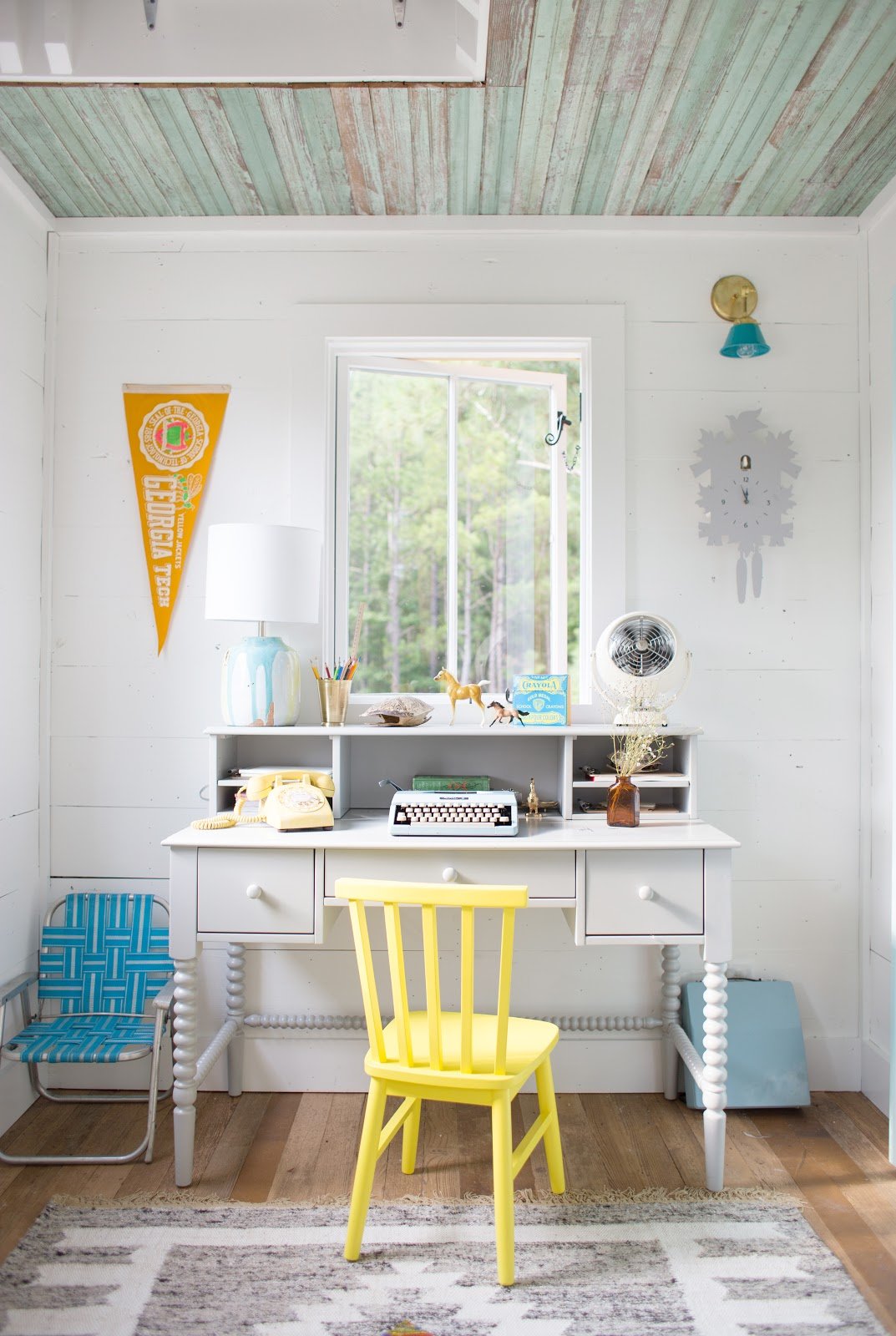 There are going to be so many amazing memories made here!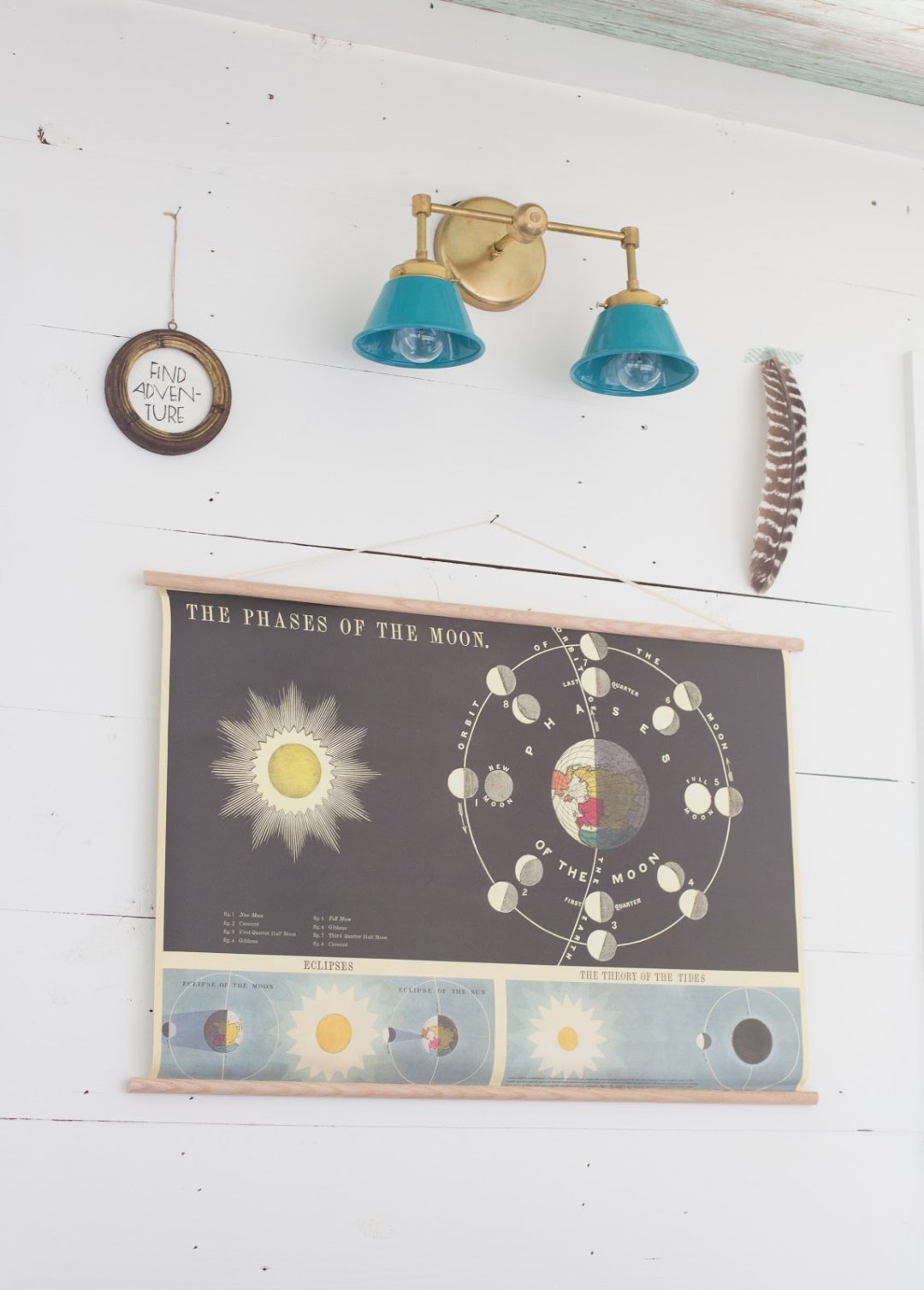 I'm so grateful we were able to work with Crate & Kids on this treehouse for kids!  It turned out so perfectly – let me know if you have any questions about it!