How to Expose Your Children to Healthy Foods
October 20, 2017
Are you a parent of a picky eater? If you are, you know that the struggle is definitely real! Picky eating, or the refusal to try new foods (and the desire to eat the same foods over and over again), usually peaks in the toddler and pre-school years but can begin as early as self-feeding. For parents, it can be frustrating when our little ones start becoming picky. How do we help them and, in turn, help ourselves?
I'm not an expert in feeding or nutrition, but I am a Mama of three little ones, ages 18 months, 3 years and 4 years old, and even though I run a food-focused feed (with an emphasis on healthy toddler and family food) I still know what it's like to have a picky eater… or two. I also happen to have a great Feeding Expert friend, Dawn Winkelmann M.S, CCC-SLP (Speech Language Pathologist & Feeding Expert for ezpz, Spectrum Speech & Feeding, The Baby Guy NYC and Guidance Guide) who lives and breathes this topic, so let's talk about it…
"Most toddlers go through a normal picky eating phase called food neophobia, where they are afraid of unfamiliar foods. I tell parents to remember my four tips (TAFT-Time, Age, Five, Therapy) when they are worried about their toddler's selective eating habits. A child's food neophobia phase should: last a short Time, decrease with Age, be willing to try new foods by Five, and parents should seek feeding Therapy if the child has not reached these milestones. Feeding therapy should be performed by a qualified Speech Language Pathologist or Occupational Therapist who specializes in pediatric feeding and swallowing." – Dawn Winkelmann
If you are a parent of a picky eater, you are definitely not alone. As Dawn shared above, most toddlers go through this phase. Below are 3 methods on how to combat their pickiness!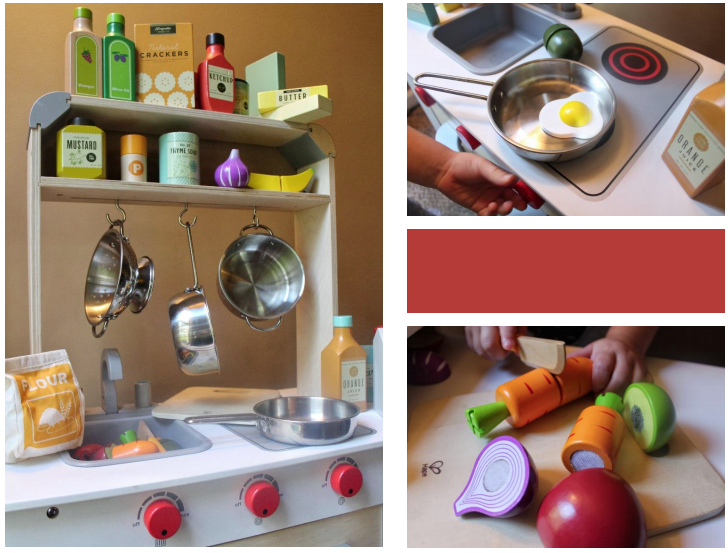 3 Ways to Expose Your Children
to More Healthy Foods
1 GIVE THEM CHOICES
As soon as little ones are able to choose, they want to choose. So, give them choices! I always offer our babes multiple foods during a meal and, when it comes to vegetables and even some fruits, I have found that offering more options (in smaller servings) has helped. For example, if we are going to have green beans, I know that my daughter does not like to eat those so I will offer her a half portion of beans and a half portion of another vegetable that I know she is more comfortable with.
Dawn adds, "I encourage parents to offer at least 3 foods
during mealtime (instead of just a bowl of cereal or a bowl of mac & cheese) and to avoid giving more than 5 foods – too many choices can be overwhelming. However, offering a variety of samples during "snack time" for food exploration is an important technique when kids are learning about the sensory properties of new foods!"
Personally, I also like to extend the choices even before the meal starts (starting at the grocery store and then during meal prep). I often talk with my 3 and 4-year-olds about what they would like for dinner and what the sides should be. I never leave these kinds of questions open-ended; I always give two concrete choices and let them choose. For example, "Would you rather have salad or broccoli with dinner tonight?" Truth is, they may not be too excited about either, but I have found that the more stake they have in this process, the more willing they are to eat. So go ahead; empower your picky eaters with choices!
Also, don't be discouraged if your little one doesn't eat up what you offer after one or two offerings. As parents, we typically only give a food a couple meals worth of rejection and then stop serving it. I admittedly did this a lot with our first born but then I learned that it can often take ten to fifteen times of offering and tasting something before a little one will be willing to accept and eat a new food. So, instead of replacing foods, now we add in new ones and continue to rotate the ones that weren't loved right away. It can get tiresome but keep on offering and be patient. In this area (like most!), persistence pays off!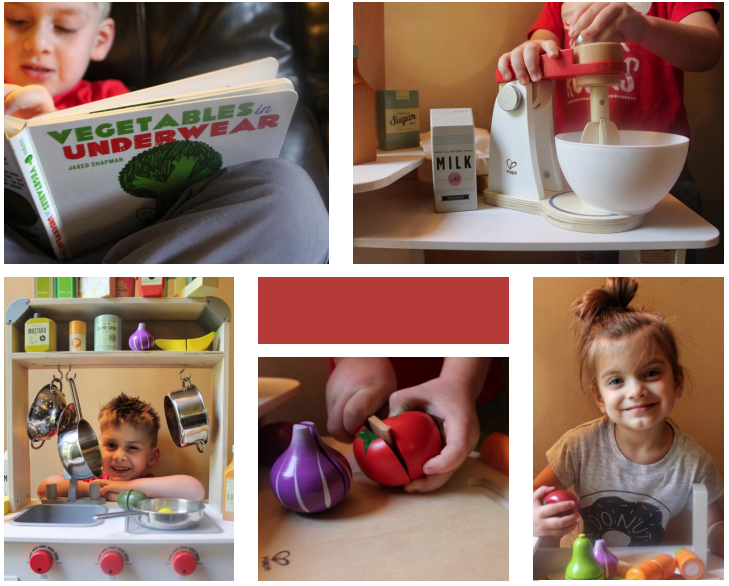 2 INCORPORATE FOOD IN PLAY
Ever since our children could play, we have encouraged open-ended, imaginative play in our home. One specific area of pretend play we have encouraged has been centered on play kitchens, kitchen food, feeding (e.g., feeding baby dolls, etc.), and so on. I believe that this kind of play has helped get our little ones excited about mealtimes and exposed/ familiarized them with new foods. A great, space-saving play kitchen option that our kids all love is the new Hape Play Kitchen (shown in these photos) available now at The Land of Nod.
Investing in open-ended toys that allow your children to learn about different foods and model cutting, cooking and eating are all very helpful in developing useful skills. To get started, some great options include Hape Chef's Choice Play Food Set, Hape Garden Salad Play Food Set, and the Hape Cutting Fresh Fruit. Our oldest also loves the Hape Play Baking Mixer Set. He loves to pretend to mix just like me, and will often tell me he is working on one of his "famous recipes." Our 3 and 4-year- olds can name all sorts of fruits and vegetables, some of which we don't eat regularly, simply because they "play cook" with them. They get to know different foods (even different appliances!) through this kind of play.
You can also incorporate food puzzles and books that include vegetables (like this funny one: "Vegetables in Underwear"). And, remember, playing with your food doesn't have to stay in the playroom! Let your little ones literally play with their food by feeling, touching and exploring the food. Yes, this is messy, but this kind of explorative, hands-on play can help a child feel more comfortable when they go to taste and eat.
Dawn Winkelmann further adds, "It is important to teach your
child how to explore food, and pre-teaching (or practicing) through play is technique feeding therapists use! You can incorporate this strategy when playing with pretend food, as it helps prepare your child for mealtimes with family, play dates with friends and problem solve complicated eating situations (like table manners, using utensils and cleaning up). Pre-teaching is a technique I often use with children who are hesitant eaters, as it helps them feel more comfortable and confident at the dinner table."

3 MAKE MEALS FUN!
While this may not work for every child or family, in our home, I decided early on that I was going to work at making our mealtimes more fun, and I honestly have seen this improve mealtime successes. Parents regularly message me after seeing something on my feed, and they'll ask, "Do your kids really eat THAT <referring to whatever that is>?" While they do not always clear their plates, all three of our children eat very well (though it has been quite a process for 2 of 3 of our kids!). Making meals fun doesn't have to be difficult or cost a lot of money or take a lot of time.
As an example, I regularly incorporate dips, sauces, cookie cutters and color in our meals. I say this all the time, but we all eat with our eyes first, and I want to prep meals that are visually appealing – even for my littlest ones! It isn't hard to cut a sandwich into a star or heart or add color to a plate (mother nature has some of the most vibrant colors out there), and sometimes just these subtle changes can help get your little ones more willing to eat up the healthy stuff.
Parenting is hard, and sometimes the dining room table can be one of the most dreaded places to be with a toddler (I have been there!). And, getting our little ones to eat healthy can seem like an impossible task. But, I promise you, it isn't! With a little creativity and determination, you can successfully expose your children to healthier foods and win the meal time battle. For more tips check out this Honest to Nod article, 5 Tips for Picky Eaters or Dawn's blog at www.ezpzfun.com/blog/.
POST BY LUNCHES + LITTLES
Lunches + Littles focuses on quick, healthy and fun meal options for little ones while sharing practical tips & tricks on how to make meals enjoyable, all the while keeping things simple. A lover of colorful plates and an advocate for getting kids in the kitchen, Lunches + Littles is also a great resource for parents of picky eaters, parents looking for healthy family and toddler recipes and those mamas (dads too!) who are short on time. A mantra of sorts: Making meals fun doesn't have to be hard! With 3 little ones (3 and under) it can't be! Follow @lunchesandlittles for all of the above… And more!
If you are looking for even more about making meals fun, Dawn co-authored, "Making Meals ezpz: Fun Ways to Fill the Happy Mat," This book gives you all sorts of ideas for fun and healthy meals, specifically meals plated in an ezpz Happy Mat.
Healthy foods really can be fun!