Fun Kids Thanksgiving Table
November 16, 2017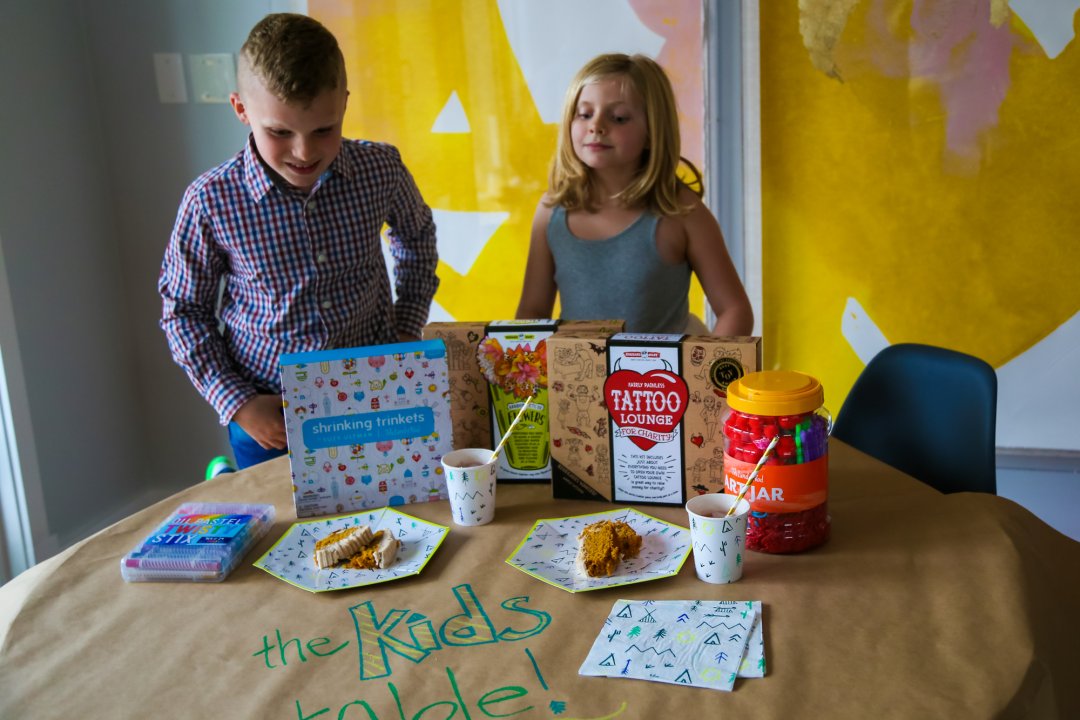 Growing up, the kid's table at Thanksgiving often meant we were resigned to sit with younger siblings, friends, and neighbors at a table separate from our parents. Don't get me wrong, I have fond memories of race-drinking "kids wine" and skipping the turkey for all the sides we wanted. But I thought I'd try to make our kids table this year more of an activity table and have the kids do the actual dining with us.
First I covered a smaller dining table with kraft paper and set out oil pastels. I drew "the KIDS table" on the cover to invite the kiddos over and let them know it was cool to color on the table. I always like to set out some kind of special snack for the kids to have while we finish cooking Thanksgiving dinner. A few slices of pumpkin loaf and sparkling cranberry juice did the trick.
In addition to the oil pastels, I set out the Shrinking Trinkets kit — the kids LOVE to color these and I figure I can pop them in the oven to shrink once the turkey comes out. If you are at our home for Thanksgiving dinner, chances are you're leaving with some new baubles.
But I actually chose Nod's Tattoo Lounge for Charity and Random Acts of Flowers kits as the main craft focus because I LOVE the idea of fun crafts that help keep the act of giving back in mind. The kits are both super clever! The flower kit walks kids through making paper flowers to give away to people.
The Tattoo Lounge offers a complete set-up for kids to tat people up and collect donations for charity. Our kids decided to collect money for the Humane Rescue Alliance where we found our sweet pup Penny Lane. There are over 125 tattoos in the kit, so neighbors be warned, our kids are coming for you on Thanksgiving!
Having lots of kids to dine with you this year? Think about setting up a fun kids Thanksgiving table that helps the kids give back too!
POST BY REBECCA OF NOT-SO-SAHM
Rebecca is a mom to two young kiddos and, in her spare time (ha!), likes to pretend she's a back-up dancer, craft cocktails, and run long distances. Author of Banish Boredom and Content Creator (and Herder of Cats) at Not-So-SAHM