Playroom Organization Using Bins & Baskets
May 17, 2017
Post by Krista Aasen from The Happy Housie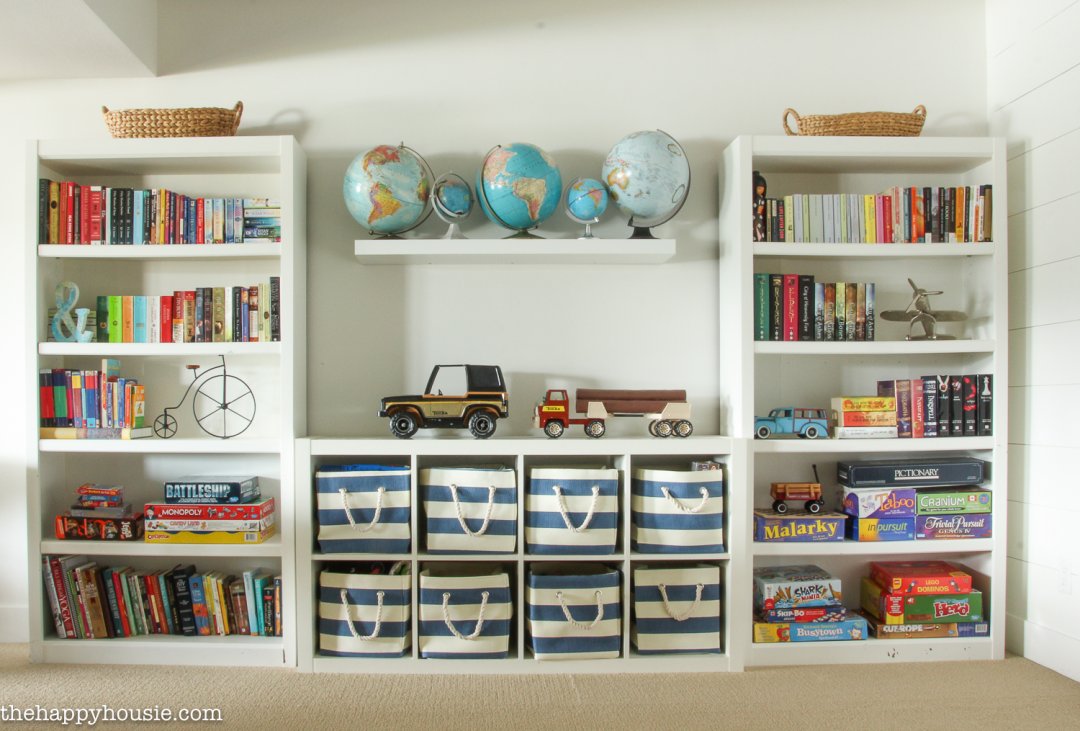 A separate playroom is both a blessing and a curse. A blessing because it provides a spot for your kids to play and keep their toys that is outside of the regular family zone. A curse because it can quickly and easily become a disorganized and messy nightmare of a room; so scary that even your kids don't want to go back there…
I recently undertook the challenge of organizing our entire home; over ten weeks I went through each room one at a time and purged, tweaked, and organized every space in our home. Our playroom was one of the last areas that I tackled. Even though we had recently given it a decorative makeover the previous year; it was not functioning well. The truth was, we had too much stuff.
Step 1: PURGE
Purging kid's toys can be tricky, especially when you are in the thick of early childhood. But it's an important step: go through and get rid of all toys, books, and decorative objects that you are not using or that your kid's don't truly love.  Alternatively, pack away half of them and rotate the toys in an out on a monthly basis. This keeps the excitement for their toys alive as they seem new each time they are rotated back in.
Step 2: SORT & ORGANIZE
I ordered eight of the Stripes Around The Cube Bins (11″x11″) from Land of Nod because they fit perfectly inside of our existing cube shelf unit. I also ordered four of the Stripes Around The Floor Bins (16″x16″) because some of the larger items store a lot better inside a big bin.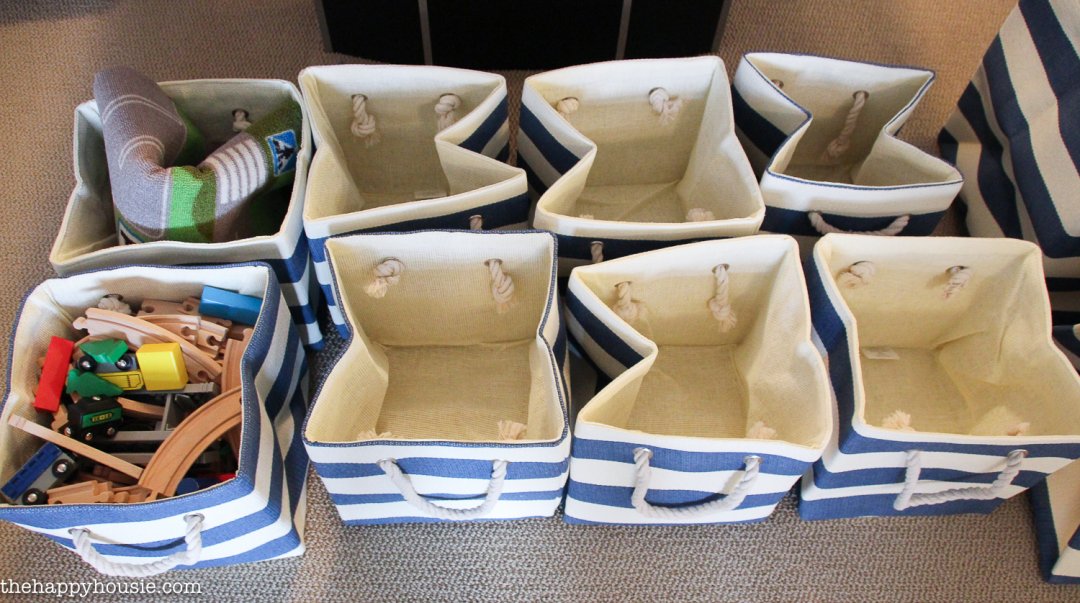 I laid out all 12 of the bins and began sorting all the toys that had survived the purge.  This step will vary, of course, based on your children's ages and toys and needs.  But I do highly recommend using bins as it makes cleanup super quick and easy!
Sort your toys into like categories that make sense grouped together. We ended up with smaller bins for: (1) cars and the car mat; (2) puzzles; (3) log building set; (4) train set; (5) pingpong and air hockey accessories (6) costume/dress up accessories (7) superhero toys (8) small dress-up accessories.
In the large bins I sorted out and stored the: (1) stuffed animals; (2) costumes; (3) indoor sports accessories; (4) large Paw Patrol set.
Step 3: TEACHING TIME
Your children will not naturally and magically figure out how to keep their toys in these neat little categorized bins just because they've been set up and organized. This is where the teaching comes in. I went through each bin and I showed my boys how they were organized and where to put things away. Not just once, but several times. Kids need support and refreshers as they learn new skills; and how to clean up and put their toys away neatly is definitely a new skill for most.
Kids will generally be able to pick up after themselves easily on a daily basis after they've been taught; but over time things will likely migrate into the incorrect category.  Labeled bins (words or pictures for younger children) can definitely help with this process. For me, I go downstairs with the boys every month or so and we re-sort out the bins together.
Once you've gotten the toys purged, sorted, organized, and done the teaching and support as your children learn the skills to be tidy and organized then it's much less likely that your separate playroom will become quite as messy and scary as it did before. Or at least, when it does, everyone in the family knows how to tackle it!
Krista Aasen blogs over on The Happy Housie where she decorates (and re-decorates), DIYs, crafts, organizes and just has fun living. There's always something new happening and her blog is all about enjoying the journey. In her spare time from all her blog related exploits, she juggles being a mom to two boys and teaching kindergarten. Check her out on Instagram @thehappyhousie