PRETEND PLAY + A TREAT YOU'LL WANT S'MORE OF
March 28, 2017
Post by Lunches + Littles
Lately I've been trying to be more purposeful in the types of activities that my children are engaging in. I have really been noticing how much my oldest son has grown over the last year, and I'm starting to recognize even more how important it can be to encourage my babes to engage in all types of play, especially pretend play.
All smiles, stories and fun; no electronic toys or apps needed; just their imaginations!
Now, I am not opposed to technology, in fact I believe the technology that our babes are growing up with can be a welcomed break for busy (and often weary!) parents. But when I think back to when I was younger, much of my time was spent creating imaginary friends, playing outside, building, and dreaming up scenarios that kept me busy for hours! Can't you relate?
In our home, the times when we really see our babe's imaginations soar are the times when my husband and I are actively encouraging open-ended play; the days when screen time is non-existent.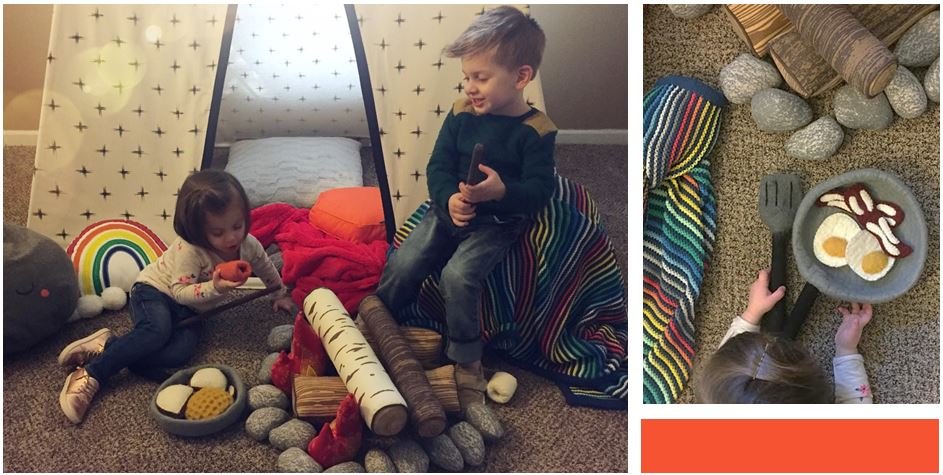 Open-ended play allows your little one to create their own narrative, and make their own fun. For example, this past weekend we went "camping"… again! It didn't matter that the sun was shining and that it was mid-morning, our son was adamant it was night time and that he had to build a fire so that we could see in the dark and cook our snacks! …  I love being able to spend time with them doing just that, even if it means I am camping out at 9:00 a.m. and pretending to eat eggs one minute and roasting a marshmallow alongside my babes the next!
Sure, pretend play can take a little more intentional parenting and time, but my little one's stories and smiles are so worth it and, pretend play not only stimulates the imagination, it is also a great learning opportunity and puts my children in control!
If all of this camping talk has got you craving a little campfire-inspired snack, scroll down for a kid-approved chocolate treat that your little ones will definitely want s'more of!
+++++++++++++++++++++++++++++++++++++++++++++++++++++++++++++++++++++++++++++++++++
S'mores Chocolate Thins Recipe
Ingredients
2 Cups Milk Chocolate Chips
1 Cup White Chocolate Chips
1 Cup Mini Marshmallows, divided
3-5 Graham Crackers
1 -1/2 Hershey's Chocolate Bar(s)
1 Tbsp Mini Milk Chocolate Chips (optional)

Directions
Line a shallow sheet pan with parchment paper and set aside. (I used an 11 x 17 inch pan).
Break graham crackers into various sized pieces, and some crushed bits. Do the same with the chocolate bar(s); breaking into small
pieces. Set both aside.
Place white chocolate chips in a medium bowl and microwave for 30 seconds, then stir. Continue to microwave in 30 second
intervals, stirring each time until smooth.
While white chocolate chips are melting, take 1/4 of the mini marshmallows and melt on stove-top over low heat. Once melted,
pour marshmallows into melted white chocolate and stir together until well-combined. Set aside.
Next, place the semi-sweet chocolate chips in a medium bowl and microwave for 30 seconds, then stir. Continue to microwave
in 30 second intervals, stirring each time, until smooth.
Pour milk chocolate mixture onto prepared sheet pan, and smooth out with a spatula. Next, drizzle the marshmallow/ white
chocolate mixture over the milk chocolate, using a spatula or toothpick to swirl throughout.
 Sprinkle with broken graham cracker bits, chocolate bar pieces and the remaining mini marshmallows. Also sprinkle with mini milk
chocolate chips, if desired (optional).
Freeze for approximately 2-3 hours, or until chocolate is hard. Then remove from freezer, and break into pieces.
If making in an 11 x 17 inch pan, the end results will be very thin chocolate pieces, which are perfect for giving your little ones just
a tiny treat! Yum!
Lunches + Littles focuses on quick, healthy and fun meal options for little ones. One of the goals of Lunches + Littles is to share practical tips and tricks on how to make meals fun, all the while keeping things simple. A lover of colorful plates, and an advocate for getting kids in the kitchen, Lunches + Littles is also a great resource for parents of picky eaters, parents looking for healthy family and toddler recipes and those mamas (dads too!) who are short on time. A mantra of sorts: Making meals fun doesn't have to be hard! With 3 little ones (3 and under) it can't be! Follow @lunchesandlittles for all of the above… And more!