Toddler Room Makeover
August 22, 2018
Before & After: A (Small) Toddler Room Gets a Big Makeover
When Corri (of Glitter and Bubbles fame) was ready to transition her 4-year-old daughter Zelda's 130-square foot bedroom from a toddler room to a bedroom that could grow with her, she reached out to Crate Design Studio Expert, Sara Polacek. For Corri and Zelda, Sara is more than just a design expert, she is now a friend, as she has worked with Corri to design Zelda's nursery and toddler room. For this project, Corri and Sara (and Zelda, too!) teamed up to design a big girl room with big functionality and big style. (Spoiler alert: they pack a lot of style into 130 square feet).
We talked to Sara and Corri about the makeover process and picked up some helpful tips for designing a dreamy small-space-big-style kid's bedroom.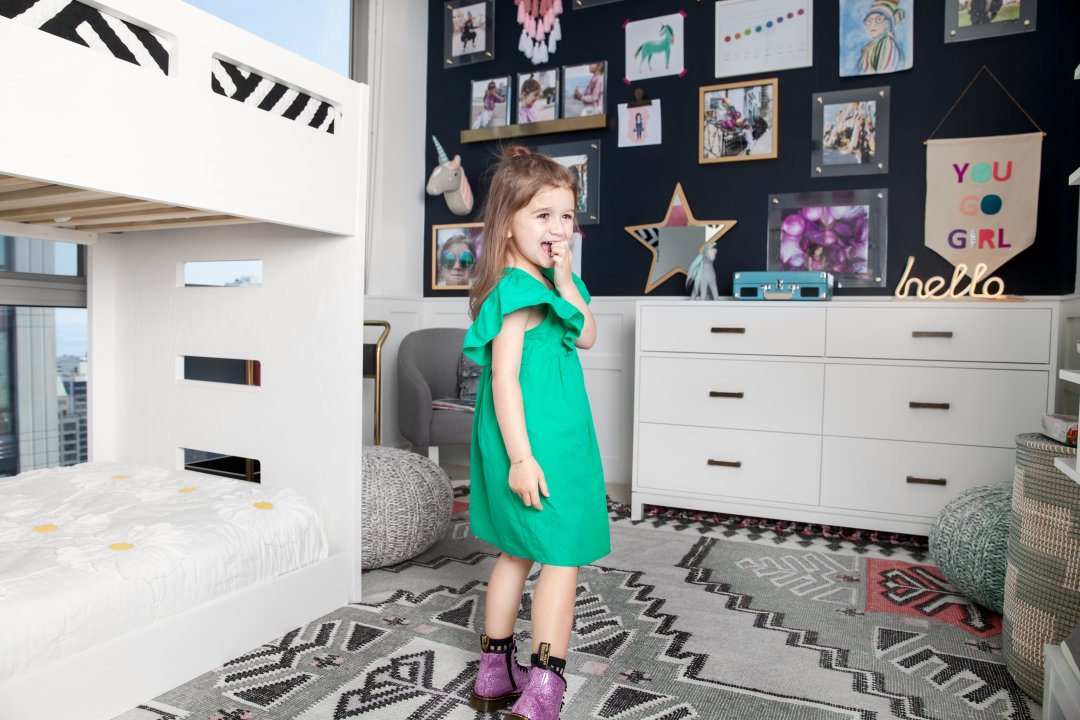 How to Maximize Style and Function
Look for ways to maximize floor space. 
In the case of Zelda's room, Sara knew she needed to squeeze every inch out of the 130-sq-ft room, so she moved Zelda's new bed against a window wall, which opened up wall space for additional storage. The takeaway: Don't be afraid to consider windows as extra wall space if it will add valuable floor space or storage space.
Look for versatile storage options. 
According to Corri, Zelda loves playing and hanging out in her room, even referring to it as "her home." One of Corri's goals for the makeover was to add ways for Zelda to easily access her books, art supplies and toys. To do this, Sara used creative space-saving storage methods that would be easy for Zelda to access, such as a versatile rolling book cart, maze bookcase and a toy box that can double as a nightstand. Corri also opted for a Cargo 6-drawer dresser for Zelda's clothes, because the low-to-the-ground model means Zelda can independently choose her own clothes and the extra surface area means more space for Zelda to display her favorite tiny things (Zelda has all the tiny things: Tiny heart sunglasses! Tiny purses! Tiny nail polishes!). The takeaway: Consider all the ways you might be able to use a piece of furniture beyond it's obvious purpose, and opt for pieces with the greatest potential for continued usability as your child grows.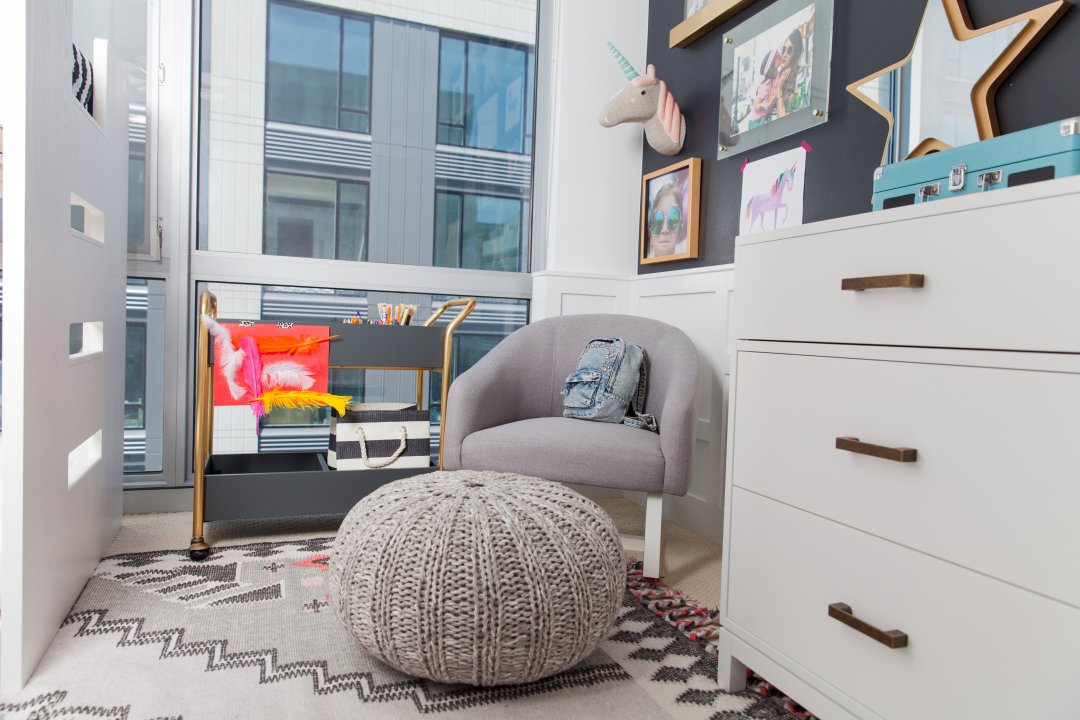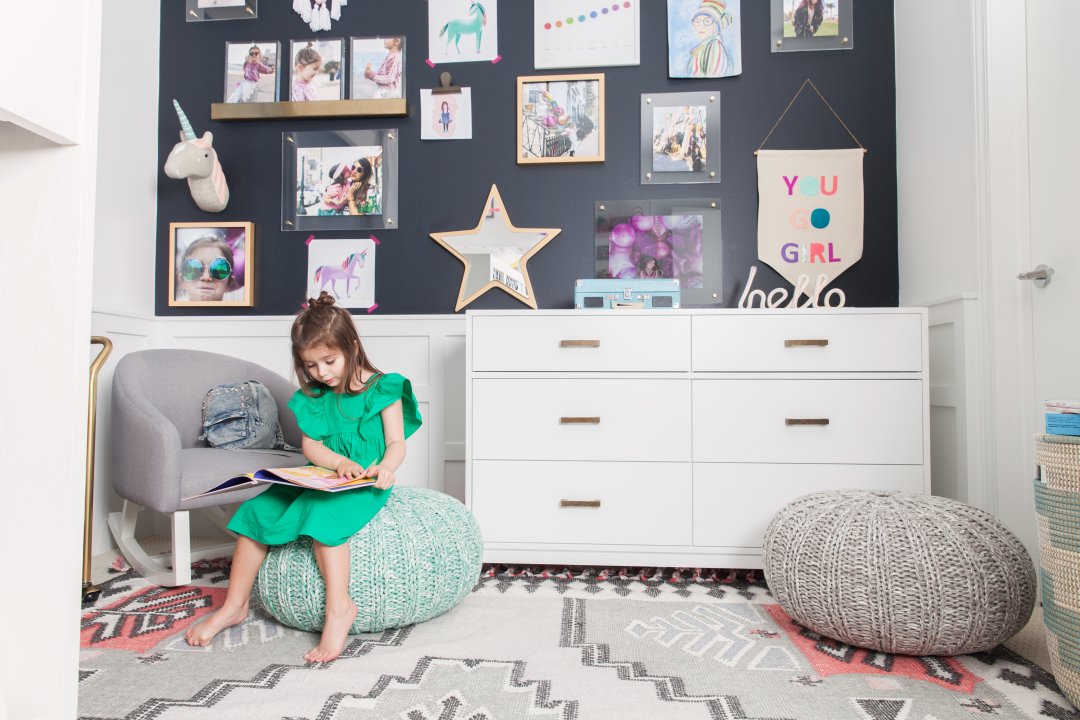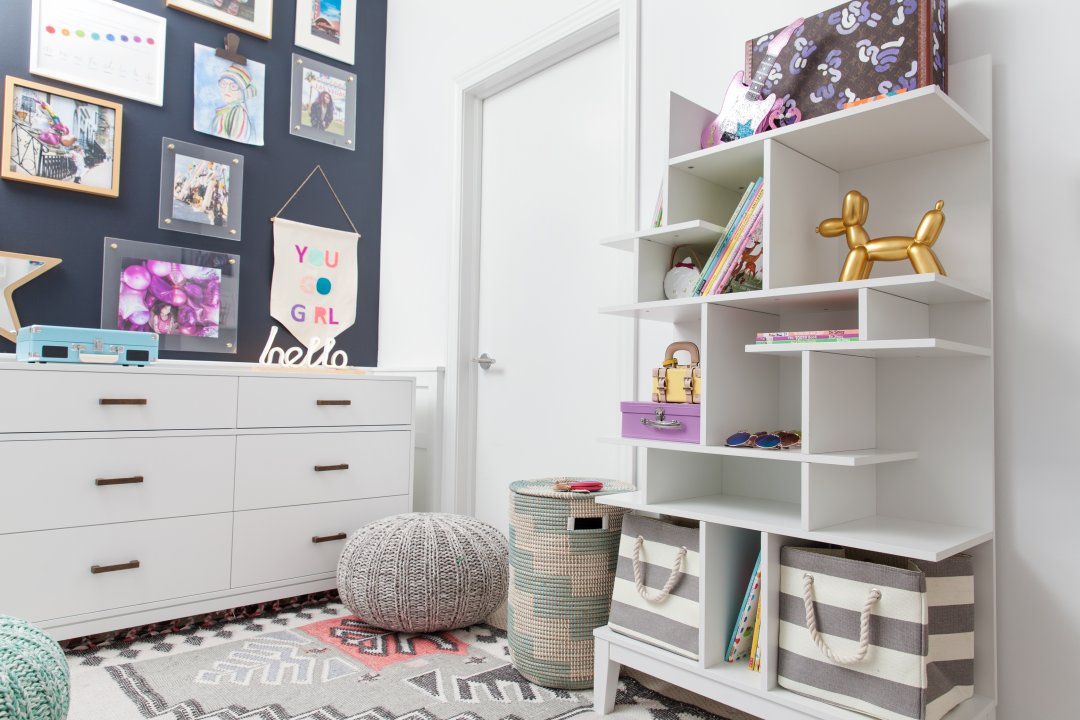 Look to vertical storage in small rooms.
According to Sara, "in small spaces it's best to work with vertical space to maximize storage and draw the eye up." Knowing how important it is to Zelda to have her "tiny things" displayed, Sara opted for a series of three 2-bin acrylic shelves that she mounted to the wall to showcase Zelda's treasures. The takeaway: Wall mounted storage is a great solution for adding additional storage space without taking up additional floorspace. Choosing unique finishes can also add a stylish decor element to the room.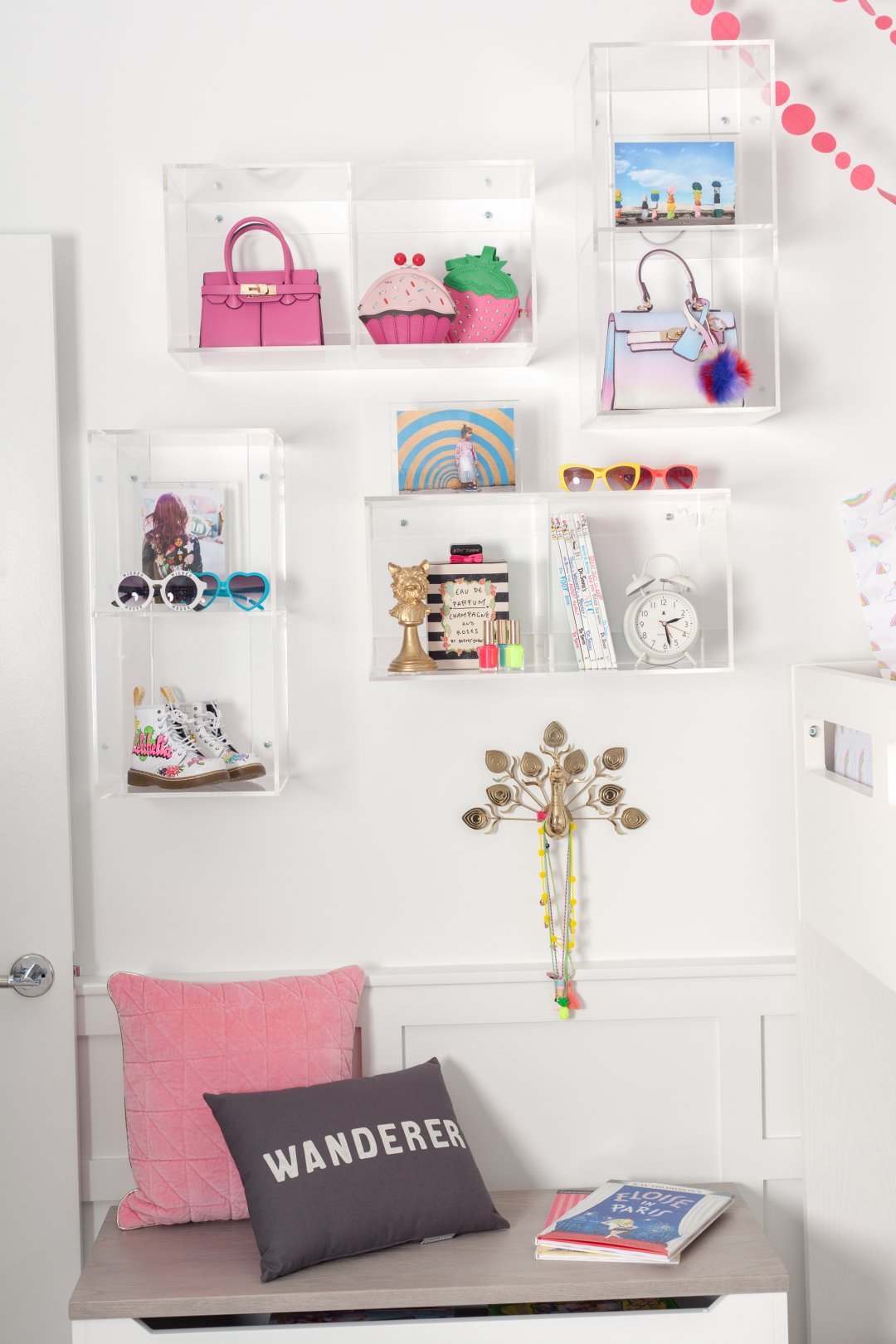 Bunk beds are small space superheroes!
Corri chose an abridged bunk bed for Zelda (this model has a smaller profile that is ideal for small bedrooms) with the idea that Zelda can sleep and lounge on the bottom bunk now, then transition to sleeping on the top bunk when she's older, remove the rolling bed, and keep the space underneath as a place to read, study and play. As Sarah noted, "it's just another way to maximize square footage in a tiny space." The takeaway: To maximize long-term functionality, look for bunk beds that feature either rolling bottom beds or frames that transition from one bunk bed to two twin beds. These options offer ideal short and long term bedroom solutions.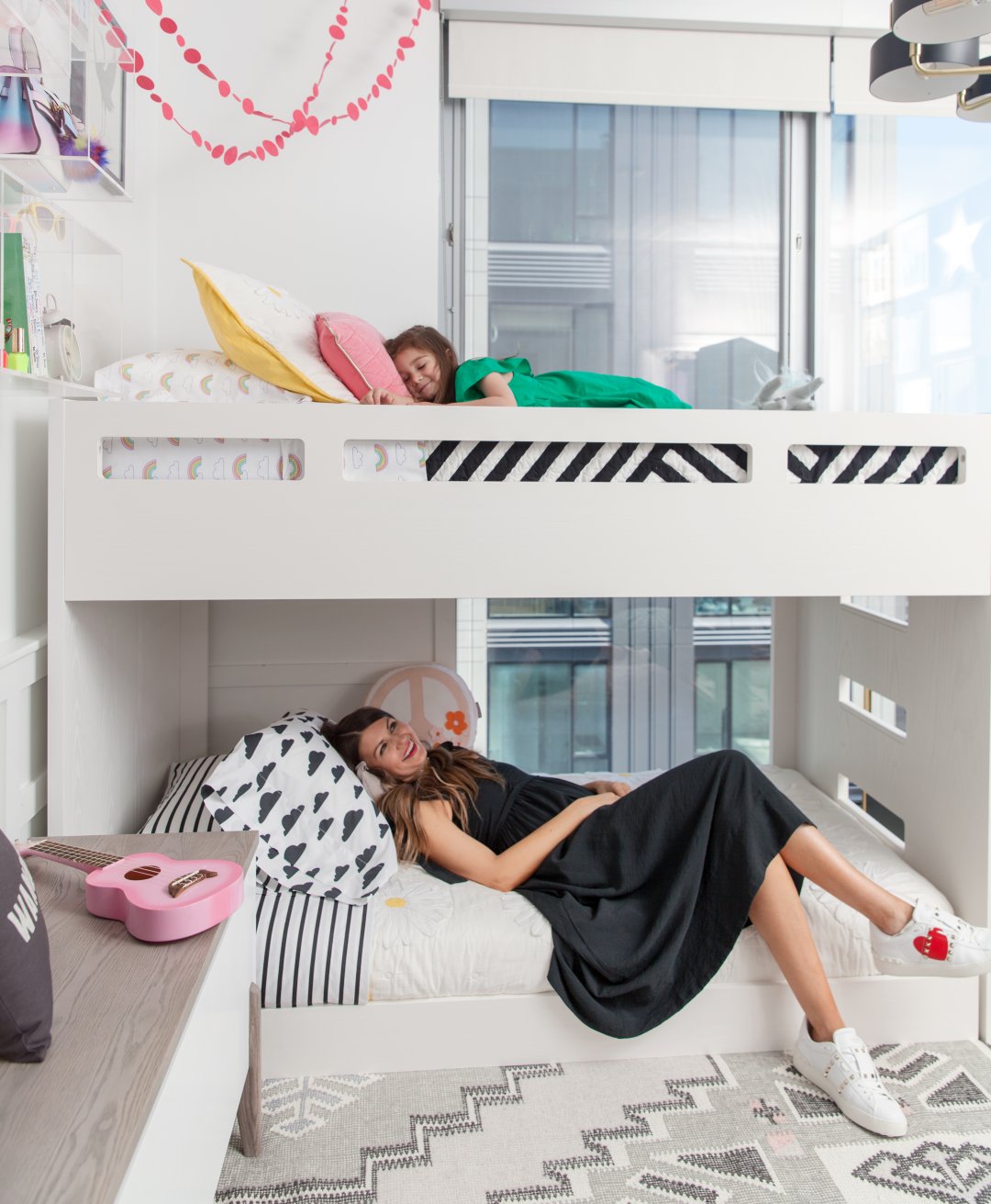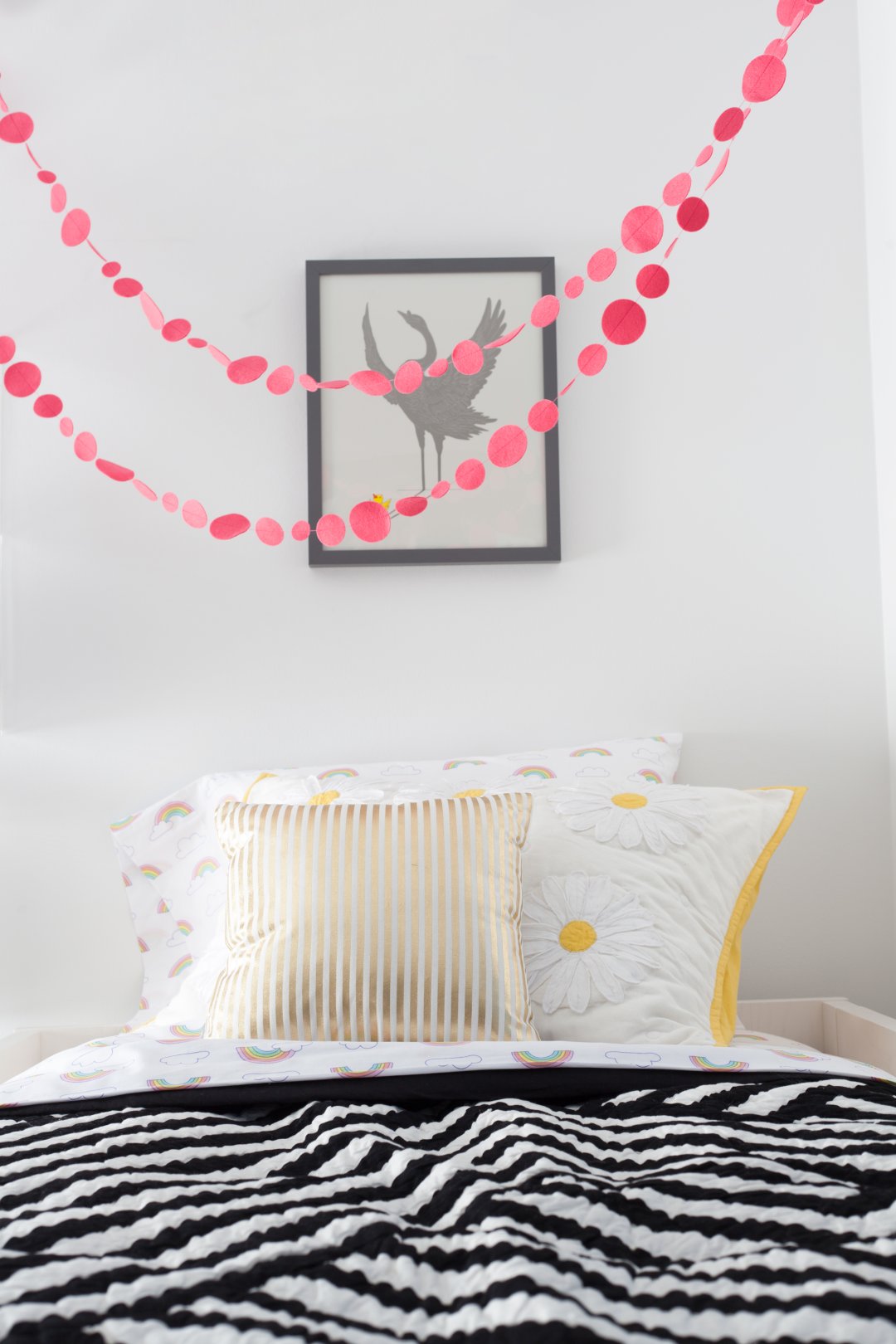 Look for ways to incorporate your child's personality into room decor. 
Zelda may only be 4 years old, but Corri and Sara wanted to create a room that reflects Zelda's spunky and sweet personality. As Corri notes, "Zelda has an amazing independent spirit that's pretty rock-and-roll, and she loves colors and sparkles, so I wanted to fill her room with what she loves." From framed artwork created by Zelda and photos from her trips, to showcasing her collection of tiny things, to finding new ways of integrating the pinks and purples she loves, Corri and Sara created a room that is perfect for Zelda at four and dynamic enough for Zelda at five, six and beyond.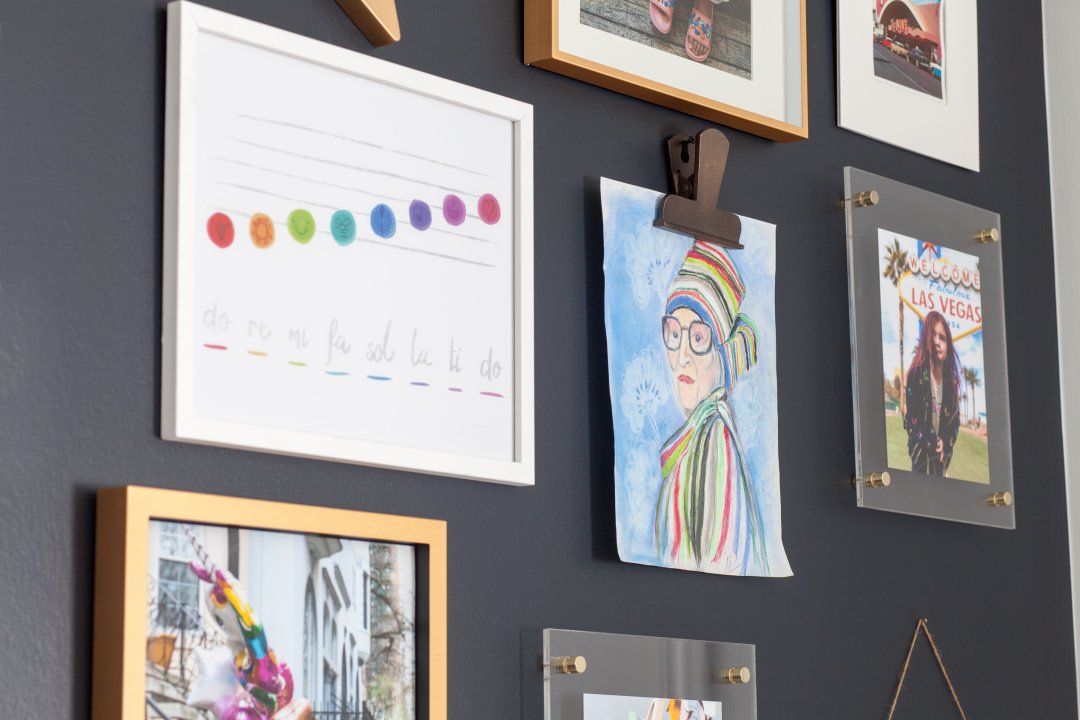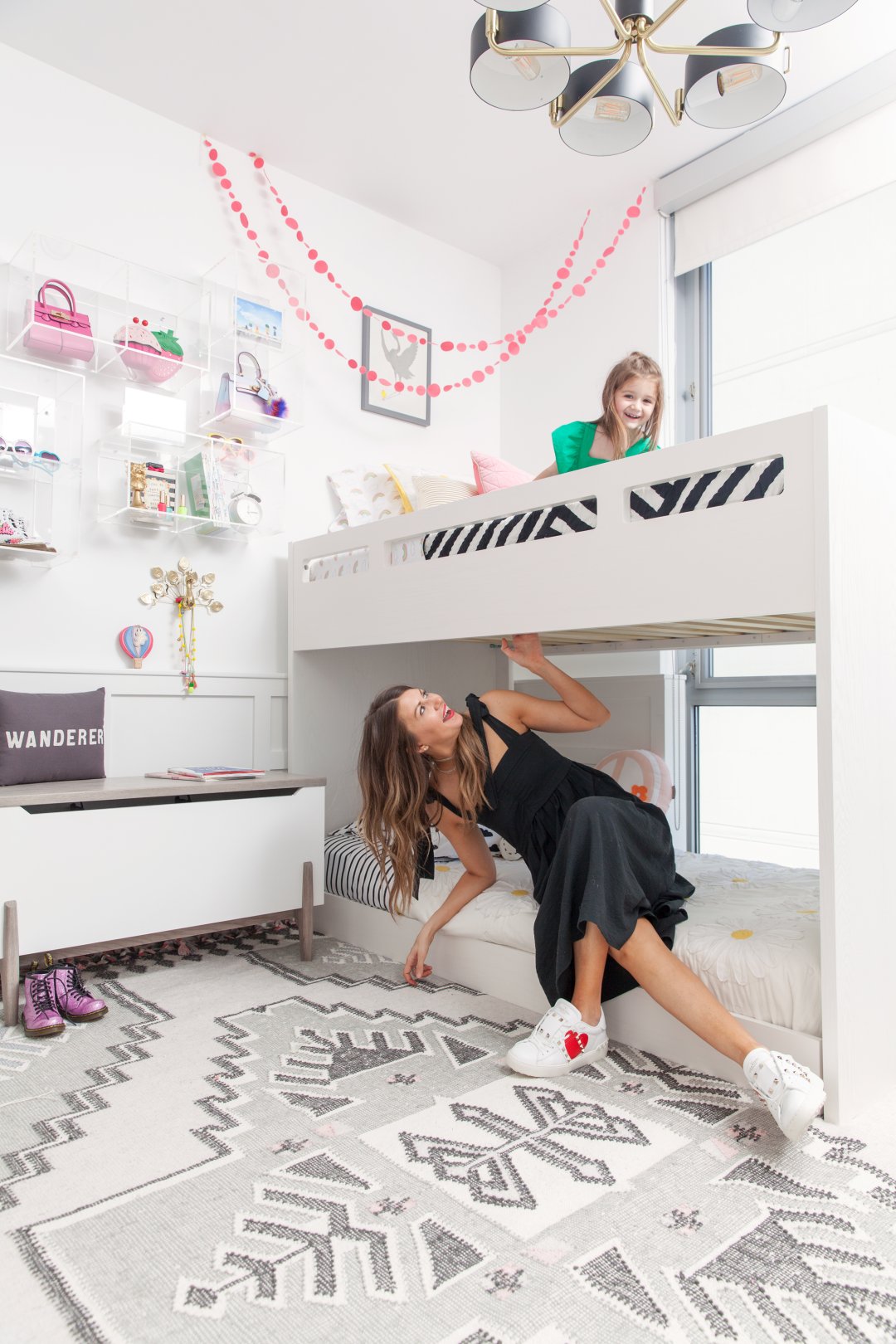 According to Sara, "There is nothing I love more than partnering with my customers to create a space they fall in love with and meets their aesthetic needs and functionality." And we love that Sara applies the same goals to designing four-year-old Zelda's room as she does to designing an entire home.
Thanks, Corri and Zelda and Sara!
Need some help getting started?
Our Design Experts are happy to help with design solutions big and small,
from finding the perfect sofa to a room refresh, to the whole home.
Try our Complimentary Design Service today.
We design it. You love it. And it's free.