Prices and availability are subject to change from the time and date that you print this page.
6/29/2017 11:13:27 AM
For Customer Service, please call 800.967.6696
Read what people are saying.
Our reviews are verified for authenticity. Learn More.
Rubix Shelf
is rated out of
5
by
25
.
Rated

4

out of

5
by
OLNYC
from
Looks amazing, but takes time and patience.
I love this piece! It is the centerpiece of my living room. But, you definitely need to plan out the installation and measurements specifically. I installed it myself, but I do a lot of advanced projects. Allow yourself lots of time and patience to lay it out and install. For most, this is probably a two-person job. The anchors provided are very cheap and just fall apart. Save yourself the hassle and just don't even try to use them. When I was installing, the shelves and brackets felt kind of flimsy and I wasn't sure it would be solid enough to hold pottery. There are so many anchors in it that once installed, it is very solid and sturdy. The brackets on mine are a bit off from being at an exact 90degree angle. You can see in the 2nd photo that they don't line up properly. At some point I may take down the whole piece and bend them into better alignment. For the price, it is somewhat disappointing that the alignment of the brackets is off and the anchors are so cheap. But once it is installed, it looks so great that I have forgotten those factors!
Date published: 2017-05-02
Rated

5

out of

5
by
hannahd
from
Love this bookcase!!
I love how this bookcase looks in my apartment. I have a narrow entryway and needed some additional storage space, and this bookcase fits perfectly. It is big enough to hold a substantial number of books and decorative items, without jutting out too far on the wall. I will admit that set-up was difficult -- I had to hire someone to come hang the bookcase (not from Crate and Barrel) and he struggled to align the pieces perfectly. Still, I get compliments from EVERYONE that comes over and am very pleased!!
Date published: 2017-05-02
Rated

5

out of

5
by
haha078
from
Beautiful Shelf
I love this shelf with great quality of woods and design. Especially I like the thing which I can make it to the different-looking shelf. #CBPhotoShare
Date published: 2017-04-21
Rated

4

out of

5
by
BlueGnu
from
Yes....hard to put together, but really like it.
It took longer than I expected, however, I found a trick that helped me a lot.I positioned the shelf in the configuration in Crate & Barrel online picture (i.e. overlapping staggered shelves). I put it up wrong the first time in that 2 of the 4 brackets ended up being slightly higher than the other, thus the shelves did not sit level across all brackets. To ensure I got them level, without having to measure as much, I attached a level guide board to the wall, at the level where I wanted the bottom of the brackets to be. I used a spare piece of trim board. By attaching this guide board to the wall, it was easy to space the brackets horizontally using the guide board as the baseline, knowing that they would all start at the same level. Then, I simply deteremined how wide I wanted the ENTIRE shelf to be, measuring from the outside of the brackets. In my case ended up with the following:- Total width desired = 45" (from left outside bracket to right outside bracket- Center Line = 22.51) Installed the two outside brackets first, 22.5 inches off the center line, using the guide board as the bottom level to ensure they were exactly the same height.2) Measured 30" in from each outside bracket. This is the width of each wooden shelf. This determined the location of the middle two brackets. Again, you are measuring from outside of one bracket to the outside of the other bracket.3) Installed the two inside brackets. Since I was still using the guideboard as the base, this helped me ensure all brackets were the same height. This guide board also helped me steady the brackets when marking the holes, since I was working by myself.4) Removed the guide board from the wall and placed the shelves!For me, the bottom guide board was crucial and made it much easier. Everything was level. I never had to measure the holes themselves, since all my measurements were based on the outside edges of the brackets.
Date published: 2017-01-30
Rated

4

out of

5
by
sagerose123
from
great but hard to build
bought this a week ao great looking just hard to build and hang
Date published: 2016-11-15
Rated

3

out of

5
by
Nonna
from
Plastic screw covers were falling apart
I loved the design of the shelves and I read the reviews - some customers said that it was a big hassle to put them on the wall. so I invited a professional handyman to do it. He said that the plastic covers for screws were too old - they were falling apart. I trust this guy because he did an excellent job with all my projects at home before. He also said that the metal holders are not strait. He put them on the wall anyway and it looks great but the manufacturers should do a better job for this kind of price.
Date published: 2016-10-04
Rated

5

out of

5
by
Chris42
from
Looks great but a lot of effort to hang!
This shelf looks SO good in my living room. The end product is entirely worth the hours of effort to map it out and put it up. It comes in pieces and is very sturdy but it's heavy so you have to drill up to 12 wall anchor holes in your wall. I only did 8 (top and bottom 4) to limit the amount of drilling into my plaster walls. I am not putting anything too heavy on the shelves so 8 holes is PLENTY. It's very sturdy. Ok now I feel like being helpful to the next purchasers by sharing my measurements for where I drilled . You're welcome ;). My only suggestion because I ended up being off about 1/4" and the shelves don't sit perfectly is to take The two outside holes and move them in 1/4" each. It's much better to have w little shelf overhang than not enough. Take a look at my end configuration - I chose to put the holes for the shelves facing left for the 3 bars closest to the center of my room and the opposite way on the far end just so that one wasn't sticking out to the side. The shelf fits over my couch with no risk of hitting my head on it. I only measures out the top 4 holes to start. I hung it about 16" down from the ceiling and drilled my holes from the wall's center line (remember to bring the two outside holes in 1/4") - LEFT of center 7 1/4" and another LEFT of center 22 11/16". Those two bars have the hole pegs inward facing each other. Then RIGHT of center 5 1/8" and 22 11/16". I measured a bazillion times and made sure the Top holes were all level before drilling the 4 holes with a 1/4" drill bit. I have plaster walls so I went to HD and bought different wall anchors (pictured) but the screws that came with the shelf still worked great with the other wall anchors. Ok so I hung the 4 bars and then marked where the bottom hole should be. I used the same measurements from the top holes To check spacing but I also relies heavily on my level and eyeballing from a distance to make sure it visually looked straight before drilling the second set of 4 holes. I didn't trust that the bars were straight or would sit completelu straight so eyeballing it allowed me to make some tweaks whereas only using measurements likely would have made it look Unlevel. Moral of the story, it's a pain but it's worth it. Be patient and measure it out a bunch and have your level handy. Good luck and enjoy!
Date published: 2016-07-13
Rated

5

out of

5
by
bareimage
from
Excellent product bad assembly instructions
Please note: What you getting is the set of two shelves that can be mounted as one unit of separately The design of the product is excellent. The wood looks better then the images. The shelves weight a lot so I would not suggests mounting them on anchors. One of the elements of the design of these shelves is that metal pipes can be mounted with mounting halls inward or outward. Since the size of these shelves is 30" and in USA beams are spaced at 16" apart (most of the the time) if you flip the shelves so the mounting holes are pointing outward the mounting distance would give you 32". This would allow you to mount shelves to the beams making the structure supper secure. The assembly instruction did not list this information.
Date published: 2016-07-01
Rated

4

out of

5
by
sophiass
from
Reclaimed wood shelves perfect above a small desk
I saw this item in the store designed like the second picture (staggered support height). A couple things to note are that the shelves are reclaimed wood, and the width of the shelves is a little shallow. You can still put books on it though. Also pay attention to the maximum weight. There are anchors that come with the shelves, but I didn't use them and instead purchased stronger ones from Home Depot. Shelves are designed to be either 12'' or 18'' apart if that's important to you. Overall construction is good, and they look beautiful. The only complaint that I had, and it's not really a complaint, just more of an observation, is that the wood was treated in some way because there were grease(?) stains on the paper that it was wrapped in. Otherwise they were perfect. I put this above a desk nook that I have.
Date published: 2016-05-18
Rated

5

out of

5
by
Wisconsin
from
New favorite decoration!
We recently purchased this shelf to hang above our kitchen table and have absolutely loved it! It can be a little tricky to set up just because there are so many options of how it can be pieced together, but the shelves and brackets themselves are easy to work with. The material is very sturdy and has a modern yet rustic look. We absolutely love this shelf and would highly recommend it!
Date published: 2016-05-09
Rated

5

out of

5
by
VeloGirl
from
Rustic and Artsy
I bought this for my small reading room/ office and it's great!! It makes the room look bigger since it's off the floor. We've gotten a lot of compliments on it as it's unique style; configuragble in any way you choose.Advice: lay all the pieces on the floor in the configuration you want. Carefully, mesure and match that to the wall. You really need to figure out where and how you are going to mount it. It is some work to do it right but it's worth it.
Date published: 2016-05-03
Rated

5

out of

5
by
jnova
from
love this on my wall!
i only used 4 wood panels evenly spaced and it looks great above my bar!
Date published: 2016-03-01
Rated

4

out of

5
by
CJoK
from
Unique shelving
This shelving unit can be changed based on configuration so fitting it into your space is easy. Its uniqueness makes it a show piece. However, it is a little difficult to assemble and we had to adjust the angle of some of the hardware to fit flush against the walls. If you take the time to plan out the installation, it will turn out beautifully.
Date published: 2016-02-22
Rated

5

out of

5
by
Rosalie
from
Very Flexible
My husband and I purchased two sets. It took some time to lay out and install but it turned out terrific.
Date published: 2016-02-16
Rated

4

out of

5
by
Mark
from
Cool shelves, careful what you put on them.
These shelves are great looking, tricky but not that hard to install (trick is, need to map out on paper first and install one set at a time). Only problem is, we put books and some other porous items on them and a few weeks later noticed oil stains. After query to C&B, learned oil is often spread on the shelves after sanding and sometimes right before packing. We took them up on consolation store coupon rather than returning. Planning to seal the wood--they are cool shelves.
Date published: 2015-08-24
How to Hang a Wall Shelf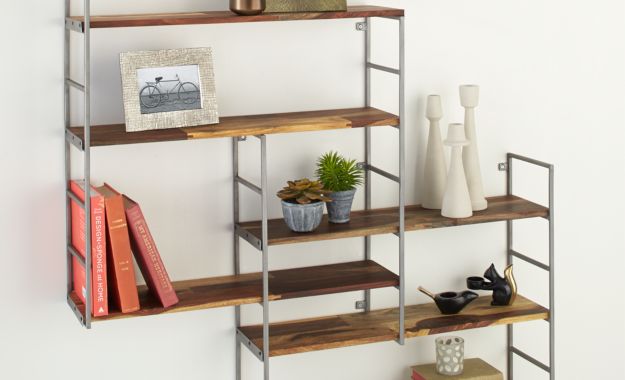 Use a stud finder to locate an ideal place to install the shelf. Mark the desired area with a pencil and use a level to ensure the shelf will hang evenly. Loosely install the shelf brackets over the marked studs, and double check using the level. Once the shelving is level, finish tightening down brackets and install the shelves to the bracket.
Information and instructions
Easy-to-follow instructions will also be included in your order.
The Advantages of Ready to Assemble Furniture
Our Ready to Assembly Furniture costs a fraction of what you'd expect because it ships in an economical flat‑pack and you do the finished assembly.
In addition to featuring quality materials such as solid hardwoods, hand-forged metals, and beveled glass, the real beauty of this furniture is that each piece is thoughtfully designed to take advantage of efficient new construction methods and affordable high-performance materials. These include new composition leathers, microfiber fabrics, and most importantly, a new generation of high-resistance engineered woods and veneers that not only save you money but ultimately save natural resources as well.
Affordable Delivery
Now our Ready to Assemble furniture can be even more affordable. Some ZIP codes are eligible for Local In-Home Delivery starting at just $59. We will bring your order into your home and place the package in the room of your choice. Your exact shipping total will be calculated at Checkout.
If you have any questions, please email or call us at 800.967.6696800.967.6696.
What you need to know.
We will accept returns and exchanges of non-furniture items if:
Non-furniture items are returned within 90 days of customer receipt.
A valid proof of purchase is provided (see below).
Non-furniture items are returned in good condition—unused and unwashed.
If you discover an item has a manufacturer's defect or was damaged during transit, we will accept the item for return or exchange with proof of purchase. Without proof of purchase, the item can be exchanged only for the same item. A valid photo ID is required.
We are unable to accept any items for return or exchange without proof of purchase. Items purchased as final sale cannot be returned, exchanged or repaired.
Items must be returned to the store brand where the purchase originated or by mail (if the item was ordered online or by phone and received by mail). Purchases made outside the U.S. may only be returned to the purchase location.