Prices and availability are subject to change from the time and date that you print this page.
7/29/2014 8:47:21 AM. For Customer Service, please call 800.967.6696
Sleek stainless mill offers unique modern styling and seasoning. Remove stainless cap to reveal adjustable grinding mechanism and dispense salt. Smart design prevents residual spill.


Bavaria Salt and Pepper Mills
Bavaria Salt Mill
is rated out of
5
by
97
.
Rated

5

out of

5
by
kathym1017
from
Great purchase
I purchased the Bavaria Salt and Pepper Mill as a shower gift. The bride was very happy with the gift. She had used the product at a friends house and added it to her registry based on how much she liked it. I ordered the gift on line and it was delivered within a couple of days and I was ready for the shower without having to leave my house to buy a gift. Could not be not be more convenient.Thanks Crate and Barrel for such good products and each of purchase.
Date published: 2013-03-05
Rated

5

out of

5
by
Chester82
from
Best salt shaker
I love my salt shaker. I love that the top if it is the mill so you never have a mess in your table. I love that it comes with a cap for the top.
Date published: 2013-03-04
Rated

5

out of

5
by
shockleesg
from
Great Value For The Dough
Fantastic product. Great value. Cap keeps stray bits in place after grinding. Love the solid feel of the glass.
Date published: 2013-03-04
Rated

4

out of

5
by
Meri S
from
Great Purchase
Very stylish salt and pepper shakers and love the fact that they're also grinders. The only negative is the lids are difficult to get off sometimes.
Date published: 2013-02-24
Rated

5

out of

5
by
Julie in CA
from
Great grinders
We got a set of these mills for our wedding over 16 years ago and they are just now wearing out! I'm about to order another set. I can only hope it last as long a the first set. These are the only mills I can find that dispense from the top so that residual salt and pepper doesn't end up all over your table/counter/cupboard. These are great!
Date published: 2013-01-14
Rated

3

out of

5
by
NJDMS
from
OK
We first purchased the pair of salt/pepper mills...they lasted for a year or 2, then the pepper mill broke and we reordered it. Today, (about a year or 2 after that) the salt mill broke. So, I'm here ordering a new salt mill. Point being, these mills look good, and they work well...WHILE they work, but they DO BREAK. Fortunately, C&B doesn't discontinue them, because I obviously like them enough to keep coming back and getting them. If they could make them more durable, that would be great!
Date published: 2012-12-31
Rated

4

out of

5
by
Redstar
from
Great idea
Love these grinders, only problem, the pepper mills grinder broke up, probably because it is plastic and pepper corns are tough to grind. The idea that you can grind from the top is great, less messy. Maybe the company can come up with a sturdier grinder, I would buy another pepper grinder to keep my salt grinder company.
Date published: 2012-12-30
Rated

2

out of

5
by
Monkey bug 2
from
Loved the look but...
Registered for these for our wedding and they worked perfectly for about a year and then the pepper grinder stopped grinding. Purchased a new one and the same thing happened with in a year.
Date published: 2012-11-26
Rated

5

out of

5
by
Aaccddhh
from
Great looking set
This set is heavy-duty and looks very attractive in the kitchen. The width is comfortable in your hand and they are a nice, sturdy weight. They also come filled up with sea salt/peppercorns which was a nice surprise!
Date published: 2012-11-23
Rated

5

out of

5
by
acvillalobos
from
great
Love the design and ease of this product. I have owned it for years and it still works great!
Date published: 2012-11-08
Rated

5

out of

5
by
Dierdre
from
I love love love these
Best salt and pepper purchase I made. The tops actually hold the salt and pepper so that you can sprinkle easily. The look is great and they hold a nice quantity so that you don't have to keep filling them up.I had mine for two years now and I have not had any problems.
Date published: 2012-10-27
Rated

5

out of

5
by
nysfinester
from
Super nice!
My wife and I had these on our wedding registry--we loved the idea of having something sleek but not 100% stainless steel. The combination of glass and SS is real sharp! We received the first one with a small scratch in it, but C&B immediately shipped us a replacement, no questions asked. Another fine purchase from Crate and Barrel!!
Date published: 2012-09-10
Rated

5

out of

5
by
Bluslady
from
Wonderful purchase!!
I bought this salt mill along with the matching pepper mill for my new home and I could not be happier. At first glance they just make a beautiful impression, they are so sleek and just lovely, but they work just as wonderfully and that is hard to find, both stylishness and functionality. When they arrived, the first thing my mother said was how much she loved them and would like to get a set for her home....I think I know what one of her Christmas gifts will be!
Date published: 2012-09-08
Rated

5

out of

5
by
Mark M
from
Excellent Product
My wife and I registered for both the salt and pepper Bavaria shakers and have also now bought a set for family members that had commented on how much they loved our set.They are very sturdy and are well constructed (and I love how they already come filled with sea salt and pepper corns already in the shakers.I love using them when cooking and also having them on our dining room table.
Date published: 2012-09-05
Rated

5

out of

5
by
steph5
from
Date published: 2012-07-29
Rated

5

out of

5
by
nicolex
from
Met all expectations so far
I have used the pepper mill for about a year and being very satisfied with its performance, recently added the salt mill. The pepper mill has a steel grinder and the adjustment works well giving me the coarse grind that I prefer. (I can't stand powdery pepper!) The salt mill has a ceramic grinder which avoids corrosion. In my opinion, these are the best designed mills I have encountered. Mills I have previously owned all seemed to have flaws like leaving a mess (pepper on the stove) or breaking (plastic cracking). These mills are solidly made and address those issues. Hopefully these will be the last salt and pepper mills I will own. Recommended!
Date published: 2012-06-17
Rated

5

out of

5
by
cooking queen
from
Best Sea Salt Mill ever
I cook 3 meals a day almost everyday...rarely eat out. I love this salt mill with my favorite sea salt. Great quality grinder and so easy to adjust. Looks good in my gourmet kitchen and on the table as well.
Date published: 2012-05-05
Rated

5

out of

5
by
moosh22e
from
Practical AND Nice look for the counter
We have an open floor plan with the kitchen, family room and dining room. These S&P mills look great on the countertops. We've had them for two years and have not experienced any problems with their functionality. Also, we've refilled both mills without issues.
Date published: 2012-04-24
Rated

4

out of

5
by
Suealias2
from
Works
Purchased both s&p mills to replace Biscayne model... Which broke on me 3x. So far, this one is great (no jinx!)... Been 6 mos. Also doesn't leak through bottom like other design. Initially, not so crazy about bulky design... But they work great & have grown on me.
Date published: 2012-03-17
Rated

4

out of

5
by
CC118
from
Nice Salt Mill
We have the set. It's nice looking and works well. Our first one broke after sitting in storage for several months - we left all of the salt in the top and it corroded the nut such that when I went to refill it broke. I think that was more of our fault than the item itself. Otherwise works well.
Date published: 2012-02-29
Rated

2

out of

5
by
Marlon
from
Beauty is only skin deep
I purchased the salt mill and the pepper mill at the same time. I loved their design and was happy with my purchase until the time came to refill the mills. The salt mill was difficult to open and impossible to put back together because a piece broke off in the process of filling. The pepper mill was easier to fill but I am not using it as I liked the two as a set. I have since purchased a new set at a kitchen store and am very happy with the new mills I purchased.
Date published: 2012-02-28
Rated

5

out of

5
by
impressionista
from
The Best
Finally someone thought of a grinding shaker that doesn't drip salt/pepper on the table!!! No more mess on the table! Love it!
Date published: 2011-09-10
Rated

5

out of

5
by
rieditor
from
Great set!
My husband's cousin purchased these off of our registry and in her note said she got the same set when she was married several years ago and still loves them. Can't ask for better feedback than that! I chose these because they are stylish, sturdy and fit our stainless steel look in the kitchen. She purchased them online and, when they arrived, the stainless portion on the pepper mill was scratched - even though they were well-wrapped in bubble wrap. I brought them to a local store and they exchanged it with no problem at all. Still going strong almost a year later with no problems. Love that you can adjust the grind, too.
Date published: 2011-08-31
Rated

5

out of

5
by
caryncjrm
from
A nice modern look
I always get compliments on this set of salt and pepper grinders. I have had them for more than 2 years and have had no complaints. They look pretty sitting out next to our stove.
Date published: 2011-08-28
Rated

3

out of

5
by
jmalexandria
from
great find
I own both the salt and pepper mill. I happily used both on a regular basis until the pepper mill broke. The inside of the stainless top is plastic and it craked off. Crate and Barrel replaced it for me at no charge and I am happy again.
Date published: 2011-08-26
Rated

5

out of

5
by
Deezie
from
sleek and healthy
Purchased the salt mill and matching pepper mill. Using sea salt is a healthier way to have your salt and eat it too. Salt mill is also easy to hold, and makes good use of gravity. It looks good, along with the pepper mill, on the table. Even with larger family dinners and many users, the stainless cap that covers the mill has not been misplaced, the possibility of which has been mentioned by some reviewers.
Date published: 2011-08-23
Rated

5

out of

5
by
D Fam
from
Part of a Perfect Pair
When my husband broke my pepper grinder, I knew I would never be able to find another great set like that, but then he brought home this salt grinder and the pepper to match and now my pepperless salt grinder is very lonely because I can't stop using these two! I love them!
Date published: 2011-08-16
Rated

4

out of

5
by
paintcan
from
Do their jobs well......
The price was right and they look good on our bar where we typically dine. They are a little larger than I would like but I'll adjust to them.
Date published: 2011-06-13
Rated

1

out of

5
by
randy777
from
junk
Broke in about 6 months, I wouldn't get this one. Also, the grind adjustment never kept its setting. Same problem with the pepper mill, which gets the same exact review.
Date published: 2011-01-10
Rated

2

out of

5
by
probachlor
from
Beautiful but it breaks
Like so many other reviewers, mine broke too.I will likely get another but maybe it will be just an accent piece.Tough corns seem to shatter the blade mounts. Its OK until you want to grind really fine pepperSerious kitchens may care to avoid this pretty toy
Date published: 2010-12-30
Related Products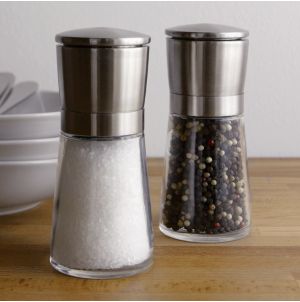 Sleek stainless mills offer unique modern styling and seasoning control. Remove stainless...