Prices and availability are subject to change from the time and date that you print this page.
10/20/2014 2:24:05 PM. For Customer Service, please call 800.967.6696
Crate and Barrel Exclusive
Serve the house specials with bistro flair. Perfectly proportioned white porcelain bowls are versatile essentials for side and buffet dishes, individual pastas and stews or composed entrees.
Bistro 6 Small Bowl
is rated out of
5
by
88
.
Rated

5

out of

5
by
MelisB
from
Perfect little bowls
I purchased these as replacements to chipped soup bowls I had been given as a gift from another store. I love C&B quality - these bowls go well with my other bone china every day dishes from C&B and are the perfect size for a bowl of cereal or a bowl of soup. I like them for my kids' meals as well, you can put a little food in there and it does not look like a measly portion thanks to the size of the bowl. They stack nicely and are useful for so many things, I find myself reaching for them several times throughout the day - from using during cooking prep to eating. They stack well in the dishwasher as well - which is more than I can say for some other bowls (narrow and deep) that I have. I will likely come back to purchase the larger size of these bowls as well.
Date published: 2012-08-27
Rated

5

out of

5
by
Miya
from
Loved These Bowls!
We had 7 people over for "Japanese tacos" two nights ago, and the bowls were perfect! Each one built their own taco in a bowl starting with rice then adding meat sauce and all the regular taco toppings. And nothing spilled out because of the bowls' shape and size. The bowls made it a fun, and beautiful, way to share a meal with friends!
Date published: 2012-08-07
Rated

5

out of

5
by
ZGrammy
from
Perfect Bowls
They are a perfect match to the large Bistro Bowls and the Buffet plates. They do everything they were purported to do. Micro, Oven, etc. Just wonderful purchase.
Date published: 2012-07-24
Rated

4

out of

5
by
KTbug
from
Simply Perfect
These bowls are simply sophisticated and very versatile. A couple had small defects upon receipt but an associate quickly sent us perfect replacements free of charge. Great product so far and great customer service!
Date published: 2012-05-02
Rated

5

out of

5
by
carrn
from
Beautiful and versatile
These bowls are the perfect size for meal sized salads, side dishes, food prep and more. We like our oatmeal with lots of fruit and these bowls function beautifully without feeling like you're eating from a mixing bowl! The width to depth ratio is ideal for so many uses. Not too heavy but very durable. They really exceeded my expectations!
Date published: 2012-02-19
Rated

4

out of

5
by
domestic chica
from
Great Product
We just bought these bowls - and they have been wonderful! They hold up well in the dishwasher, and great to eat from! The one hesitation I have about them is that they are really, really big. I couldn't tell from some of the reviews that I looked at when I bought them, but they are not really cereal/every day use bowls. They are a lot better for big salads and maybe soups. But I would probably get the smaller ones for every day use. Other than that, though, they are beautiful bowls, and I have no other complaints! Great product :)
Date published: 2012-02-06
Rated

5

out of

5
by
figliadelre
from
Fantastic Pasta Bowl
I had an old set of pasta bowls I had been dying to replace. I LOVE that these bowls are nice and big, and made of porcelain! Porcelain does not get super hot in the microwave like their more porous ceramic counterparts do. The bowls are a simple white, with a clean, not-too-thick lip and a simple, versatile shape.
Date published: 2012-01-13
Rated

5

out of

5
by
pretty
from
good size
Usually I prepare 2 same dishes on the dinning table when I have party. This is good size for that. Not too big, not too small. One my daughter wanted these bowls. This bowl is good for everyday too.
Date published: 2012-01-05
Rated

5

out of

5
by
ChefReg
from
The Perfect Bowl
These are truly the best bowls I've ever purchased-- I love to cook. I cooked my way through college and grad school and now years later, the education is done, I still feel tremendous pleasure when I whip up whatever my latest yen is. The Bistro Bowls really are as described- clean evenly white porcelain, perfectly proportioned, lightweight yet obviously well made- whether you're sitting in front of the tv eating a bowl of mac and cheese after a grueling day or you're entertaining- they work beautifully.
Date published: 2012-01-02
Rated

5

out of

5
by
arnie
from
Just my size
I am the biggest eater of the about of food in one setting that I know(I am not alone in that opinion), yet, I find these Bistro Bowls just the thing for my family. I am satisfied with the amount food stuff that it holds. It is suitable for my large appetite as well as the other members of the household that prefer a smaller amount to eat per sitting. I have also purchased the largest bowls and am looking forward to completing the set.
Date published: 2011-12-31
Rated

5

out of

5
by
Yokeko
from
"THE" Bowl
After much searching for bowls that would work for just about everything, I found them! They are a size and shape that does the job for soup, cereal, snacks, and desserts and salads requiring bowls. These bowls are the best design I have seen to help regulate portion size for different foods while having enough volume and height to adjust portions. This is a fantastic all-purpose bowl!
Date published: 2011-12-18
Rated

5

out of

5
by
BostonRed
from
So useful!
I love these bowls! They are the perfect size for cereal or a side salad and made of sturdy ceramic. A little tall when stacked together, but otherwise a great purchase.
Date published: 2011-11-29
Rated

5

out of

5
by
nl510
from
Perfect Size
I love this bowl. It's a great size for large pasta dishes. It's nice and thick so it doesn't feel so fragile and I love the pure white. All of the Bistro Bowls are definitely worth getting.
Date published: 2011-08-26
Rated

4

out of

5
by
RoRo22
from
Nice center piece
This is a very nice large bowl which is perfect as a center piece. Since it's low it doesn't get in people's view but large enough that it gets notice.
Date published: 2011-08-23
Rated

5

out of

5
by
Mary0897
from
Great Multipurpose Serving Bowl
I have all three sizes of the Bistro Bowls, but love the large one for serving my main meal (pastas, salads, appetizers). It is a great multipurpose bowl that is also easy to clean and very durable. I recently used this bowl to serve my sausage balls at a party and it held all 110 of them!
Date published: 2011-08-22
Rated

5

out of

5
by
CBAddict
from
Versatile
I have the medium bistro bowls and love them. They're super versatile - you can put rice, soup, pasta, salad, or other dishes in these. I originally bought 2 of these but loved them so much that I went back and bought the set of 6.
Date published: 2011-08-20
Rated

5

out of

5
by
Amanda W in Chicago
from
Great basic bowl
We registered for one of these bistro bowls and we love it. It's a nice basic bowl, but large enough to put just about anything in - salads, pastas, etc. It feels sturdy too and I don't worry that it's going to break easily.
Date published: 2011-08-19
Rated

5

out of

5
by
jlyogi
from
Large Bistro Bowl
My fiance and I were given the large bistro bowl as an engagement gift and we love it so far! Having just moved into a new home, we definitely needed items like this to display salads, pastas, etc. when hosting guests!
Date published: 2011-08-16
Rated

5

out of

5
by
klinglerm
from
The perfect bowl!
I bought the set of six small bowls. These have a smooth, high quality finish. They are durable enough to have survived in our household for a few weeks now without a chip, ding, or crack, despite rough handling. My family reaches for these every time, because they are the perfect size for cereal, snacks, or other treats. This was an excellent purchase and I'm planning on adding a second set.
Date published: 2011-06-16
Rated

5

out of

5
by
Bowl Crazee
from
Best Bowl on the Planet!
O!M!G! I love this bowl. It's deep, super hefty and is perfect for pasta. A man-sized recipient for stews, chili and soup, it is an awesome addition to any table. Dish it up, this one will bowl you over!
Date published: 2011-04-22
Rated

5

out of

5
by
james le chef
from
Great, great bowls
Bought for Bouillabaise and worked perfectly because the soup is so hearty and needed the extra room for the mussels in their shells. Also good for small serving bowls for things like peas, baby carrots, etc.
Date published: 2011-04-10
Rated

5

out of

5
by
Shawn2
from
Bistro Bowls
We were always running out of bowls for cereal, side salads and ice cream. I ordered 6 of these and they were they perfect fix. They do stack, but not tightly so they take up more vertical space than my regular bowls. But the kids love them, and now we don't run out of bowls...at least not so often. May need 6 more!
Date published: 2011-03-10
Rated

5

out of

5
by
RachelKH
from
Great Bowls
These bowls are great. We love them for pasta or dinner salads. The white makes it easy to use them for everyday or dress them up for more formal occasions.One came broken in the box and C&B customer service was great. They sent a new bowl within 2 days, super easy and very nice.
Date published: 2010-09-09
Rated

4

out of

5
by
SierraWoman
from
Very nice bowls!
I really like these bowls -- perfect for my kitchen. My only complaint is that they don't stack well vertically (like they do in the picture!!) But otherwise, they do their job, and look good too.
Date published: 2010-09-05
Rated

5

out of

5
by
Azacia
from
Classic & Beautiful
We received this as a wedding present. It's versatile, classic, and beautiful. It's a sturdy bowl and is a great kitchen staple. We are very pleased!
Date published: 2010-08-04
Rated

5

out of

5
by
TexasMom4
from
Love these!
Wanted something a little more substantial in size than you can find in discount stores...these fit the bill perfectly! Not too large in my opinion. I read an earlier review that said they warped in the dishwasher...mine had a couple that seem to be a very slight oval more than round, but that just added to the rustic look I like, so it didn't bother me at all. Also, one bowl arrived broken...I called and a replacement was sent immediately. No questions asked and no having to return the broken bowl to Crate and Barrel. Fantastic service...Thanks!
Date published: 2010-07-30
Rated

4

out of

5
by
koreanbride
from
Pretty but fragile
These bowls are beautiful and a great size, but they warped when I put them in the dishwasher. They say that they are dishwasher safe, but they don't stack the same way anymore. We will still use them, but it was disappointing.
Date published: 2010-06-25
Rated

5

out of

5
by from
Perfect Pasta Bowls
These bowls are the generous sizethat I have been looking for that are perfect for all types of pasta. The white porcelain complementsany china pattern or color. They can also be used for serving bowls when needed.Great buy and very versatile!
Date published: 2010-06-01
Rated

1

out of

5
by
larger bowls
from
chipped almost immediately
we received the large bowls as a wedding gift and they began chipping at the foot immediately. it's too bad because they're a great size and really lovely.
Date published: 2010-05-27
Rated

4

out of

5
by
Carolinian
from
Good Capacity Single Serving Bowl
I really like these bowls. I am a single gal who doesn't entertain much, so four small bowls were enough for me. The width and depth are perfect for everything from pasta and rice to cereal and oatmeal. I also bought the 8" bowl to keep the small bit of fruit I have on the counter. The rims are a little thin, so that concerns me, but I'll just be careful and try not to chip them.
Date published: 2010-05-25
Related Products
Glossy neutrals and unglazed rims add sophisticated contrast to clean porcelain shapes...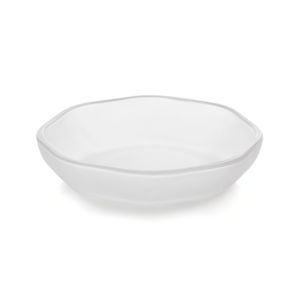 Mini bowls designed to suit your meal, décor or mood. Aaron Probyn's...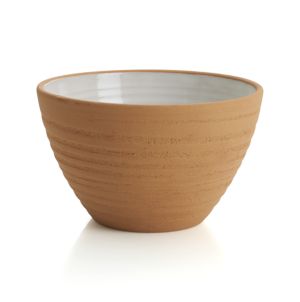 Solid stoneware glazed milky white, banded and textured with a wax resist...