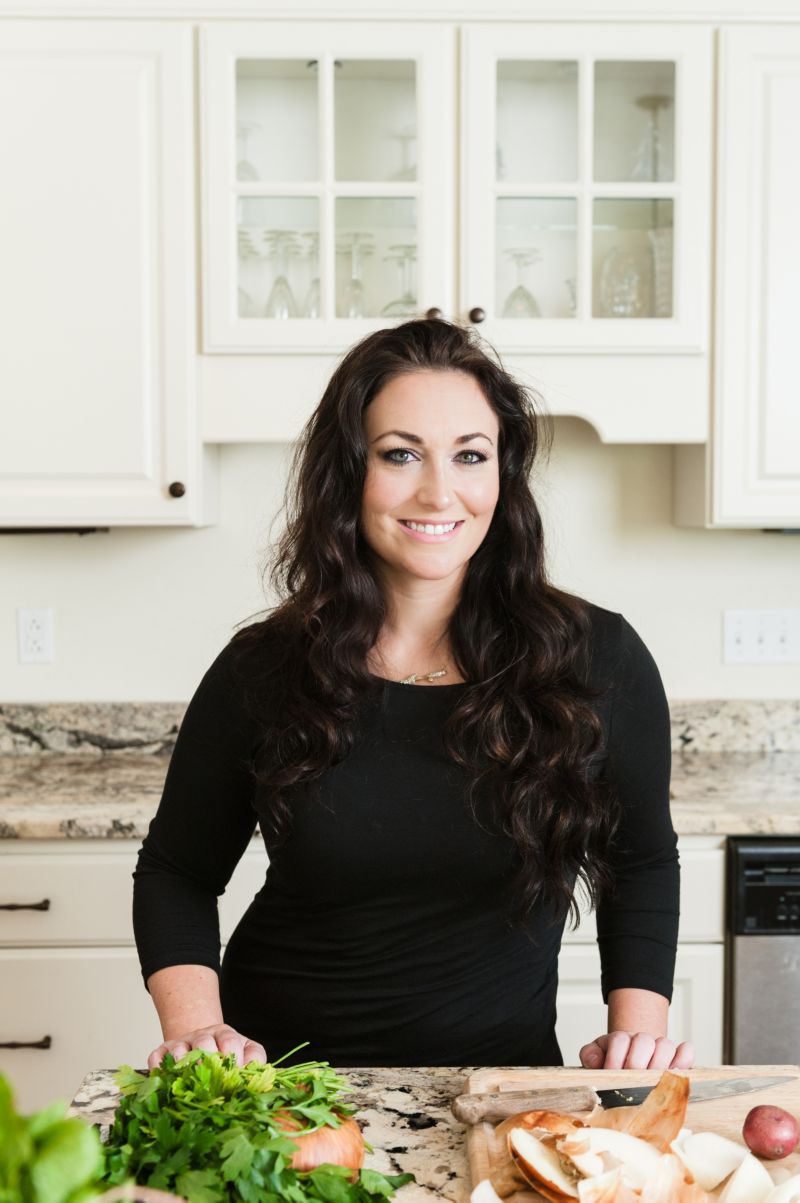 howsweeteats.com
This holiday season we've partnered with some of our favorite bloggers who will be showing you new and inspirational ways to bring the holidays home.
No holiday meal is complete without a little something sweet. We've partnered with Jessica Merchant, founder of How Sweet It Is, to get her take on two unique desserts perfect for Thanksgiving: Apple Galette and Pumpkin Cupcakes.
No matter how stuffed I get from a wonderful meal, be it date night or a big holiday gathering, I always, always, always have room for dessert. Always!
How does that work? Someone please explain the science to me.
I'm finishing off my easy Thanksgiving favorites with two seasonally appropriately treats. Even if sometimes, I crave a big chocolate fudge brownie after all that turkey and stuffing. Odd? Normal.
But to keep it real, we're going with pumpkin and apple. Separately, not together. Although they are quite delicious when served together, so I say you just have two servings of dessert. On the same plate. Pile it up!
I love how my brain works.
To finish our Thanksgiving meal, we have an apple galette which I like to call the "lazy girl's pie." Seriously, I can't get pie crust to work and I can rarely make a successful pie, but I can make the dough for said crust and turn it into a rustic galette. It's so much more fun and less stressful that way.
These sliced apples are smothered in cinnamon and stuffed in a cinnamon sugar crust. Oooooh so good. The whole shebang is topped with ginger whipped cream—totally warming and lightly refreshing all at the same time. This recipe can easily be doubled to make a handful of galettes. Or you could even make one gigantic one on your pizza stone!
Oh, and I love this pie mat for rolling out the dough. Even though I'm not being super specific with my crust, it helps with sizing and is a great surface for flour and sticky dough.
For non-pie crust lovers (it's real; they are out there), we have cupcakes, naturally. Pumpkin cupcakes, even more naturally! These cupcakes are super moist and full of flavor. They hold up great so you can even make them a day or two ahead of time. And while the cupcake is great, it's the frosting that's the real winner here.
Salted caramel buttercream. WHAT.
Say it again. Salted caramel buttercream. I can't handle it!
This icing is a simple buttercream with salted caramel whipped in. Seems obvious, right? But it's light and buttery on top of the spiced cake and works like a charm. Extra caramel for me please.
In addition to dessert like this, it won't hurt to throw in a pumpkin pie. Or a pumpkin roll. Or pumpkin bread! Or pumpkin ice cream? Basically anything pumpkin or apple-y. And then a brownie for me.
Thanks for following along with these easy Thanksgiving recipes with a unique twist. Now tell me: what is on YOUR menu?
Apple Galette with Ginger Whipped Cream
Serves 4
Crust Ingredients
2 cups sifted all-purpose flour
1 tablespoon sugar
1 teaspoon cinnamon
1 teaspoons salt
1 large egg, lightly beaten
1/2 teaspoon white vinegar
1/4 cup ice cold water
3/4 cups cold unsalted butter, cut into pieces (1 ½ sticks)
for brushing: 1 egg + a few drops of water, beaten together
coarse sugar for sprinkling
Filling Ingredients
3 apples, thinly sliced
1 1/2 tablespoons cornstarch
1 1/2 tablespoons sugar
½ tablespoon cinnamon
1/4 teaspoon ground ginger
1/4 teaspoon salt
Crust Directions
Add the flour, sugar, cinnamon and salt to a food processor and pulse just until combined. In a small bowl, whisk mix together the egg, vinegar and water. Add the cold butter pieces into the food processor and pulse until small coarse crumbs remain. Sprinkle the water/egg mixture over the flour and pulse again until the dough comes together.
Remove the dough with your hands and wrap it in plastic wrap. Refrigerate the dough for 30 minutes. After 30 minutes, preheat the oven to 400 degrees F.
Filling Directions
Add the sliced apples to a bowl and toss with the cornstarch, sugar, cinnamon, ginger and salt. Let sit for 5 minutes.
Remove the crust from the fridge. Roll it into a rustic shape – no shape necessary really – until it is about 1/4 inch thick. Place the dough on a parchment-lined baking sheet. Layer the apples in the center leaving a 2-inch+ border of crust. Once the apples are layered, fold the crust over top of the apples. Brush the crust with the beaten egg wash. Sprinkle any of the exposed crust with coarse sugar. Bake the galette until the is golden, about 40 to 45 minutes. Let cool slightly before slicing.
Pumpkin Cupcakes with Salted Caramel Frosting
Makes 12 cupcakes
Cupcake Ingredients
1 1/3 cups loosely packed brown sugar
1 large egg
2 teaspoons vanilla extract
1/2 cup unsalted butter, melted and cooled
3/4 cup pumpkin puree
1 1/4 cups all-purpose flour
1 teaspoon baking soda
1 teaspoon baking powder
1/4 teaspoon salt
1/2 teaspoon pumpkin pie spice
1/2 cup milk
Preheat oven to 350 degrees F. Line a muffin tin with cupcake liners.
To make the cupcake batter, whisk the egg and sugar together in a large bowl until combined and no lumps remain. Add in vanilla extract and butter, then whisk in pumpkin puree. Add in flour, baking soda, powder, salt and pumpkin spice, then add in milk and stir until combined and smooth. Fill the liners 3/4 of the way full with batter. Bake for 18 to 20 minutes, or until cupcakes are set and spring back at the touch. Let cool completely.
Salted Caramel Buttercream Ingredients
¾ cup unsalted butter, softened
2 1/2 cups powdered sugar
1/3 cup salted caramel sauce (recipe below)
1 tablespoon vanilla extract
1 tablespoon milk, if needed
Beat the butter in the bowl of your electric mixer until creamy. Gradually add in the sugar until it mixes in, then stream in the caramel sauce and vanilla extra. Beat the icing on medium speed until combined and creamy, scraping down the sides if needed. Frost the cupcakes once cooled, then drizzle with caramel sauce. Sprinkle with flaked salt.
Easy Caramel Sauce Ingredients
½ cup brown sugar
¼ cup heavy cream
¼ cup unsalted butter
1 tablespoon vanilla extract
¼ teaspoon salt
Combine all ingredients together in a saucepan over medium heat. Whisk constantly until the mixture thickens, about six to seven minutes. Let cool for 30 minutes or so before stirring into the buttercream. This recipe is slightly adapted from one of my favorites from The Pioneer Woman!
Love a Thanksgiving feast? Make sure you check out these delicious Thanksgiving Day starters and cocktail and turkey and sides with a twist.