Prices and availability are subject to change from the time and date that you print this page.
4/19/2014 5:28:06 AM. For Customer Service, please call 800.967.6696
Compact on the counter, this powerful extractor gobbles whole fruits and vegetables, outputs fresh juice. Beneath the industrial-look exterior lies a heavy-duty motor and unique cyclonic juicing system that's 10 times faster than other juicing systems. Patented 3" feed tube takes on whole produce, which the patented knife centers over the cutter. Micro-mesh filter increases yield by up to 30% more juice extraction than traditional juicers, and a froth filter in the pitcher ensures you get just the juice.

Breville® and other Wedding Registry offers


Breville® Compact Juice Extractor
is rated out of
5
by
144
.
Rated

5

out of

5
by
Hilton Head
from
Great Little Juicer
Bought this juicer after my son saw the movie sick fat and almost dead. He has lost a good amount of weight using this juicer to make nourishing meals. I am using this juicer to make healthy drinks. I hope it will improve my vitiligo skin condition. We juice daily. The Breville juicer is very easy to use . Clean up is a breeze. I actually prefer to wash the parts by hand. I have to admit it's always nice receiving a package in the mail from Crate and Barrel. The photo shown are items used for a typical juicing receipe. The one in the Breville juicer we made orange juice.
Date published: 2012-08-24
Rated

5

out of

5
by
mnap
from
Awesome Juicer!
I did some extensive research before I bought my first juicer. I read reviews, asked juice bar employees which was best for at home use,  compared brands and prices. I decided to go with this Breville b/c it was most importantly compact. I am running out of counter/cabinet space with all my wedding gifts and B. its easy to use and clean up. This machine is so easy a monkey could make juice. I took it out of the box, cleaned it and within 5 minutes had yummy green juice. It was pretty quiet, didn't splatter and the juice tasted excellent. I can't wait to make more. I will definitely use this machine daily. It is cheaper than going to a juice bar. 
Date published: 2014-04-08
Rated

4

out of

5
by
Pangasinan
from
Great juicer!
Juicing is not a diet. Juicing is a lifestyle, and I did just that at the start of 2013! I changed my lifestyle, and with the help of Breville juicer, I was able to accomplish a straight 7 day detox at the beginning of my juicing challenge. I am currently juicing as a meal replacement. The breville makes it a whole lot easier to grind whole fruits and vegetables. I have introduced juicing to the whole family, and again with the ease of assembling & maintenance of this product, juicing happened to become apart of our daily routine! Thank you Crate and Barrel, I just thought that a review was definitely needed. 4 star to the Breville! Juicer of the year!
Date published: 2014-04-08
Rated

5

out of

5
by
bellatrix
from
yummmmmy
Best purchase of 2012! I know the year has just begun, but I never knew fruit and veggie juice could be so tasty. I recently watched "fat, sick, and nearly dead" on netflix. I decided to give juicing a try. He uses a breville machine in the movie, the ikon model i believe. I couldn't afford a $200 machine so I went with this one. Surprisingly I didn't have to order it online because my local crate and barrel had it in stock. This juicer is very powerfull! It sucks up carrots, cucumbers, and apples like they are nothing. Clean up is pretty easy too! I don't know what the next model up has that this one doesn't besides a different design, but this one works fantastic! Soooo happy!!!
Date published: 2014-04-08
Rated

3

out of

5
by
LeaMomCa
from
Mmm
This is a great juicer in that it juices. However it's a lot of work to clean and must be cleaned immediately after juicing. That being done religiously, there is still a rim wear the mesh basket connects to the black plastic bottom wear food gets trapped. After using the provided special brush on back and front after every juice for about a year I noticed build up in this area. I soaked it in vinegar, poured boiling water over it, scrubbed and scrubbed and it's still there. The main issue is that I feel like having old food in the appliance could make you sick.
Date published: 2014-04-13
Rated

4

out of

5
by
hillhouse
from
Great for the price.
I did not do a ton of research before buying my first juicer. I wasn't sure if I'd like it, so I didn't want to spend a ton of money. This machine is great for juicing whole cucumbers, carrots, whole apples, and even leafy greens if you wad them up. The froth separator on the jug is great for green juices. It is easier to clean than my food processor, though brushing out the screen is a little tedious. It's not quiet, but certainly no louder than expected. It fits easily under my cabinets and doesn't take up too much room in my base cabinet when put away. I love the cord wrap under the machine, very handy. The volume of juice this machine is capable of making at a time is appropriate, in my opinion, as making large batches to keep in the refrigerator wastes the nutrients in fresh juice. To get the most out of your juice, you should be drinking it within 30 minutes, before it begins to oxidize, losing nutrients and enzymes. My only real complaint with this machine is more a complaint with the centrifugal *type* of machine it is; the high RPMs means that the last little piece of apple or strawberry just goes spinning off into the pulp area, unjuiced. My next juicer will be a masticating type, which produces more juice and minimal, sawdust-dry pulp. Until then, this little machine will do nicely.
Date published: 2013-09-15
Rated

5

out of

5
by
Mountain Mimi
from
Great Appliance!
I am new to juicing and reviewed many juicers before choosing this one. It is wonderfully made with a heavy duty motor and is easy to clean as well. It is a great value for the money! I use it daily and leave it on my counter. The compact size fits perfectly underneath the upper cabinet and looks great! I have a hectic workday without time to stop and eat a healthy lunch, so I have enjoyed having a quick lunch packed with nutrition. I am looking forward to trying new recipes as the seasons change!
Date published: 2013-08-30
Rated

4

out of

5
by
JHM528
from
First Juicer
This wast first juicer and I got suggestions from the sales staff at the store. Since this is my first juicer, I'm totally satisfied with this product. The only downside is trying to get the pulp out. Can be tricky especially if your trying to use again as some vegetables don't juice all the first round and requires a second go.
Date published: 2013-09-27
Rated

5

out of

5
by
sfro
from
A Blast of nutrients with a satisfying sound
Although it's more compact than other juicers, this machine is really quite substantial. Set up is easy. And when you turn it on, the "cyclonic" operating sound is super powerful and smooth. The included brush makes clean up quite easy. Plus, most of the parts are dishwasher safe.
Date published: 2014-01-20
Rated

5

out of

5
by
marta11166
from
Best Kitchen Appliance Ever
The best kitchen appliance I've ever purchased. Breville Compact Juice Extractor is fast, no need to cut vegetables or fruits. In just a few seconds I get a delicious juice. Instead of drinking coffee in the morning I started to drink healthy juices... Easy to clean, easy to use!
Date published: 2013-09-27
Rated

5

out of

5
by
CDSS
from
Great Juicer ...
Purchased this yesterday, used for 1st time today ~ love this product. I've had juicers before, but the clean-up was such a mess that I stopped using them. Made a pear, apple, strawberry, banana drink, yummy & fast. Clean-up was easy! Just take a few mins to read the enclosed directions & suggested recipes. Putting this together and taking apart was also simple. Breville makes some great products.
Date published: 2013-04-06
Rated

5

out of

5
by
Autley
from
I love this, the left over pulp is very dry, so I know I got all the juice out of my fruits and veggies. This juicer is easy to use and clean! It takes two minutes to clean all the pieces. If you are juicing for one or two then it's the right size for you too. If you'll be juicing for more you'd want to find a juicer with a bigger pulp bin, this is just right for me though. I've been recommending it to all my health conscious friends!
Date published: 2014-03-18
Rated

4

out of

5
by
2Huds
from
Pros- it seems to be made with high quality.Cons- No matter what the labeling says, it makes a mess everywhere! It is no more difficult or easy to clean than a food processor. It doesn't do the best job of extracting ALL the juices, it leaves behind a lot of pulp that could be squeezed further.
Date published: 2013-08-27
Rated

4

out of

5
by
rankrisno
from
healthy drinks
A friend had this same juicer, except paid much more. Does the trick although it does not have any of the fancier perks like a separate pulp container. It is perfect for us because of the price and the amount of space it takes. Good start to healthy juicing!
Date published: 2013-08-30
Rated

5

out of

5
by
NicoJoe
from
Happy to get healthy
I'm in love with this...my son (11) had juice with carrots, celery and apples. I have done handstands to get him to eat a vegetable! If I knew it was this easy, I would have bought this YEARS ago. If you have a non-vegetable eater in your home - buy a juicer!Product - fabulous. Easy to clean and operate. I didn't have pulp flying everywhere. The price...can't beat it.Get your kids healthy!
Date published: 2014-02-16
Related Products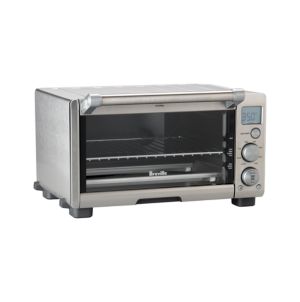 The Breville Smart Oven is now available in compact form for smaller...