Prices and availability are subject to change from the time and date that you print this page.
7/25/2014 4:42:08 PM. For Customer Service, please call 800.967.6696
A stylized red strawberry is outfitted with stainless steel spring and claw to pinch hulls perfectly.


Chefn® Strawberry Huller
is rated out of
5
by
52
.
Rated

5

out of

5
by
flintotz
from
Great little gadget
I love this strawberry huller. I'm not so handy with a knife, but love strawberries so this is perfect for me. It took me a try or two to get the perfect method, but now I can hull through a box in no time. Just be careful if you have a garbage disposal--I had one slip down and didn't realize it...had to get a new one :)
Date published: 2013-02-23
Rated

5

out of

5
by
csc6
from
Great little gadget!
I use this daily all summer long during strawberry season; couldn't be without it! Love it so much that I bought three more for gifts this Christmas. Highly recommend!
Date published: 2013-01-09
Rated

5

out of

5
by
Geemaw
from
Greatest under $10 gift.
Bought five for stockings for the adult girls in family, including myself. Works great and leaves the berry neat and clean for your presentation. Just wish I had bought the ceramic berry carton to go with.
Date published: 2012-12-30
Rated

5

out of

5
by
janellemp
from
Great Gadget!!
What a great little gadget! I bought one for myself and as a stocking stuffer. Works great on strawberries and tomatoes!!
Date published: 2012-12-28
Rated

5

out of

5
by
Registered Here
from
Love this
Love this gadget so much I bought 3 more for gifts!
Date published: 2012-11-11
Rated

5

out of

5
by
Brittany Elizabeth
from
Great stocking suffer!
I received this as a Christmas stocking gift and truly love it! It is perfect for taking the stems off strawberries and is great for the cook who has everything!
Date published: 2012-09-10
Rated

5

out of

5
by
Janice F
from
Cute and handy little gadget
I am a strawberry lover and have several types of hulling gadgets, some inherited from my mother and grandmother. This little strawberry huller is the easiest of them all. Every year I pick several quarts of strawberries to use and freeze. This year the hulling time was shortened because of this item. I have since bought 5 more for friends because I liked it so much.It is cute and seems as though it will last.
Date published: 2012-09-08
Rated

5

out of

5
by
Whiz Mom
from
A GREAT device in a small package!
We down a multitude of strawberries in our family, so when I saw the Crate and Barrel Strawberry Huller, I snatched it up in an online purchase. The palm-sized huller far surpassed my expectations. It cut strawberry prep-time in half! My husband was a little dubious about our new acquisition, since he is a real do-it-yourselfer. However, he was quickly won over to the merits of the huller when he was preparing a load of strawberries for our family of ten! I have since ordered a Strawberry Huller for my sister-in-law and one for my neighbor for Mothers' Day!
Date published: 2012-05-07
Rated

5

out of

5
by
Bloomwood44
from
Fun To Use!
My kids and I LOVE to use this strawberry huller!!! For anyone who adores strawberries in the summer, you've gotta get this!!! Especially important if you plan on making strawberry tarts, muffins, desserts, etc. - makes de-hulling fun, and may get you some help in the kitchen:)
Date published: 2012-05-06
Rated

5

out of

5
by
Happy to Review
from
Great Product, Great Price
Love this little gadget. Works like a dream and better than any other strawberry huller I've tried. Glad my old one went missing so I was forced to buy a new one. This product removes hulls quickly and cleanly in one quick movement.
Date published: 2012-05-05
Rated

5

out of

5
by
CBfan4ever
from
LOVE this product
I absolutely love this product. My family eats a ton of strawberries. . .this helps to remove once the hull and doesn't waste the other edible parts of the strawberry. I also have used it for tomatoes (smaller varieties) and continue to be pleased. I have also purchased for gifts and would highly recommend this product!
Date published: 2012-05-05
Rated

5

out of

5
by
GabbyTalks3
from
Can't live without it!
Best little device ever! Use it daily. Never messes up. Worth every cent.
Date published: 2012-04-27
Rated

5

out of

5
by
janeshops
from
Cute and Functional
This little gadget has it all, Looks & Works. Obviously one of the cutest addition to my kitchen. It saves time & anxiety of having to hull each strawberry. i used to use a paring knife, and cautiously (1) not cut myself and (2) not hold the strawberry to hard as to bruise it. This little huller makes it so much easier. a Must for all strawberry eaters!
Date published: 2012-04-19
Rated

5

out of

5
by
txblond
from
Everyone must have one of these!!
Oh my gosh! This is the most amazing cooking utensil invented. It is sleek, stylish, cute and works every single time. The time it takes to cut your strawberries is cut in half! I can not recommend this product enough. It is awesome!
Date published: 2012-03-10
Rated

5

out of

5
by
Superleah55
from
Reduce Prep Time
This little beauty saved me hours of kitchen prep time, not to mention saving my back from pain and my fingers from knife cuts. I hulled an entire flat of strawberries in under 15 minutes!
Date published: 2012-02-28
Rated

5

out of

5
by
cruznlcsw
from
Top Drawer Gadget
This Strawberry Huller gets a workout in my kitchen hulling strawberries and tomatoes for some of my favorite dishes. Honestly, I don't know why I didn't buy it sooner. The huller saves time, cleans up easily, and takes center stage in my top drawer where I have my favorite utensils. I love it!
Date published: 2012-02-19
Rated

5

out of

5
by
BlovesCandB
from
You will love this cute gadget that actually works
This is an extremely easy to use gadget. It makes hulling pints of strawberries a breeze........But wait, there's more!! I use this on a daily basis for tomatoes, as well. You have no waste since you can expand it to any size. It's a definite must have. I have to say that I was skeptical about this and waited over a year to buy it. Now, I am sorry that I waited so long. I love it so much, I have bought it for all of my family and friends.
Date published: 2012-02-03
Rated

5

out of

5
by
DCMichael
from
One of the best tools in my kitchen
Saves us so much time. Very helpful during strawberry season
Date published: 2011-09-01
Rated

5

out of

5
by
RoRo22
from
Pleasantly Surprised
I wanted this tool so that when I bake I get the most out of my strawberries. I almost didn't want it because I've tried the old ones but this one was so much better.
Date published: 2011-08-29
Rated

5

out of

5
by
Kipani
from
Cute Kitchen Gadget
Works great, cleans up easy and looks cute. What more could you ask? I've bought a number as gifts since most of my friends and family who see it want one of their own. Great stocking stuffer or gift basket item.
Date published: 2011-08-23
Rated

5

out of

5
by
JADAKOTA
from
Strawberry Huller
Love this works well with tomatoes also.Bought several as Shower gifts
Date published: 2011-08-23
Rated

5

out of

5
by
KCM26
from
Great summer salad helper
This is an excellent product. Throughout the summer I use it daily to prep lunches, salads, yogurts - strawberries are in season and this huller makes it easy to eat them all the time. The huller is easy to use and to clean. I went back to the store and picked these up for my mom and sister-in-law too!
Date published: 2011-08-23
Rated

5

out of

5
by
ab3650
from
Great For More than Just Strawberries!
Works great for strawberries but also with other fruits/vegetables. I used this to hollow out tomatoes the other day and it worked great! Cute, easy to use and clean - can't go wrong!
Date published: 2011-08-20
Rated

5

out of

5
by
Smoo
from
Date published: 2011-08-18
Rated

5

out of

5
by
Kiwi111
from
must have for strawberry lovers
I was skeptical to get this but after reading the reviews, i have to give it a shot. Go get one if you are a strawberry lover! Easy to use, must quicker than a paring knife to remove the strawberry tops. You do have to insert and twist the huller to get the tops off. There is minimal meat lost if you use properly.
Date published: 2011-08-17
Rated

5

out of

5
by
meljv
from
Nifty Tool
Honestly, I originally just wanted this for the aesthetics. It's super cute.I grew up using the metal pincher-style hullers, and didn't think this would be much different. But, as one of the previous reviewers said - it's amazing! It takes only the part of the strawberry you want to get rid of and the rest stays.Just push the prongs in and let them close, then twist and pull out. Easy peasy!
Date published: 2011-08-16
Rated

5

out of

5
by
1 year and going strong
from
Wonderful Gaget!
I recieved the strawberry huller as a wedding gift. I had not placed this fun little gaget on my registry, but boy am I glad my ingenious guest gave me it. Who knew this little thing could be such a kitchen helper.I now use this strawberry huller every time I pick up strawberry! It makes quick and easy work of those peskly stawberry stems and tops. One of the best gifts I recieved from my wedding.I now buy this for every bride, whether she registers for it or not, because it has become one of my favorite kitchen helpers. I really recommend this for all.
Date published: 2011-08-16
Rated

5

out of

5
by
trc930
from
Perfect
This is the perfect add on for a wedding gift...nobody thinks of registering for it, but they'll love it. We eat strawberries all the time, and this is a great way to save as much fruit as possible. I always took off way too much of the stem when I used to cut with a knife. I highly recommend this product.
Date published: 2011-08-16
Rated

5

out of

5
by
smile555
from
LOVE, LOVE, LOVE!!!
I had researched hullers for an upcoming strawberry canning project. I was considering the Oxo huller and this one. After reading the review on each, I decide to try this one. (the oxo didn't get as great as reviews as this one.) I was so happy I purchased this one. I made hulling a breeze. Literally took me 10 minutes to hull 3 pints of strawberries. It removed the hull "stem" and leaves perfectly in one twist of the huller. I didn't realize how much of the strawberry fruit I was wasting by whacking off the whole top. This huller allows me to save most of my precious fruit. Larger strawberries are easier to hull than smaller, but still works well for both.
Date published: 2011-08-08
Rated

5

out of

5
by
pentom04
from
Fabulous Find!!!
I was skeptical for buying this gadget and it is worth every penny. I have enjoyed strawberries so much more this year since there is no chore in de-stemming. This is so easy and actually fun to use. It does take a little practice...once you do you'll be making strawberry smoothies, strawberry shortcake and all those great treats with little effort!!! Highly recommend...I am now buying these for gifts!!!
Date published: 2011-07-17
Related Products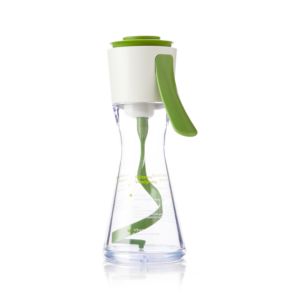 Professionally emulsify vinaigrettes, dressings, marinades and sauces with this smart, squeeze activated...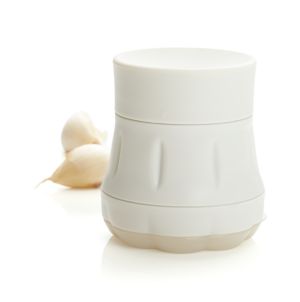 A new twist on slicing lets you safely prep fresh garlic without...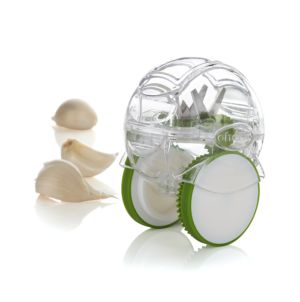 Speed chop fresh garlic without getting residue on your hands with this...