Prices and availability are subject to change from the time and date that you print this page.
4/25/2014 2:08:35 AM. For Customer Service, please call 800.967.6696
Get back to coffee-brewing basics with the Chemex classic, originally designed by a chemist and inventor and found in the collections of several major museums. Simple engineering in wood and glass (no corrosive elements) produces pure drip coffee with less bitterness—to the extent that the coffee can be refrigerated and reheated without sacrificing flavor. Polished wood collar with insulating leather tie is removable for cleaning. May also be used for tea, iced coffee and beverage infusions.


Chemex 8 Cup Coffee Maker
Chemex Filter Circles Set of 100
Chemex 8 Cup Coffee Maker
is rated out of
5
by
37
.
Rated

5

out of

5
by
WenOhio
from
Great Purchase
I was looking forward to receiving the Chemex and it does not disappoint! Now we don't have to worry about plastic leaching into the coffee, etc. Besides the coffee tasting great, the Chemex looks simple, elegant and saves space. We've only had it for 2 weeks, so I can't comment on durability yet. As for capacity, it makes 4 regular mugs of coffee easily, maybe more. The reviewer who says it only makes 3 mugs is probably talking about huge mugs like the travel ones. I use a baby bottle brush for cleaning with no problems. The special filters haven't arrived yet, but I just double regular coffee filters. Working fine so far!
Date published: 2014-03-05
Rated

5

out of

5
by
Home Chef
from
Perfect for occasional coffee drinkers
We only occasionally drink coffee, and then only one cup, so I didn't want an appliance taking up space and growing mold or whatever inside. The Chemex is really easy to use, clean, and I can put it away in a cupboard until the next time. It is also beautiful on the table and probably my favorite purchase in the last few months!Two caveats: 1) use only coarsely ground coffee otherwise it will take forever for the water to drip through (oops!) 2) If you plan to serve more than four people at a time, buy a good thermal caraffe to hold the coffee because you will have to make more than one pot.When we have people over for coffee, making a few pots doesn't really take me any time at all. I just tend to it a few seconds here and there between fixing breakfast/snacks/desserts.
Date published: 2014-02-05
Rated

5

out of

5
by
AliL
from
I had no idea coffee could be this good
As faithful french press family I was hesitant to try a new type of coffee maker, but as I was sick of having tiny flecks of coffee grounds in my teeth I decided to give this one a whirl. I couldn't be happier! This brewing method makes even the darkest of roasts smooth without any bitterness. I REFUSE to have any other type of brewing method in my house any longer. I make my coffee the night before and throw it in the fridge and I just pour myself a glass of iced coffee in the morning and I am ready to start my day.
Date published: 2013-09-09
Rated

5

out of

5
by
Georgie75
from
Unique, Cool and Tasty!
My boyfriend is huge proponent of making coffee in this way. He had a single serving coffee maker but it did not accommodate coffee for the two of us or a group. This is a great coffee maker. I would highly recommend it. The glass is stylish and durable. It actually keeps the coffee warm for quite some time as well.Taste - as advertised it gives a very deep, true flavor of the coffee without any bitterness. I don't fully understand what makes this different but whatever it is is delicious.I would recommend buying the paired filters and also a bottle brush for easy cleaning.
Date published: 2013-02-25
Rated

5

out of

5
by
JennyLeigh
from
Best Coffee I've Ever Made
I bought this several months ago because I was tired of constantly cleaning out my drip coffee maker and was intrigued by the pour-over option. I absolutely love making coffee in my Chemex. I was concerned that it would be time consuming, but it really isn't bad. I just pour in between getting breakfast ready. I feel like I have control over how my coffee comes out, making for consistency each time, and the coffee always tastes fresh and smooth. To keep it hot, I usually pour it into a carafe after brewing. Cleaning is a breeze--just rinse it out after use! And it looks neat on the counter.
Date published: 2014-04-09
Rated

4

out of

5
by
Linda Lou J
from
Great coffee
I am very pleased with this coffee maker. I didn't realize they are made in three different sizes though. This is the smallest one and only makes about 3 mugs full. I would have preferred a larger one.You also have to stand there and wait to pour the hot water over the coffee, so be patient. But it makes the most delicious coffee with no bitterness. It's great to take anywhere, even camping. Enjoy.
Date published: 2013-06-24
Rated

5

out of

5
by
RKH83
from
Excellent Way to Make Coffee!
If you are looking for an excellent way to make a great tasting cup of coffee look no further. The Chemex does just that. The Chemex itself is elegant, made of sturdy glass, and looks great sitting out on your kitchen counter. I like the wood and leather tie. The Chemex also produces an awesome cup of coffee that is so smooth and not bitter. Excellent addition to any coffee lover's home.
Date published: 2014-01-12
Rated

5

out of

5
by
Rusty mom
from
Love the drip!
We love our Chemex drip coffee maker. We grew tired of our automatic drip coffee maker and love therich full bodied coffee we brew with our Chemex.
Date published: 2013-01-30
Rated

5

out of

5
by
hipredhead
from
coffee make filter
Had a hard time finding the coffee filters I was looking, then found these. They are perfect.
Date published: 2013-01-30
Rated

5

out of

5
by
IlikemycoffeelikeIlikemy
from
Perfect gift for coffee lovers.
I got this as a gift for my brother who has gotten into roasting his own coffee. He is the only coffee drinker in his household, so a fancy coffee maker set up just wouldn't work for him. He's had a french press, but this delivers a great regular cup of coffee. This is simple and reliable once you get the hang of it. It is no wonder this product has stood the test of time.
Date published: 2014-03-27
Rated

3

out of

5
by
Sher19
from
Takes forever to drip through!
I bought this because I wanted a cleaner cup of coffee. Love the glass carafe and style, it's really pretty; however, the filters made for it are very thick. It takes so long for a little coffee to drip through. Waiting for 8 cups of coffee to drip through was torture. It also won't stay hot for very long. Was not right for me.
Date published: 2014-04-09
Rated

5

out of

5
by
CWAngelle
from
Smooth, Delicious Coffee
I bought this a couple of months ago and have been enjoying amazing coffee ever since. I was a little apprehensive about the brew time vs my automatic drip coffee maker but no need to feel that way. It takes a bit more attention but the time required is not any more compared to the improved flavor of each cup.
Date published: 2014-04-08
Rated

5

out of

5
by
agradecida
from
Looks great - makes coffee taste better!
The Chemex looks so good on my counter - i leave it out all the time. Having only glass makes the taste even better. I tried other filters, and I'm happy I bought the chemex - they fit better and are also unbleached.
Date published: 2014-04-09
Rated

5

out of

5
by
rifrash
from
Great tasting coffee
Bottom line: The Chemex makes wonderful tasting coffee!
Date published: 2014-02-14
Rated

5

out of

5
by
woollenjazz
from
Perfects my coffee-making ritual
I have never owned an electric coffee maker, but have been making coffee each day for years manually with a filter in a plastic drip cone. I always buy whole beans, grind them, and proceed. The ritual is an important part of the routine for me. When I am making coffee for two or more, the Chemex Maker elevates the whole experience. Unlike the plastic cones, which get funky brown residue build-up which doesn't come off with washing, the glass Chemex is fresh and pure every time. With its sleek lines, it is a joy to bring right to the table, and looks so good it's a pity to store it out of sight. It is perfectly beautiful and functional.
Date published: 2014-03-25
Related Products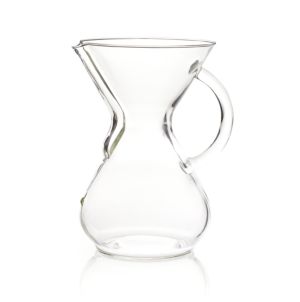 Get back to coffee brewing basics with the Chemex, originally designed by...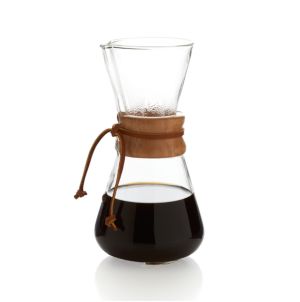 Get back to coffee brewing basics with the Chemex, originally designed by...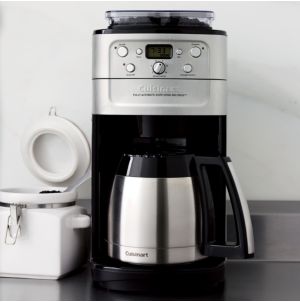 Grind and brew a stay fresh pot right into a 12 cup...