Prices and availability are subject to change from the time and date that you print this page.
9/19/2014 9:54:24 AM. For Customer Service, please call 800.967.6696
Crate and Barrel Exclusive
Clean, sophisticated design sets a fashionable table. Simple and striking, this polished flatware is compatible with a wide variety of dinnerware. Well-balanced and comfortable in the hand, with a smooth, bright mirror finish.

J&H International and other Wedding Registry offers


Couture 5-Piece Placesetting
is rated out of
5
by
173
.
Rated

5

out of

5
by
sRitchie
from
Receive lots of compliments
We registered for this flatware set 5 years ago and I can't begin to count the number of compliments we've received on it. Simple, stylish, durable. I've seen lots of sets styled similarly that aren't well balanced and forks go flying off people's plates, but this set is great. Definitely recommend.
Date published: 2014-04-02
Rated

5

out of

5
by
djll
from
Great for everyday use, look beautiful
Received as a wedding gift, look great and hold up well. Slightly out of balance (the handles are heavy and silver can flip off plates from time to time). Would definitely purchase again though.
Date published: 2014-03-26
Rated

4

out of

5
by
Dialkim
from
Lasting Quality & great design
We registered for this for our everyday silverware 8 years ago. We still love it. Even being washed daily in the washing machine it has held up very well. We have had some spots on the knives but they have polished out. Very happy with the quality. Although u of agree they can be unbalanced and sometimes go flying if not placed carefully on your plate. So the heavy quality might be a draw back if you have kids.
Date published: 2014-03-25
Rated

5

out of

5
by
donnjmck66
from
This is a great pattern!
We bought 13 place settings using gift cards we received for Christmas and I am THRILLED that we did. We discovered it while at our friends house for Thanksgiving dinner, and decided we had FINALLY found the perfect pattern for our house. It's a little heavier than what I was using, so that took some getting used to, but otherwise we are 100% satisfied with this product.
Date published: 2014-03-25
Rated

5

out of

5
by
AnnaNYC
from
Great style, weight, feel
We purchased the full set of Couture (place settings, serving utensils, steak knives, etc.) and absolutely love them. I have not noticed the spotting issue that some reviewers mentioned, but we do make a point to rinse off the utensils before putting them in the dishwasher, so perhaps that makes a difference. I find the weight lovely, and haven't had a problem with utensils falling off plates when you move them, as mentioned by other reviewers. I love the look of these, I love the weight and feel in your hand, and am so pleased we went with this style.
Date published: 2014-03-25
Rated

5

out of

5
by
lizzielady
from
Wonderful feel & look!
My husband and I registered for this and absolutely love it! It's such an ergonomic design and really nice looking and sleek too. Highly recommend!
Date published: 2014-03-25
Rated

5

out of

5
by
KeStokes
from
Gorgeous and Sturdy Flatware
My husband and I registered for this flatware for our wedding. We loved how durable and sturdy pieces felt, and how well made they were, in comparison to other flatware sets we looked at. Its the perfect set for any room, as its not too decorative to be out of place in your kitchen, if you choose to use it there, but its also nice enough to be the perfect finishing touch to your elegant dining room tablescape. We would highlyn recommend this flatware set and the coordinating serving sets to any and all!
Date published: 2014-03-25
Rated

4

out of

5
by
amyeliza
from
very pretty flatware
This flatware is gorgeous, sophisticated in its sleek form. What the other reviewers said is true: that the handles are weighted and that they fall off the edge of a plate/bowl unlike other flatware we've had. Also, we have noticed it makes an ear-grating scraping noise on our plates as we cut food or come into contact with our dishes/plates; I know that sounds weird, but it's true. That being said, the appearance and feel in the hand of each piece more than outweighs these annoyances, and I do not at all regret having purchased this beautiful flatware.
Date published: 2014-03-11
Rated

5

out of

5
by
ORAII
from
Best Ever...
I'm in love!!!!! I bought this set after seeking for a good and stylish set for long time. It's expensive so it took me time but it's so amazing, fine, stylish and comfortable that i have decided to invest the high amount as i believe it's  a life time and i bought a for 20 people (!). i read the other reviews regarding the fact it's a heavy set and i hesitated but after using it on a daily basis for about a month i can tell its perfect and for us it's in the right weight!!!
Date published: 2013-12-09
Rated

5

out of

5
by
RoseDz
from
Coming back for MORE!!
Our set is 7 years old and still look brand new - so shiny, no scratches! Over the years, we've lost a few here and there. I was so worried about having to buy a whole new set - not just for cost, but really because I am so pleased with these. Needless to say - thrilled they are still on the market. They should be... they are elegant and timeless!
Date published: 2013-12-05
Rated

5

out of

5
by
Rjk8023
from
Love, love, love it
We've had our set for over bit over a year and they look just like new! I was a little nervous about how shiny they were - thought they might show scratches easily or spot from dishwasher, but as it turned no worries needed. Yes, they are heavy and can tip off the plate easily if placed too far off the edge - but honestly it's something you get used to and you just end up being more thoughtful about placing the pieces fully on the plate (even the kids have figured this out). I like the 'heft' of this line - they are quality pieces. Worth every penny...
Date published: 2013-11-18
Rated

3

out of

5
by
designervet
from
Top Heavy
We love these. We are about a year into having/using them, and they are holding up nicely. One downside is that they have a tendency to fall off the plates because most of their weight is in the handle. Not good for nights, noshing in front of the tv. Keep these babies ON the table, and you'll do just fine.
Date published: 2013-11-12
Rated

2

out of

5
by
Astueche
from
Beautiful but beware...
I was so excited to receive this flatware as a wedding present but I really should have read the reviews more carefully. The flatware does slide of the plates, which can be pretty embarrassing when you have company.  Also, one of the tips of the knives started rusting after only one month. Sadly I'll be exchanging this for a different style. 
Date published: 2013-08-31
Rated

5

out of

5
by
Designa
from
<3! going on 10 years and it's still great!
This was one of the best things from our registry!  going on 10 years and thrilled with the product.  it's a perfect hybrid of "silver" and "everyday" .  I love most that we use it everyday.  a great updated classic that can  be dressed up or down.  
Date published: 2013-08-09
Rated

5

out of

5
by
JENNF6
from
Love this set!
This was the set we registered for our wedding. It's simple, beautiful, and very sturdy. We've already gotten compliments on them. Love that there are matching steak knives, serving pieces, tea spoons, and a cheese set. We registered for all the pieces! Very pleased.
Date published: 2013-07-07
Rated

4

out of

5
by
BMichael
from
Best option
We chose this because it had all of the accompanying options which was lovely. My problem came after we washed them in our dishwasher. All of the knives came out with rust spots. I was so frustrated but couldn't find anything else in the store we liked as much. I consulted with a few of the employees at the store and one suggested that it was due to our hard water and that the metal in the knives will react in an odd way to the metal in the other flatware. She suggested that we keep the knives in their own bin in the dishwasher. We tried it but it worked and I've had no problems in the last month. I hope this helps others who may be having difficulties with this flatware.
Date published: 2013-07-01
Rated

5

out of

5
by
LnDR
from
Great flatware
We got these for our wedding flatware. This set is a beautiful and affordable choice for great everyday silverware. If you're looking for something sturdy, shiny and functional - the Couture is a great choice.
Date published: 2013-06-20
Rated

4

out of

5
by
Carryon
from
great, but a balancing act!
I love this flatware. It is striking, just like the pictures, and nice and sturdy. With that being said, it is bottom heavy and tends to fall off the plates when you're not careful. This usually happens to us when we're walking with the plates. It happens often, but I am clutzy. I still would've still chosen this flatware regardless.
Date published: 2013-04-26
Rated

5

out of

5
by
tmartin1207
from
LOVE!
We use this flatware every day and absolutely love it! Classy yet practical - and it feels sturdy too! Extremely pleased with this product!!!
Date published: 2013-04-10
Rated

5

out of

5
by from
Solid Everyday Flatware
We use our Couture flatware for everyday and entertaining. It has held up really well so far and looks elegant with many different settings.
Date published: 2013-03-05
Rated

5

out of

5
by
DanielleMC
from
Wedding Gift
We registered for this entire set. We were thrilled when we made the decision to register for them and even more excited once we received them! A wonderful, sturdy, classy set of silverware.
Date published: 2013-03-04
Rated

5

out of

5
by
sienaro
from
Elegant and modern
We got these in our wedding registry and love them. They are modern and elegant and sit comfortably in your hand.
Date published: 2013-03-04
Rated

5

out of

5
by
Suzjoy
from
Had it for years
We've owned this set for years, and have been so happy with it! Please keep making it for years to come, so that we can buy fill-in and replacement pieces, as needed.
Date published: 2013-02-23
Rated

5

out of

5
by
gigi2113
from
10th anniversary
My husband and I got 24 place settings of this 10 years ago. We use it everyday. I have to get new dishes because so many have broken, but this flatware is still like new. Yes, it is heavy and if you are lazy and pile the dishes some piece might fall off. This is not a negative factor. In our old house we also had some issues with the dish washer leaving spots or rust on this flatware, but it never happens in our new house/ dishwasher. Maybe it's the dishwasher or the water? I highly rec. this product and will be buying more!
Date published: 2013-01-12
Rated

5

out of

5
by
nankats
from
Cristmas gift
I purchased the Corture cheese knife set as a Christmas gift for my daughter-in-law. I think she will like the modern, sleek stye. I noticed they are a good size and weight for cutting cheese.
Date published: 2012-12-16
Rated

5

out of

5
by
Imamoth
from
Nice pieces; wearing very well
I've had the Couture flatware for 5 years, and they still look and function very well. Looking forward to the next 5 years!
Date published: 2012-11-08
Rated

2

out of

5
by
k2create
from
Not Long Lasting
We received this flatware 5 years ago as a wedding gift. I expected it to last longer than it has, but in the past year, the knives have all started to rust and pit, and more recently the other pieces too. We're already on the hunt for new flatware. We always put our flatware in the dishwasher to clean (after all it's supposed to be DW safe right?).What I didn't really attribute to this flatware until looking at other reviews today, was how it is always falling off of our plates and onto the floor. I thought I was just clumsy! But now that I read that many others have this same problem, it makes sense. You have to make sure your fork/spoon/knife is balanced on your plate otherwise it tumbles off and on to the table and on to the floor.
Date published: 2012-10-23
Rated

1

out of

5
by
ncrain
from
Terrible
We registered for 12 settings- unfortunately we got it all. Horrible design. Not a meal goes by that a piece doesn't flip off the plate and onto the floor. My husband and I have gotten used to the poor design, but always feel sorry for guests when they drop one and food all over themselves. Our pine floors have a few dings on them too. NOT recommended.
Date published: 2012-10-17
Rated

5

out of

5
by
bellaruse
from
Perfect
I was worried when I registered for these about the spots that other reviewers mentioned and their balance. I have to say that I am glad I went ahead and registered for them. This flatware is beautiful and, in my opinion, perfectly weighted. They feel substantial and sturdy in your hand. I have not noticed any spots; I hand-wash mine (I don't have a dishwasher) and let they fully dry on the counter before putting them away.They have fallen off our plates a couple times, but you learn pretty quickly to compensate for this. It hasn't been an issue and it definitely doesn't outweigh all the great things about this product.
Date published: 2012-09-10
Rated

5

out of

5
by
Wedding Guest007
from
Excellent product
I bought these to fulfill a Wedding Registry, but I did get to see and feel the actual product after delivery. The pieces are very nice and have a good weight to them. They fit nicely in a full grip, but they are not "delicate." My only tip is that there is also a 20 piece setting, so if you are planning to buy more than four settings, look up the 20 piece set and save some bucks!
Date published: 2012-09-09
Related Products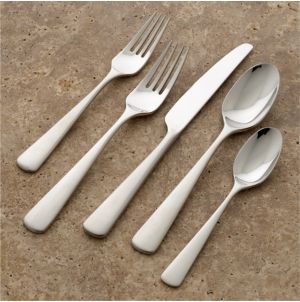 Matte finish handles lend striking contrast to the polished heads of this...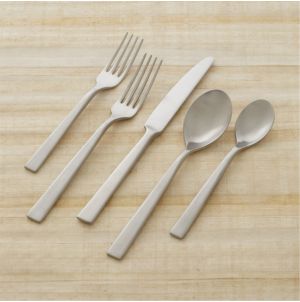 A bold, modern flatware statement. The simple design features slender shapes, rounded...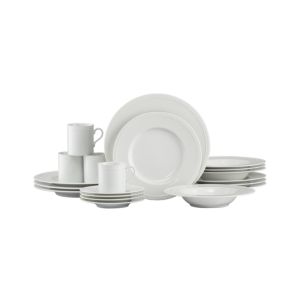 Inspired by the decorative influences of early 1900s Vienna, this simply elegant...