Prices and availability are subject to change from the time and date that you print this page.
9/1/2014 7:34:47 AM. For Customer Service, please call 800.967.6696
Plug into flame-less fondue with this handy new version from Cuisinart. They've thought of everything, from the built-in heating element, to the adjustable thermostat, to the easy-clean nonstick finish. You can prepare chocolate, cheese, broth or oil fondues in the sleek brushed stainless pot.


Cuisinart® Electric Fondue Set
is rated out of
5
by
33
.
Rated

5

out of

5
by
coconino
from
great appliance
Our family loves fondu and we finally decided to say good-by to our old metal pot with the sterno burner in the bottom and try this new Cuisenart Electric Fondu Pot. It was excellent, so easy to use and kept the oil hot with not fuss. After we used it it was so easy to clean, as well. Everything just wiped out. I didn't put it in the dishwasher, but evidently you can. The only drawback is the short electical plug. We used an extension, even though the directions advise you not too. We just made sure it was out of the way so no one would trip on it. An excellent purchase!
Date published: 2012-05-07
Rated

5

out of

5
by
KH32
from
Love it!
Great fondue set! Adjustable temperature control makes it very versatile.
Date published: 2012-05-07
Rated

5

out of

5
by
Latitude2440
from
Just what I was looking for
I researched Crate and Barrel especially for a electric fondue pot assured of the quality and cost. I found this cuisinart electric fondue set after having fondue with friends and eager to try for myself. My husband and I have had a wonderful time trying out of sorts of creations and sauces from the included recipe book and now have fondue once a week. I think the art of oil fondues are coming back into style and everytime I mention this to friends I can see their interest in trying out for themselves. Would and have recommended this product
Date published: 2012-05-05
Rated

5

out of

5
by
Defi
from
Great Fondue Set
We bought this fondue set to make a hot punch for a Party. It worked great, just needed the lowest heat and the punch became hot very fast. Also kept it hot for a few hours and was easy to clean. We didn't use it for fondue yet, but we will soon. I also like that you don't have to worry about an open flame, so you can focus on your guests.
Date published: 2012-04-24
Rated

5

out of

5
by from
Love fondue - love this fondue pot
I received this fondue pot as a gift for Christmas. I liked it so much, I purchased a matching second pot so I could enjoy cheese AND meat fondue. When I got home, I got rid of my two other fondue pots - a ceramic and cast iron. They just aren't worth the trouble - plus the old pots scorch and are difficult to clean. The Cuisinart pot is FABULOUS and maintains a constant temperature, is easy to clean, looks great, and doesn't take liquid fuel. Such a nice change. Love this fondue pot!!!
Date published: 2012-03-20
Rated

5

out of

5
by
coconino
from
excellent appliance
My family loved this fondu pot. It worked amazingly well, despite the short cord. It's made our family fondu nights a lot easier. No more fuel or tipsy pot! It's so easy to clean as well. A great purchase.
Date published: 2012-03-11
Rated

5

out of

5
by
Simply Elegant
from
Makes great fondue
I love this appliance-everyone should have a fondue set! It's easy to use, easy to clean, easy to store... it's just easy!
Date published: 2012-03-10
Rated

5

out of

5
by
FrogTechie
from
Fondu Fun
Years ago, we had a fondu pot that was so much work to use & clean. I hesitated on this purchase, read the reviews & I am glad I bought this. So far, we have used oil, cheese & chocolate. It has been fun, easy (just keep the manual close at hand) and surprisingly easy to clean. The pot heats quickly & stays at the desired setting. The cord is too short, for safety reasons, but a heavy duty extension cord works well. The electric is so much nicer than sterno - no stench! I plan to invite a couple of friends to share some fondue with us soon. The pot is an appealing centerpiece for a cozy meal.
Date published: 2012-02-29
Rated

3

out of

5
by
tbjhfrostie
from
Too big for two
The reviews of this fondue pot convinced me to put it on our registry, but once we were settled into our new place we decided that it was just too big for the two of us to use it without having company over. We're opting for a smaller one and then a bigger one like this electric set once there are kids to share in the fun with us!
Date published: 2012-01-20
Rated

5

out of

5
by
LadyTea
from
Think Fondue Fun Night!
Our Family is a huge fondue lover. Cheeses, chocolates, and oils can't possible taste better in this pot. I love the fact that it can clean so easy and is electric. So it takes away all the messy bits. :)
Date published: 2011-08-29
Rated

5

out of

5
by
misscrissa
from
Hooray for Electric Fondue
I'm a big fan of this fondue pot ESPECIALLY because it is electric and I don't have to bother with using a flame/burner. Evenly heats and non-stick. Easy to clean and so great for parties. Who doesn't love cheese or chocolate fondue?!
Date published: 2011-08-21
Rated

5

out of

5
by
schortclaire
from
Fabulous Fondue!
My husband and I had our very first fondue experience this week using this Cuisinart pot. It was wonderful. The instructions on how to melt without scorching or burning were perfect. And with my pension for hurting myself in the kitchen, was wonderfully safe from those pesky food excitement burns.This pot made our fondue night fabulously simple; quick and easy. We really enjoyed our experience and recommend that if you like to dip, get this fondue set!
Date published: 2011-08-18
Rated

5

out of

5
by
nica820
from
Great for Group Entertaining
I've used this with both cheese and chocolate and it's always simple to use and easy to clean. Guests always think having fondue is a fun throw-back to the 1970s. It comes with different colored skweres, so it's always easy to tell which one is yours. I can't wait to try this with broth for a heartier meal of chicken or beef.
Date published: 2011-08-16
Rated

5

out of

5
by
Marina S
from
Solid Performer
This product works great! It's both aesthetic and functional. The first time I used it, the broth heated up so quickly I had to turn the settings down. Even after adding additional fluids and lots of food items, the pot was able to bring the items to a boil easily. Works so well that the lid is almost unnecessary. Would I buy it again? Yes, definitely.
Date published: 2011-06-29
Rated

5

out of

5
by
susanabananas
from
easy to wash
This fondue pot works wonderfully. I HATE doing dishes and the fact that this is so easy to clean is great - it means I use it so much more often.I feel like a lot of kitchen pieces like the foreman grill or my wafflemaker are a pain to clean because you can really get them wet when you clean them... but you can completely submerge and scrub the pot (not the cord) of this unit. Great!I, like other readers also thought that the cord was too short. I understand it's for safety reasons but it's completely impractical. I took a heavy duty extension cord from our basement and secured it so no one would trip.
Date published: 2011-03-16
Related Products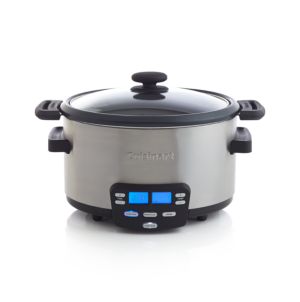 Fully programmable multi cooker simplifies combination cooking, allowing you to sear, brown,...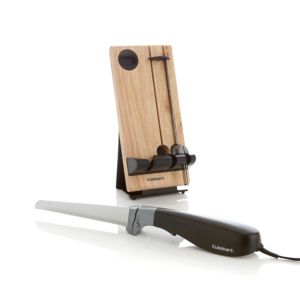 This one touch, pressure activated electric knife with a powerful motor carves...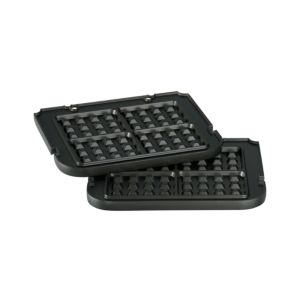 This timesaver is a nonstick griddle, contact grill, panini press and open...