Prices and availability are subject to change from the time and date that you print this page.
4/17/2014 11:09:40 PM. For Customer Service, please call 800.967.6696
More Delta Dining Furniture
Delta 24 Aluminum Counter Stool
is rated out of
5
by
83
.
Rated

4

out of

5
by
Mad Town
from
Love these stools!
These stools fit our style and our lifestyle perfectly! Sleek, contemporary, comfortable, LIGHTWEIGHT, easy to clean--LOVE them.Reason for 4 star review vs. 5: one stool was slightly off-kilter when it arrived, but nothing an extra felt pad under one of the legs couldn't fix.One downside: my father is a bigger guy with shorter legs and has trouble sitting on these for long periods because the front rail is located a bit back and the position cuts off leg circulation for him. If your body type is similar, these wouldn't be the best choice for you.
Date published: 2014-04-08
Rated

2

out of

5
by
Cmm6596
from
Disappointed in quality
We were looking for a lightweight stool that didn't look too bulky and these fit the bill. However, the craftsmanship of the stools is very poor. In all three stools that we bought there are rough metal edges, and many areas where it looks like the metal was welded very poorly. They just look very unfinished.This is not what I'm used to with Crate & Barrel furniture. I have been pleased with all the furniture that I've purchased from Crate & Barrel in the past.If it wasn't so much of a hassle to repack each of them and carry them into the mall, they would have been returned.
Date published: 2014-04-08
Rated

2

out of

5
by
Impeccable
from
Not as expected
I purchased these chairs online, and I have to say I was extremely disappointed. I am not one to make returns often or even write a review, unless I feel really strongly one way or another. The stool has scratches all over it, and they were not polished as described. It looked as if someone did a poor job of painting them a concrete gray. One of my children sat on the stool and just from getting up it scratched the top of the seat! I am giving it 2 stars rather than the one, simply because I called Crate and Barrel and they were very helpful and gave me no fuss about returning them for a full refund. However, I wasn't promised the $89.00 I spent in shipping back. This has taught me to never buy 5 barstools at the same time on the internet.
Date published: 2014-03-22
Rated

4

out of

5
by
Maurepas
from
Tough but Stylish and Feather Light
What to say about a counter chair? It's pretty darn near perfect for my kitchen island, and it might be for yours, too. Since my pair arrived my guests haven't left the kitchen. I haven't given it five stars, but will re-evaluate after their first six-month tour-of-duty. As of now, things are looking good. First, the chair's quite light so it's easily moved making it great for casual groupings. Secondly, its aluminum anodized finish adds a Raymond-Lowey flair to your digs (Google him if you don't know who he is, an interesting fellow) . Lastly, these chairs are sturdy. They've accommodated all sorts and sizes of backsides with no sag or buckle. My favorite part: putting my coffee on the counter, my bare feet on their sturdy support bar, and enjoying a good morning's surf on the Web.
Date published: 2013-10-26
Rated

5

out of

5
by
LizWD
from
Great Value!
I purchased two of these knockoffs of the Navy barstool. I love them because they are modern without being cold, and are extremly comfortable without their added pillow. They are lightweight and easy to clean. I haven't been paying attention to whether they've been scratched up by use and an occasional scrubbing - I have assumed that any patina would simply improve them.
Date published: 2011-11-03
Rated

3

out of

5
by
kca710
from
shorter than the counter
These stools look good- just like the picture. My family did not think they were comfortable. Due to the height, they just don't hit at a good spot when sitting. Also, you can see imperfections in the paint at the joints- not a huge deal, but they aren't perfect. We have an extra thick corian counter; with these stools not coming up even with the counter height, it just didn't look to scale. Wish I would've loved them because they do look great with stainless stool. We settled on the white, wood vintner stool and are happy with comfort and style of it.
Date published: 2013-02-27
Rated

4

out of

5
by
Kimel
from
Great Counter Stools
We love the way the stools look next to our kitchen island. We have a Caesar Stone Raven counter top and oyster color cabinets and the stools are a beautiful addition and compliment the stainless appliances. The Stools are very light and easy to move around. I do agree with the other comment about the front rail. It is located a bit too far back which makes it difficult for people to sit comfortably (even the taller guys). The welding is not very good so expect a more casual look. Overall we love these stools. Actually thinking of getting another one.
Date published: 2014-04-09
Rated

5

out of

5
by
Astoria Girl
from
Affordable and stylish barstools
I bought two of the delta barstools for the counter in my kitchen. I had been looking at stools at other stores which were much more expensive and of less quality. These stools are great. They are super comfortable, especially when paired with the matching seat cushion.The foot rest on the bottom is an added bonus. The stools are super sturdy and durable, I anticipate they will hold up well. And they look great, they are stylish and really pretty. And the price is great! I strongly recommend these stools, they were a great value for the money.
Date published: 2012-04-29
Rated

4

out of

5
by
Banman
from
Very Light
We purchased 3 of these stool to replace the 3 wooden ones our 2 year old destroyed by pushing them over and ripping apart the straw seating cover; as well as running into them with his push cars. Wooden ones fell apart. The aluminum ones are very light and easy to clean and easy to move. Our son still made some little gouges on the top of the backrest with a fork. The damage would be worse if it was wood. The stools creek a little when you sit on it. Hey, aluminum flexes. The leg lengths were all even so they sit planted on our tile floor.
Date published: 2012-05-12
Rated

5

out of

5
by
rhb24
from
Clean, simple bar stools
We recently purchased three of these bar stools for our new kitchen. We had hoped to find similar ones elsewhere for cheaper, but had no luck. So, while these weren't a bargain, they were exactly what we were looking for and look great with our dark gray countertops.
Date published: 2011-12-05
Rated

3

out of

5
by
ococ
from
Nice Looking But Scratches Easily
The stools are nice looking and add a lighter feel to the kitchen. We've only had them for 3 months. With very minimal use, the tops of the stools where they touch the kitchen counter granite are already showing scratches.
Date published: 2013-01-18
Rated

4

out of

5
by
Curlygirl
from
Great kitchen counter stool
Looks great with stainless appliances, easy to clean, lightweight makes it perfect for kids.
Date published: 2013-11-17
Rated

4

out of

5
by
Cabin girl
from
Nice looking and pretty comfortable
I bought two of these stools, and two of the aluminum spin stools. I combined styles mostly because the store didn't have four of either stool in stock, but I like the way they look together. Also, some people find one style more comfortable than the other. I am very short and this stool's footrest is just an inch or two too low for comfort, so I prefer using the spin stool.Our kitchen is gray, white, blue, and pine and these stools blend in very nicely.
Date published: 2012-12-08
Rated

3

out of

5
by
tamil
from
Unhappy With Quality
At first the delta counter height stools seemed like they may work in our new kitchen, so we picked up a few. Once at home, they were quite lightweight, had some flaws in the finish ( that may have been able to be corrected had we liked them better overall) and the spacing of the seat to foot rest was very uncomfortable. Had to return and still have not found a replacement, but as always, the store did make our return very easy!
Date published: 2013-06-08
Rated

5

out of

5
by
bubbles820
from
Sleek & Modern
We moved into our new home and we needed counter stools. I looked everywhere, but I couldn't find any stools that fit my taste and design. When I saw this on CB, I had to have it! It's very modern looking and goes well in my kitchen. I couldn't be happier! I read the other reviews about the chairs being wobbly, but I have not had that problem with mine.
Date published: 2012-05-06
Related Products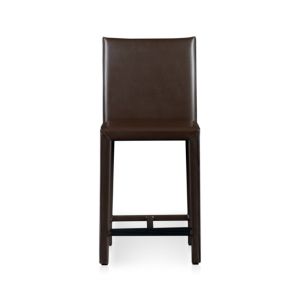 The familiar lines of classic Italian design reinvented with comfort and value...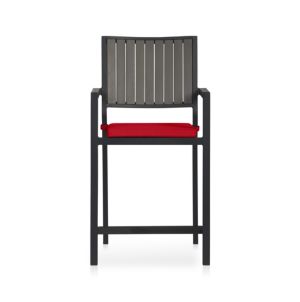 Casual and stylish Alfresco fools the eye with the look of real...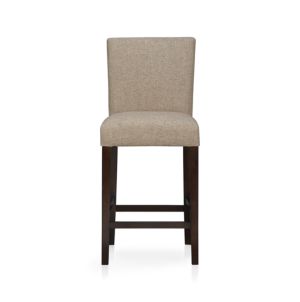 The style is classic Parsons. The colors are both fashion forward and...