Prices and availability are subject to change from the time and date that you print this page.
9/16/2014 12:53:46 PM. For Customer Service, please call 800.967.6696
Delta Side Chair
is rated out of
5
by
50
.
Rated

5

out of

5
by
atljan
from
GREAT chairs, bad cushion covers
We absolutely love these chairs. They wipe clean, are absolutely indestructible and beautiful. We have six of the chairs and two of the bar chairs. Love, love, love!!We've had them for about two years, I'd guess. The only downside is the cushion covers. We have them in black. The covers come off the cushions, which is great, so that they may be washed, but unfortunately they are all coming apart and the zippers are broken. I'd love it if I could buy some other covers to fit, maybe ones that are better made. T
Date published: 2013-06-12
Rated

5

out of

5
by
anaj
from
love them
Delta side chairs are beautiful. They're small and light but sturdy and comfortable, retro, traditional, and modern. What more could I ask for? They add a soft glow around my light oak colored kitchen table, and I like them so well I ended up ordering a couple more, plus the yellow cushions. Yes, they're cool to sit on but not a problem in the SoCal summer heat. Plus, since they were designed for commercial use I expect them to age gracefully. All in all a good buy!
Date published: 2013-05-31
Rated

5

out of

5
by
FrenchMod
from
Just enough modern
I bought these chairs to go with a vintage french table. They look great and are very comfortable. I bought four, but I plan to buy two more now. None of the chairs I received were wobbly - they are in perfect condition.
Date published: 2013-03-05
Rated

5

out of

5
by
SAndrea
from
Delta Side chairs are a hit!
Love the sleek clean lines and they look so "in".. Paired them with a sleek black table. Don't forget the cushions for a splash of color.
Date published: 2013-03-04
Rated

5

out of

5
by
Nora77
from
Great Look & comfort
Bought 4 of these chairs, counter height, for a small Kitchen with a Stainless and white wood table. They look great and are very comfortable.
Date published: 2013-03-04
Rated

5

out of

5
by
drlynn
from
love it
I totally love this shiny, comfortable chair, which adds a little spark and muscle to my eclectic decor.
Date published: 2013-02-24
Rated

4

out of

5
by
Showguy
from
Just what we needed
It was time to replace the chairs around our conference table at the office, and while I love the Emeco Navy Chair it was too dear for our budget. The Delta Side Chair is a nice alternative, and a great value for the budget. The chairs look much better and are a lot more comfortable than one might expect for the price, and we are very happy with them.And it was great to be able to see them in a store before making the purchase - I would have been reluctant to purchase six chairs online from only a photo.
Date published: 2013-02-22
Rated

5

out of

5
by
Ladys Mom
from
Like
Pretty, comfortable, light, modern. The brushed metal looks gorgeous against my cream walls and next to my red granite, especially in the morning sun. They are cold to sit in, but that's easily fixed, even with a thick, woven placemat. My only complaint is that I'm now dreaming of a new table, though they look great with the unstained birch table I already have.
Date published: 2013-02-08
Rated

2

out of

5
by
bluebell143
from
weird silver color
I ordered these chairs because I love how they looked online and I have all silver fixtures in my kitchen. However, these chairs are gleaming white silver. They are so bright that sometimes in the right light, the look white. I was hoping they would have more of a patina and finish on them. They are also very matte so they are hard to slide on and off of. BUT, if you like the finish, they are really comfy, even without chair pads.
Date published: 2012-12-20
Rated

5

out of

5
by
Happy 1
from
Great chairs
I love my new Delta aluminum side chairs! Besides looking stylish, they are lightweight and comfortable even without the cushion. I can used them as spare seating in my den or anywhere I need it and they look great and do not take up a lot of room.
Date published: 2012-09-09
Rated

5

out of

5
by
MinervaAnne
from
Great kitchen chair
Retro style looks great in my kitchen. Light weight, durable.
Date published: 2012-09-09
Rated

5

out of

5
by
WheelinCMH
from
great chairs!
I put eight of these around an antique farm table. I love the contrast of metal with wood. The chairs are lightweight but sturdy. They are easy to keep clean and comfortable to sit on. I will be buying the pads before winter because the metal will feel cold, I am sure. The customer service at the C&B store where I picked them up was awesome! They were very helpful and went out of their way to get the chairs loaded in my car.
Date published: 2012-09-08
Rated

5

out of

5
by
luvtoshop12
from
Awesome Chairs
Purchased five of the delta chairs for my kitchen table and they are perfect. They are extremely light weight, but not in a cheap way. Had them for about two months now and they match perfectly with my other decor.
Date published: 2012-09-01
Rated

5

out of

5
by
TulsaOklahoma
from
Pretty Much Perfect
We got four of these chairs to go with our Avalon table from CB. I love the Navy chair these are styled after, but I didn't have the budget (or desire) to spend $500 a chair when I got four beautiful chairs for less than that.My only concern before buying these was my son. He's two and we have a booster seat that straps to dining room chairs. I was worried if wouldn't fit or the chair would be too light weight and would top back when he's being goofy or grumpy.After several months of use, that's totally not an issue. The chair still looks brand new, the seat fits perfectly and he has yet to make the chair wiggle, even during his grumpiest fits.As for the chairs in general, I really love them. They are sturdy, very attractive and constantly get complimented by guests. We've spent hours in them at dinner parties and they are really comfortable even without cushions. I do have the cushions though because, like other reviewers have said, they can be chilly at times. I personally don't mind a cool chair, so it doesn't bother me one bit. And they are surprisingly comfortable without a pad.These are really terrific chairs, especially for the price. I am actually back ordering two more so we can seat 6 comfortably at the table.
Date published: 2012-08-02
Rated

3

out of

5
by
Shellzy
from
Glad I saw it in person first
I love the look of this chair and had my heart set on it. Luckily I went to the store to buy it, and when I saw it I changed my mind. The chair is very small...almost looks like a kid's chair. I was going to use it as a desk chair, but decided on the Felix office chair instead. Way better choice.
Date published: 2012-06-25
Rated

4

out of

5
by
Hapa Haole
from
So comfortable & great size
I am so happy with this chair. I purchased it for my tiny entryway, along with the Pedestal Side Table (from the Outdoor collection) in "Caliente". What an eye-catching combo! This chair is classic, yet modern--great for eclectic tastes. The finish is beautiful, but I noticed it does "grab" the cloth when I wipe it down (I use an old 100% cotton, super-soft t-shirt). This doesn't bother me, really--just something I didn't expect. It's extremely light weight and on the smaller side, so great for apartments/condos. Very, very comfortable, too.
Date published: 2012-05-07
Rated

4

out of

5
by
viktorija
from
Excellent purchase
I ordered six aluminum delta side chairs to go with my red dining room table. They're great chairs! Easy to clean and very stylish. Things to consider when purchasing: since they are aluminum, they're be cold to the touch in the winter (but will feel wonderful in the summer). They also will receive some scratches--being aluminum--but this adds to the overall look of the chair.
Date published: 2012-05-05
Rated

4

out of

5
by
MamaZookeeper
from
Light and sturdy
I wanted an inexpensive, simple chair that would stand up to the abuse of my kids. I love how clean, light and sturdy this one is. They are quite comfortable (if a little cold) with out cushions.
Date published: 2012-05-05
Rated

5

out of

5
by
WheelinCMH
from
great finish
These chairs are small in scale, and very light to pick up. The finish is even and the welded joints are clean and attractive. There is no sloppy workmanship on these chairs! They were packaged well in the box and protected by bubble wrap, so there were no scratches or other marks on them. These are cool-looking chairs!
Date published: 2012-05-05
Rated

5

out of

5
by
JSam
from
Awesome chair!
It is the perfect size and color for a non-dining use. Looks perfect!
Date published: 2012-04-29
Rated

3

out of

5
by
mrsyoder
from
not level, not great quality
I love the look of this chair! I waited for it for 2 months while it wasn't available. However, when we finally brought it home- it's super light weight and feels cheap. Doesn't seem very durable. It also tilts back and forth when you sit in it, as if the legs aren't even. This should not happen in a brand new chair. For $100, I was expecting more
Date published: 2012-04-24
Rated

5

out of

5
by
withinreach
from
Great Reproduction Chair
Have 2 of the original "Navy side chairs". Had been looking for affordable side chairs to add. These are perfect and an amazing value. They aren't exactly like the originals, but pretty close. Saved over $300 per chair by getting reproductions. They are lightweight and easy to clean. Did end up getting the chair pads due to the kids complaining about comfort, but they sit on their legs. I'm very happy with this purchase!
Date published: 2012-03-12
Rated

5

out of

5
by
Kcmc
from
Great chair!
I bought four of these Delta chairs and two of the matching barstools for my kitchen. They are super lightweight, making them easy to move when sweeping/vacumming. They are very stylish and easy to clean. They look great both with and without the seat cushions. I've gotten many compliments on them - great chair!
Date published: 2012-03-10
Rated

5

out of

5
by
blr17
from
Great Dining Chairs
I am absolutely in love with the 2 delta side chairs that I just bought. I live in a pretty small apartment, and so these chairs were the perfect size for my place. The silver finish is gorgeous and adds a new element to the space, rather than just more wood. Great quality for the price.
Date published: 2012-02-28
Rated

4

out of

5
by
dcmb
from
Comfortable chair
Really comfortable chair. The only downside is that it is cold (without the cushion) to sit in during the winter months.
Date published: 2012-02-28
Rated

5

out of

5
by
1 Happy Customer
from
Great value
We have had these chairs/barstools for over five years and have proven to be a great purchase. Solid construction and great finish- they look and feel as good as new. We are ordering additional chairs for a commercial project we are doing because of our experience with them. Thank you Crate and Barrel!
Date published: 2012-02-22
Rated

4

out of

5
by
chilled bottoms
from
Chilly chairs
I bought 6 of these chairs for my kitchen table. Be ready for a cold seat. I may need to get the cushions. After unpacking, I noticed that 2 of the chairs were a bit wobbly. I called C&B customer service and they immediately began the process to remedy the problem. I get to keep the 2 wobbly chairs until 2 new ones can be sent (backordered until February), and then I can just return the 2 wobbly ones in the box at C&B's expense. I was very pleased with this arrangement...even more pleased a couple of days later when I received a gift card in the mail for my trouble!
Date published: 2011-12-01
Rated

5

out of

5
by
Sweared
from
Delta Chair
Chairs are great. They are sturdy and easy to clean, light weight and great with our decor.
Date published: 2011-08-23
Rated

5

out of

5
by from
Chair Person
I had been looking around for this style and was so happy to find it at such a great price and quality. They add a modern touch to our rustic kitchen. Our appliances are all stainless steel and these chairs fit right it.
Date published: 2011-08-21
Rated

4

out of

5
by
dmalvado
from
I love the look of the chair. I have 6. They are very cold in the winter, I bought the black seat cushions to go with them. As for the welding marks, they are very visible, but I don't mind them. Chair is easily scratched if you have buttons on the back of your pants.
Date published: 2011-02-24
Related Products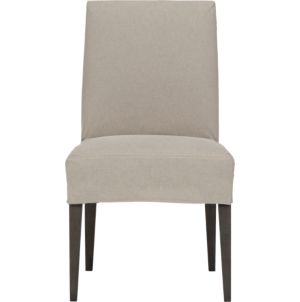 Specially tailored slipcover dresses the classic lines of our Miles side chair...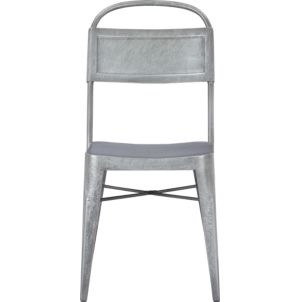 Industrial chic seating with a vintage farmstead and factory look, crafted from...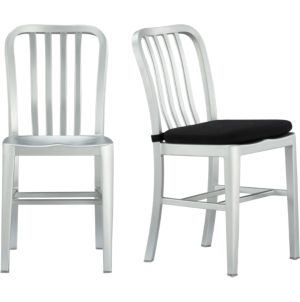 A sleek anodized finish on aluminum makes for a polished perch with...