Prices and availability are subject to change from the time and date that you print this page.
9/2/2014 10:09:08 PM. For Customer Service, please call 800.967.6696
Crate and Barrel Exclusive
Hefty and handsome, this thick-walled barware has an honest, no-nonsense shape and feel that's ideal for everyday use.


Dylan 17 oz. Highball Glass
is rated out of
5
by
66
.
Rated

5

out of

5
by
Reilly23
from
Thick glass
These are wonderful everyday glasses. They are thick and I haven't had any issues with scratches or chips. We even put them on the bottom rack of the dishwasher. Wonderful glass-great quality.
Date published: 2013-02-22
Rated

1

out of

5
by
friedrich
from
Rim chips easily
We got these as a gift, along with the double old fashioned ones. Right out of the box one had a chip right around the top of the rim. We took it back and exchanged it. Less than two months later, another one chipped in the exact same place. Took it out of the dishwasher and there was the chip. It was not crowded nor did it hit anything. I think there is a defect in some of these that make the rims chip easily. Maybe you'll be lucky and your won't chip - or maybe you won't. I think it is a roll of the dice.
Date published: 2013-02-08
Rated

5

out of

5
by
Educates
from
LOVE THESE GLASSES
I ordered 8 of the Dylan glasses (4 of the highball size and 4 of the double old-fashioned). I had purchased cute juice glasses from Crate&Barrel a few years ago. I had noticed the juice glasses from Crate&Barrel came out of my dishwasher sparkly every time (we have hard water), but my cheap every day glasses always appeared to have a film or look hazy. As a result, I decided to give the Dylan glasses a try after reading lots of reviews about the various Crate&Barrel options. I was THRILLED to receive the box in just a few days after placing my order. I LOVE the quality box that Crate&Barrel ships items in. When I opened the box, I couldn't believe how well packaged these glasses were. There was a layer of heavy bubble wrap surrounding the inside of the box and each of the glasses was individually wrapped with special packing that went around each glass at least 10 times. It was amazing! The glasses were each perfect and beautiful. I hand washed them, after removing the Crate&Barrel sticker (easy to peel) from the bottom and the clear "Made in Poland" sticker near the lip (also easy to remove). The weight of the glasses is very nice. They do not feel fragile at all. They are crystal clear and I am very hopeful they will stay that way after going through my dishwasher. All in all, I believe it was a great purchase and I look forward to using these glasses.
Date published: 2013-01-26
Rated

5

out of

5
by
Charski
from
Fabulous glasses
I have had these glasses for four years and have only had one break---and that was my fault for dropping it on the concrete outside. These glasses (the highball and the old fashioned) have heft without being too heavy (like the Working Glass, which I grew up with). It's a shame other folks have had issues with them...maybe they got a bad batch?Described as honest and hard-working, this is true...and yet they hold their own in more formal settings.A great buy for the money! Highly recommend.
Date published: 2013-01-06
Rated

1

out of

5
by
chrisdawg99
from
Pretty glasses, but break easily
We have had about a dozen of these Dylan glasses over the past couple of years, in various sizes. The larger sizes (e.g. 17 oz) break VERY easily. For example yesterday I was drinking ice water in a Dylan glass. It had been sitting out on a coaster for about an hour, and I was drinking from it occasionally. Then for no reason, it got a huge crack down the side and across the glass. At this point I believe we have lost about 1/2 of our dozen to cracking and breaking. Very poor quality, do not buy.
Date published: 2012-12-16
Rated

5

out of

5
by
stacyk
from
Excellent
My family has been using these glasses for 20 years. They are the only ones I'll buy because of the glass thickness and durability.
Date published: 2012-10-15
Rated

2

out of

5
by
Molly44
from
They Break
We got eight of these classes for our wedding almost exactly a year ago. I loved them at first, but in the last few weeks three of them have cracked. Nothing has changed in how we are using them, but the are breaking both in the dishwasher and from the smallest clink of another glass. They are gorgeous, but I will probably not replace the broken glasses and just find a new set.
Date published: 2012-09-14
Rated

5

out of

5
by
Newly Weds in Chicago
from
Great glasses for everyday use
We received this product as a part of our wedding registry. We are very happy with these glasses. We also received the shorter version. They are strong and thick glasses and stack well in our cabinets.
Date published: 2012-09-10
Rated

5

out of

5
by
Jlk25
from
Big, Heavy, Nice Glassware
These glasses are large and heavy! However, thats not a bad thing in my book. They are great for everday use.
Date published: 2012-09-10
Rated

5

out of

5
by
Franaenae
from
Strong & Stackaable
I love these glasses. They're solid, but not too heavy. Strong, but with elegant lines. They're the perfect every day glass, and they stack well if you need the extra space. I highly recommend these to anyone looking for some new glasses.
Date published: 2012-09-09
Rated

5

out of

5
by
GatorBRM
from
Heavy and classy
Great glasses! They stack in the cabinet, but they are heavy (not too heavy) and expensive feeling. My husband says they are perfect for his grip. Great product.
Date published: 2012-09-08
Rated

5

out of

5
by
MNCPAC
from
Great everyday glasses!
Heavy, durable, stylish. I bought these to replace our wedding registry glasses from another high end kitchenware store. I wish I had registered for these back then! Have held up well in the dishwasher without chipping or scratching. Also bought the double old fashions and those are great as well! Ordered online and picked up in store later that day all wrapped and ready to go-- no shipping costs! Love Crate and Barrel!
Date published: 2012-09-08
Rated

5

out of

5
by
jdwatki2
from
Doesn't disappoint
I purchased these glasses online for my husband and was skeptical just because I hadn't seen or held them. They are beautiful and my husband loves that the fit in his oversized hand (they fit in my much smaller hand too)
Date published: 2012-09-01
Rated

5

out of

5
by
stardestroyer
from
Strong and Beautiful
I was worried about purchasing glassware - you never know that you'll get something that is strong but still practical AND elegant.The Dylan Glasses are durable and thick - haven't had any problems with them in the dishwasher or in using the ice machine. The Dylan Glasses are also tastefully designed with a classic shape.Water, Dr. Pepper, IPAs, whiskey neat -- everything looks good and tastes good in these glasses.
Date published: 2012-08-01
Rated

5

out of

5
by
approve
from
Great solid glasses!
Glasses are as expected. Nice thick glass, not delicate.
Date published: 2012-07-09
Rated

5

out of

5
by
Beth M
from
Durable and Pretty
I just bought a set of these glasses and couldn't be happier! They are super thick but not too heavy and they are beautiful! This will be a set that I'll have for a very long time. Love, love!!!
Date published: 2012-05-05
Rated

5

out of

5
by from
Love These Glasses!
These are the best glasses I have ever purchased. Thick and sturdy, yet stylish. Highly recommend!
Date published: 2012-03-11
Rated

5

out of

5
by
juice06
from
Durable Glass for Everyday Use and More
We got these glasses for our everyday use. They are nice and sturdy, and have a heavier feel to them than our previous glasses, which we like.
Date published: 2012-03-10
Rated

5

out of

5
by
Northsider
from
Great everyday glasses
Perfect for everyday use. Simple, sturdy and dishwasher safe.
Date published: 2012-03-10
Rated

5

out of

5
by
t13bos
from
Great Glasses
These glasses are great! Tall ones are perfect for water and everyday drinks. The shorter ones are perfect for cocktails or Scotch. Glass is thick enough to prevent the chips and cracks of thinner glasses.Will definitely buy again!!!
Date published: 2012-02-29
Rated

5

out of

5
by
richmond917
from
Classic, Durable, Attractive
My husband and I registered for these glasses and were lucky to receive 12. We use them everyday and (fingers crossed) have yet to break one. I think that has more to do with the quality and durability of these glasses than our special care of them. We regularly put them in the dishwasher without any problems. They are attractive and classic. I would and have recommended them to others. Yes, they are a bit more expensive but for the quality I feel they are a good value.
Date published: 2012-02-28
Rated

5

out of

5
by
much2hope4
from
Date published: 2011-08-30
Rated

5

out of

5
by
vegeland
from
Good glasses
I bought these glasses based on the reviews I read and they were right. They glasses are very sturdy. They are also a little larger than normal glasses but I like that.
Date published: 2011-08-24
Rated

4

out of

5
by
dvdsocal
from
Nice glass
Love the highballs, good weight, feel good in the hand, nice lines. I find the doubles to be a little large in diameter for a casual cup though - but I like the weight.
Date published: 2011-08-23
Rated

5

out of

5
by
watermelon217
from
Sturdy solid glasses
So glad I got these! They look great and are very heavy duty. I have tipped over a few on the counter with no breakage! Another feature that I love is that you can fit your hand inside, so they are able to be hand washed. However, I would recommend picking these out in the store, since a few that were shipped to me had an uneven rim.
Date published: 2011-08-23
Rated

5

out of

5
by
LnzGski
from
Sturdy and Heavy
My husband picked out these glasses. We have both the tall and short glasses. They feel sturdy in your hand and can hold a lot of liquid. We love these!
Date published: 2011-08-23
Rated

5

out of

5
by
samantha0214
from
Great Glasses!
Beautiful and simple everyday glasses. Very sturdy and thick glass. Would recommend to everyone.
Date published: 2011-08-22
Rated

5

out of

5
by
Adub23
from
respectable
These glasses are really nice, with a good solid bottom, and don't feel like they're going to break easily. They're a definite upgrade from the mishmash of random glasses I'd acquired throughout college.
Date published: 2011-08-20
Rated

5

out of

5
by
reviewtime
from
love these glasses
These are perfect everyday glasses for my family ranging in age from 7-77. Sturdy, solid, tasteful. Bought the taller ones. They stack well in the cabinet.
Date published: 2011-08-19
Rated

5

out of

5
by
insyweensy
from
Perfect Water Glass
I received these for my wedding, and absolutely love them. They have a great weight to them and seem very sturdy. I've washed them in the dishwasher many times without problems.
Date published: 2011-08-16
Related Products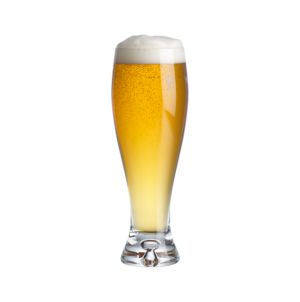 A full bodied pilsner with curvaceous contours and thick sham base. Shape...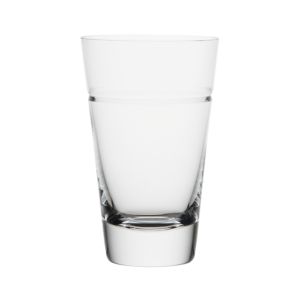 A single, dramatic V cut distinguishes this sophisticated barware. Elegant simplicity, flared...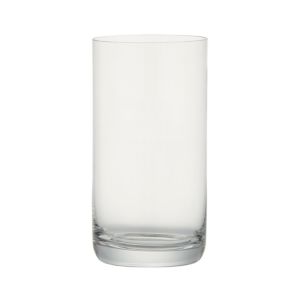 One of our bestselling classics for more than 20 years, and not...