Prices and availability are subject to change from the time and date that you print this page.
4/16/2014 6:54:41 PM. For Customer Service, please call 800.967.6696
Crate and Barrel Exclusive
Cylindrical bowls with flat bases have a dramatic, contemporary look that lends an elegant edge to the enjoyment of wine.


Edge 13 oz. Wine Glass
is rated out of
5
by
60
.
Rated

5

out of

5
by
OKShopper
from
Really love these glasses!
I had seen these in the store and loved them but couldn't decide if they seemed too fragile. Decided to order and haven't regretted it at all! I get compliments on them all the time. I am very careful with them when I wash - always by hand. Had to replace one due to a chip.
Date published: 2013-11-07
Rated

5

out of

5
by
Beeb99
from
Seriously Elegant, and beautiful wine glass
I had been looking all over Hong Kong for cylinder shaped wine glasses, but found that only Crate&Barrel would offer these, so I did our first online order with C&B. The glasses are simply stunning and go with all table settings (pic's don't do them justice). They look and feel fragile but if they were made any thicker, they would loose their elegance and be too clunky. We love them so much we use them as our everyday wine glass - wine should be enjoyed and in such a gorgeous glass, it only seems right!
Date published: 2014-04-07
Rated

5

out of

5
by
SaraC
from
so much more than wine
I love drinking wine from these (or whatever cocktail I might be serving). The delicate rim is a nice change from the typical wine glass! I also love the shape- it's great for desserts, too! Ours clean beautifully in the dishwasher and (knock on wood) haven't broken one yet!
Date published: 2011-10-23
Rated

5

out of

5
by
Ylsandoval
from
It's love!
I am absolutely in love with these, couldn't be happier! Feels so elegant, even drinking OJ in them for breakfast.
Date published: 2014-03-28
Rated

5

out of

5
by
seaotter24
from
Classy and puts up with my abuse!
I saw these on tv but was a little leary because of how thin they looked. I purchased two of the 15oz wine glasses to try them out. They are awesome. I use them all the time and they have held up. I even accidentally dropped one in the sink while I was washing it and it didn't break or even chip. They are thin but have put up with almost everyday use and washing. I don't even hand wash them anymore, they go straight into the dishwasher with no problems. I purchased four more 15oz wine glasses, two of the 13oz wine glasses and I am going back for more. I am going to purchase the champagne flutes to complete my set. I am very happy with these!!
Date published: 2014-03-18
Rated

4

out of

5
by
Lewis of Long Beach
from
I purchased a set of 12 15oz wine glasses and 12 champagne flutes about 3 years ago. Yes it is true, these glasses are very elegant and modern, but EXTREMELY fragile. I have broken (and replaced) several of the wine glasses. I hand wash them and noticed a particular weakness in the stem. They will snap right off if your are towel drying like a normal glass. I purchased some replacements this December and noticed that the stems and vessel are now made of a slightly thicker glass that I am sure will be a huge improvement!
Date published: 2013-08-28
Rated

2

out of

5
by
schnoozieq9
from
Beautiful Style, but...
These are gorgeous! I love drinking out of them, but when I got them didn't realize how fragile they are - it's really thin glass and it makes washing them a challenge. We have to hand wash them, and I used a sponge stick so have to be extra careful. My husband is not allowed to wash these because he doesn't realize how gentle you have to be - he has broken this along with our water glasses that we got from Crate & Barrell. Next time, i will be looking for thickness of glass along with the high style.
Date published: 2013-12-08
Rated

2

out of

5
by
APanda911
from
Only buy if you won't be using them to drink wine
Waaaaaaaaaaaaaaaaaaay too fragile to be used in any real-life situation. I've broken 4 of them since February. One shattered in my hand while I was ever-so-carefully drying it...can you say frustrating?!??! My husband has broken 2 and now refuses to use them. The other broke at a party when somebody accidentally put it down on the table too roughly and the stem snapped. I only gave it 2 stars for the looks - the actual quality is ridiculous - don't expect a set of these to last you through your first dinner party!
Date published: 2013-12-08
Rated

5

out of

5
by
lovewine
from
Wine tastes better...
OK, maybe it doesn't taste better but you definitely will enjoy it more if you drink out of these glasses. The quality is great! We purchased them in September and now it's January we have only one broken, and the guest that broke it is kind of sloppy, so it wasn't the glass. I put these in the dish washer sometimes and we use them almost every day, especially during the holidays I washed them every day and I am not the most careful person either. I am going back tomorrow to buy a few more just in case that sloppy guest comes over again. :)
Date published: 2013-11-07
Rated

5

out of

5
by
mxpx2346
from
very nice wine glass
I wanted this wine glass because I saw them on Gossip Girl and fell in love. These look JUST like the ones from the show and are even more elegant looking in person! They are a very fair price too.
Date published: 2013-12-02
Rated

5

out of

5
by
Hellena
from
The Edge Stemware
I love the Edge stemware and their contemporary design. I registered for both sizes. Yes, it's true, they are delicate around the rims, but the delicate lines add to their sophistication. I have had them over a year now and have broken a couple. These lovely wine glasses are not recommended for the dish washer, although I have on occasion thrown them in there with usually good results (depends on how you load them). I bought a soft bristled bottle brush to hand wash them and that works great. They look great on the table. When registering last year I matched with the Claire dinnerware and Tilia flatware. They all go great together and I couldn't be happier with my choices. They're fun, stylish, and elegant...
Date published: 2013-08-07
Rated

5

out of

5
by
arlette
from
Beautiful, delicate but surprisingly resistant
I have had these glasses for 9 months. They are delicate, but I think that is part of the elegance. I was a little afraid they might be too fragile, but I use them pretty frequently and wash them in the dishwasher with no problem. Of course you have to be careful, as with any glass. These are no plastic cups. Only one broke because my boyfriend totally knocked it over from the kitchen counter and it landed on the hard kitchen floor. Any glass would have broken and, at that, only the stem broke. The glass itself was only chipped at the edge. So get them and enjoy!
Date published: 2011-09-10
Rated

3

out of

5
by
marmar51
from
Very Fragile
Beautiful glasses but very fragile. Not sure how to wash the sparkling wine glasses they are so narrow.
Date published: 2013-12-08
Rated

5

out of

5
by
bmofoto
from
Perfect mod bar set
We registered for these and I was nervous because the glass looked so thin. BUT I loved them so much I was willing to take that risk. We even used the champagne flutes at our wedding!We have moved 3 times with them and not a one has broken. I may baby them a bit but they get washed just like other glasses. I just double bubble wrap them while packing.They are the perfect blend of modern and classic and I look forward to using them for years to come.
Date published: 2013-11-07
Rated

1

out of

5
by
CjWalsh
from
horrible
interesting design, but horrible for the non wine person. What im saying is this.. if you dont understand that the shape of your wine glass influences the taste of the wine, and you buy this out of pure "i like how it looks" youre in for a real awakening. This glass is horrible. Everything tasted like it was muddled down. I was at a taste test and my friend decided to use these glasses. Horrible. Absolutly a disgrace to wine. If you bought/buy these, use them for champaign and not wine.
Date published: 2013-12-07
Related Products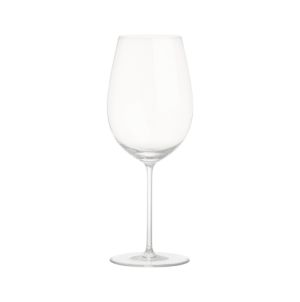 This elegant stemware features oversized proportions that really let big wines breathe....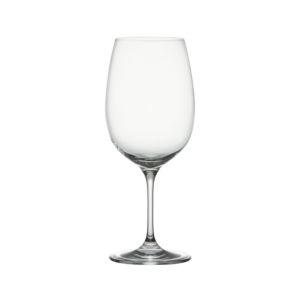 Everyday stemware, beautifully crafted from top to bottom. Generous bowl is finished...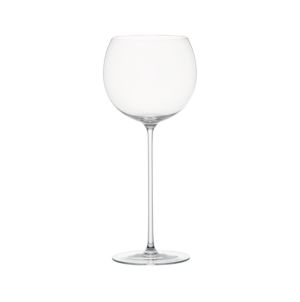 Handcrafted glass rises to the occasion on elongated slender stem with a...