Prices and availability are subject to change from the time and date that you print this page.
4/24/2014 8:52:14 PM. For Customer Service, please call 800.967.6696
Crate and Barrel Exclusive
Crisp white oversized coupe shapes in durable porcelain go casual for everyday, or sophisticated for formal dinners.


Essential Dinnerware
Essential Dinnerware
is rated out of
5
by
443
.
Rated

4

out of

5
by
ssnj
from
Arrived with wear, otherwise would be very nice
This set is versatile and can go easily from everyday use to elegant meals, so I was very excited when it arrived--it was beautiful. Until I looked at the bottom of the pieces, that is, at which point, I was very disappointed since they have quite a bit of wear and discoloration. Be forewarned that if you order a "set", it is not a true set, just a discount on open stock. I strongly encourage you to go to the store to purchase a set so that you can make sure that you get items in good condition. There are a couple with what appears to be rust, but attached are photos of what many of the pieces look like. 
Date published: 2014-04-20
Rated

5

out of

5
by
Mrstpmartin
from
Small Bowls Too?
I love my Essential Dinnrware sets. I ordered them a few weeks ago & they work great for my everyday dishes. The only problem is that the bowls are huge! I like them for when I need a larger bowl, but when I want a scoop of ice cream or some cereal they are just too big. I had a scoop of ice cream yesterday, & it just rolled around in the bottom of the bowl! If I make soup or a nice salad they are perfect. I see on the site that I am not the only one who feels this way. So, I have to put my review in as the same. Bring back the smaller bowls that apparently used to be available...Please!
Date published: 2014-04-15
Rated

5

out of

5
by
amarcelle
from
perfect minimalist set
I love good design, and I couldn't have asked for better dinnerware. The shape is minimalist, yet still has enough depth to keep food in the center. I grew up in a house that had C&B dinnerware and these feel equally as heavy, unbreakable and unkillable. Others complain about not being 'crisp white,' but because my table is dark (Basque java) and my chairs are neutral (Lowe smoke) these look blindingly bright in comparison. One thing that's missing: the 5" bowls, which I bought separately. The large bowls included in the set are like pasta bowls - useful, but I appreciate having the second size. Look like new out of the dishwasher every time.
Date published: 2011-06-21
Rated

1

out of

5
by
Peace
from
Very Disappointed
I was so excited to register for everyday dishes for my wedding and these were simply perfect. WERE. After 1 year, nearly every single salad plate is chipped, with the dinner plates well on their way. I thought porcelain was durable regardless of brand (I love Crate and Barrel), was so happy with these pretty white dishes at first - now I'm left with messy chipped dishes and was really looking forward to using our wedding gifts past the first year. While I recognize my husband isn't the daintest man, I have a hard time believing his unloading of the dishwasher caused all these chips.
Date published: 2014-04-20
Rated

5

out of

5
by
Andreatap
from
Great set of dishes!
I purchased this dinnerware set over a year ago. I was leary, as I was looking for all white dishes, but found a lot of other, even high end retailers to have less than stellar reviews. After a year of rough and tough abuse we have yet to have a chip, a crack or a smudge on any of the pieces. In fact, I can't count the number of times, while unloading or loading the dishwasher that I have smacked a plate into my granite countertop by accident...NOTHING! I highly recommend this set. You cannot beat the price, and it really looks great. The bowls are huge, and all of the coffee drinkers we have over compliment the generous mug size and appearance. Great product!
Date published: 2014-02-17
Rated

3

out of

5
by
smartin09
from
Bring back the 5.75" bowl!
I like the essential line, but the 7" bowl is far too big. Loved the 5.75" bowl, and regretting not purchasing an entire set before C&B did away with them. Based on the reviews, seems many people liked them, so not sure why they were discontinued...Very happy with C&B's products, but cannot understand why certain items that seem so popular become unavailable.
Date published: 2014-04-08
Rated

5

out of

5
by
Toulasmom
from
LOVE THESE!!
I was in the market for new everyday dishes because after 15 years of my all white porcelain diner-ware dishes it was time to "lighten up" , as the old dishes were awesome & held up amazingly well they were just getting to heavy for my arthritic hands...after a lot of research & reading other reviews I went for the Essential White Dinnerware. Not only are they beautiful they are durable & light enough for me to handle! I am a "dish freak" & these are THE BEST! Thx to C & B for these fabulous elegant/ everyday dishes!! I am very happy with them!! Kudos to the shipping dept for an amazing packing job!
Date published: 2014-03-30
Rated

3

out of

5
by
karoz
from
Classic but...
I bought these a year ago.  I loved them from the start.  They were a classic.  However, I noticed many small chips on the mugs, then the plates, and then the bowls.  I recently had one of my bowls crack completely and had to throw it away. This set isn't as sturdy as I'd like them to be.  I had pfaltzgraff for 11 years prior to this set and I didn't get one chip in that set.  However, on the plus side, these plates do not show knife marks or fork marks as much as the pfaltzgraff ones did. 
Date published: 2014-04-20
Rated

5

out of

5
by
salpat
from
Love these dishes!
We bought these dishes to replace the white dishes that we got 11 years ago for our wedding from C&B. Unfortunately our other dishes were discontinued. We do love the clean, simple design of these dishes and are counting on the fact that we'll be able to buy more when we need to in the future. The only drawback is that the coffee mugs are really big, wish they had a smaller version and maybe matching tea cups.
Date published: 2014-02-17
Rated

5

out of

5
by
Whitney Witherspoon
from
Love Essential Dinnerware
This line is a classic - quietly elegant, but can be used for both casual and elite occasions.My husband and I just bought 12 more plates, as they are durable, very white and we use them all the time!This dinnerware allows for some very impressive food presentation, as well as the use of any color scheme imaginable! It is so much fun to plan food and periphial designs around these pieces!I would recommend them to anyone, regardless of decorating style and other eating patterns! My daughter and two daughters-in law all use this line and are as amazed as we are by their classic look, long-lasting use and dynamic versatility!
Date published: 2014-02-17
Rated

4

out of

5
by
JulieRae
from
Fantastic set ... if you bring back the small bowl
After a long search for a dinnerware set my husband and I both agreed on, this fit the bill at an amazing price. I've loved using these over the last three years. I am ready to replace and add a few more sets, but was so disappointed to find the small bowl missing. The Aspen small bowl isn't quite the same, so it doesn't match our past bowls exactly. Crate & Barrel, if you are listening, I love these--please bring back the small bowl!
Date published: 2014-04-04
Rated

5

out of

5
by
Mishi
from
Excellent Value
My bridal registry included 10 place settings of the essential dinnerware. I was drawn to the rounded coupe shape, generous sizes and smooth, white porcelain. The dishes have held up very nicely through daily use and dishwashing. Depending on how you set your table, they look great in a casual or formal setting. With my husband being a chef, he liked that the dishes were sized larger. The dinner plate is 11.5 inches, a full inch larger than most dinner plates. And unlike other dinnerware sets, the bowls and mugs are ample enough to hold more than a few bites/sips of your food and coffee. I highly recommend this dinnerware!
Date published: 2014-04-08
Rated

4

out of

5
by
smart09
from
Bring back the 5.75" bowl!
Received this set for my wedding shower. I love the crisp, clean look but would prefer the 5.75" bowl (was discontinued just before my wedding shower) over the 7" bowl. While C&B does offer a 5.75" bowl in their "Every Bowl" line, it's just not the same- doesn't stack quite as well, a bit more deep than it is wide, etc. Please bring back the 5.75" Essential Bowl!
Date published: 2014-04-04
Rated

5

out of

5
by
HS2013
from
Love, love, love!
Just got these as an xmas gift after having a very similar set from Crate & Barrel for years. Since the old set is no longer available, received a service for 8 of this set. Love the simplicity and elegance. (I don't like patterned dinnerware). Sizes are perfect. Also, a HUGE plus that I can replace items piece by piece in case anything breaks. One thing I did notice, though, is that this set is definitely thinner than the old set. Still, would definitely recommend! (Oh, and had these shipped. Quite possibly the most thorough padding job I've ever seen) :)
Date published: 2013-12-31
Rated

4

out of

5
by
Kitchen shopper
from
Great set!
At first I wasn't sure I liked how heavy the set was going from another very thin brand, but I love them now. They take up more space in the cupboards than our older set, and that would be the only down side. I LOVE the mugs! Perfect generous size! The 7" bowls are pretty large and we only use them when we make salads as our whole dinner. Otherwise we also ordered the smaller size bowls for our everyday cereal and when the meal requires a bowl. The bowls are actually pretty deep, and I wish Crate and Barrel would add how deep the bowls are. These are great for our 6 year old kids. Would definitely purchase these all over again!
Date published: 2012-07-16
Related Products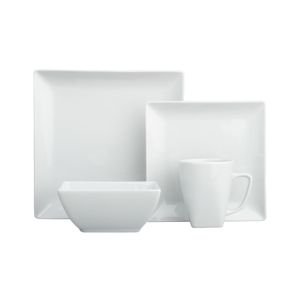 Clean, crisp white porcelain dinnerware combines squares and curves in a dynamic...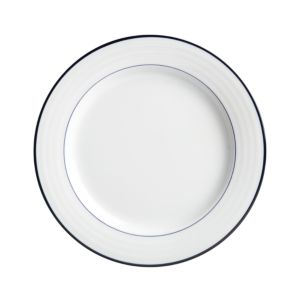 Your table will be dressed for success in this tailored cousin to...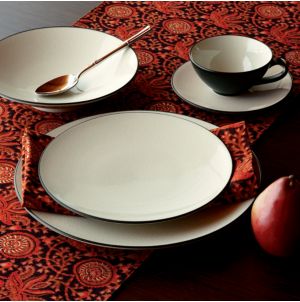 Pure and simple. Clean Asian shapes have a thin, elegant feel and...