Prices and availability are subject to change from the time and date that you print this page.
4/19/2014 1:33:00 PM. For Customer Service, please call 800.967.6696
Bodum's unique glass-in-glass technology is re-interpreted in a new rounded shape. Two lightweight layers of glass are blown together to create a vacuum layer of thermal insulation. These glasses keep hot drinks hot and easy to handle, and cold drinks cold without wet condensation. There will be subtle variations due to the handmade nature of these glasses.


Bodum® Pavina 15 oz. Tumbler
is rated out of
5
by
51
.
Rated

1

out of

5
by
mchiaramo
from
Great until it cracks, which does not take long.
I bought some of these not quite a year ago. They seemed perfect because:- very nice looking, seem high quality- keep hot drinks hot and hold a large sized cup of coffee with cream added- keep cold drinks cold and no sweat on the outside to ruin a table topBut they break on the inside near the bottom very quickly. I do not know why, because there was no impact to the glass, but I pulled one out of the cupboard to use and there was a hole in the wall of the inside of the glass so that the water I put in it went into the 'thermal' layer. This quickly happened with all 4 glasses.Not worth the cost if they are all broken within 3 months.
Date published: 2014-03-27
Rated

1

out of

5
by
Sad Allen
from
breaks easily
Bought two of these, used them a couple weeks. The inside glass layer broke on one when I put ice cubes in it, the other broke when I placed it down on the counter. When a glass can't support the force of ice cubes or being placed on a surface, that's just frustrating. Especially when the company makes a huge deal over how incredibly strong their special glass is.Strong? No. Special? Yes, but not in a good way.I'm sad.
Date published: 2014-03-25
Rated

2

out of

5
by
JROC
from
Interior Glass Bottom Broke From Ice
The concept is awesome, however, the glass is thin. We noticed condensation inside one of our glasses and upon closer inspection realized the glass was cracked on the interior bottom...most likely from dropping ice in.
Date published: 2014-04-02
Rated

3

out of

5
by
lauraCd
from
break easy
I loved these glasses for the few months. They keep drinks hot/cold and don't leave rings on tables, so they seem ideal. I never had a problem with condensation or any difficulty holding the glassesOnly problem is that they seam to break in the dishwasher, maybe due to the heat? Within two years I broke all 10 I had bought (2-3 were dropped, and the rest broke in the dishwasher)..If you hand wash your glasses, these are perfect.
Date published: 2014-04-02
Rated

5

out of

5
by
kcooper
from
Nice looking and no sweat!
I love, love, love these glasses! We have used plain British pint glasses for years but after moving to a HOT climate (southern Louisiana), we were tired of glasses that sweated all the time. Enter these double walled glasses. Have not have problems like others with breaking and we use them daily. They also look really classy as well. We use them daily and run them through the dishwasher, without any trouble. Ready to buy more!
Date published: 2014-03-27
Rated

5

out of

5
by
cvito
from
Perfect coffee/tea cup
These are by far my favorite (and my husband's) coffee cups! The double wall is great for keeping things hot without killing your hands with heat. The 15 oz is great for a double shot latte/cappuccino or large cup of coffee. They have held up well in the dishwasher, too. The only thing that is better are the Bodum travel mugs, but these are ideal for home use.
Date published: 2012-12-10
Rated

4

out of

5
by
KayWebber
from
Hot stays hot cold stays cold
You may want to hand wash to prevent breakage but these are great! Highly recommended, we sent them out as Holiday gifts this past year and everyone else loved them too!
Date published: 2014-03-27
Rated

4

out of

5
by
tonif
from
Bodum Pavina Tumblers 12 oz.
The glasses look very nice, but are so rounded they can be difficult to hold for people who have smaller hands. I bought the 12 oz. size and like them as they do not "sweat" which is just great. However my main complaint is with Crate & Barrel. They needs to change their advertisement of how much liquid these tumblers hold. The 12 oz. tumbler actually only holds 10 oz. when filled to the rim or 8 oz. when filled comfortably. I would presume then that their advertised 15 oz. probably only holds 10-12 oz. comfortably. I didn't realize this when I purchased the 12 oz. and should have exchanged them except the 15 oz. were considerably higher in price.
Date published: 2014-04-04
Rated

1

out of

5
by
LunaB
from
Do not buy
I couldn't wait to buy these glasses. My husband loved the espresso mug (same make) I got him for his birthday so I made the plunge. After only 2-3 times in the dishwasher they are already leaving rings on the table and sweating on the outside which makes them very slippery to hold since they are so wide. I was unprepared to be disappointed after reading other reviews although I should have paid attention to the review that indicated that the newer version was not as well made as ones purchased in the past (referring to a plastic "plug" on the bottom of the glass, which is awkward and likely the cause of the leaking). I'll try to find another tumbler at the store because I've been shopping there for years but I'll skip the "gimmicks" and buy something more basic - they do have a great selection!
Date published: 2014-04-04
Rated

1

out of

5
by
Sandy S
from
Nice if you like broken glass bits in your drinks
Registered for these glasses and thought they would be durable as well as nice looking. I got 8 large and 8 small and after a few weeks of normal everyday use, I had about half of them left. If I used the fridge ice dispenser, the ice cubes would shatter the inner glass wall. If you set a glass in the sink and it falls over....another one bites the dust. I have granite counter tops and if we set a glass on the hard surface it would also be potentially fatal. I found myself trying to treat the glasses like fine china for a while until that got old and I went out and picked up a set for the price of about one of these large glasses......still have all 16 of them months later!
Date published: 2014-04-04
Rated

1

out of

5
by
tara s
from
unhappy
I bought one of these cups several months ago mostly to put my iced coffee in and after about a month or so, as I was washing some dishes, this cup completely combusted and broke. I wasn't using extremely hot water and being that this cup is supposed to hold hot coffee anyway, I was very surprised when it broke. I then decided to order another one because I had liked it before anyway. Last week, my husband was putting it in the sink for me and it must have slipped out of his hand and shattered all over the counter. Needless to say due to the cost and the fact that I have already had 2 of them break, I will not be getting any more.
Date published: 2012-11-18
Rated

1

out of

5
by
chris1
from
Overly Fragile - Break VERY easily
These glasses are very, very fragile. Several were cracked when we received them by mail even though they were very well wrapped. We are very careful with our things and have been even more careful with these glasses but they still break so easily! It has gotten to the point that they are almost unusable unless you consider them semi-disposable because the chances are that they will break within a few uses. They would be wonderful glasses if they were not so fragile.
Date published: 2013-09-09
Rated

5

out of

5
by
kdos630
from
Fantastic! (But Fragile)
I absolutely LOVE Bodum's Pavina glasses. It's absolutely true that they completely insulate whether you're drinking something very hot/cold. They are very lightweight, the glass does not sweat, and they look beautiful!! You do need to be careful when dropping ice in them and stirring. Not too careful that you're paranoid, just be aware of how you are handling them. I've only had one break on me from the ice. I have them in the 12 oz and 5 oz sizes. I wish I had them in each size! All Bodum products are fantastic. If you are a coffee drinker, I would strongly recommend Bodum's coffee presses.
Date published: 2011-06-29
Rated

5

out of

5
by
shopperchica
from
Love the Bodum 16oz Tumblers
I had finally broken my last fave pint glass from CB circa early 2000's. I admit to drinking hot liquid from them even though that was not the intended use. I was looking for replacements when I eyed these utilitarian beauties. I am in love with the way they look. I now enjoy my hot tea out of them each day. They can be used for hot or cold beverages AND can go in the microwave It's like they designed these glasses just for me. Finally, I get the versatility I have been needing all these years.
Date published: 2013-06-26
Rated

1

out of

5
by
Maestro
from
SUPER FRAGILE!!!
We are VERY disappointed in these glasses. We bought them last month, and two have already SHATTERED. It did not take much for them to break, either (one was tipped over with very little force). We registered for them online for our wedding, because we thought they would be very nice, and they are--if you just want to put them in the china cabinet. We do not have children, but we will get rid of the rest of the glasses by the time they come along--the glasses are simply too dangerous to have around. We also feel that they are overpriced after using them on a daily basis. BTW... we did check product reviews before buying and realize that anything glass can break. I'm just amazed that it takes so little force to break!
Date published: 2012-05-21
Related Products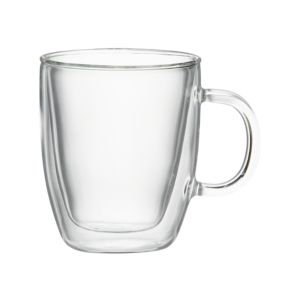 Hip bistro styling in industrial strength borosilicate glass. Handmade in a double...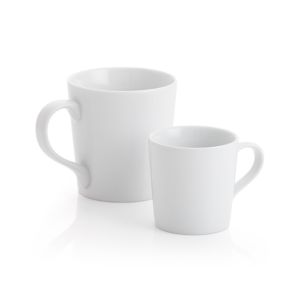 Clean lined design in white porcelain is ideal for everyday enjoyment of...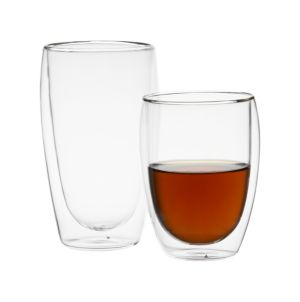 Bodum's unique glass in glass technology is re interpreted in a new...