Prices and availability are subject to change from the time and date that you print this page.
4/19/2014 11:11:40 PM. For Customer Service, please call 800.967.6696
Cuisinart's programmable coffee maker satisfies the most discriminating coffee lover with pure coffee flavor, from one cup to a dozen — and now adds a hot water system for tea lovers, too. The state-of-the-art contemporary design combines a squared vertical shape and upscale, professional look with the latest brewing technology. Charcoal water filter keeps out calcium and chlorine, while the gold-tone filter locks in coffee flavor; carafe temperature control offers three heat settings. Hot water system operates independently, dispensing hot water on demand for tea, cocoa or soup. Removable drip tray allows plenty of room for taller travel mugs.

Cuisinart® and other Wedding Registry offers


Cuisinart® Programmable 12 Cup Coffee Maker with Hot Water System
is rated out of
5
by
47
.
Rated

5

out of

5
by
CoffeeFan
from
Can't live without this coffeemaker!
I owned the 12 cup cuisinart coffeemaker for 6+ years and loved it- when I decided I wanted a new coffeemaker (The old one still works-I just wanted a shiny new coffeemaker. I pull out the older model for holidays so that I have 2 pots brewing!) I decided since the 12 cup Cuisinart worked so well, why change? I bought this model- its similar to the last model I owned but with the added function of the hot water dispenser. I love it! It makes a consistent cup of coffee every time and the water dispenser is great for a cup of tea or oatmeal .... same coffeemaker but with the added bonus of the water dispenser-its awesome-highly recommend this model!
Date published: 2014-03-26
Rated

1

out of

5
by
unhappy tea drinker
from
coffee taste in tea water
The coffee brew side of the unit and the hot water side both operate fine, but my wife drinks tea and she says after we make coffee in the coffee side her tea water side tastes like coffee. There doesn't seem to be a seal between the two sides that would keep the coffee flavor from migrating over. It therefore makes the whole unit a waste of money for us.
Date published: 2014-02-24
Rated

3

out of

5
by
airal
from
too many flaws
There were just too many flaws in this product to justifiy the price. First, pouring water into the machine is really ackward (requiring a funnel to be accurate)- a real pain. Secondly, the hot water feature (i thought my wife- a tea drinker- would love) left the water tasting like rubber or worse. Now the electronics have failed and the it stops half-way through the brew. The machine is only 2 years old. That said; the coffee tastes very good and the carafe is drip free. still...
Date published: 2014-02-24
Rated

5

out of

5
by
San Franciscan
from
Perfect Pot
We have been through at least 4 machines (half of which were also Cuisinart) in the past 10 years. This is by far and away the best coffee maker we have had to date. Best features: 200* brewing temp (which ensures a smooth, well infused cup of joe), solid construction (not too big or imposing like some past Cuisinart designs), useful settings like extended warming and auto on. Because of the water temp and brewing process (takes about 7 minutes for 8 cups of coffee - a bit longer than other machines, but well worth the wait), we are using less coffee grounds and still getting a better result.As for the water feature, this gets used everyday at least twice a day, is scalding hot, and stores somewhere near 6-8 cups of water.Our only regret is not having purchased this sooner. And please note, we are not Cuisinart advocates - I almost didn't purchase this product due to my past disappointments with the brand. I have regained my faith in them with this product.
Date published: 2014-04-05
Rated

4

out of

5
by
GreenO
from
Hot Water Tastes Like (very good) Coffee
This pot makes extremely good coffee, and we are very happy with it as a coffee pot. As a hot water dispenser, however, it falls short.First, there is no barrier to keep coffee steam from entering the hot water reservoir. This results in the hot water tasting a bit like coffee, so I no longer use it for tea.Second, the reservoir doesn't hold very much water, about enough for 2 large mugs. I often have to fill it in the middle of filling a mug.Third, the hot water takes a long time to reach temperature, way longer than a kettle.If the water didn't come out tainted with a coffee taste, I would still use it for tea. The other two problems aren't that big of a deal.I wish we'd purchased the coffee pot without the water heater instead. It's a great idea but flawed and takes up room on the counter.
Date published: 2013-08-31
Rated

5

out of

5
by
JoyG
from
Love the Cuisinart Coffe Maker and C & B Online
I bought this for our office about 6 weeks ago. I own the coffee pot portion for my own kitchen and have been so pleased with it. I love the timer (coffee when you rise in the morning is a MUST)! The ability to raise or lower the temperature of the carafe is so nice. And at home, I enjoy being able to brew a perfect single cup of coffee by using the "Brew 1 - 4 Cups" button. Adding the hot water to all of this makes it perfect for the office. Our team uses it to make oatmeal in the morning, or a cup of soup. When we host a small meeting, we can fill a teapot in a jiffy. All of this AND the seamless Crate & Barrel online experience.
Date published: 2014-04-08
Rated

2

out of

5
by
cmlaj
from
Simple Problem
We registered for this coffee maker due to all of the features. We love the features but, unfortunately, it is dreadful pouring water into the machine every day. The water reservoir is positioned awkwardly in the back of the machine and it is difficult to pour the water in. The water drips down the side of the carafe and makes a huge mess. I would not recommend this coffee pot due to this simple problem.
Date published: 2014-02-24
Rated

5

out of

5
by
LEESH09
from
Best Coffee Pot!
I got this coffee pot for Christmas and have used it every day since. It makes really good and hot coffee. My husband is thrilled with the hot water dispenser because he drinks tea A LOT. I have to disagree with an earlier review that said that it takes a really long time for the hot water to get hot. Our's is MUCH faster than waiting for a kettle on the stove and we have stopped using our kettle altogether because it is so much faster. Also it holds enough for us to each have a big cup of tea. It really is a great coffee pot that is worth the money if you enjoy both coffee & tea.
Date published: 2012-05-09
Rated

4

out of

5
by
Carolina coffee couple
from
Great concept but is ours flawed?
We love Cuisinart and the dual-purpose design of this product. Even so, we have a daily frustration that no other reviewer has mentioned: a sizable puddle of water forms every day under the machine, whether we've used it or not. It's not from spillage while pouring in the water, but we cannot identify a leak or crack either. This has happened since we first used it at Christmas 2011.Any suggestions would be welcome.
Date published: 2012-12-18
Rated

1

out of

5
by
AwLo
from
Really...?
Aparently, this machine should have come with an expiration date. It died today and we have only gotten use out of it for the past 5mo. WAY to much to spend ($99) on a coffee/hot water maker that only lasts 5mo. Granted, this was a gift from our registry but it was still someone's hard earned money.Hot water side: tastes funny dispite several cleanings and using filtered water. Heats up quick but the curvature makes it awkward to place certain dishes under it without leaking - i.e. filling an oatmeal bowl provides quite the challenge.Coffee side: A few simple logistical things make it a bit inconvenient - i.e. filling the water in the back corner is difficult, the pot itself dribbles when pouring, and the lid of the pot doesn't just flip up. One needs to remove the entire lid to fill the pot with water. In my opinion it should be attached for convenience.And just this morning (the morning I need coffee the most) the coffee side won't even turn on - it is dead. Nothing. No lights, no sign of life.5 months?! Really? It's dead after five months? I've had a magic bullet last me longer than five months and that only cost me 3 easy payments of $9.99 and a 3am phone call to commit my payment.Bummer.
Date published: 2014-02-24
Rated

1

out of

5
by
FairReivewer
from
Poor design
I'm a big fan of Cuisinart products and have bought several coffee makers over the years because they are flawless: carafe pours flawlessly, aesthetically pleasing, functionality and controls are designed well and they last for years. Unfortunately, they got it all wrong with this model: The neon blue led screen lights up a dark kitchen in a very bad way and blinds you as you enter the room. The beeping signal when finished brewing is loud and annoying versus previous versions. The auto start program worked at first and then started turning itself off either prior to start time or before it finished brewing. The carafe, visibly identical to all other models, never poured smoothly. It either dripped down the side or occasionally would catch the top of the lid causing it to stream over the cup pouring hot coffee onto your hand holding the cup. Love the concept with the hot water feature which worked fine. Its possible mine was a lemon but too many deal breakers between the disturbing neon blue screen, nerve grating beeping and the water or hot coffee not pouring where you aim. Hope they make changes and get it right on the next version of this model.
Date published: 2014-02-24
Rated

5

out of

5
by
herman
from
Best coffeepot we've bought yet!!
We purchased this appliance recently and love it. My husband pushes both the 'on' bottons in the morning and his coffee is ready very shortly and when I get up, the water is piping hot for my cup of tea. No more using the teakettle on the stove for a cup of hot water!! I would buy these for gifts as I think they are the best ever. And...the water stays hot for the second cup, too!!
Date published: 2012-02-10
Rated

5

out of

5
by
kwake04
from
great product!
I drink a lot of tea and we make coffee every morning so when I saw a coffeemaker that made tea also, I was pretty happy. Well, I am even happier now that I have it and it works perfectly. I get about 6-8 cups of tea before I have to fill the reservoir again. The water comes out very hot and makes a great cup of tea. As far as the coffee goes, I think this coffeemaker makes better coffee than my old one by far. We really do need less coffee to make the same strength of brew. All in all a great product! Thanks Crate and Barrel!
Date published: 2012-01-27
Rated

5

out of

5
by
Brew Afficionado
from
Love this!
I, too, have had Cuisinart coffee makers and have always had good luck, other than breaking the carafe a few times! When I saw that I could have my cup of brew or tea and the hubby could have his tea and the kids hot chocolate, I HAD to have this. Now we can do everything more efficiently requiring less space.
Date published: 2011-11-13
Rated

4

out of

5
by
maqi45
from
IT WORKS
I got this coffee maker right around Christmas time 2013, and so far it has held up. After reading through reviews and looking at other machines I decided to go ahead and purchase this one.CONS-water side doesn't hold as much water as I would like especially if you get a C&B mug. It is difficult to pour water on the coffee side.PROS- Looks great in kitchen, has programmable feature which we use each morning for coffee. The water side, heats up really fast so it makes up for lack in capacity. I like that the coffee lid actually comes off making easy to clean pot.I also purchased it because it came with a coffee grinder at the time. I didn't want a machine that had the grinder in it in case it went bust.
Date published: 2014-04-07
Related Products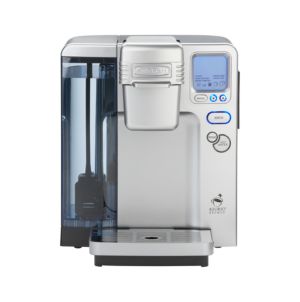 This state of the art coffee maker combines Cuisinart and Keurig technology...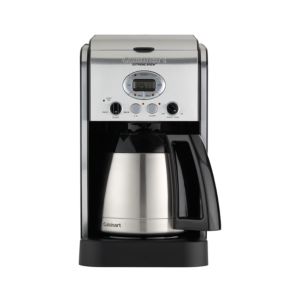 Ten cup programmable coffee maker with re engineered extreme brew technology delivers...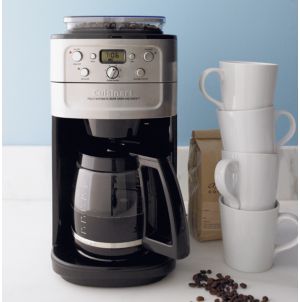 Grind and brew a fresh 12 cup pot with Cuisinart's all in...