Prices and availability are subject to change from the time and date that you print this page.
12/22/2014 4:10:09 AM. For Customer Service, please call 800.967.6696
Crate and Barrel Exclusive
Pickup View warehouse pickup options in your cart
A versatile combination of open and closed spaces shows off display, conceals storage. Handcrafted of richly textured acacia wood, with a beautiful distressed finish in warm brown with black accents. Versatile configuration with double glass-paned doors and three drawers stands in as media center, sideboard or general storage piece. Variation in knots and open grain, crown moulding and traditional iron hardware with an antiqued bronze finish add even more character.


More Kavari Media Storage Furniture
Kavari 57 Media-Storage Console
is rated out of
5
by
168
.
Rated

5

out of

5
by
Patty
from
Beautiful console
Purchased this a year ago and still love the look. This is a solid piece of furniture and skillfully made. Professionally delivered and set up.
Date published: 2014-06-09
Rated

5

out of

5
by
luamky
from
Beautiful and sturdy
This is a solid piece of furniture, definitely heirloom status which is great given the price. It is quite rich and heavy so the decor should be complementing or it will overpower the room. It tucked perfectly into the corner of my living room and I placed a bookshelf on top which create a great library aesthetic. My tv is mounted so I used it for the media acoutrements like cable box, etc which were hidden quite nicely as well. Highly recommend.
Date published: 2014-06-09
Rated

5

out of

5
by
Pip15
from
We love it!
We love this console table and we use it for out TV. I was initially worried because I saw a few reviews saying that the wood warps easily, but we haven't had any issues and have had it for almost a year. The piece is very solid and appears to be well-made.
Date published: 2014-05-27
Rated

5

out of

5
by
Lynn in MI
from
Love, love this piece.
We have had this console for two months and no cracks at all as others mentioned. I looked for a long time to find a solid, well built piece of furniture that is a bit rustic and this is perfect. All of our cable, blue-ray, DVR, VCR etc. boxes fit in nicely and we haven't experienced any heat issues. I would again from this manufacturer - wish they made end tables etc. It is HEAVY - I left the furniture movers under the legs because the new TV that is sitting on it is defective and waiting for the exchange. I cannot lift the console to move it!!
Date published: 2014-04-07
Rated

5

out of

5
by
Barb60
from
Great piece of furniture
We love this beautiful, sturdy and rich color media console. It has loads of storage room. We had been looking around for a very long time and when we say this it was a must have. We love Crate and Barrel furniture. Love love love it!
Date published: 2014-04-04
Rated

5

out of

5
by
kopa
from
Love it!
Exactly what we were looking for. Taller than most TV consoles. We put our cable box on the top shelf, so you can use the remote without anything (like the coffee table) getting in the way. The glass doors close tightly, so our 1 year old son can't open them and pull everything out. And it looks great in our living room.
Date published: 2014-04-01
Rated

5

out of

5
by
Emptynest1
from
Beautiful console!
After my son left for college, I wanted to turn his room into the guest room as it was on the main level of the house. I was looking for a piece of furniture that wasn't a media-type cabinet and when I found this, my search was over! Beautiful hardwood and somewhat antique looking. This piece of furniture would fit in many different rooms of the house. Not only am I completely thrilled with this purchase, but the assistance that I received in purchasing this piece of furniture was second to none.
Date published: 2014-03-29
Rated

5

out of

5
by
MEB13
from
Lifetime piece
This is a great piece in the living room of my new house. The stain goes well with dark brown stains. The style adds some character while still being simple enough to blend with my other pieces. The quality is excellent. The only flaw is a small separation between the two top layers of wood on the very right side, but it doesn't appear to create any weakness in the construction. All of the drawers and the two doors open and close easily without sticking. It is heavy, solid wood that looks like it could last a lifetime, and be passed from generation to generation! I love it.
Date published: 2014-03-27
Rated

5

out of

5
by
dyea
from
Kavari Console
I purchased this console, not for our TV but as a dining room table. The purchase and purpose turned out to be one of the best buys I have done for my home. Not only is the Console a nice piece of craftsmanship for the price, the service personnel and all the delivery crew were wonderful to work with.
Date published: 2014-03-27
Rated

5

out of

5
by
kglloyd
from
Absolutely Gorgeous!
We saw the cabinet in the store several months ago and fell in love with the look and feel. We look in other stores and never found anything that even remotely compared. We ordered the Kavari 57 Media cabinet and it was delivered within seven days. The guys were on time, set it up, and today it is the center piece of our family! It fits perfectly with our style and is the first thing people comment on when they come into our home. We also love the durability and how solidly the cabinet is built.We are thrilled with out purchase and would absolutely recommend it and Crate and Barrel to any and all of our friends.
Date published: 2014-03-26
Rated

5

out of

5
by
ChrisCr
from
Great for smaller dining rooms
I am so happy with the 57" Kavari storage console. We have a small dining room in our condo and I was looking for a buffet that had enough storage but that wasn't too bulky or long (the wall we were working with is exactly 57"). The Kavari's glass doors are great for displaying our china, and the color looks great with our dining room table. We are very satisfied with our purchase.
Date published: 2014-03-25
Rated

4

out of

5
by
francipessa
from
Beautiful
I have had my eye on this piece for quite some time. I finally decided to make the purchase and could not be happier. The quality is amazing and it could be used in your living room as a media stand or in your dining room as a hutch/buffet table. Great purchase!!
Date published: 2014-03-25
Rated

5

out of

5
by
Bailey426
from
Beautiful piece of furniture
This is a great piece of furniture. It is solid wood and VERY heavy. We have a 50" flat screen on top of it and it fits perfectly.Love the cabinets and drawers. (There are holes in the back to pull through the DVD wires)Very nice piece of furniture.We picked it up to save on the delivery charge, but might be worth the charge because it is VERY heavy.
Date published: 2014-03-25
Rated

5

out of

5
by
davidp
from
Beautiful and Elegant
This is the third piece of Kavari. It is serving as a sideboard of sorts in my living area, with Sloan bookshelves on either side, makes for a simple, clean and elegant living area. I receive many compliments on my home
Date published: 2014-03-25
Rated

5

out of

5
by
Shanon
from
Great Quality Piece of Furniture
I bought this because we finally put our old tv to rest and bought a flast screen. My husband didn't want to mount it on the wall, so I wanted to make sure and find a nice piece of furniture that would add to my tv room with quality and look great. This piece does both. I get so many compliments on how nice it it. The drawers are perfect for all the Wii accessories, remotes, and other things. The shelves behind the doors are perfect for my Direct TV unit, Wii, VCR/DVD player, and additional room for anything else I can find to put in there.It was delivered by a trucking company and theya ctually brought it in and put it right where I wanted it. It's a nice heavy quality piece of furniture.
Date published: 2014-01-21
Rated

4

out of

5
by
Jabaz
from
Still love it!
I've had this TV stand for 2 1/2 years and it still looks brand new. It has been holding a 52" plasma television that is extremely heavy and has not developed any cracks or significant warping. Because it is real wood, it did cure a little in the first year which has caused the doors to become slightly uneven at the top, but it is not very noticeable. Also, one of the drawer rails is starting to crack but it is our fault for overloading it and constantly pulling it all the way out - quite possibly one of my kids also pressed down on it. I tried to nail it back in but the wood is so hard that my nail bent in half! It will need to be repaired by a professional. Overall, a good buy if you are looking for a solid piece that has a slighly rustic look.
Date published: 2013-11-27
Rated

5

out of

5
by
Patty
from
absolutely love it!
This is a beautiful and versatile piece of furniture.  
Date published: 2013-10-16
Rated

5

out of

5
by
seeside
from
Just Right!
I have been searching for a good TV stand for years, and ,after looking at this one online for weeks I finally bought it. I needed something to store the components so that my young children wouldn't constantly be pushing the buttons, and the cabinets doors are sturdy enough that my toddler can't pull them open. It is very good looking, sturdy, not too big, but big enough to hold everything we need it to. The drawers store plenty of DVDs, games, etc. and the cabinets store all of our components, photo albums and some "coffee table" books. Delivery was great, and the openings in the back made the set up easy (and have covers if you don't need them). I was looking at lesser expensive models elsewhere, but I'm definitely glad I went with this one.
Date published: 2013-08-24
Rated

2

out of

5
by from
Cracks, etc.
I have owned this piece for six years. I was initially attracted to the fact that it was solid wood as opposed to veneers and wood composite.  After about 1.5-2 years, there were significant cracks throughout the piece.  When I inspect it now, I am concerned that actual chunks of wood might fall off due to the cracks.  I also find it very hard to clean.  When I clean the cabinet glass, my cloth is always brown (wood stain?), and the uneven surface means it is hard to maintain luster.   I do like how the style blends well with a variety of other pieces of furniture.  
Date published: 2013-08-13
Rated

2

out of

5
by
Laura v
from
Not a good TV stand
We bought this piece because we wanted a TV stand that didn't look like a TV stand. We love the look of it but it cannot hold our 55" flat screen. We are going on our 3rd replacement because the top keeps splitting. If you have a smaller TV or if you are going to mount your TV on the wall, this piece is great. Otherwise, don't get attached to this piece like we did.
Date published: 2013-06-12
Rated

5

out of

5
by
cyn1382
from
love our new TV stand!
we just bought a house and spent a lot of time remodeling the living room, so we knew we wanted a really nice piece of furniture for our TV. It is so much nicer in person and we love it! We have received many compliments!
Date published: 2013-06-03
Rated

5

out of

5
by
clerkclark
from
Great furniture
I bought this last year to use as a buffet in my dining room.Wonderful quality and has an authentic aged look.
Date published: 2013-03-04
Rated

5

out of

5
by
bmp2884
from
Great Product
This is solid piece of furniture that looks great in our home.
Date published: 2013-03-04
Rated

5

out of

5
by
angels85
from
Great quality product
I pruchased this product for my living room - the color is great and I loved the qaulity. It is a very sturdy and substainal pice of furniture. Very happy with my purchase.
Date published: 2013-03-04
Rated

5

out of

5
by
Syracuse BBall Fan
from
great addition to the room
I purchased this to replace another older media cabinet and I loved the rustic yet classic style in the room. The drawers are deep as are the shelves. The glass doors lighten it up as it is a large piece of furniture. The furniture arrived in great condition! This is a solid piece of furniture...no assembly! I know I will have it for many years to come.
Date published: 2013-02-22
Rated

4

out of

5
by
cmhprh
from
Almost perfect
As we reconfigured the living room in our 100-year-old house (no "family room" here!), we took the plunge and bought a flat-screen tv and wanted to consolidate a bit. We got rid of two lovely, solid teak cabinets -- one for the stereo, one for the old 24" tube tv -- and bought this beautiful media console.Delivery was great -- right on time, down to the minute! The delivery guys called when they were on the way, and said they'd arrive in 45 minutes, and they were right on the nose!They brought this very heavy piece of furniture into the house, positioned it right where I wanted it (on top of some sliders that both protect our hardwood floors and make it easier to move), and then made sure everything was set up: all the spacers and packing material were removed and taken away, all the drawers were working properly. They asked if I had any questions, made sure I saw the sliding partition that could be used with one of the cable openings in the rear, and then asked one more time if everything was OK. It was a wonderful delivery and setup experience!Once in place, I started moving things onto it -- the 50" tv, which fits beautifully and is solid as a rock on top, and then the various video and stereo components. All fit nicely on the shelves.Visually, this is a beautiful piece of furniture. It looks elegant and sturdy; I imagine this lasting decades. The finish is beautiful, and the construction is rock solid.So, why four stars, and not five?Well, I argued with myself over this very question. In the end, there were just a very few things that I think would make if better.First, if you have a turntable (remember those?), you're going to have to be careful. There's not much vertical room between shelves, and the shelves are not adjustable. So opening the top of the turntable could present a challenge.Second, and this may just be my unit, but the doors are not hung perfectly plumb. One is slightly lower than the other. You'd never notice this unless you see light from behind the unit -- during daytime, or if there is ambient light there.Third, I like that the cable openings in the back are literally cut right out of solid wood. But they're so very SMALL! I had a great deal of difficulty connecting the cables to the components that were on the shelves, and my arms are not that big. This was the only design flaw that I experienced. How to solve it? Well, either get much longer cables than you need, turn your components so that you can reach the connectors from the front, connect them, and then turn them back around, or . . . . maybe make the cable openings in the back a bit bigger?In all, these are very minor complaints. Bottom line, this is a great piece of furniture, and I wouldn't hesitate to recommend it to anyone.
Date published: 2013-02-13
Rated

4

out of

5
by
Sweat and Bones
from
Beautiful piece
A bit high for a placing a tv on top, but not enough to truly cause problems. Drawers are large, holding a sizable number of dvd's. The shelves have cutouts for easy cord management. The glass doors don't interfere with signals from remotes.Love the wood grain and finish.
Date published: 2013-01-23
Rated

5

out of

5
by
chabro
from
Very Nice
We love this piece. Looks wonderful, drawers slide nicely, not too big. Would highly recommend.
Date published: 2012-11-05
Rated

4

out of

5
by
linkro
from
Perfect Cabinet
We purchased this cabinet for our master bath rather than an entryway piece. We need extra storage and it is a perfect fit. It is very well constructed and looks terrific. It has the look of an antique piece. The finish is beautiful. Really deep and glossy!
Date published: 2012-10-21
Rated

3

out of

5
by
Trishb
from
Not as described
They promote as a media cabinet, but there are no cut-outs for cords.....also, shelves arenas really 14 inches.
Date published: 2012-09-12
Related Products
The ultimate in storage versatility, this multi purpose modern console is rich...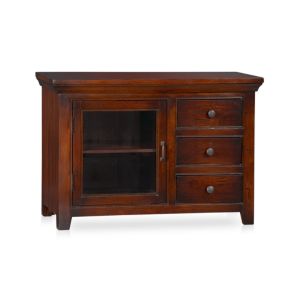 Our sleek new antique of richly grained acacia wood meets the modern...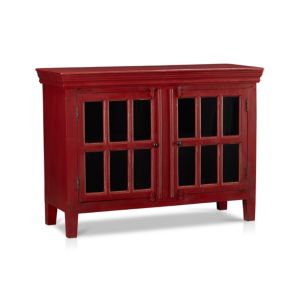 With all the warmth and rustic charm of a one of a...