Prices and availability are subject to change from the time and date that you print this page.
10/23/2014 1:20:53 AM. For Customer Service, please call 800.967.6696
Crate and Barrel Exclusive
Artisanal ceramic shapes are glazed a soft white with subtle hand-antiquing on the freeform rims. Also available in white and green.


Marin White Large Oval Platter
is rated out of
5
by
713
.
Rated

5

out of

5
by
JIll B
from
Love the unique handmade feel of this set!
The images on website are very true to the nature of this set. The shapes & ripples are all beautiful & feel as if they came from an artists studio. The color is accurate & beautiful. The dishes & bowls seemed just slightly smaller than average dinnerware which I like for a better portion control during meals. And I love that they're made in Portugal & not some cheapie run of the mill "made in China" dishes. They're beautiful, you won't be disappointed.
Date published: 2014-09-03
Rated

5

out of

5
by
Ross
from
Great Size
I bough this dish because I only have white serving platters and I wanted one in a different color, It work out great, beautiful dish and the size is just right for 2 people.
Date published: 2014-08-31
Rated

5

out of

5
by
AngelaH
from
Beautiful piece
I recently received this bowl from my wedding registry and used it to serve dinner the other night. The bowl is a good size for the rice and chicken dinner for 4 people that I made. It makes a beautiful addition to the table and mixes well with formal and casual dinnerware. I look forward to using it again with more pieces from this collection!
Date published: 2014-08-21
Rated

5

out of

5
by
Jody
from
Love this!
The china is beautiful, lightweight, is great in the microwave. It looks like my local potter made it. Also it's very durable. Try it. ..You'll love it!
Date published: 2014-08-18
Rated

4

out of

5
by
PDBaltimore
from
Beautiful and versatile, but not perfect.
Bought several entire sets of Marin dinnerware, in green and white. The plates, pasta bowls, saucers, and serving items are fantastic... sturdy, attractive, easy to mix with other dishes, and wash up easily. I find the bowls to be an awkward size/shape - a little too tall and too big, conical. Same with the mugs. So... if I was to do it all over again - I'd purchase coordinating bowls & mugs separately, from another collection.
Date published: 2014-08-12
Rated

2

out of

5
by
ncerda
from
Chips like crazy.
I also received from my wedding registry. I absolutely love the design and the expanding options, which is why I'm so torn between keeping and building upon or giving up and moving on. I have 2 full sets with mugs and a full set with tea cups as well as the baker and serving bowls and platters. My mugs and salad plates look TERRIBLE. The rims all have chips and several mugs are cracked vertically down the handle. This is not a careless user problem - this is clearly defective craftsmanship. This is not a lasting quality, and others have sets as basic as Fiestaware that are far outlasting my Marin dinnerware. Between these and the chipping issues with my Miguel tumblers, I'm very disappointed in Crate and Barrel's quality and am getting away from buying here. It's not worth the cost when the lifespan is only a year or 2.
Date published: 2014-08-11
Rated

5

out of

5
by
kepp
from
Very sturdy and beautiful color
My husband and I put these dishes on our registry and we've really loved them. They're beautiful enough for special occasions, but sturdy enough for every day use. They've held up very well in the dishwasher. The color is very pretty - just about anything you put on them enhances the beauty of the food. I definitely recommend getting some of the pasta bowls - we use those more than any other piece from this set. My only complaint is that they only offer the smaller mugs in white. I kind of like mixing in some of the white Marin pieces, though, so no big deal.
Date published: 2014-08-05
Rated

5

out of

5
by
Maisey
from
great set
I first bought the set of dishes. Why I didn't by the serving bowl and platters right then I can't remember. I went back and bought everything! The serving bowl is just the right size and shape to hold a lot or a little and still look great! The platters do not take up hardly any room in my limited cabinet space. They look great too!
Date published: 2014-08-05
Rated

5

out of

5
by
katlef9
from
Durable and gorgeous!
I registered for this set 2 years ago for my wedding, and the entire set still looks brand new. The white is a perfect mix of rustic and classic, so it can be used for everyday AND for entertaining. I receive compliments every time we have a dinner party.
Date published: 2014-08-05
Rated

5

out of

5
by
Marykay
from
Love it
I bought this 16 piece dinnerware two years ago. I've had lots of compliments . Love them for entertaining.
Date published: 2014-08-05
Rated

5

out of

5
by
Lindsinvail
from
Perfection in plates!
I bought these as a housewarming gift to myself and am so happy I did! The entire set is lovely - They're not as fragile as I assumed they might be, and the charm adds so much to my table!
Date published: 2014-08-05
Rated

4

out of

5
by
semisweet
from
Delicious, Delovely
I love the robin's egg blue color and natural shapes of Marin. Have received compliments whenever I've used this lovely dinnerware. One of the plates broke easily when dropped, however, so be careful.
Date published: 2014-08-05
Rated

5

out of

5
by
Lauren
from
Unique, good quality dinnerware!
I've been using this dinnerware for a couple of months now, and I couldn't be more pleased with it! They're heavy, but not too heavy, durable, easy to clean, look nice, are a little bit different in a nice unique way, and I keep getting tons of compliments on them. I'm so happy with my purchase! Also, might I recommend purchasing the blue Marin and the white Marin together? They are a beautiful combination of colors and look so classy in the cabinet!
Date published: 2014-08-05
Rated

5

out of

5
by
Steph
from
Beautiful
This piece has been a wonderful addition to our dining room table!
Date published: 2014-08-05
Rated

5

out of

5
by
Picky Shopper
from
Couldn't resist buying these for myself!
This ceramic ware was among the items on a relative's wedding registry. It is so good-looking that after we ordered several serving pieces(trays and large bowls) for the bride and groom, we ordered some of the mugs for ourselves. At the wedding, I thanked the bride for turning us on to this lovely product line!
Date published: 2014-08-05
Rated

5

out of

5
by
Jillygee
from
Great update to my everyday dinnerware
I'm so pleased with this purchase. The scale and shape of each piece is just right. I do want to supplement this set with the taller bowls as well.
Date published: 2014-08-05
Rated

5

out of

5
by
Bunny
from
completed my set
I bought 2 dinnerware sets and was so happy with the color, shape and quality that I bought 2 platters to complete the table setting.
Date published: 2014-08-05
Rated

5

out of

5
by
Bunny
from
Marin Blue dinnerware set
I have a serving of 8 (2 sets). I absolutely LOVE THEM! After about a month, I had a chip on 1 of the cups (my own accident). I brought the 1 cup to a Crate & Barrel store and they replaced it no problem. The mugs are a perfect size for me, comfortable to hold & sip from. I am still (1 yr. later) attracted to the unique shape. They are still in perfect condition. The shipment was speedy and the items were packed with obvious care. The shape & color fit in perfectly with my renovated coastal style.
Date published: 2014-08-05
Rated

5

out of

5
by
Allic05
from
Great everyday dishes
My husband and I picked these out for our wedding registry and we love the whole set, especially the pasta-low bowls. We probably use those the most! The quality is great and I don't fear that they are going to chip every time I move them around. We spent at a lot of time looking at all of the different dishes and we are very happy we went with the Marin collection.
Date published: 2014-08-05
Rated

5

out of

5
by
Lhunter
from
Gorgeous color!
This platter is absolutely gorgeous!! Looks great under a pile of grilled veggies and chicken!
Date published: 2014-08-05
Rated

5

out of

5
by
Wendy
from
Absolute go to
We recently purchased a vacation home and this set is one of my favorite purchases. And it's all the more fun because I can coordinate pieces in it mNy other colors!
Date published: 2014-08-05
Rated

5

out of

5
by
Dani Nicole
from
love it!
I bought all new dinnerware for my new kitchen and I am so thankful I did. I love how each piece looks like it was individually made. The blue is the perfect color. All the pieces are sturdy, a little heavy, but that is the look I was going for. My favorite pieces of all are the pasta bowls. I am a big salad lover and this is the perfect bowl for my salads. It is a bit big for pasta - my family tends to scoop out the amount that fills the bowl and it is always much to much. The salad bowls are perfect for side salads, ice cream or soup. I also love both of the platters. I use the largest one when hosting family events, or cookouts and use the smaller ones almost ever evening for family dinners.
Date published: 2014-08-05
Rated

5

out of

5
by
Tacikm
from
So practical!
We received the Marin white dinnerware sets for our wedding a month ago and we couldn't be happier with the choice! The are so us! Rustic but elegant! Thank you for carrying such wonderful products!
Date published: 2014-08-05
Rated

5

out of

5
by
lisa55
from
Beautiful!
We purchased the Marin White Dinnerware sets in December and we use it for our everyday dinnerware. It is beautiful, rustic looking and is still looking perfect. I can mix them with our "good dinnerware" when we host family holidays! I would recommend these for anyone looking for simple, clean and beautiful table settings!
Date published: 2014-08-04
Rated

5

out of

5
by
The Kellers
from
Marin Dinnerware
Our family LOVES the Marin Dinnerware. We have the dinner plates, pasta bowls, salad plates and mugs. We bought 4 different colors and mix and match. The table always looks festive and elegant. It is holding up great for everyday use and we have four teenagers! I will continue to buy the extra serving pieces to complete the set.
Date published: 2014-08-04
Rated

5

out of

5
by
jonny805
from
Amazing Dish Set !
We bought these for our new home, and they have been one of our favorite things about our new kitchen. Beautiful colors and they really have a "hand made" feel to them. They have yet to chip, crack or show wear after numerous uses and times thru the dishwasher. Highly recommended!
Date published: 2014-08-04
Rated

5

out of

5
by
jenny2282
from
Love our plates
We received these plates as a gift from our registry and absolutely love them. They are a great quality and the color is beautiful!
Date published: 2014-08-04
Rated

5

out of

5
by
ebhargrove
from
Beautiful, unique dinnerware!
We received three sets of the Marin Blue Dinnerware as wedding gifts and absolutely love it! It has a great weight and is sturdy, but has a lovely rustic feel. We will love these for years to come!
Date published: 2014-08-04
Rated

5

out of

5
by
Emily
from
Worth the price!
I am in love with this set! We get so many compliments and my set of the Marin Blue dinnerware has held up beautifully and does not seem to scratch or chip like some have complained about. I use them in the dishwasher and they look brand new over a year after I purchased them! I started with four place settings and now have eight! Definitely recommend these.
Date published: 2014-08-04
Rated

5

out of

5
by
Marinite
from
Casual and Stylish
I've been buying the Marin Green dinnerware in place settings and as open stock over the past year or so, and now have a complete set, plus serving bowls and platters. I love the stylish simplicity of the design, and my family especially likes the generous pasta bowls (we also use the pasta bowls for larger servings of salads).We love the hand-finished appeal of this dinnerware, though I've had to be a bit particular about choosing somewhat matching color lots, as the pieces tend to differ a bit in the shade of green: some are a more yellowish green while others are a more spring-pea green. Also, some pieces are thinner than others, so when shopping in my local Crate & Barrel, I always check several pieces to find the thinner ones (a personal preference). I've found that my family also prefers the feel of the thinner pieces -- the thicker plates, bowls and mugs always seem to be the ones left in the cupboard. They've held up very well to both hand-washing or the dishwasher, as well as being moved in an out of vertical plate racks on a daily basis -- all without any chipping or breakage.I have only one complaint, and it's regarding the mugs. They simply will not hold heat. I now fill them with hot water and wrap them in towels to retain the heat while waiting for coffee to brew or the teakettle to boil. When ready to fill, I dump the hot water from the mugs, wrap a dishtowel around them again, and refill them with coffee or hot water. Yet if milk or cream is added to the hot liquid in the mugs, even the first sip is tepid. So now, even after all the fussing about with heating the mugs, we still have to put the filled mugs in the microwave for about 20-30 seconds if we want our beverages hot. And even then it's still necessary to sip fairly quickly, as the mugs allow hot drinks to cool rather fast. If you drink your coffee or tea black, this probably won't be a problem. And it certainly hasn't discouraged me from buying a full set of mugs!
Date published: 2014-08-03
Related Products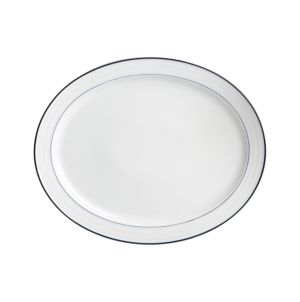 Your table will be dressed for success in this tailored cousin to...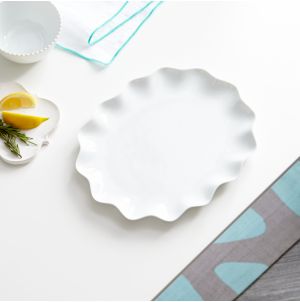 The delicate and graceful Mallorca dinnerware collection is dedicated to fluid forms...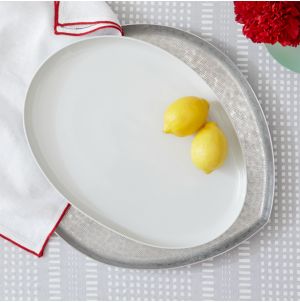 Organic shapes in white porcelain dinnerware play neutral companions to the brilliant...