Prices and availability are subject to change from the time and date that you print this page.
9/19/2014 9:54:46 PM. For Customer Service, please call 800.967.6696
Crate and Barrel Exclusive
Enjoy a long, cool glass of champagne in this elegant flute, tall and slender with a pulled stem. Machine-blown using the latest technology to resemble the quality of handmade stemware at an everyday price.


Oregon Sparkling Wine
is rated out of
5
by
56
.
Rated

5

out of

5
by
PamCBshopper
from
Great wedding or shower gift!
I bought these as a shower gift for a friend. She absolutely loves them and wasted no time in using them. I ordered them online and had them shipped to my office. They were very well packed and were delivered very quickly. I'm very happy with the purchase and the care that Crate & Barrel takes when shipping fragile items.
Date published: 2013-02-22
Rated

5

out of

5
by
Sareilly
from
Elegant
These glasses are as lovely as they look in the photo. I was concerned from other reviews that they would be too fragile, but although the glass is thin and lightweight (which I prefer), they feel well-made and sturdy enough. They really complement that special-occasion champagne.
Date published: 2013-02-21
Rated

5

out of

5
by
winecountry
from
Beautiful Champagne Flutes
These are beautiful champagne flutes that I received as an Engagement gift. I love them and will be purchasing more. Very happy with them!
Date published: 2013-02-07
Rated

5

out of

5
by
pleased2
from
versatile
these wine glasses with packaged with extra care; not one came broken. One did have flaws but I was able to exchange without any hassle at the local store; these are versatile enough to use with red or white
Date published: 2012-10-08
Rated

4

out of

5
by
Newly Weds in Chicago
from
Beautiful glasses
We received this product as a part of our wedding registry. We are very happy with these glasses. They are great for when we have a dinner party. They look/feel very fragile and we hand wash them every time to be extra careful.
Date published: 2012-09-10
Rated

5

out of

5
by
abbster
from
Exquisite Look
I purchased these elegant champagne flutes as a wedding gift for my niece. They have the exquisite look and delicate touch that one would expect to find in quality stemware. She was so impressed that they were used for the marriage toast!
Date published: 2012-09-08
Rated

5

out of

5
by
LisaR1234
from
Great Flutes
These are very classic flutes, that will always have a place!
Date published: 2012-09-01
Rated

5

out of

5
by
VTSarah
from
Perfectly Chic
These champagne flutes are beautiful - the shape and light feel is super chic, and they look much more expensive than they are. Great buy.
Date published: 2012-09-01
Rated

3

out of

5
by
lstewart
from
Too Thin Stems
These glasses were BEAUTIFUL and the perfect size, however they felt very fragile and had extremely thin stems. They were not expensive at all so if you are careful, they could be a great deal.
Date published: 2012-08-06
Rated

5

out of

5
by
northsloper
from
Very pretty
Love these. They are elegant and hold a nice amount of wine :). Would definitely recommend.
Date published: 2012-07-22
Rated

5

out of

5
by
Ohnickie
from
Wine glasses A+
The wine glasses have such a nice bowl and the red wine breaths so beautifully. We use them as everyday glasses, but they are nice enough for entertaining.The glasses were packed well for shipping and all four came in tact.I love these glasses!
Date published: 2012-07-13
Rated

5

out of

5
by
KT Scarlett
from
Oregon Wine Glasses
We already had a set of 8 but one glass broke while hand washing and drying. The stem just twisted off the bowl. When I saw these available on sale I ordered 4 more as back up. I love the wine glasses and the new ones have a slightly thicker stem so hopefully they will hold up better to washing and of course now I know to be more careful when drying them.
Date published: 2012-06-11
Rated

4

out of

5
by
Emnigmatic
from
I love the look of these flutes - they're simple but elegant. Use caution - their stems are not as sturdy as those of the coordinating Oregon wine glasses. We have not broken a single wine glass but have had four champagne flutes break at the stem. Fortunately, they're inexpensive enough that they're easily replaced.
Date published: 2012-05-05
Rated

5

out of

5
by
Anoulitsouli
from
Elegant
My matron of honor bought us 8 of these as a wedding gift. The long slender stem on these is what sold us on them. They are so well designed and elegant. Sadly, we don't have a lot of occasions for toasting... yet!
Date published: 2012-05-05
Rated

5

out of

5
by
reviewerfromnewyork
from
Great Xmas present
I got these for my sister and was a little stressed about breakage.But, they got delivered in full shape, the gift wrapping was beautiful and on time!I also love the fact that you can buy them individually and not worry about "sets"
Date published: 2012-04-24
Rated

5

out of

5
by
jbkb
from
recommended
These glasses look great, and look more expensive than they actually are - they're not too clunky or thick like other cheaper glassware.
Date published: 2012-03-12
Rated

5

out of

5
by
Suzze
from
The only way to drink champagne
These flutes are tall, simple and elegant. They are perfect for a variety of occasions such as brunch, dinners, parties or when you just need a glass of something sparkling.
Date published: 2012-03-11
Rated

4

out of

5
by
anonymousbk
from
These glasses have a nice heft and balance when you hold them. If you're (very) careful with them, they'll hold up, too. They're fairly inexpensive, so you can replace what you've broken without braking the bank.
Date published: 2012-03-10
Rated

4

out of

5
by
Speechie
from
Super sexy
Love this sexy flute! Tall, sleek, and sexy flute makes any cheap bubbles taste like a $100-bottle. Perfect for entertaining.
Date published: 2012-03-10
Rated

5

out of

5
by
Sara H
from
Love them!
These are traditional, beautiful glasses. I love the classic shape and feel. They are nice and tall and fell quality, and you can't beat the price!Also, they came VERY well packaged to prevent any breaking in shipment. I love these glasses!
Date published: 2012-03-07
Rated

5

out of

5
by
Ernie
from
Excellent blend of function & form
We've been looking for a nice champagne flute for quite a while, so to find these at so a low price ($5.95) was perfect.The flutes arrived quickly and were packaged well enough to protect from a fall. The quality leaves nothing to be desired and the shape really allows your champagne or sparkling wine's bouquet to shine.Make sure you measure your cabinets, as these flutes are taller than most. Also, do yourself a favor and buy 2 extra flutes. We already had a guest break one. :-(
Date published: 2011-10-19
Rated

4

out of

5
by
Helene D
from
Love these flutes
Another wedding purchase, really love the traditional style! Only issue is they are really tall and don't fit on our standard shelving.
Date published: 2011-08-23
Rated

5

out of

5
by
weddingguest
from
wine glasses
When these glasses arrived I was thrilled with my choice for my niece's shower present. They will make a beautiful presentation on their dining table.
Date published: 2011-08-17
Rated

5

out of

5
by
SEB11710
from
Beautiful flutes!
These are lovely champagne flutes at a great price. We registered for 10 glasses and received all 10 at once. We don't use them on a regular basis but when we do we just LOVE them. The long "pulled" stem does give the flutes a very elegant look. When I received them at my bridal shower everyone commented on how beautiful they are. They are delicate so be gently with them especially when washing. I'd recommend handwashing with a soft spounge and then placing off to the side on a towel to dry - upside down is probably best.
Date published: 2010-12-24
Rated

5

out of

5
by
lae008
from
Great Bridal Shower Gift
Bought 4 of these for my friend's bridal shower. They came so wrapped up that the box could have been thrown halfway across the truck and they still would not have broken. Very sturdy and beautiful!
Date published: 2010-07-20
Rated

5

out of

5
by
Pixy
from
Bring on the Bubbly!
This is exactly the champagne flute I was looking for. It's tall and stately, and holds a great deal of champagne. The only downside is . . . once you get used to the Oregon flute, you can never have quite the same champagne experience elsewhere. I laughed the other night while out at my favorite restaurant . . . their standard flute just seemed so squat and "blah" now!It's a little difficult to wash -- takes a little bit of force to fit my OXO bottle brush past the rim. But this is just a minor detail and pretty common to champagne flutes overall. The quality is great, and for this price . . . amazing! These flutes make me want to drink champagne all the time . . .
Date published: 2010-05-20
Rated

5

out of

5
by
Liams Mum
from
Gorgeous Flutes!
Absolutely love these- they are taller than the other flutes I have but so much nicer in appearance and quality. Very elegant and can't wait to use them. Highly recommended.
Date published: 2009-12-13
Rated

5

out of

5
by
db56
from
Elegance at a reasonable price
I just replaced all of my glassware with Oregon wine and champagne glasses. I was thrilled with the quality of the wine glasses and was just as happy with the champagne glasses. These are very tall flutes, however, so measure your cabinets before you purchase. These glasses are as advertised, "quality of handblown at an everyday price." If you purchase, you will not be disappointed.
Date published: 2009-11-29
Rated

5

out of

5
by
Shaniez
from
Toast to these!
I love these glasses - they're tall and elegant and the curve of the glass really makes them stand out from other champagne flutes. Our guests always compliment them and we really enjoy using them.
Date published: 2009-09-14
Rated

5

out of

5
by from
Great flute for a great price
I purchased these to use in my wedding and I love them. They are elegant, but sturdy and look great!
Date published: 2009-08-25
Related Products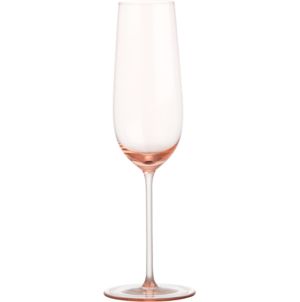 Handcrafted flute blushes subtle rose on slender, elongated stem to serve champagne...
Classic drink shapes with a twist—shorter stems painted platinum. Crafted of soda...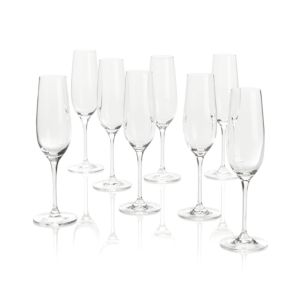 Everyday stemware, beautifully crafted from top to bottom. The traditional flute bowl...