Prices and availability are subject to change from the time and date that you print this page.
9/2/2014 11:39:16 PM. For Customer Service, please call 800.967.6696
This streamlined hot air popper makes up to 15 cups of fresh popcorn without any oil. Just pour kernels into the hopper and your delicious snack pops out of the chute right into the bowl in three minutes. Includes a removable butter warming tray.

Cuisinart® and other Wedding Registry offers


Cuisinart® Air Popcorn Maker
is rated out of
5
by
39
.
Rated

1

out of

5
by
CNDawes
from
Date published: 2013-12-20
Rated

5

out of

5
by
irishfaith
from
I LOVE this popcorm popper!!!!
After reading some of the reviews I was a little nervous (popcorn shoots out all over the place and things like that). I haven't had any problems. I listened to the other reviewers and only put 1/2 cup of corn in. I love it. It reminds me of the one we had when I was a kid. It's awesome! It's so much better for you than the microwave popcorn too!
Date published: 2013-08-11
Rated

4

out of

5
by
TheYuppieLadyDC
from
Fresh Hot Popcorn
I'm sooo in love with this air popper. It pops popcorn in a matter of minutes and the best part is it pops enough for 3-4 people at a time. The downside (the reason for four stars) is some kernels will escape, and they're HOT, so be careful when using this popper around kids. Needless to say, make sure to have a large bowl underneath because it pops a good amount of popcorn. One more thing, if you need to pop more popcorn there's no need to wait for the popper to cool off b/c i's ready to go after the 1st pop.
Date published: 2013-07-28
Rated

5

out of

5
by
BettMac
from
Great Air Popper
I've had this air popper for a couple months now and it's great. I use it at least 2-3 times a week and no problems. Everything works the way it's suppose to. I love it!!!!
Date published: 2013-04-20
Rated

4

out of

5
by
mgol
from
lots of popcorn quick
it isn't perfect, but it does the job better than the microwave. i would recommend it.
Date published: 2013-03-04
Rated

3

out of

5
by
Larkrise
from
It's OK, but ...
This popcorn maker spews kernels before the popping starts and at the end pops some so hard they spike others out of the bowl. Tried gourmet popcorn, non-GMO and organic varieties. All popped, though with varying degrees of success. Gourmet popcorn fared the worst with many unpopped kernels, even from a brand new jar. Also had to pop more than a single serving, of all types, as small amounts just whirl and spew. This is my first hot-air popper and perhaps a different style would work better for me. That said, it's easy to clean and its compact size makes this appliance easy to stow.
Date published: 2013-02-22
Rated

5

out of

5
by
Gurleygal
from
Fun for all
I bought this Air Popcorn Maker as a family gift before Christmas. Crate and Barrel was offering a price that couldn't be beat and free shipping a the time. We have used this many times already and love it. I am thrilled that it makes a healthy snack and can be used by everyone in the family.
Date published: 2013-01-08
Rated

5

out of

5
by
CRSS
from
Easy Popcorn
my family have used it about 12 times in the past few weeks- design is great with butter warmer being a measuring cup for the amount of popcorn it can pop. I looked at many air poppers- this seems to be the only one with an on/ off switch- others have to be unplugged when popping ends. I love the taste of the popcorn w a little butter, not so good dry. Much healthier than microwave popcorn and actually easier to make- because you see when it's done rather than listen for popping to slow down. I am usually a fan of bright colors and another kitchen shop has this in red or various bright colors like pink and bright blue; but the white is actually very nice looking and looks good in our kitchen- I was happy I went "conservative" with the white. Fast delivery from C & B too! Thought I would miss the burnt and half-popped kernels but I don't (husband does somewhat) and feel full w less. Also nearly all the kernels are popped using this popper.
Date published: 2013-01-06
Rated

4

out of

5
by
adp3d
from
The sale price makes it a reasonable purchase.
Customize your popcorn to your own personal taste. More economical than microwave popcorn, easier than pan popped corn.
Date published: 2013-01-03
Rated

1

out of

5
by
drulen2000
from
dry
Easy to use machine and we were super excited until we tasted the popcorn. They were dry and not very good. I tried another brand of popcorn to make sure that nothing was wrong with the popcorn and then I made a batch in my regular pot and the difference is like night and day. I will never eat dry air popped popcorn again. I will be taking this machine back.
Date published: 2012-12-10
Rated

5

out of

5
by
Cam1985
from
Love it!!!
Me and my fiance love this thing! It is super fast and its so fun to season the popcorn after with the different seasonings! Definitely get this, well worth the $40 bucks!!
Date published: 2012-11-19
Rated

5

out of

5
by
Veda9876
from
Very Healthy!
Incredibly easy! Satisfies popcorn cravings and is very heathy (the butter tray or sprinkled popcorn flavor helps amp things up).
Date published: 2012-09-10
Rated

5

out of

5
by
dltdlt
from
Awesome
So fast, so easy to use, so healthy! I bought this air popper a few months ago and have used it almost every day since. It still works great, and I've lost weight from snacking on healthy air-popped popcorn!
Date published: 2012-09-08
Rated

4

out of

5
by
Momuv3
from
Well worth it
I am so pleased with this purchase. I have a family of five and we were spending so much money on microwave popcorn. Even when it says Lite or natural it still has undesirable ingredients, so we bought an air popper and now can put whatever we like on our popcorn! it"s great and the kids think it is fun to use.
Date published: 2012-09-08
Rated

4

out of

5
by
Ashrrs
from
Best popcorn
It may be weird to switch from movie popcorn to fresh air popped popcorn, but it's hard to go back. These are great for the healthy person in your life, or if you want a healthy treat. You choose what to put on it, which means if you have allergies, you can actually use your own butter and pick how much salt you put on! The only problem is, you can't bring it to the theater with you...
Date published: 2012-04-24
Rated

5

out of

5
by
DawnT
from
Awesome popper
Love this popper- quick and easy to use, and healthier than microwave popcorn. The whole family loves it!
Date published: 2012-04-24
Rated

4

out of

5
by from
Great product!
I bought this popcorn popper, to avoid all of the terrible chemicals in microwave popcorn. I like it. It is easy to use, pops great, healthy popcorn and cleans up easily. Towards the end of popping, some kernels do escape and fly out of the bowl, but my dog does not mind that, so it is not a big deal for us.
Date published: 2012-03-12
Rated

4

out of

5
by
isointhecity
from
Very happy
I am very happy that I purchased this machine. The price was right, and I wanted to be able to make my own popcorn, without all the junk they put in the microwave packets. Also, being on weight watchers, I was looking for a way to get a healthy, crunchy snack...success! One thing I will mention, and this may be true of all popcorn makers, I'm left with kernels that haven't popped inside the machine. Other than that, love it!
Date published: 2012-03-11
Rated

5

out of

5
by
MLPB
from
Fast and efficient!
If you're looking for a way to make popcorn that's friendly to your waistline, the earth, and your pocketbook, this is a great option!You can make a huge bowl in 5 minutes and top it however you like -- my favorite used to be parmesan and pepper, but now coconut oil (which melts perfectly in the warmer on the top of the machine), salt, cinnamon and a little sprinkle of powdered sugar is satisfying my sweet tooth. The only limits are your imagination!Keep in mind that the machine does work best with a heavier kernel because light ones may fly out before they have a chance to pop. The easy solution is to make two smaller batches rather than one large one.
Date published: 2012-03-10
Rated

5

out of

5
by
Jaybird
from
Super Easy!
Sleek and modern appliance. Very easy to operate with little clean up. Environmental friendly. This is the best feature of all since you purchase popcorn in one bag or container so a little goes a long way plus less packaging is involved. If you use butter don't forget to place butter in the warming cup. It heats up fast. By the time the popcorn has popped the butter is ready!Oh one more thing-it is very easy to store. Slim and fits into any space.
Date published: 2012-02-14
Rated

5

out of

5
by
FLTbay
from
Great product!!!
Received this as gift, and use it regularly. My family really enjoys they healthy and flavorful popcorn, not to mention the endless possibilities in flavors.The actual popcorn maker is SO easy to use and pops perfect popcorn every time in about the same time it would take to make microwave popcorn. No burnt kernels, and only about 5-10 unpopped kernels max each time. Clean up is as easy as wiping it off.
Date published: 2012-01-22
Rated

5

out of

5
by
Carys
from
Love it!
Makes great tasting healthy popcorn quickly. The ingredients are so inexpensive this unit will soon pay for itself. From the time I turn the machine on until the bowl is full is well under 5 minutes and a second batch is even quicker.
Date published: 2012-01-18
Rated

5

out of

5
by
buttahfield8
from
Love it!
I only wish they carried the red one. I love the on/off switch. My last popper didn't have one. I also love the semi compact size and the large amount of corn it can pop. I do recommend this Cuisinart popper to anyone who wants an excellent quality machine at a very reasonable price.
Date published: 2011-12-18
Rated

5

out of

5
by
Popcorn Princess
from
Bought it on a whim...Best idea ever!
I love popcorn. But noticed that those little 100 calorie bags are such a waste of my money and when you live alone you need to save every penny!The design of the air popper is ingenious, small compact, just perfect for a small kitchen. I've had air poppers in the past and they're round, heavy and bulky this one is quite the opposite.Pops popcorn in about 10 minutes and you can get super creative with what you put on it. My go to recipe is fresh parmesan cheese grated with sea salt and cracked peppercorn but the possibilities are really endless. It's so fresh and healthy since you don't use any oil in the machine.The butter warming unit works well but here's the key, either use butter that is really soft or has been sitting out for a little while, or spend the time chopping it up before you put it in the warmer. Then by the time you're done popping it'll be melted.I've used it 9 times in the past 8 days and stand by that this is a wonderful purchase/investment if you're a popcorn fan like myself. :)
Date published: 2011-12-04
Related Products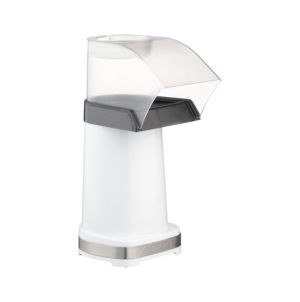 This streamlined hot air popper makes up to 15 cups of fresh...