Prices and availability are subject to change from the time and date that you print this page.
4/20/2014 5:46:33 PM. For Customer Service, please call 800.967.6696
Pour a perfectly chilled draught with this tabletop beer system designed to tap a five-liter Heineken mini keg. Silent, built-in Peltier cooling element; patented internal carbon technology keeps contents fresh for up to 30 days. LED display indicates volume and temperature settings.


Beertender Tubes Set of Six
Krups® BeerTender
is rated out of
5
by
43
.
Rated

2

out of

5
by
Superbiff
from
GREAT product, which then dies.
Many others (google for it, there's tons of them) have said it so I will keep this short. As electronics go, this thing has little endurance. My friend and I both got one around the same time.. His made it to about 10 months, mine made it to about 16 (he used his more). In both cases though, it was the same outcome.. The logic board failed, giving you a very bulky caddy for your Heinykeg..Which is a shame as I loved this product and would buy one again in a second if it was announced that they had fixed the issue.
Date published: 2014-03-23
Rated

5

out of

5
by
AliZ
from
Great Addition to Bar
This was the 1 item on the wedding registry my husband was hoping for. Since we've received it, we've both been enjoying the Beer Tender. It's a great addition to the home bar and very convenient to have cold beer on tap without taking up space in the fridge or the recycling bin. When friends come over and ask what they can bring, we tell them a keg. :) It's about the same price as a case of beer and you're getting better quality with Heineken or New Castle. The only thing that should not be over looked is you MUST rinse out the trays after using the Beer Tender for an evening. We made the mistake of not doing this and a week or two later there was mold growing on the plastic and the metal had rusted underneath just from a few drips of beer that had been sitting for a while.
Date published: 2014-04-06
Rated

5

out of

5
by
dzjenna
from
AWESOME!
We absolutely LOVE our Beertender. It's so convenient and easy to use. Only complaint is that the first few pours from a new keg have a lot of foam, but once you get the hang of it, you can get a pretty clean pour with almost no foam at all. The beer is very cold and stays fresh for weeks! It makes absolutely no noise at all. My husband absolutely loves it and it's the perfect addition to our bar. Highly recommend!
Date published: 2013-08-21
Rated

2

out of

5
by
Jimbob
from
The "Foamtender"
I bought one of these when they first came out two or three years ago. I never had any problem finding the mini kegs in local liquor stores, but had the worst time with getting foam, foam, FOAM out of it! DIdn't matter which kind of beer, they all foamed. It was simply not worth the hassle. If they ever fixed that problem, it would be a wonderful device.
Date published: 2013-11-28
Rated

4

out of

5
by
Jvtab
from
Great for the beer lover
Purchased as a gift for my dad! He loves it but there just isn't much variety or availability for the mini kegs, which is disappointing!
Date published: 2012-11-17
Rated

5

out of

5
by
OldGuy
from
Warranty/Repair?
I got my model B90 for Christmas, 2011. Can't find any info on the supposed 2 year warranty or repair facilities in Arizona. It worked well through the first part of 2012, but when I tried to put in a new keg for November the refrigeration unit didn't work.
Date published: 2013-12-31
Rated

4

out of

5
by
solfla
from
great buy!
Wanted one of these since they first came out but the price was high. This is a great value and the next best thing to going to your local bar for a nice cold one...nothing beats the taste of a draught beer!
Date published: 2012-11-19
Rated

5

out of

5
by
jappyk
from
cool and refreshing
My husband was so excited to get his beer tender. It takes up such little space and our beer is always ice cold. Great for entertaining.
Date published: 2013-12-09
Rated

4

out of

5
by
OnCe_A_JrZgRL
from
Happy Husband
purchased this for my husband as an early Christmas present.PROS: easy to use/set upcomes with a few extra accessoriesconveniencegreat conceptCONS: lack of variety/availability of products to usewith it (only a select shops carry the minikeg and its been months since most areavailable)a bit awkward in sizeKrups should've done more researching other beer advocates/vendors to buy into this brewing system, other than that, my husband likes it
Date published: 2013-06-02
Rated

5

out of

5
by
gymgirl
from
I ordered this for my son as a shower gift. Needless to say he has had to refill this many times. It keeps the beer very cold so all of his friends now are drinking out of the beertender and thinking of getting it for themselves.
Date published: 2012-01-06
Rated

4

out of

5
by
beer lover
from
mini tapper
Wish i could find the tap online or in a store. I keep having to rinse the one i have over and over.
Date published: 2013-03-30
Rated

5

out of

5
by
pattyfaye
from
ONE OF THE TOP GIFTS EVER!
This was the perfect gift for my husband! It takes up minimal space on our counter and the beer is just the right temperature. No more beer bottles taking up space in our refrigerator! It is especially nice when company is over on these hot summer evenings. We would highly recommend this product to anyone who enjoys a good cold beer on tap!
Date published: 2011-12-03
Rated

5

out of

5
by
Fredrik
from
Great buy
This beer tender looks great in any setting, making full use of the 5L draught keg. It looks good, works great, and makes the drinking of a beer a whole package experience.The only downside is the tubes that you have to order, but that is minor. A great buy for any and all drinkers of Heineken or New Castle.
Date published: 2012-01-06
Rated

5

out of

5
by
Dutchess
from
Great Gift!
Bought this for my husband's 40th birthday keg party - everyone brought a mini keg, so much fun and it works great - for the price and the "cool" novelty, 5*****'s for sure! As for the foam, not bad at all.
Date published: 2013-03-11
Rated

4

out of

5
by
acoln
from
Great gift
Purchased for my hubby at Christmas. We both have enjoyed it. Nothing like cold draft beer when you get home from a busy day at work. Only drawback is you can only use certain kegs.
Date published: 2012-07-18
Related Products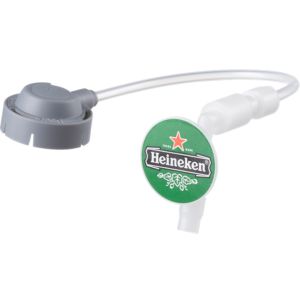 Replacement tubes refresh your Beertender for each new keg. Patented tube is...