Prices and availability are subject to change from the time and date that you print this page.
4/17/2014 12:21:58 AM. For Customer Service, please call 800.967.6696
More Storage Bowls Containers
Set of 12 Storage Bowls With Clear Lids
is rated out of
5
by
236
.
Rated

3

out of

5
by
BrandyTX
from
These vs. Pyrex
First, these are great for the price. 12 for twenty bucks is a steal compared to Pyrex, and these have a more appealing shape. That said, they're half the thickness of pyrex, and don't seem like they'll take much abuse, whereas my Pyrex bowls are virtually indestructable. The lids don't seal nearly as tightly as Pyrex, either. Several people said the lids loosen up after going through the dishwasher, but they're not all that snug straight out of the box, either. I don't trust them to hold soup in my lunch bag, for example. But if all you want these for is to store leftovers in your fridge, then they're probably just fine.
Date published: 2014-03-18
Rated

1

out of

5
by
LB in STL
from
Disappointed
Last year, I decided to go "glass." I got rid of my plastic storage containers and received this 12-piece glass storage set for Christmas 2009. I loved them at first, but unfortunately, by Christmas 2010, only two bowls remained. No problems with the lids (I handwash them). But the glass bowls were too thin and easily breakable. I will look at Crate & Barrel for something that is more sturdy and long-lasting.
Date published: 2013-12-08
Rated

2

out of

5
by
campchocolate
from
Quality Control
I bought two sets for Christmas 2011 and gave one set to my mother in law. The other I secretly hoped to keep for myself through a Christmas grab. My plan didn't work so my mother gave them to me for Christmas this year (2012). The quality between the two sets (2011 & 2012) is amazing! The glass is very thin on the 2012 set. To the point I am afraid to place it in the dishwasher. The size is perfect for storage of leftovers from a family of four.
Date published: 8013-10-06
Rated

1

out of

5
by
KC101
from
Not durable at all
While the concept is great and the price seems right... these bowls are EXTREMELY fragile. They shatter at the slighest touch. I read similar reviews before I bought these bowls and thought that I would be okay. However, I just threw the remaining 4 bowls out this week to avoid cleaning up anymore glass shards from my drawers. Sorry Crate and Barrel, I usually LOVE your products, but you missed the mark on this one.
Date published: 2013-11-24
Rated

4

out of

5
by
Plumquot
from
Just Right for Homemade Frozen Dinners
These freeze well (just be sure to leave some head room for liquids to expand when frozen).  I recommend buying some extra lids because someone inevitably will forget that they warp in the dishwasher and microwave, or accidentally throw them away because they look just like a lid to hummus from the deli.  I'm so glad C&B sells extra lids separately!
Date published: 2014-01-30
Rated

5

out of

5
by
gjvofTN
from
Wonderful Product!
I absolutely LOVE these bowls! They are the perfect size for leftovers, storing chopped veggies in the fridge or sending soup next door to my elderly mother-in-law for supper. Having glass bowls for leftovers is great. No worries about heating plastic in the microwave and getting contamination from the petroleum! Also, the price is fantastic! I am thinking about ordering another set. And, these would make terrific gifts at Christmas. Thanks Crate & Barrel for offering excellent products to your customers!!
Date published: 2011-07-22
Rated

4

out of

5
by
tournesol
from
Great buy!
After receiving my order, I started to think of all the useful ways that I could use these bowls. They are great to store dry snacks like almonds to keep their freshness, to put some leftovers for tomorrow's lunches, to bring some fruit or veggies with you (perfect size for purse) and very useful for mexican meals (salsa, sour cream, guacamole, etc) to put on the table. I love them!The only thing is that the lids aren't really thigh on the bowl. This might prevent them from keeping freshness to certain dry foods store in the cupboard. I will have to test it out.
Date published: 2013-06-08
Rated

4

out of

5
by
flecal
from
Great deal
I had been looking for inexpensive glass containers to replace my plastic. I bought these on sale & w/ free shipping. These are good quality, perfect size for leftovers and sending in lunches, great for storing little bits of whatever, not too heavy, maybe even a bit on the light/delicate side. The fact that they're clear is great too - no labeling containers so you know what's in them. They stack well full or empty.A bit disappointed in the lids however, as they seem a little flimsy, don't seem to hold up to being frozen for a few weeks, and you have to hand wash. With a newborn I'm ending up with clean containers (thank you dishwasher!) and a pile of lids to wash. But, they're BPA-free, which is great.I'd definitely buy more.
Date published: 0017-08-18
Rated

4

out of

5
by
CONewMom
from
Love these dishes!
These are great for leftovers and you can see what's inside them when you open the refrigerator. I hand wash the lids so haven't experienced any problems with the lids not fitting...I did inadvertently throw a lid out with the recycle but you can purchase new lids for only $0.50 so not a big deal. I've had these for several months now, use them often and haven't broken one yet. I love them!
Date published: 2012-12-09
Rated

2

out of

5
by
Merry Blackberry
from
Disappointing
The bowls are attractive and absolutely great. But the clear plastic lids are so much like delicatessen food plastic lids that they are easily discarded or recycled (writing "save" on them only lasts through two washings). I started with six bowls and six lids and now have six bowls and only one lid. (C & B charges an outrageous amount for lid replacements). If C & B would only make distinctive colored plastic lids for this product, it would deserve 5 stars.
Date published: 2013-12-01
Rated

1

out of

5
by
DGDG
from
Lids are a fail
We got this storage set for our wedding. The lids can not be microwaved. In fact, if I microwave looks sideways at the lids they will shrivel into a potato chip. They also can't be reliably dish washed. Complete fail.Also, the glass quality was low. One of our rims had a bump that makes a seal impossible. They are also easy to break.
Date published: 2013-07-26
Rated

4

out of

5
by
ttuckk
from
great for minor leftovers
I usually cook for one, but I make just a little bit more than I need, and these storage bowls are perfect for those quantities. I may not use all of the onion I chopped- BOOM- the bowl is useful again. Same with not using the whole can of chili- that along with the rice I didn't eat makes for a perfect meal the next day. I store extra herbs in the ones I don't use all the time- bay leaves, rosemary, and the like. They're also at a reduced price right now- get em while they're hot!
Date published: 2013-12-17
Rated

4

out of

5
by
Kyles wife
from
Very useful
I have had these bowls for about a year. I disliked having to put things in serving dishes then transfer to storage containers so often. I bought them mostly to use as serving dishes and then storage for dinners with my fiance (now husband).These bowls are only 2 cups but that's perfect for a side of rice or veggies for 2 people. After dinner, we can just snap the lid on and store the leftovers in the fridge. We also put salsa, cheese, etc, in them on taco night so we don't have to transfer leftovers back to the original container.The only reason I took a star off is that the bowls aren't super-durable. We've already broken two; both times they broke in the dishwasher where they must have clinked against something else. Make sure to space them far apart in your dishwasher.Also, wash the lids by hand, don't microwave with them on or put them in the freezer. We have microwaved the bowls without the lids with either a saucer on top as a lid or a paper towel.
Date published: 2013-10-01
Rated

4

out of

5
by
nf94044
from
Almost perfect
These have been a great way to reduce food waste in my house. Because they function as higher end containers I never let items in them get to a point of no return, and I can also better see what's left over at any time. They're also much more lightweight than snapware or a lot of pyrex products. The only reason I didn't give these a 5 is because of the manufacturing inconsistency of the lids. If you buy 20- there will most likely be three or four of them whose lids are loose fitting which makes them fairly useless as storage containers. Thankfully the bowls are useful enough on their own that this hasn't discouraged me from buying more of them. Overall a great way to elevate your containers.
Date published: 2012-04-29
Rated

5

out of

5
by
Marimekko
from
Perfect Storage
I decided about a year and a half ago to get rid of all of the plastic food storage containers in my house. I have purchased several dozen of these perfectly sized bowls. They look lovely full of nuts, grains, & dried fruits stacked in my cupboard; they freeze excellently with a perfect sized serving of soup; they are even affordable enough to fill with leftovers and send home with someone. These bowls and lids are a staple in my kitchen!
Date published: 2012-08-19
Related Products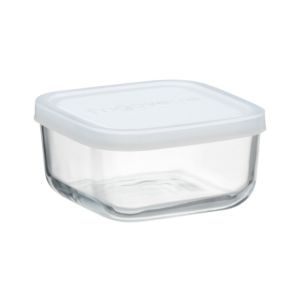 The perfect in between size for prep and leftovers, this versatile glass...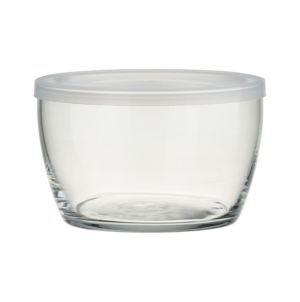 Staple ingredient of a well stocked kitchen. Stackable and perfectly portable, this...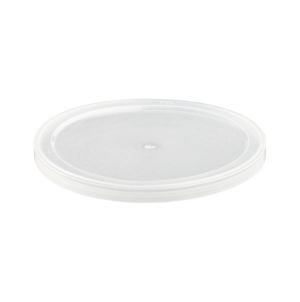 Tight fitting plastic lid fits our popular pint sized glass storage bowls....