Prices and availability are subject to change from the time and date that you print this page.
8/21/2014 12:02:56 PM. For Customer Service, please call 800.967.6696
Crate and Barrel Exclusive
Inspired by a vintage picture frame spied in a San Miguel de Allende boutique, this rustic handcrafted mirror is loaded with character and an antiqued appeal.


Set of 2 Dubois Wall Mirrors
is rated out of
5
by
46
.
Rated

5

out of

5
by
Milo007
from
Love it!!!
I was looking for something decorative for my living room walls. The mirrors added the touch that I was looking for. The mirrors are rustic in finish which gives them character. I do agree with the other reviews that they do vary in size. I bought a set of 4 but one of them was slightly bigger than the rest.Also they added hardware to the back of the mirrors, which makes it a little easier to hang. The only challenge I had was trying to get the mirrors leveled and spaced out equally from each other.The one thing I would suggest is to check each mirrors at the store. When I bought my set 2 of the mirrors had the hardware and the other set did not. I did not realize till I got home so I had to go back to the store and exchange them.Over all I was very happy with my purchase and highly recommend this product.
Date published: 2012-04-10
Rated

5

out of

5
by
Kms117
from
Great decorative mirrors
Bought 2 and hung one above the other on a small wall in my old house---- moved and these were the first hung side by side above my dining table! Love them... Always get comments about them!
Date published: 2012-03-10
Rated

5

out of

5
by
Modern1
from
Purchase!
I have four of these charming mirrors in my dining room and I'm considering purchasing two more. They make a huge impact in the room. I love the antique finish because it complements both gold and stainless steel accents. I would highly recommend purchasing to dress up any room in your home!
Date published: 2011-09-01
Rated

4

out of

5
by
lltanner21
from
Versatile Decorative Items
I purchased 6 of these to hang on a large empty wall in my living room and love them. My living room is for the most part contemporary in style with some antique elements so these fit in perfectly. They have a modern look with an antique touch to them that can go with a variety of styles. They are on the pricey side but I think they are well worth it because they can go with pretty much any style (traditional, modern, contemporary), be hung in a variety of ways (diamond shape or square), and can be hung as one large group or in multiple spots in the house. I know that I will be able to use these mirrors in any place I move to and with any decor I change to. The only thing is they do take some time to hang if you are hanging them in a large group, due to needing to line the up right so that they aren't crooked but it is doable with a second person. And there is a lot of packaging to dispose of after.
Date published: 2011-08-23
Rated

5

out of

5
by
Ragelotus
from
Great Buy
Love these mirrors, I bought 6of them and have them hanging in my living room over a bar table. The look fabulous and get tons of compliments!
Date published: 2011-08-23
Rated

4

out of

5
by
AgTrag
from
Great mirrors
love these mirrors, wish i bought more.only thing is that one of the mirrors did not come with the mounting bracket that the other did. we had to improvize and were able to mount it properly. beautiful mirrors!
Date published: 2011-08-16
Rated

5

out of

5
by
JustJax
from
Great looking accent mirrors
These mirrors hang just above my Crate & Barrel Eastport Buffet in my entryway and they look wonderful. Another great purchase from C&B!
Date published: 2011-08-16
Rated

4

out of

5
by
Katiebelle
from
Pretty but...
I got them as a gift and one of them was broken when it arrived. Because of the look of them, I didn't have the energy to return it. You can't really tell that it has a crack. They look amazing on the wall and I'm really glad I have them.
Date published: 2011-08-16
Rated

3

out of

5
by
clm9
from
Looks nice, BUT
These mirrors look really nice when hung on a wall, but I was surprised that they actually are poorly made and seem to be cheap when you look up close and hold the mirrors. I gave the mirrors 3 stars because I would have expected that they would be better made for the price of the mirrors.Every other review is right - they aren't all the same size. We ordered 3 to hang, and none of them were 20 inches square. They were all between 19 1/2 and 19 3/4 inches, but all three were different sizes. On top of that, the hardware to hang the mirrors wasn't level on one of the mirrors. My husband could have adjusted it to make it level, but we were nervous that he would damage it so we need to call customer service.Due to the size variations and the variations in the size of the hardware, it did make it more difficult to hang the mirrors but my husband did it fairly easy. You just need to measure with each mirror instead of assuming that they are all the same size.
Date published: 2011-07-18
Rated

4

out of

5
by
Rockysmom
from
mirrors
Very nice mirrors. I bought 2 of these and may go back for more to create a more dramatic effect. Like the antiquing effect. Haven't tried to hang them yet but it won't look easy.
Date published: 2010-08-28
Rated

4

out of

5
by
walker
from
Agree with others
I just purchased and hung six of the Dubois Mirrors. They are beautiful but I encourage anyone who is interested in them to thoroughly read the reviews. They are really helpful and prepared me for the possible differences among the mirrors and the possible frustration in hanging them. I actually purchased extra mirrors so that I could find six that were the correct size. While the description states that they are 20 inches square, seven of mind were 19.75 inches and one was 19.5. Having the extras saved me the frustration of extra trips back to the store. I decided to follow one of the reviews and I drilled a center hole one inch down from the top. Once that was done, the hanging was a cinch. I bought the Hercules hooks but didn't use them. Instead I used a nail that was about 1.25 inches long and it was perfect. The mirrors are not heavy so it's not necessary to have anything heavy duty. So tomorrow I'm returning the extra mirrors and Hercules hooks. Meanwhile, I'm enjoying my mirrors.
Date published: 2010-07-04
Rated

5

out of

5
by
styleatwork
from
Love these Mirrors but what a Pain to Hang!!!
Now that I finally have these mirrors up and running I love them. However, I have never had such a hard time hanging a mirror in all my life. I have six of these mirrors and each of the two holes in the back of the six mirrors are in different spots. I really thought they were never making it on the wall.....And there are no directions to suggest what would be best method to hang them so be aware your on your own!
Date published: 2010-04-17
Rated

5

out of

5
by
Your real name
from
Excellent mirrors
Very attractive, versatile mirrors. Would work in pretty much any room in my home. I purchased six to group and am still trying different configurations.These are difficult to hang as others have mentioned. There are two holes on the back of each mirror. These holes are not in the same spots from mirror to mirror. I initially tried to string picture wire through these holes, not a great plan. Stringing the wire was time consuming and scratched the mirrored surface. When I finally got wire through one set of holes, I realized that the slack in the line would show above the top of the frame once hung. The holes are too close to the top of the mirror for this to be an effective hanging method.So, I decided to make a cardboard template for two new holes on each mirror. I used the template to drill level holes about three inches lower than the existing ones. After the new holes were in place, I used traditional picture hangers as hooks, one per hole, and then ran picture wire from hook to hook. Repeated for the remaining five mirrors. A little bit of work but now the mirrors are super easy to hang and adjust.
Date published: 2009-12-19
Rated

4

out of

5
by
SarMar103
from
Look great, pain to hang
I got two of these to hang over my mantel. Luckily, I had read the reviews on this page and was prepared for a difficult installation. As mentioned by previous reviewers, the holes on the back of the mirrors are not in the exact same place on each piece. I drew a template for myself before I made any extra holes in my wall, and managed to get both mirrors up and level in one go. It took a while, but they do look nice now that they're up! Good luck!
Date published: 2009-11-30
Rated

4

out of

5
by
Jenn710
from
Classy! But WARNING before you hang!
Don't get me wrong, now that these mirrors are hung, I'm in love with them, however I thought my husband was going to kill me when I made him hang 9 of them exactly 3 inches apart from each other on the top and sides. WARNING- the mirrors do not have a wire on the back to hang from and the two holes that are punched into the back of the mirrors for hanging purposes are in different places on each mirror (Ex: the left hole would be 3/8'' off from side and the right hole would be 7/8'' off from side) and then you would grab another mirror to hang and those holes would be completely different measurements...so get your ruler and calculator ready before hanging a grouping of these if you want them to look perfect!
Date published: 2009-10-25
Rated

3

out of

5
by
crys1
from
Beautiful, but A HUGE PAIN TO HANG!
I love the look these mirrors have to offfer because they are gorgeous, but for the price they should have been easier to hang.
Date published: 2009-07-26
Rated

5

out of

5
by
mswoojie
from
Looks great in the dining room
We hung 6 of these in our dining room and they look great. The house is traditional but wanted to add a modern touch. Grouped together, they look great.
Date published: 2009-06-29
Rated

5

out of

5
by
Joshuainsf
from
Nice mirrors
I purchased several of these to create a wall of mirrors as you walk into my apartment. They are hung on the side of a window in rows... they bring a lot of light and make the space feel more open. I've had them for a few years now, and they are as good as new.
Date published: 2009-06-26
Rated

4

out of

5
by
Anon
from
Beautiful in sitting room
We purchased the set of mirrors for our sitting room. When stacked, they look great. I love the distressing on the mirrors. The only problem is that they are VERY hard to hang. Ours came without any hardware. We had to loop picture wire through two holes with tweezers. But, still very beautiful.
Date published: 2009-06-20
Rated

5

out of

5
by
momodubs
from
Lovely
I bought these mirrors for my new house. The only problem I had was deciding where to put them! They are so versatile and can go into any room decor. They are light, and easy to put up. I have difficulty stopping myself from buying more too use in other rooms!
Date published: 2009-06-20
Rated

5

out of

5
by
FanofCB
from
Great Mirrors
These mirrors look so great if you have a high ceiling in the family/great room. Lining two rows of four mirrors next to each other (horizontal or vertical) gives the room such an incredible look! The minute people walk into our house they are drawn to the wall where the mirrors are.
Date published: 2009-06-20
Rated

4

out of

5
by
kikiz21
from
Quite the impact.
I am, overall, very happy with these mirrors. I would agree with other reviewers that they are a slight pain to hang, but nothing a little time and effort can't handle. I was a little surprised when I received them -- they are not kidding when they say antique finish. Do not expect the mirrors to be uniform or matchy. They are very light. There are some slight imperfections in construction that brought them down from excellent for me, but I really do love the way they look in my bedroom and I would definitely buy more to add to the four I have or even to put in another room. They are quite beautiful and would look great with a lot of different styles of decor.
Date published: 2009-06-19
Rated

5

out of

5
by
punkybunny300
from
Perfect!
These are fantastic! As someone else has said they are perfect for entryway decor. I started by ordering just one set but am on my way to purchase a second, I can't get enough of them!
Date published: 2009-06-19
Rated

4

out of

5
by
Tarasdecor
from
versatile mirrors
These mirrors have a lot of versatility. I have 4 of them on the wall above my bed and I'm going to get 2 more to hang next to my bed. It really makes an impact. When I get tired of them in the bedroom they will have lots of options elsewhere in my home. They are a little tough to hang, but thankfully they're light weight.
Date published: 2009-06-10
Rated

5

out of

5
by
pb design
from
Worth the Effort!
We ordered 3 sets of these mirrors and had to pick them up in the city of SF with no parking. It was a difficult process to get them, but was well worth the effort. They are absolutely beautiful and put all together, they look like a piece of art.
Date published: 2009-05-28
Rated

5

out of

5
by
GingerGrouse
from
Gorgeous
I purchased these 2 mirrors and love them. They are a large size and have the antiqued mercury glass on the outside, with a nice copper trim inside.Highly recommend purchasing more than one for a nice effect.
Date published: 2009-05-27
Rated

5

out of

5
by
patrice
from
Dubois Mirrors Set Entryway Tone!
I initially purchased two sets (four mirrors) to arrange side by side in the entryway in my new home. They 're absolutely stunning!I bought two more to arrange a top row, and now I'm ordering another two. The mirrors add lots of light and a real POW to the entry. Friends who see the mirrors for the first time absolutely LOVE them.
Date published: 2009-05-27
Rated

5

out of

5
by
Sandi Sue
from
Love them!
Mine are hung diagonally and I really liked having this option.
Date published: 2009-05-27
Rated

5

out of

5
by
Karen99
from
Talk about versatility!
I love the Dubois mirrors. I have 4 hung diagonally in a diamond-shaped pattern and they can work well from traditional to modern settings. Light-weight and easy to hang.
Date published: 2009-05-27
Rated

5

out of

5
by
Alex K
from
Gorgeous!
I love love love these mirrors. They look so beautiful in any room, on any color! I have seen them in hair salons, all over the store, and of course in my own house. They are just stunning!
Date published: 2009-05-27
Related Products
Inspired by a vintage picture frame spied in a San Miguel de...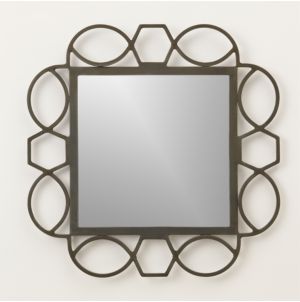 Early fretwork designs were cut into wood or metal embellishing furniture, instruments...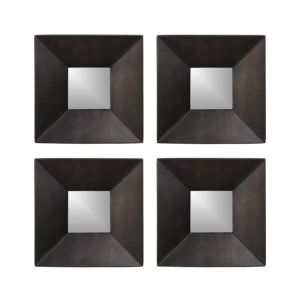 A warm bronze finish puts a beautiful, tonal patina on the deep...