Prices and availability are subject to change from the time and date that you print this page.
4/23/2014 7:48:36 AM. For Customer Service, please call 800.967.6696
A new angle in stemware from Schott Zwiesel creates an edgy silhouette with exquisite brilliance and clarity.


Tour Wine Glasses
More Items
Tour Wine Glasses
is rated out of
5
by
82
.
Rated

4

out of

5
by
lotoapt
from
No problems with breaking, check bases before use
I love the shape of these glasses-- it's excellent for swirling your wine, and it just looks intriguing. I have not had any issues with my glasses breaking at all-- tritan glass is a very tough material. I find the glass to be a more substantial thickness than other reviewers have suggested. The two annoyances I have that led me to give these glasses a 4-star rating instead of 5 is that they are way too tall to put in the dishwasher (Tritan glass IS dishwasher safe), and that some of the bases of the glasses were uneven so the glass rocked a little when set down. It didn't rock enough to tip it over, but check the bases of each glasses before peeling off the price stickers and using them-- wish I had!
Date published: 2014-03-30
Rated

5

out of

5
by
catg
from
Stylish and Surprisingly Durable!
I absolutely love these wine glasses! When I first got them I was a little concerned that they might not hold up well because they are so thin and delicate but have been pleasantly surprised at how well they have withstood abuse. I've had these glasses for 2-1/2 years now and haven't broken a single one yet, even after clinking them against the sink and other dishes multiple times. I highly recommend these glasses! They are worth every penny!
Date published: 2014-01-20
Rated

5

out of

5
by
KitKat82
from
Beautiful shape!
I bought the largest tour wine glass and we love them. They are a beautiful shape and style.
Date published: 2012-01-06
Rated

4

out of

5
by
PhillyT
from
Really Great stemware
I purchased new Tour wine glasses and absolutely love them. Not only are they incedibly attractive looking and help the wine open up optimally, they are more durable than I expected. One accidentally fell and, although it didn't make a hard landing, I was certain it was going to smash. In reality, it held up perfectly - nothing broken and not even a scratch on the glass. I highly recommend these.
Date published: 2013-07-24
Rated

5

out of

5
by
trac
from
Unique
I was looking for new wine glasses that I could use with white/red wines and was not your typical "wine glass look". This glass has a unique shape and I get compliments all the time!!! Love, love, love them!
Date published: 2013-08-12
Rated

1

out of

5
by
mgkisa
from
Beautiful, but too fragile
My husband and I received 6 of the white wine glasses for our wedding. 2 months into our marriage, FOUR have broken or chipped. We are not overly rough with them, either - with the exception of one, that got knocked onto the floor. The other 3, though, chipped while washing or being put away. The slightest pressure makes them crack. Makes me sad because we love how beautiful they are!
Date published: 2013-12-08
Rated

5

out of

5
by
maggiemae626
from
Beautiful, delicate, great find
I have a policy of not buying wine glasses without feeling them in person first. I've been disappointed too many times. I decided to use a lingering credit from Crate and Barrel to take a chance, and am very pleased with this item. The glass is clear, melodic, and feels good in the hand. I've hand-washed them several times, and no cracks or chips have appeared. And they're just beautiful. I would recommend them to anyone based on quality and price.
Date published: 2011-12-10
Rated

4

out of

5
by
heat7918
from
Beautiful, cool glasses - just be careful!
So these glasses are very beautiful - cool & different! However, my husband has broken not 1, but 2 of the glasses when drying them by hand. Both times it's when he was drying the inside... he must have put too much pressure? And you'd think he'd learn after the first time - ha! Then guess what? Even though he's the one who insisted on buying these expensive (to me) glasses AND he went out and bought 2 more to replace the ones he broke, now he doesn't ever use them! Oh well, they look great.
Date published: 2013-12-08
Rated

5

out of

5
by
Boma
from
Stylish Statement Glasses
These glasses fit the bill...beautiful and stylish, the glasses alone are enough for a gorgeous table. The main reason I bought them though, the 'Made in Germany' label. It signifies quality and safety,
Date published: 2013-09-09
Rated

4

out of

5
by
vlo10
from
Fragil but beautiful!
We received the white, red and champagne glasses as wedding gifts (from our registry) and LOVE they way they look on display. We get compliments from our guests on them as well.I did break one while hand washing it (with my hand inside the glass, not because I dropped it), so you have to be very careful when cleaning them.However, after breaking it, I immediately replaced it because I really do love this set.
Date published: 2012-12-05
Rated

5

out of

5
by
Wiggins
from
Very nice
I personally very much like drinking wine from thin glasses but they are sturdy enough that I haven't broken them yet. Have had for a couple of years and use often. I will be ordering more.
Date published: 2011-12-10
Rated

3

out of

5
by
KatieCN
from
Gorgeous but too delicate
My husband & I got these for our wedding. Although they're gorgeous, I had 4 of red & 4 of white to start & I have 1 of each left. We have been so gentle with these glasses, hand washing them instead of putting them in the dishwasher, but have had 3 break in our hands as we've been washing for no apparent reason. Unfortunately I won't be replacing them, but buying a new set not from Crate and Barrel. Sad because they are so pretty!
Date published: 2013-12-11
Rated

5

out of

5
by
kms4
from
I love these glasses
I have a growing set of both the red and white wine glasses, and I couldn't be happier with them. I only bought a couple of each to begin with -- unsure of how they would hold up, and I am almost to a full set of each! The only issue I had was one glass breaking in the dishwasher (which was really my fault for chancing it in the dishwasher in the first place). Since then, I hand wash them and I haven't had any other problems. I hope these will be Crate&Barrel regulars for a long time so I can continue to grow my collection!
Date published: 2014-03-27
Rated

5

out of

5
by
kreilly
from
Beautiful, Modern Glass!
These glass are exceptional! Beautiful, well-made glasses with a touch of modern flare. If you're looking for something different, these glasses are it. They have been very resilient, easy to clean, and continue to look great after lots of uses.The red glasses do hold a fair amount of wine so watch how much you pour :)
Date published: 2011-12-10
Rated

5

out of

5
by
Redruby
from
Conversational Piece
Every time I have guest over of dinner or just drinks I get that question where did you get those glasses there just wonderful and different. I smile and say at C&B and Brag about the store. This is one place where anyone can give a great quility gift to someone or to your self and is alway happy with the items you buy.
Date published: 2011-12-10
Related Products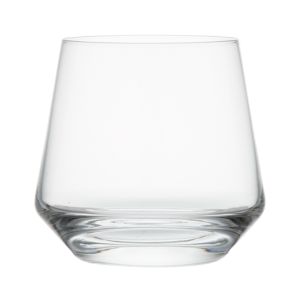 A new angle in barware from Schott Zwiesel creates an edgy silhouette...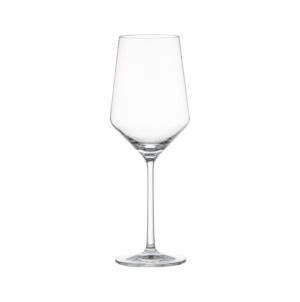 A new angle in stemware from Schott Zwiesel creates an edgy silhouette...
Stemless glasses provide the perfect handhold to look, swirl, smell and taste...