Prices and availability are subject to change from the time and date that you print this page.
4/23/2014 7:33:52 PM. For Customer Service, please call 800.967.6696
The same natural wood plate racks displayed in our stores are now available to use at home. Display a collection of favorite plates, or simply get your china cupboard organized. Two sizes available (see Small below).


Wooden 15 Plate Rack
is rated out of
5
by
46
.
Rated

3

out of

5
by
Juyunni
from
Good price but not very sturdy.
You receive the product in 4 pieces that you put together. I stained the plate rack to a darker wood which is simple because it comes in a natural wood. Only thing is that I wanted to place it in my glass china cabinet for display. The plates I have are thick but not much more than any other regular plate would be. The weight somewhat had the rack loosen where I connected them and separated wider. I had to take the pieces apart again and put super glue in the holes. Pressed the rack together and let it dry overnight and it was fine. Plate racks are surprisingly costly for what they are so this one is a great buy for the price. But depending on what you use it for just know it's kind of thin and you may have to glue in the grooves.
Date published: 2014-03-29
Rated

5

out of

5
by
sewfar
from
Great Organizer
I had an assortment of dishes of various sizes and was trying to figure out some way to store them yet easily access them. I had seen displays in the stores of similar design but could never find them for sale. Just when I had decided to make my own I found these at C&B and they were exactly what I had been looking for. They work GREAT! and if you really want to make them secure glue the center pegs together so they don't "split" when storing the really heavy items.
Date published: 2014-03-29
Rated

4

out of

5
by
Aunt Bon
from
Glad to have it!
I searched every store for a rack like this. They all use them to display their dishes but C&B is the only place that sells them. I'm waiting for my new cupboards so I can put my plates up. I bought both sizes - for dinner plates and salad plate. I hate having my plates stacked!
Date published: 2012-12-18
Rated

4

out of

5
by
jansi
from
I like it but...
Just received this plate rack. Nice looking, sturdy and very easy to put together. The one drawback is it is made for seven plates. Seven? Why not eight? Seven seems to be such an odd number to have chosen for this rack.
Date published: 2014-01-05
Rated

3

out of

5
by from
Quite satisfied
My husband and I got new dishes that were too big to fit in our cabinets. Instead of trying to exchange them for smaller dishes or (groan) redo our kitchen, I found these dish stands. So we store our dishes in our cabinets vertically and at an angle. The stands work perfectly for my purpose, but they could be more durable. They are made of very light wood, and I believe they're only glued together, so we have to be careful not to break them, since we use our dishes on a daily basis. Overall, I'm satisfied with this product, I'm just not sure how long it will last.
Date published: 2012-07-06
Rated

4

out of

5
by
homeowner101
from
worth the $6
These need to be glued together if you plan on moving them around much- But inside my cabinet they're working great for my pot lids!
Date published: 2011-02-19
Rated

5

out of

5
by
Mairzie
from
For more than plates
I bought one of these years ago for plates but ended up cutting it in half lengthwise, mounting it on a wall above my dresser and hanging necklaces on it. Currently, I use one to hold cutting boards and platters in the kitchen and recently bought another for pot lids. Since they are wooden, they do not scratch whatever they are holding but they are strong.
Date published: 2012-06-24
Rated

5

out of

5
by
happy in hawaii
from
What you see is what you get
Product was exactly as pictured and extremely easy to put together. (10 seconds) Not only can you not beat the price, you can't find the product anywhere in Hawaii. The stores all use them but don't sell them. So I was very pleased and bought a few spares. Thank you Crate & Barrel. Please open a store in Hawaii!
Date published: 2012-05-10
Rated

5

out of

5
by
Cyndi T
from
Exactly what I wanted!
Bought two of these racks and two of the 10" ones to display my fiesta ware collection. They are perfect for this purpose!!! I was even able to angle the plates and salad plates for a prettier display. They are lightweight but very durable and attractive!!!
Date published: 2013-06-08
Rated

5

out of

5
by
MainStShopGirl
from
It Holds More Than Plates, You Know!
I was so tired of the MESS my cutting boards turned my cupboard into! Laying flat on the shelf, they NEVER stayed in order by size, and the one I wanted NOW was ALWAYS on the bottom. I swear a cupboard gremlin was in there at night rearranging them! Enter the wooden plate rack. With less than 5 minutes of reconfiguring, my cupboard stays neat, & my cutting boards are organized and easily accessible. I was so pleased with this arrangement that I ordered a second plate rack, and now my cookie sheets are organized in the same cupboard. This is one of the least expensive organizational fixes I have ever found!
Date published: 2013-07-20
Rated

4

out of

5
by
Potato Salad
from
Work well once modified
These were a good deal and worked well once I modified them a bit. My plates were too big to stand up straight (they all tipped forward), so I took some sharp gardening clippers and clipped every dowel that would rest behind each plate about an inch or so, just enough room so each plate could lean back a little further. Now they work great. I gave it 4 stars instead of 5 because I think the design would be improved if the dowels were shorter to begin with. As it is, the only plates that will fit on there without falling forward are ones that are basically very flat with no indentation at all. Most plates aren't like that.
Date published: 2014-04-22
Rated

5

out of

5
by
marshadee
from
simple beatuy
I love the plate organizer....I glued it together to make it a little stronger.....I have 8 plates and there are 7 slats so I rested one against the wall...I will get more as I keep thinking of other uses for this piece.
Date published: 2014-04-22
Rated

5

out of

5
by
carsin
from
great for cabinet organization
I purchased the racks in 10 inch and 15 inch lengths. I have used them in the cabinet over my refrigerator to store trays, platters, cutting boards etc. These items used to be very hard to get out of the cabinet when they were stacked. Now they are neatly stored between the rack and easy to pull out. The 15 inch rack has a wider space between the dowels and is useful for cutting boards and trays. The 10 inch I use for thin serving trays and flat cookie sheets. The racks stay in place. I am very happy to have these items finally organized.
Date published: 2013-08-02
Rated

5

out of

5
by
queentasingtao
from
Wooden Rack
I love this rack. I purchased the 15" for my plates. Wonderful. It fit well in the cabinet after I adjusted the shelves. Keeps my plates standing up. I did use a little bit of tape to keep it from sliding around. You cant see the tape at all. Everytime I open the cabinet doors...I smile at how beautiful everything looks.
Date published: 2013-07-20
Rated

5

out of

5
by
Tootsiec
from
Great for glass shelves!
My new kitchen has a section of glass cupboards, but I was disappointed when my pretty plates didn't show up much from underneath. So I ordered 4 of the bigger racks, spray painted them white, and lined up all my colorful dishes. It looks great and is much easier to get the plate that you want!
Date published: 2013-12-11
Related Products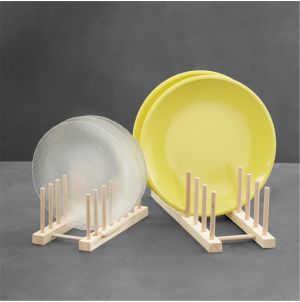 Display a collection of colorful or antique plates, or simply get organized...