Prices and availability are subject to change from the time and date that you print this page.
10/1/2014 10:07:12 PM. For Customer Service, please call 800.967.6696
Crate and Barrel Exclusive
Our popular stoneware bakers in sunny yellow and sky blue with white interiors. Nesting bakers transition from oven to table to potluck dinner party.


3-Piece Potluck Baker Set
is rated out of
5
by
72
.
Rated

1

out of

5
by
mslalamanda
from
Cute but handles break very very easily
I loved this set when I first got it, such a cute style and color. I feel that paying Crate and Barrel prices I should get Crate and Barrel high quality. I feel like I purchased these at a low end store or something. I had these and in less than a year the handles broke from just picking them up. All 3 broke around the same time period. Handles are too thin. I don't recommend this set at all. Very disappointed.
Date published: 2014-07-19
Rated

4

out of

5
by
alli
from
Great bakeware
I received these as a wedding present 9 months ago and I love them! Will note though that my mother-in-law also purchased a set. One didn't last a postal journey (albeit to Australia) and another broke. So far all mine have held up well.
Date published: 2014-06-10
Rated

5

out of

5
by
Melissa
from
Very cute!
Great product! Not only are they practical, but colorful too!
Date published: 2014-06-09
Rated

5

out of

5
by
corey
from
Great product!
We love our 3 piece potluck baker set!! It is so useful with the 3 sizes, they are sturdy, and easy to wash as well!
Date published: 2014-06-09
Rated

4

out of

5
by
terrid614
from
love these!
I actually bought these for my daughter for her new kitchen! We both love them. They are heavy but not TOO heavy, they look nice out of the oven to serving table and they are a great price. I would recommend them to anyone who is looking to update their casserole serving ware.
Date published: 2014-06-09
Rated

3

out of

5
by
mel1
from
A little disappointing... :(
I got these dishes as a shower gift about a year ago. I love the style and they wash well. I was so disappointed when the handle broke off the smallest one less than 6 months in and was even more sad when both the handles on the medium broke just by lifting by the handle. Wish they were more study because I really liked them to that point. Wondering if glue works...
Date published: 2014-06-09
Rated

5

out of

5
by
helen
from
Great, Practical Baker Set!
I use this baker set all the time. I agree with other reviewers that the handles seem delicate, luckily mine have not broken off as I'm always careful not to rely on holding onto just the single handle when the dish is heavy. Mine have worked great. It's easy to clean and gets the job done!
Date published: 2014-06-09
Rated

4

out of

5
by
levoyagevogue
from
Love the color
I bought this set as a wedding present. Of course the bride loved them but the colors are perfect for spring! The only downside, from my perspective, is the that the handles are thing.
Date published: 2014-06-09
Rated

4

out of

5
by
DanielleP
from
Very versatile!
I got this as a wedding gift and they work for everything from grilling veggies to cooking a pork roast. They just don't store inside eachother well...you need to be careful so the handles don't break.
Date published: 2014-06-09
Rated

5

out of

5
by
GeaZs
from
Giddy about this gift!!!
I had been talking about these adorable bakers that I saw at Crate&Barrel for about a month, and was beyond giddy when my sister bought them for me for my birthday!!! Not only are the colors amazing, and look beautiful on my table filled with whatever homemade yum I decide to bake in them, but they are durable and bake things up very nicely! I highly recommend this product to whomever wants to add fabulous fun to their baking & table : )
Date published: 2014-06-09
Rated

5

out of

5
by
dculv11
from
Good Product!
I purchased this set because the sizes were appealing for baking. I broke the handle off of one dish when pulling it out of the dishwasher. The handles are a little thin, but it was my carelessness, not a product flaw. They all come clean very easily. I will be ordering another set because I use these all so often.
Date published: 2014-06-09
Rated

4

out of

5
by
Laura
from
Weak handles, but nice
I love this set, all of the sizes are perfect. I love the smallest one when I am just baking something small for myself on nights my husband works late. I didn't realize they are only oven safe to 350 degrees, which seems kind of silly as they are bakeware. I am sure I have used mine up to 400 degrees.The one downfall is the handles. The handle on the middle size broke when I got it home. Crate & Barrel did replace it but they are definitely weak handles. I do not carry the large baker by the handles, I just hold the sides or bottom.Overall these are beautiful and for $30 I think they are a steal. They look beautiful for potlucks or family gatherings and I get a lot of compliments on them.
Date published: 2014-06-09
Rated

4

out of

5
by
laz99
from
Beautiful and Useful
Beautiful, in all colors. Nice selection of sizes. Good for serving and baking. The handles do seem a little fragile, so they make me a bit nervous, but so far, all are still in good condition! Just wish that they stacked a little more neatly--I'm currently storing them in the box and packing material that they were shipped in, which is a little tedious (but not impossible).
Date published: 2014-06-07
Rated

2

out of

5
by
Poprocks
from
Great sizes but weak handles
Love this set of bakers, the sizes are great and the colors are so pretty BUT I've had 2 different sets and on both I've had the handles break on the largest size. It's so disappointing that the handles cannot handle the weight of the baker plus food. Going to have to look for something else with stronger handles.
Date published: 2014-06-05
Rated

5

out of

5
by
Lirpa10412
from
Love this set!
I received these bakers at my bridal shower over a year a half ago (in some different colors) and absolutely love them!! I use them all the time for breakfast casseroles, cakes, brownies, lasagnas- you name it. The different sizes are perfect to feed a crowd or just my husband and myself! I have never had trouble with the handles at all and also couldn't agree more that the clean up is easy and wonderful!
Date published: 2014-06-04
Rated

5

out of

5
by
Lillypad
from
Bright and Cheery
I added these to my wedding registry and have loved using them. They add a cheery pop of color to the table. The three sizes are perfect for coordinating. Nothing has chipped in the seven months of using them.
Date published: 2014-06-02
Rated

4

out of

5
by
mplee
from
Oven Temp
I received this baker set at my bridal shower and I absolutely love the colors, the shape with the handles and the overall size. One down fall...they can only go up to 350 degrees in the oven. Overall nice baker set :)
Date published: 2014-06-02
Rated

5

out of

5
by
skytop
from
Love these
I use these for casseroles, brownies, cakes pretty much everything. They clean up very easily. Very pretty to serve with. Great purchase.
Date published: 2014-06-01
Rated

4

out of

5
by
Danielle5
from
Cute Design, Delicate Handles!
I received these potluck bakers at my bridal shower and I was so thrilled because they are so cute! When I opened them, one of the handles was already broken. These are very pleasing to the eye, but the handles are VERY delicate-be really careful handling and washing them.
Date published: 2014-05-29
Rated

5

out of

5
by
AbTOlson17
from
Easy Clean-Up and Cute to Boot
These have been one of my favorite gifts that I registered for for my wedding 2 years ago. They cook and bake the perfect casseroles, cakes, and brownies, and the colors are so cheerful on a buffet table! One of my favorite things about them is how well they wash up. Crusty melted cheese and pasta come right off without too much scrubbing, which I must say is just great! I would purchase them as a gift or recommend them to anyone.
Date published: 2014-05-27
Rated

5

out of

5
by
suschube
from
Love this Baker Set!
Love the colors of this set, and the clean up is super easy with the glossy finish. The handles make it easy to grab out of the oven. I bake & cook in this set all the time, and have used the smallest one for crackers and cheese when having friends over for drinks.
Date published: 2014-05-27
Rated

5

out of

5
by
Jgonyer
from
Great Purchase
I bought this on Friday and I am going to use it when I move to NC. I was so happy with how nice they were. I was also happy with how heavy they were. You could not get something as nice as those for that price $30.00 anywhere. A great gift idea for anyone who is starting on there own. A great gift.
Date published: 2014-05-27
Rated

5

out of

5
by
RStuckey
from
LOVE LOVE LOVE
I am careful with these, since they appear to be delicate... but I have never chipped or broken any of my pieces. I've owned 1 set for over a year now... and have purchased other sets as gifts. Love that they come out with new colors for each season. Good price too!
Date published: 2014-05-27
Rated

5

out of

5
by
dinewithclass
from
Serving in class
These 3 dishes are great they look great on the talbe you don't need to take your food out and put in another bowl from oven to serving, with class and the bring colors really dress up the table.
Date published: 2014-05-27
Rated

4

out of

5
by
CNBM
from
Shower gift
Bought this as a shower gift. Great colors and durability. Can even use it as serveware. Got a couple matching bowls as well.
Date published: 2014-05-27
Rated

5

out of

5
by
JessieD88
from
Super cute and a must for the kitchen
I received the 3-Piece Potluck Baker set as a wedding gift. It is currently the most used item in my kitchen. Not only is it easy to stack and stowe away in my cabinets, it is really cute. The baker set is great for your tablescape when hosting dinner parties. This baker set is inexpensive and much better than the conventional clear glass potluck.
Date published: 2014-05-27
Rated

5

out of

5
by
AllisonS
from
Beautiful to cook and serve
I bought a set of these before Thanksgiving, and I was so happy to have bakeware that are pretty enough for serving. I haven't had any problems with the handles, but I am also very careful with them.
Date published: 2014-05-27
Rated

5

out of

5
by
JillyBeans
from
Great gift for young people
I have brought this same set in different colors before as a wedding gift for a young couple, and just bought this one for my 2 1 - year - old daughter who is now living in her own place.She loves the trendy colors and the sizes of the casseroles are perfect for her since she isn't usually cooking for big groups.The perfect combo of casual and fancy for a young person having company over or bringing a dish to a potluck.
Date published: 2014-04-08
Rated

5

out of

5
by
CWaldron
from
Awesome baking dishes!!
I received a gift card for Christmas. Browsed the web site and found these! I use them all the time!! Absolutely LOVE them!
Date published: 2014-04-08
Rated

5

out of

5
by
MsCarter
from
Very pretty color
I think the yellow is refreshing. I do intend to purchase a piece or 2 this spring.
Date published: 2014-04-07
Related Products
Handcrafted in the European tradition, our update on the traditional punch bowl...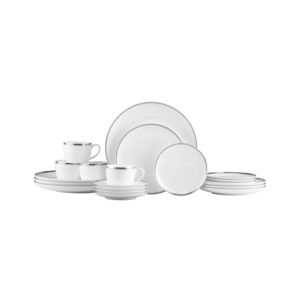 Simple and sophisticated. Clean contemporary coupe shape in gleaming white gets an...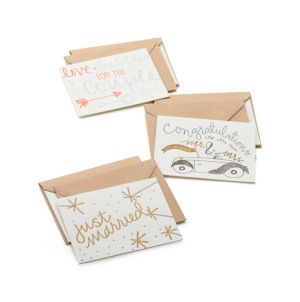 Set of six exquisite letterpress cards are beautifully hand illustrated with three...