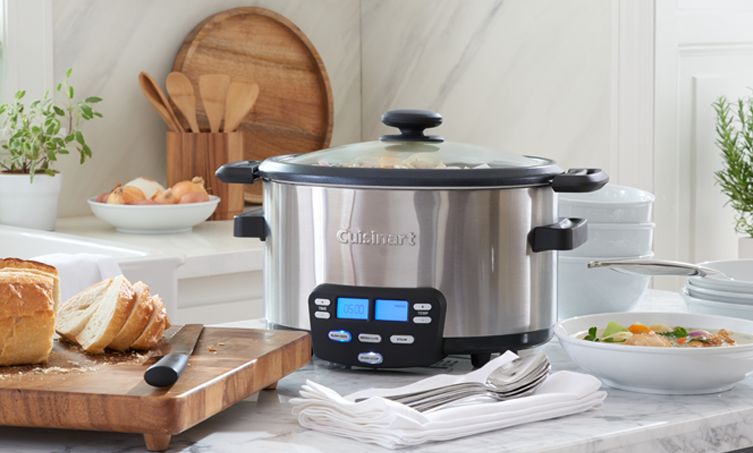 Power up your kitchen with high-performance kitchen electrics. Crate and Barrel offers a wide range of small appliances, including food processors, blenders, toasters, juicers, coffee makers and other small specialty appliances.
In our small kitchen appliance collection, you'll find the machines you need to cook like a pro.Our carefully curated selection of small appliances will help you eat healthier and enjoy prepping and serving food. Learn more about the electrics we offer.
Juicers
Juicing takes advantage of the nutritious trend that converts whole fruits and vegetables into healthy drinks. We have centrifugal juicers that extract juice through high-speed spinning as well as citrus juicers that ream lemons, limes and oranges with ease. We also have food juicers that liquefy whole fruits and vegetables with the push of a button.
Blenders
When it comes to making slushy frozen drinks, velvety soups and tasty smoothies, a good blender is a necessity. They efficiently crush ice and produce lump-free sauces that are the perfect finishing touch for a variety of food. In our selection, you'll find blenders from top brands, such as Vitamix, KitchenAid, Breville and Cuisinart.
Food Processors
The food processor was developed in the 1970s and became a kitchen staple in the 1980s. With a push of a button, home cooks can quickly slice onions, grate cheese or make a great pizza dough. We carry a variety of sizes of food processors, so there is sure to be an option that meets your particular needs.
Mixers
No kitchen should be without a mixer. This kitchen appliance is a must for creating delectable cookies, masterful meringues and all sorts of baked goods. We have KitchenAid stand mixers in several exclusive colors as well as popular shades, such as green, yellow, red and black. We also have portable hand mixers packed with power to get the job done.
Toasters and Toaster Ovens
When it comes to toasting a bagel or warming up a pastry, a toaster is an electric that you can use every day. We carry two- and four-slot toasters from a variety of leading brands, such as Breville, All-Clad, KitchenAid and Cuisinart. They feature thoughtful, time-saving details such as bagel settings and a range of toasting darknesses so you can make the most of your bread. A toaster oven is a great way to add a cooking source to your kitchen. It is also an energy-efficient way to heat up frozen dinners and leftovers without resorting to using a whole oven for baking, convection baking, toasting and broiling.
Specialty Appliances
Be sure to check out our selection of some of the most innovative specialty appliances around. Waffle makers, rice cookers, griddles, coffee makers, tea kettles, popcorn poppers, ice cream machines, deep fryers and slow cookers emphasize the breadth of our options for making delicious home-cooked meals a little easier.
Our specialty small appliances are made by leading kitchen electrics suppliers with names you recognize. You'll find familiar brands such as KitchenAid, Breville and Vitamix and more.
Shop our carefully selected collection of top small kitchen appliances and accessories that make home cooking quick, easy and fun.