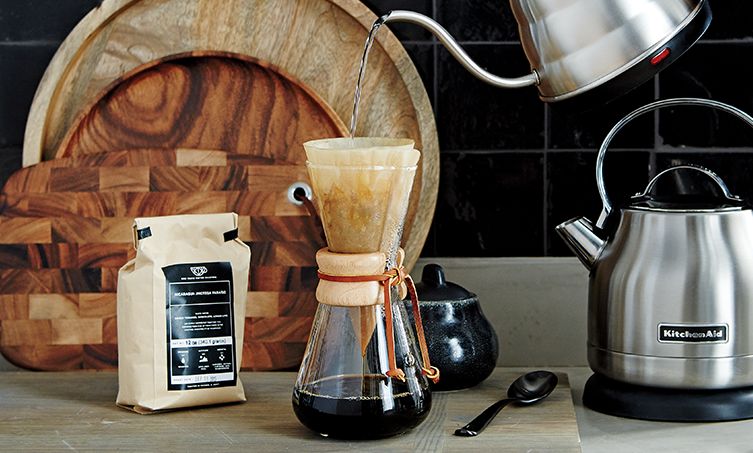 Find everything you need for a delicious drink at Crate and Barrel. With the right tools, you can brew the perfect cup of coffee, tea or espresso in minutes. From coffee grinders and tea pots to espresso machines and drip coffee pots, we have all the essentials for creating your favorite drinks at home.
Automatic Drip Coffee Makers
The automatic drip is a tried and true coffee maker style. Our classic machines help you prepare the perfect cup of coffee with ease. Brew a cup in our single-serve coffee makers, or opt for a full pot in our 12-cup machines. We have programmable drip coffee makers from trusted brands, such as Cuisinart, Bonavita, DeLonghi, Capresso and KitchenAid.
Espresso Machines
We carry a wide range of espresso machines, from the simple yet classic Bialetti stovetop to the impressive DeLonghi machines. Choose from a variety of espresso maker styles, including electric, portable and automatic. We also have coffee/espresso pod machines so you can whip up whatever coffee drink you want with easy cleanup.
Pod Coffee Machines
Pod machines make a quick coffee drink without the grinding and measuring. They are also the most convenient machines for clean up. We carry pod coffee machines from top brands, such as Keurig and Nespresso.
Handcrafted Pour Over and French Press Coffee
The pour over brew is for the true coffee connoisseur. Coffee purists everywhere agree that this is one of the simplest and easiest methods for a delicious cup of coffee. This elevates coffee making to a form of entertainment as well. Your guests will be impressed with the tableside show of making a perfect cup of pour over coffee. Choose from 3-, 6- and 8-cup pourover makers from Chemex. For a more traditional handcrafted coffee with a heavier body by immersion, try our French presses from Bodum and other top brands.
Tea Kettles and Teapots
A warm cup of tea is just minutes away with our selection of kettles and teapots. From classic stovetop tea kettles to electric styles, we have a full range of options you can choose from. More than just functional, our teapots add a touch of style to your tableside service. We also offer single-serve tea brewers as well as specialty iced tea makers and tea presses.
Coffee Mugs and Teacups
Whether you're enjoying your cup of coffee or tea at home or on the go, we have the mug and cup styles you need. Choose from our full selection of coffee mugs, espresso cups, tea cups, saucers and travel mugs in classic and decorative styles.
Coffee and Tea Accessories
To create the perfect coffee or tea drink, you'll need the right accessories and tools. We have the essentials you need for easy beverage preparation, including electric kettles, thermal jugs, carafes, milk frothers, filters, grinders, coffee capsule holders, Nespresso capsule holders, coffee scoops, measuring spoons, honey dippers, tea infusers, thermometers and more. We also offer canisters and jars for storing coffee beans and loose tea, as well as creamers and sugar bowls.
Find the coffee maker and machine you need to create the perfect brew. Shop our complete selection of coffee makers, espresso machines, tea pots, and coffee and tea accessories.