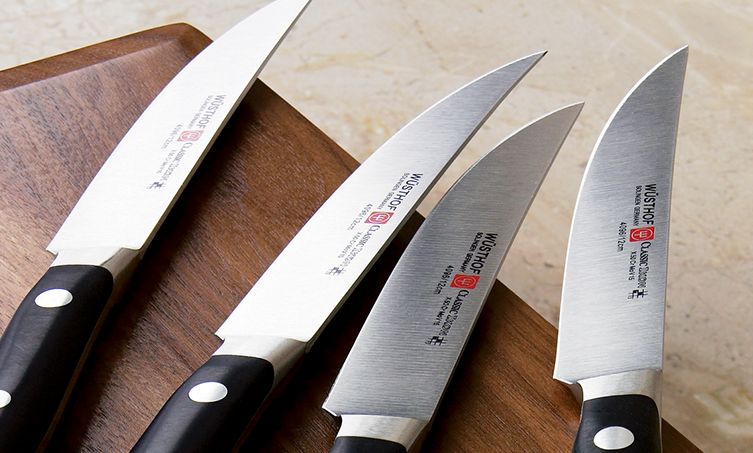 For every task, there is a knife. Enjoy top-quality kitchen knives from well-known brands, including Wüsthof, Global, Kyocera and Shun. We offer a full range of knife types for all your cooking needs, such as paring, utility, santoku and more. Our knives are forged, laser cut or stamped from tempered and hardened steel, high carbon steel, ceramic and other high-quality materials that are designed to last. Learn more about our cutlery options.
Types of Knives We Offer
The first set of knives you choose should be your last. What's the best knife? It is the one that immediately feels like it was made for your hand. Learn more about some of the must-have knife styles you need for everyday cooking and special food preparation.
Chef's Knife—A classic cutlery piece, the chef's knife is commonly used for cutting meat, vegetables, fruits and more. It can be used for a variety of cutting tasks, including slicing, mincing and chopping.
Santoku Knife—The classic Japanese santoku knife is a versatile food prep tool that can be used to slice, dice and mince food. Its specialized blade allows food to fall away when slicing.
Utility/Paring Knife—The paring knife is a smaller style perfect for slicing, dicing and peeling fruits and vegetables. It can also be used for cutting other food into smaller pieces.
Bread Knife—This serrated knife style allows you to easily slice through bread as well as other foods with soft centers without crushing them.
Tomato/Vegetable Knife—Great for cutting through softer foods, the tomato/vegetable knife also has serrated edges to create minimal pressure when slicing.
Slicing/Carving Knife—This knife helps easily cut through meat, fish and other proteins.
Boning Knife—The boning knife's slim blade and sharp edge allows for easy trimming and removal of bones in meat and fish.
Cleaver—An essential knife for meat butchering, the cleaver can also be used for crushing garlic, separating bones and slicing through harder foods like winter squashes.
In addition to our individual knives. we also offer a full range of knife sets. Choose from 2-piece sets with a chef's and paring knife, or opt for a more all-encompassing set with up to 35 knives. We also offer specific knife sets, such as steak knives and carving kits.
Knife Accessories: Sharpeners and Storage
A sharp knife is a safe knife. To keep your knives in razor sharp condition, you'll need a few essential cutlery accessories, such as:
Knife Sharpeners—The most dangerous knife is a dull one. Sharpening your cutlery regularly brings optimum precision and results, and lets the knife do the work with minimum force. The options of knife sharpeners range from sharpening steels and pull through options to electric sharpeners.
Knife Storage—Proper maintenance of the blades includes proper storage. We have magnetic knife holders to keep cutlery at hand and safely stored away. Our blocks are also a great option for proper storage. Other options include an in-drawer block, a dock which uses cork to keep cutlery apart, as well as a block filled with polypropylene rods.
Find the knives you need for easy meal preparation. Browse the entire collection of cutlery from Crate and Barrel to choose the individual knives and complete sets you need for your kitchen.