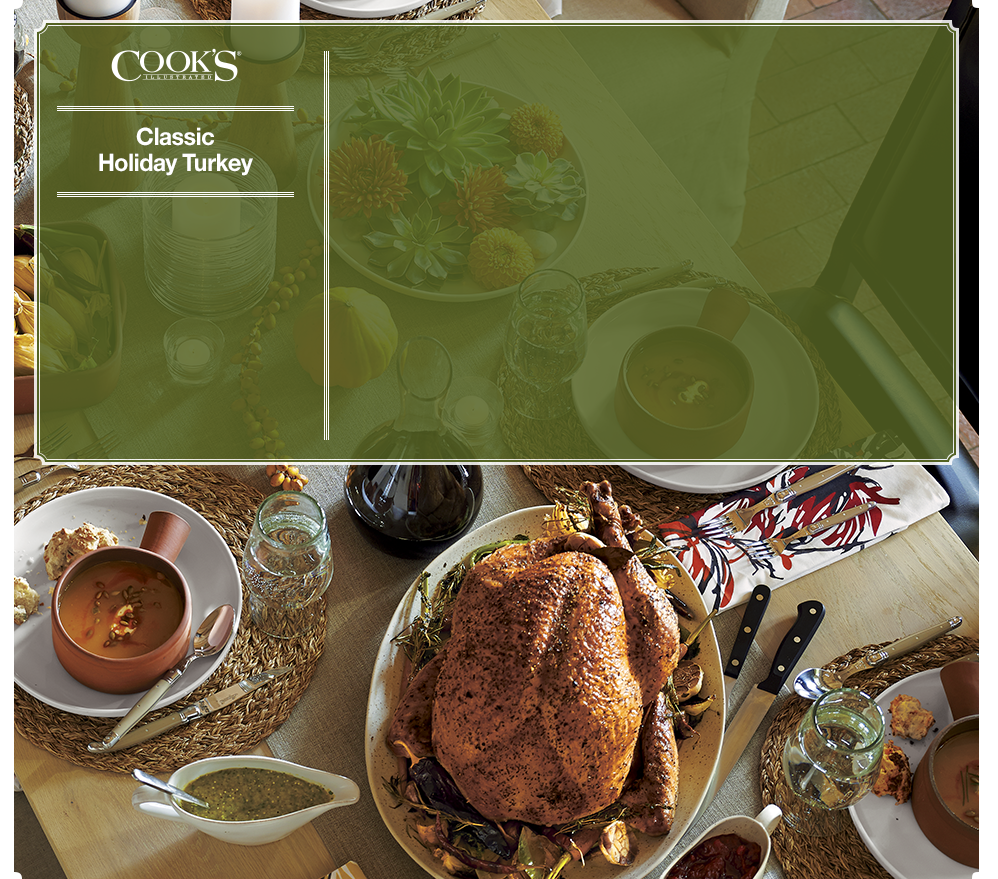 1 cup salt
1 (12- to 14-pound) turkey, trimmed, neck, giblets, and tailpiece removed and reserved for gravy (see related recipe)
6 sprigs fresh thyme
2 onions, chopped coarse
2 carrots, peeled and chopped coarse
2 celery ribs, chopped coarse
3 tablespoons unsalted butter, melted
1 cup water, plus extra as needed
1. Dissolve salt in 2 gallons cold water in large container. Submerge turkey in brine, cover, and refrigerate or store in very cool spot (40 degrees or less) for 6 to 12 hours.
2. Set wire rack in rimmed baking sheet. Remove turkey from brine and pat dry, inside and out, with paper towels. Place turkey on prepared wire rack. Refrigerate, uncovered, for at least 8 hours or overnight.
3. Adjust oven rack to lowest position and heat oven to 400 degrees. Line V-rack with heavy ­duty aluminum foil and poke several holes in foil. Set V-rack in roasting pan and spray foil with vegetable oil spray.
4. Toss thyme and half of vegetables with 1 tablespoon melted butter in bowl and place inside turkey. Tie legs together with kitchen twine and tuck wings behind back. Scatter remaining vegetables in pan.
5. Pour water over vegetable mixture in pan. Brush turkey breast with 1 tablespoon melted butter, then place turkey breast side down on V-rack. Brush with remaining 1 tablespoon butter.
6. Roast turkey for 45 minutes. Remove pan from oven. Using 2 large wads of paper towels, turn turkey breast side up. If liquid in pan has totally evaporated, add another 1/2 cup water. Return turkey to oven and roast until breast registers 160 degrees and thighs register 175 degrees, 50 to 60 minutes.
7. Remove turkey from oven. Gently tip turkey so that any accumulated juices in cavity run into pan. Transfer turkey to carving board and let rest, uncovered, for 30 minutes. (If desired, scrape up drippings in roasting pan and pour into fat separator; let drippings sit until fat has separated, about 20 minutes. Add defatted drippings to gravy to taste.) Carve turkey and serve.

Classic Pecan Pie
Thanksgiving Day Start Time:

9:45
One Week Ahead
Make and freeze dough
Special equipment: Food Processor
One Day Ahead
Thaw dough night before
Thanksgiving Day
Prep work: 45 minutes
Special equipment: Traditional 9" Pie Plate
Cooking Schedule
10:30-12:00 Main Oven
Minute-by-Minute
9:45

Roll out crust and chill

10:15

Toast nuts at 375° on middle rack for 5-10 minutes

10:30

Bake crust at 375° on middle rack for 25-30 minutes

10:35

Make filling

10:55

Reduce oven to 275°

11:00

Bake pie on middle rack for 50-60 minutes

12:00

Remove from oven, cool 2 hours
Pumpkin Pie
Thanksgiving Day Start Time:

11:00
Classic Holiday Turkey (12-14 lbs.)
Thanksgiving Day Start Time:

2:00
Mashed Potato Casserole
Thanksgiving Day Start Time:

3:15
Herbed Bread Stuffing
Thanksgiving Day Start Time:

4:05
Make-Ahead Turkey Gravy
Thanksgiving Day Start Time:

4:15
Cranberry Sauce
Thanksgiving Day Start Time:

4:15
Green Bean Casserole
Thanksgiving Day Start Time:

4:30