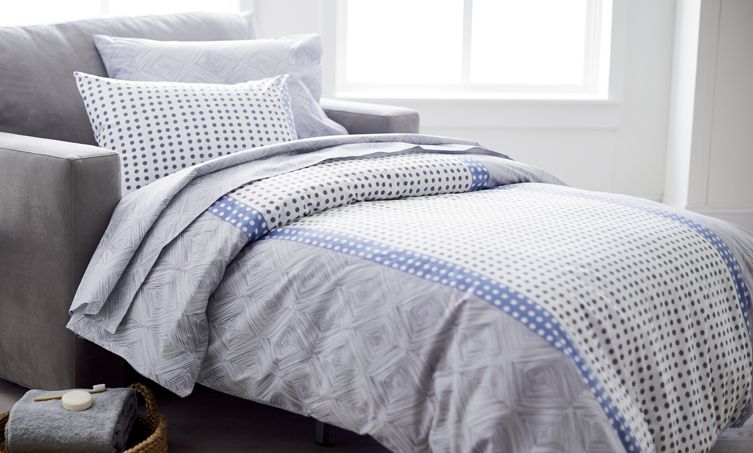 You spend, in one full day, about as much time in your bed as you do at your job. While those blissful eight hours in dreamland may seem to fly by most nights, they constitute a significant chunk of your life. Put together a bed worthy of that time—one you'll never want to leave.
While most bedding sets come with your basic linen needs, including a flat sheet, a fitted sheet and two pillowcases, they are easily customizable, excellent for those who live in four-season locations. What makes your bed warm and toasty in the winter will likely be far too toasty for in the summer. Learn how to pick and switch out sheets, blankets, comforters and all things bedding based on the time of year.
Making the Bed According to Season
Material makes all the difference between a winter bed and a summer bed and should be one of your first considerations when choosing sheets.
Linen, a durable textile that has been used to make everyday products for hundreds of years, is good for any season because of its versatile medium-weight make. Belgian flax, used to construct our linen sheets and comforters, is a superior grade of linen that grows in softness with each wash. It's a natural material, and its irregularities and inconsistencies give the fabric an organic character.
100 percent cotton is breathable and lightweight, making it perfect for use in the spring and summer. Pair with a medium-weight blanket, in case of a chilly night. Choose a percale style for a tightly-woven spread and a guaranteed thread count of over 200. For a more textured option, consider a cotton-yarn construction with a looser weave.
Sateen is a cotton construction that's buffed until it has a lustrous sheen to it. It's slightly thicker than regular matte 100% cotton and, for this reason, fairs better than it in the winter months.
Flannel, as a material, is so warm and thick that its quality is measured in weight rather than threadcount. On a chilly winter night, pair it with a fluffy duvet and maybe some footie pajamas, and you won't even remember how cold it is outside.
Alongside material, consider color and design when switching out bedding seasonally. Holiday throw pillows make a festive addition to any bed in the fall and winter, as do vibrant red or rich, dark-hued down comforters. It's a good idea to keep an additional blanket at the foot of the bed year round, as well. The blanket, paired with a light sheet, might be all you need to sleep with on hot summer nights.
Do You Need a Mattress Pad?
Mattress pads protect your big investment from general wear and tear, add cushioning, reduce allergens, and keep the mattress fresh and clean. Look for breathability and comfort—airflow is good for the mattress, and your back will thank you for the extra plush support. Consider a box spring cover as well. It should repel water but still be breathable, like the mattress pad, and protect the box spring from bacteria, stains and pests.