Prices and availability are subject to change from the time and date that you print this page.
11/23/2014 6:06:03 AM. For Customer Service, please call 800.967.6696
Crate and Barrel Exclusive
Simply ingenious, this time-honored Italian stovetop coffee maker is an espresso-lovers essential. Just fill the base with water and the filter with ground coffee or espresso, and place on any heating surface. Water is forced upward through the coffee, brewing a fresh pot in minutes.


Bialetti ® Moka 6-Cup Espresso Maker
is rated out of
5
by
35
.
Rated

5

out of

5
by
Love2shopatcandb
from
Best coffee!!
I am enjoying the new espresso maker, easy to use and fantastic coffee!!
Date published: 2012-12-16
Rated

5

out of

5
by
bargains
from
excellent product
brought one of these and was so impressed, went back and brought 3 more, excellent expresso maker.for the price
Date published: 2012-09-08
Rated

5

out of

5
by
Jax1
from
Espresso anyone?
This expresso machine is awesome. If you want great expresso with the no hassle, you have to have this product.
Date published: 2012-09-08
Rated

5

out of

5
by
Lelo
from
Best Espresso Maker
We love it. Excellent product. Makes very taste espresso.
Date published: 2012-09-02
Rated

4

out of

5
by
VillaAlva
from
Love my Italian Coffee
Love this coffee maker. It makes tasteful, traditional espressos and moka. It's not machine washable though and you have to watch out not to burn the filter too fast with too hot of a stove flame.
Date published: 2012-03-11
Rated

5

out of

5
by
seabare
from
Cheaper AND Better
Ok, I can't say that all automatic espresso machines are bad, but if you want one that makes good espresso, you are going to have to shell out hundreds, even thousands of dollars. This little Bialetti is so inexpensive and makes excellent quality espresso in the traditional way. It is perfect for drinking plain, using for iced lattes or you can even steam milk yourself on the stove and use this espresso to make warm lattes or cappuccinos! I've had no problem with this product leaking. It works perfectly every time. I highly recommend it!
Date published: 2012-02-29
Rated

5

out of

5
by
mmurphy31
from
Love This Espresso Maker!
I bought this espresso pot with a gift card I received and it was the best way I could have ever used it. I had been wanting an espresso maker for a long time but didn't want to fork over hundreds of dollars for an automatic one. This makes perfect espresso every time and is a cinch to operate. It's ready in minutes and clean up is so simple as well. Definitely recommend!
Date published: 2011-08-23
Rated

3

out of

5
by
candb617
from
great in theory
I love the idea of this espresso maker, but can never quite get it right when I go to use it. I might be too weak (I have friends who have this and love it), but I can never seem to get the 2 pieces screwed together tightly enough, so I end up making a mess and then having great difficulty getting the 2 pieces back apart for cleaning. If you're strong, I do recommend this no frills espresso maker.
Date published: 2011-08-16
Rated

5

out of

5
by
registrant2010
from
We love this little guy!
We received this off of our wedding registry, and it is one of our top 5 favorite gifts. I added it for my husband's sake because he is a coffee machine collector -- and also for my sake because I wanted to be able to serve espresso to company. We now use this machine over our expensive electric doodads because it makes delicious, reliable espresso. We use it everyday. Thank you, L, who gave us this!
Date published: 2010-12-21
Rated

5

out of

5
by
Alienai
from
Its my camping buddy - Espresso Maker
I have had one of these for over 30 years. I use it when we go backpacking and camping! Fast, easy to use, great coffee! I even have a two cup one for the house!Wash after each use and the rubber seal shoudl last darn near forever! Mine still looks new! Love my pot from Italy! Its even good for tea!Would reccomend to everyone!
Date published: 2010-04-29
Rated

4

out of

5
by
divegirl
from
Worth Every Penny!
Forget those fancy, expensive espresso makers and say hello to Bialetti. You wouldn't think that this little espresso maker can hang with the "big guys" but don't judge based on its appearance. I received this as a wedding present and have been impressed. We have definitely become espresso lovers! This maker is easy to use, easy to clean but most importantly it makes a strong cup of espresso every time, with little effort. The only reason I gave it 4 stars is because unless you follow the directions to a "T", there will be spillage and a bit of leaking. But, I'm not the kind of cook/hostess who can make anything and keep the stove sparkling. I highly recommend this to coffee lovers.
Date published: 2009-06-24
Rated

5

out of

5
by
mad77
from
Great!
This makes great espresso!! I found that the mid rage espresso makers ($150ish) can sometimes be unpredictable in taste - usually making it taste bitter/burned. This maker is the way to go if you cant afford to spend $1000 bucks on one of those fancy ones. Its a classic espresso maker that gives my Cuban blood the espresso fix it needs.
Date published: 2009-06-19
Rated

5

out of

5
by
tlttally
from
Easy to Use
I'm not a coffee drinker, so I don't need a full size coffee maker taking up space on the counter. This is a perfect accessory to pull out of the cabinet to make coffee or espresso for a guest. I also use it to make espresso for tiramisu. :) It works great and you can tell exactly when it's done because you'll hear it boil.
Date published: 2009-06-18
Rated

5

out of

5
by
stlgirl
from
Easy, Tasty Espresso
I love love love this espresso maker! It can be a little tricky to time your brewing without bubbling over, but once you've used it a couple of times, you'll be fine. You get a better flavor if you just rinse the inside out rather than scrubbing it with soap and water, so know that in advance (some people find that a little gross). Buy a milk heater/frother, too, for tasty cappuccinos!
Date published: 2009-05-31
Rated

4

out of

5
by
miss mae
from
Great Espresso
This makes great coffee, surprisingly. The cappuccino maker does not. But the foam wand sold separately does the trick. A very affordable way to have great coffee! We returned our fancy espresso maker for this one. It's so much easier to use and clean and saves space in our little apartment. The only issue is the rubber gasket has worn quickly. And I'm not crazy about cooking in aluminum. Bialetti makes others that are made of steel (?) It would be great to have other options.
Date published: 2009-05-29
Rated

4

out of

5
by
HelloClairice
from
Great coffee, kind of a hassle
My husband and I picked one of these up because he was disappointed with the quality of the coffee produced by our Braun standard coffee-maker. We use the Bialetti for both regular coffee and espresso and it makes a great-tasting cup of either beverage. My only issue is the clean-up involved - coffee grounds get stuck to the inside and it is a pain to clean. Worth the hassle if you're a serious coffee/espresso drinker, but an automatic (drip) machine is a better bet for those who want something no-hassle.
Date published: 2009-05-29
Rated

4

out of

5
by
monamiecarol
from
Classic Italian Espresso
I purchased this espresso maker after seeing a roommate use one. It is great for small kitchens without much counterspace, and makes a rich but less concentrated espresso than automatic machines.The bottom chamber may develop calcium or mineral deposits if you use hard water, so it is best to use filtered water to make espresso.
Date published: 2009-05-27
Rated

5

out of

5
by
fudgie
from
It's So Simple!!
I have a fancy expresso machine that is so complicated to use. I ordered this simple stovetop expresso maker and do I love it! It is so simple to use, makes GREAT expresso and lattes, cleans up easy, and is so fast. I haven't used the fancy machine since I got my Bialetti Moka. The extra added bonus-the price is right on the Moka-a fraction of what I paid for the fancy machine. I can't recommend the Bialetti Moka enough.
Date published: 2009-05-27
Rated

4

out of

5
by
ohiodave
from
A great espresso maker
While on a vacation trip to Italy we got used to using this style of espresso maker. We thought the prices over there were a bit high, and were pleasantly surprised to find a genuine Italian espresso maker at Crate and Barrel for less than we would have paid in Italy! The only caution with all coffee makers of this style is that you have to let it cool before handling or making another pot.
Date published: 2009-05-27
Related Products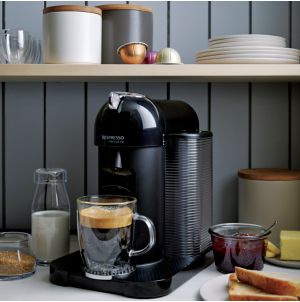 The first combination maker from Nespresso brews either an 8 ounce coffee...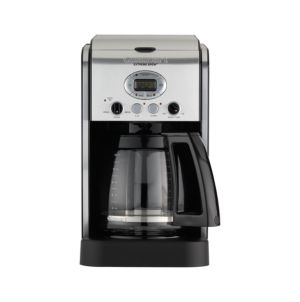 Twelve cup programmable coffee maker with re engineered extreme brew technology delivers...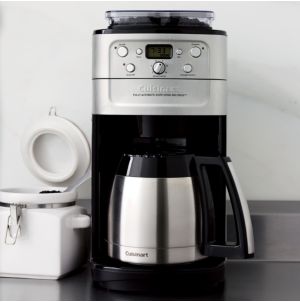 Grind and brew a stay fresh pot right into a 12 cup...