Prices and availability are subject to change from the time and date that you print this page.
4/19/2014 5:40:43 PM. For Customer Service, please call 800.967.6696
Crate and Barrel Exclusive
Our most popular barware collection. Sleek, cylindrical shape with a signature open bubble in the hefty sham base.


Direction 12 oz. Highball Glass
is rated out of
5
by
77
.
Rated

1

out of

5
by
NJBH
from
Look Good/Horrible Glasses
I purchased both the large and small size of these glasses because I love the look. Not only does the water remain in the hole upon washing mine became water stained. I tried everything to get the water marks off to no avail. I returned all of the glasses to C & B and got my money back.
Date published: 2013-12-06
Rated

1

out of

5
by
dschwab
from
Chipped easily
I registered for these glasses and got them and within a week one of them chipped. I assumed it was my fault, but then the following week another two chipped without any reason. I returned all of them an exchanged them for other glasses. Can't believe they chipped so easily. I DO NOT recommend these glasses, they look cool, but are thin and chip easily. 
Date published: 2013-10-17
Rated

3

out of

5
by
aunchi
from
Hi ball glass
These are really pretty glasses and the weight is great.The open bubble in the base traps water and stains the glass so when you drink from it you see the discoloration and it looks dirty.Unless you want to use a q tip to dry the belly button of this glass I would not recommend them.
Date published: 2012-11-24
Rated

5

out of

5
by
wkmoon
from
13 years of everyday use
We registered for several items from the Direction line for our wedding 13 years ago. We use the Highball, double old fashioned and pilsner beer glasses as our every day glass ware. They are sturdy and have held up to 13 years of dish washing and 3 moves, water for the car cup-holder, you name it. They are nice enough for dinner guests, so really they cover all needs in our house. Just recently did I break a couple of my highballs, and I am chalking that up to the clumsiness of pregnancy, not a deficiency in the glasses. I got online to see if C&B still carries this line. So happy that they do. We also had the beer mugs, but those broke years ago. Sadly C&B does not have them anymore.My only complaint is the bubble traps water after a wash. I have to give the glasses a good shake prior to putting them away.
Date published: 2013-11-17
Rated

5

out of

5
by
mrsjb
from
Great Purchase
My husband and I received these glasses from our wedding registry, and we love them. Unlike other customers, we haven't had a problem with chips or water collecting in the bubble, probably because we handwash them.These glasses have a great feel in your hand, and are very sturdy. Great for a home like ours, with a very curious cat, these glasses won't tip over if bumped.
Date published: 2011-10-24
Rated

5

out of

5
by
monty1311
from
classy highball glass
It's a beautiful design with a delicate composition. I love these glasses. The only drawback is the bubble at the bottom. If you use a Q-tip after washing in the dishwasher, it will get out the dirty water/cloudiness and keep it clean.
Date published: 2014-03-28
Rated

5

out of

5
by
Austin gift giver
from
Simple, sophisticated, and fun!
Purchased these as a gift for some friends that we love to drink manhattans with. They are simple enough to go with any style of decor, but the detail in the base makes them a little more fun and funky! Our friends loved them!
Date published: 2013-06-08
Rated

1

out of

5
by
CrazyBroad
from
Gorgeous, but not practical
These are beautiful glasses and make a great visual statement, but are not ideal for anyone who will not be hand-washing these. The open bubble in the base, the very element that gives these glasses such a great look, collects water and food particles when washed in a dishwasher. We washed these in a brand new dishwasher and still had to use a Q-tip to remove the debris.As others have mentioned, the glasses - especially the highball - do break somewhat easily in comparison to other items that we have purchased from Crate and Barrel. However, since we purchased 16 of these, we don't mind when they break because that brings us that much closer to a set of new and different drinkware.
Date published: 2014-03-31
Rated

5

out of

5
by
paleochild
from
Objects of Beauty
I've had my double old-fashioneds for at least 5 years. I love the weight - a pound and a half! - and the overall feel in the hand. I wash all my good glasses by hand, and dry them before there's any chance of spotting. Mine are still brilliantly clear and polished. You do have to be somewhat careful when washing, because their heavy bottoms render them unstable in any position but up, and you could easily lose your grip. But this is simply proper care of a good glass. Please don't be using the dishwasher, folks!
Date published: 2014-04-16
Rated

5

out of

5
by
Nordle
from
17 years later and still looking good
We registered for these for our wedding more than 17 years ago and used these as our everyday glasses. (We usually give our kids plastic glasses though.) Several of them have broken along the way, but we've moved at least 8-10 times and our three kids who empty the dishwasher aren't very gentle with them.  I was happy to see that Crate & Barrel still sells them so I could buy more. I bought some today and will buy a few more this week. I wish the beer mugs were still available. The only downside is water and gunk get stuck in the small opening at the bottom. I recently bought the Otis glasses, which I plan to use as everyday glasses. I'll use my old (and new) Direction glasses for when we have company.
Date published: 2013-10-29
Rated

3

out of

5
by
Bells
from
Fantastic...for awhile...
We got these as part of our wedding registry three years ago.  They are beautiful glasses, but they are not designed for regular use.  While they are dishwasher safe, the bubble isn't sealed, so it traps all kinds of dirt, grime, soap that is a pain to get clean.  Plus, the tall glasses are very thin toward the top, so we have broken more than one that was tipped over in the sink.If you don't intend to use them on a regular basis, they are fantastic glasses, but if you want something for everyday use, then skip the hassle.
Date published: 2014-03-31
Rated

1

out of

5
by
lila lou
from
Time to get rid of these awful things
I registered for these glasses without thinking about function. Big mistake. As others have posted, they chip easily, the hole in bottom never cleans sufficiently, they don't hold much volume and for some reason they always look dirty. Anyway, I am celebrating 7 years of marriage this year and I'm replacing what's left of my highballs and tumblers with something else from C&B.
Date published: 2014-03-31
Rated

1

out of

5
by
Jha1
from
Traps dirt
We bought these glasses. I like the design visually but there is a flaw. The hole at the bottom traps water and dirt when you wash them and it's too small to drain well. So it gets black in there. 
Date published: 2014-03-31
Rated

1

out of

5
by
PaigeV
from
Despise these
I had registered for these in 2008 and just happily donated my entire collection of 12 highballs & 12 double old fashioned glasses. They are heavy, they look so cool, but if you use them as an every day glass, you will learn to HATE THAT BUBBLE. Someone suggested putting them in the dishwasher sideways, and I'm curious if that would work, but that wouldn't make a lot of sense for the layout of my dishwasher. Anyway, like everyone says, the bubble collects water, so you need to take them out of your dishwasher and put them on a towel or something to let it drain afterwards. Then they become stained and cloudy from the sitting water. I only had problems with the mugs breaking (I only had 1 of those left) but I don't think they make those anymore.I seriously ended up HATING these glasses.We needed every day glasses, and I recently purchased the Crate & Barrel "rings" set of glasses and we LOVE them. They're light, and SUPER inexpensive, but at least washing them in the dishwasher is a one step process!
Date published: 2014-04-12
Rated

1

out of

5
by
blaneygirl
from
avoid these at all cost
these are great on the shelf but not once you get them home, use and wash them they are never the same. the hole in the bottom gets dirt or water stuck in it and it's impossible to clean so it looks like your drinking out of a dirty glass. You have to tap the bottom of the glass to get the water out. plus they chip easily.
Date published: 2014-03-31
Related Products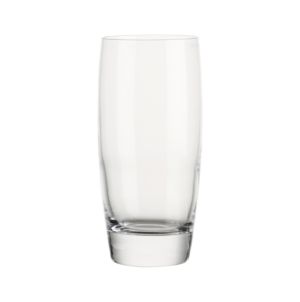 Stock the bar with classic Italian entertainers priced for every day, styled...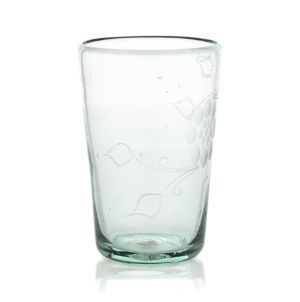 Delicate grape clusters etch chunky, recycled glass with fiesta seeking fun. Handcrafted...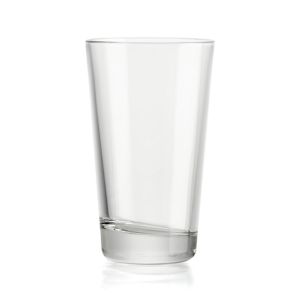 Tilted sham raises clean lined glass beyond the ordinary. Design conscious flair...