Prices and availability are subject to change from the time and date that you print this page.
11/1/2014 12:50:01 AM. For Customer Service, please call 800.967.6696
Folio Kiwi Bonded Leather Side Chair
is rated out of
5
by
20
.
Rated

1

out of

5
by
Washimx
from
Leather cracks easily
I have purchased 6 of these chairs. They look beautiful; however the leather begins to crack after 2 years.
Date published: 2014-10-18
Rated

1

out of

5
by
Shaunie
from
My love for these chairs was short-lived....
I purchased four chairs three years ago, but had them all replaced last year after the color started peeling off. I've had the replacement chairs for one year and already the color is starting to come off on one of the chairs. This is disheartening because I really love the color and style of the chairs, but clearly they aren't well made if everyone is having the same issue with the color coming off. My chairs are not in direct sunlight and I don't use chemicals to clean the chairs.
Date published: 2014-08-27
Rated

3

out of

5
by
281carla
from
Depends on your environment
I bought these chairs 8 years ago and they looked great for 7 years - UNTIL we moved into a temporary house while we build a new home. Something about the environment has cracked the leather, turned it black and has allowed the green to come off onto any walls the chairs are touching. We are in the same town, just miles away, so it's not the weather/climate. It's very weird - I would highly recommend these chairs - but you won't know if they'll hold up in your home until you buy them. For the years they were in our other home, they were fabulous, comfortable, durable with 4 kids and always looked great!
Date published: 2014-08-02
Rated

4

out of

5
by
deepinsouthtx156
from
Great chairs
I had admired the chairs for sometime before buying them in Houston. The sales person told me about a restaurant at Discovery Green that has the chairs and they have held up for years. True. I bought four of them and the only regret is that i didnt buy six. They still look brand new and are striking with my Knoll Rosewood oval Saarinen dining table. I feel that C&B would not still be handling the product if continued to disappoint and fail. I only regret that they are manufactured in China-had I known that I would have chosen a different path. You can purchase the original Italian ones for prob a thousand dollars more per piece. For those of you having such a problem with the chair-get rid of them and move on to something that works for you. They were cheap to start with.
Date published: 2014-07-18
Rated

1

out of

5
by
saddenedbythepurchase
from
Just Awful!
I bought these chairs 18 months ago and loved them! I have 8. 2 Kiwi, 2 of the off- white color and 4 dark brown. The tan color is fine, but the kiwi and the brown are a mess. They have not held up and look terrible. The kiwi is turning black and the brown have cracked and are turning balck. I was so happy that I could finally get a new dining set after 23 years of marriage and invested in these chairs. What a mistake. DO NOT BUY THESE! I have an absolutely beautifaul table that I bought these to go with and I am so embarrassed by them that I will not entertain!
Date published: 2013-10-25
Rated

3

out of

5
by
AUSTraveler
from
replaced
I had the same problem as many of the other reviewers. My set of 8 were originally purchased in late 2006. I contacted my local store, and they arranged an exchange after speaking with the manufacturer.The new set arrived today, so I hope they last this time. C&B service was at least awesome about it. The store manager with whom I spoke said that the manufacturer changed their process in 2009. Perhaps some of the problem chairs people are seeing are old stock?Also, the new chairs weigh less than the old ones. Even the delivery guy made a comment about it.
Date published: 2013-05-11
Rated

2

out of

5
by
masulusha
from
dining chairs
I'm so bummed that I have to get new dining chairs already. I ordered these about 4 or 5 years ago and have loved them but in the last year they have not done well. Big black marks all over all 8 of them. They were not cheap and I'm disappointed. It's been fun having the green. Definitely won't order again.
Date published: 2013-04-07
Rated

5

out of

5
by from
Love them!
Elegant, classy, durable. I've never had a problem of quality with these chairs, and believe me, they have been abused since day 1. I have 4 of the green ones and I can say I highly recommend them. Both, their look and quality are outstanding.
Date published: 2013-03-04
Rated

1

out of

5
by
paticbm
from
peeling like nailpolish
I have had these chairs over three years (brown and red ones). The red ones have started to peel/melt away to an ugly black backing. They are basically useless and if I do sit on them, they stick to your clothes/skin. Such a disappointment for a nice modern constructed chair.
Date published: 2012-08-03
Rated

1

out of

5
by
homeSweetHome1
from
A Huge Disappointment
I loved the look of these kiwi leather chairs so much that I designed the entire living and dining rooms around the color. A few years later the chairs are in terrible condition and I'm stuck! The backs of all four chairs are ripped and cracked. The seats of two chairs are nicked and scratched with white showing under the scratches. We don't have young children or pets. The chairs have not been misused in any way. The good news is that underneath the ugly finish, they are structurally sound.
Date published: 2012-07-12
Rated

5

out of

5
by
khatt
from
Love this chair
This is a wonderful, timeless style that works great for a transitional space. The color is the perfect green, which feels very modern and fresh. As a bonus, they are also very comfortable!
Date published: 2012-05-05
Rated

1

out of

5
by
cleareyed
from
no warranty?
these chairs are so beautiful and i was excited to get them, but like other reviewers, the green finish on the "leather" of the seats is scratching and peeling off so now they look terrible. i'm trying to find out if crate and barrel can repair or refinish them. otherwise, they will just get slipcovered... i'm so disappointed.
Date published: 2012-05-01
Rated

1

out of

5
by
Skye
from
Disappointed
We purchased 6 of the Folio Kiwi Leather Side Chairs for our dining table about 4 years ago. They were great for the first 3 years. Over the last year, the leather has literally been slipping off the seats and there are big black patches where the leather has been worn away. I have been very disappointed with the purchase - I would have expected the chairs to last longer than 4 years and now they look a wreck!
Date published: 2011-10-02
Rated

5

out of

5
by
macy7
from
Best purchase ever
Eight years ago I purchased the Folio chairs for my dining room. I sold my home with the dining set, but when I moved into my new home, I turned back to the Folio chairs and purchased them again. They are very stable, classic chairs, long lasting. I highly recommend them!
Date published: 2011-08-24
Rated

2

out of

5
by
yehyeh
from
Cracking and Peeling off
I bought 2 red and 2 black folio chairs, leather surface starts cracking and then peeling off. 4 of them have same cracking spot, they start cracking from top center of the back. My coworker bought 2 red folio chairs, his chairs have same issue, they all cracking top center of the back and peeling off. I like this chair a lot, but I am not very happy the leather surface stars cracking after 2-3 yrs.
Date published: 2011-08-19
Related Products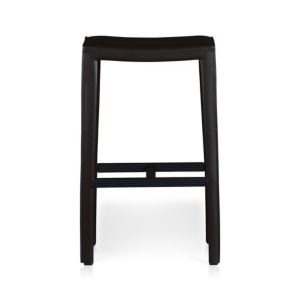 Folio rides bareback, reinventing the familiar lines of classic Italian design with...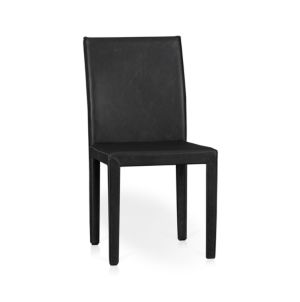 The familiar lines of classic Italian design reinvented with comfort and value...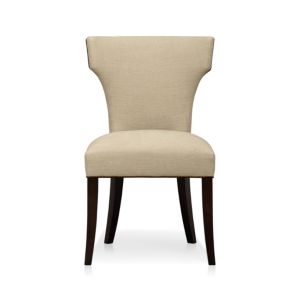 Glamour returns to the table in a modern upholstered chair that dresses...