Prices and availability are subject to change from the time and date that you print this page.
7/12/2014 8:15:08 PM. For Customer Service, please call 800.967.6696
Crate and Barrel Exclusive
Asian fusion in steel and bamboo. Our classic, flat-bottomed wok is cold-rolled carbon steel to economically exploit heat on a gas or electric stove. Stay-cool bamboo handles and knob add natural accents. Universal usage includes stir-frying, sautéing, deep-frying, steaming and parboiling. Our set gets you cooking with cooking chopsticks, stainless steel tempura rack, bamboo/stainless turner and ladle and a wooden steam rack.


Wok Set
is rated out of
5
by
34
.
Rated

4

out of

5
by
kstaranne
from
Complicated for a simple dish
We recieved this for a wedding present. I love to cook, but I definitely love things that are easily to clean. This, while wonderful, is not something you can easily rinse or throw in the dishwasher. However, we had also recieved two (yes, two!) asian bowl and plate sets for our wedding. These are fun for a date night in, but this wok is not part of our weeknight cooking.
Date published: 2014-05-29
Rated

5

out of

5
by
elenag
from
Great!!
This is a great find! It has really great quality and even though we bought it 3 days ago, it is already our most favorite wok ever! The tools are of very good too and I love the bamboo details!
Date published: 2014-05-27
Rated

5

out of

5
by
miamibride
from
Excited!
Got this for a wedding gift, and it comes with everything I need to get started! I can't wait to start working with it.
Date published: 2014-03-25
Rated

3

out of

5
by
ani921
from
Really goo wok with a stupid lable
Wok set it self is really amazing. But the label which was paste in the center is really stupid. Its virtually impossible to remove. I had to spent an hour removing the label. Come on people its not rocket science. Its just common sense not to paste an unmovable label in inside of a cooking utensil.
Date published: 2014-02-22
Rated

1

out of

5
by
LM77
from
Rusted very quickly
Had the same experience of this thing rusting up super quickly. I wouldnt buy it. I think C&B should stop selling it.
Date published: 2013-11-19
Rated

5

out of

5
by
ameby
from
Very excited!!
This was my first wok! Had no idea what I was looking for, the help at the store was wonderful, made sure I knew to season it. Did a lot of research before seasoning, and maybe went a little extreme when I did season it. But, I am loving it! Using it 2-4 times a week. To season I used steel wool to scrub it out, high heat to get it hot, after it has changed colors, cool it down a little, if you don't it will catch fire when you pour the oil in (learned this the hard way). "Stir fry" some ginger, other seasoning in it. I repeated this several times. Getting great flavor and meals!! Highly recommend!!
Date published: 2013-05-18
Rated

5

out of

5
by
lisakay
from
Authentic
I seasoned this wok before using it according to the directions. The cooking surface gets better with each use. I never use soap. Just rinse in hot water to remove the food then heat the pan to the smoking point, then add a little peanut oil to coat the surface. This keeps the pan smooth & turns it black. Which is what seasoning a pan is all about. I don't understand why some had problems with it rusting if they followed the directions. Excellent cooking utensil. I highly recommend this. Don't let a couple of "rusty" reviews stop you from purchasing this item.
Date published: 2013-03-05
Rated

5

out of

5
by from
Best Wok
This is the best Wok I have ever owned. I followed the instructions carefully and have had no problems whatsoever. I love it! I think owner error contributed to bad reviews here. I season it after every cooking event.
Date published: 2013-02-26
Rated

1

out of

5
by
Extacye781
from
Don't buy!!!!
I had followed the instructions of the product before using... when I started cooking.. it started to smell agian just like when you was seasoning it.I had cook some food on it and left it there to reheat later, the wok rusted around my food so I had to throw it away.I only used it to deep fry food..I tried to oil it everytime after I clean it so it wont rust... n it still rust.DONT BUY.
Date published: 2013-01-02
Rated

1

out of

5
by
Yasbar
from
Terrible Quality
We used this item once and as we were cooking in it, I noticed that the inside of this Wok was staining quickly. After we finished cooking, I scrubbed it and within a minute, the wok started to rust. It looked awful. My husband saw it on the counter and scrubbed it again thinking that it was not washing and once again, it rusted as soon as you stop scrubbing it.Poor quality, save your money and buy a stainless steel Wok.
Date published: 2012-10-30
Rated

5

out of

5
by
Brendy
from
Love this wok!
It's very durable, which is a must in this household...and it does a great job. I would definitely buy this again.
Date published: 2012-09-08
Rated

5

out of

5
by
Hydeebubs
from
Aesome Product
I purchased this wok set primarily because it cost much less than many other woks I have seen. I followed the seasoning directions carefully and then used it the next day! It works great! My stirfry dinner was delicious and the wok cleaned well. I am very satisfied with this wok. JUST MAKE SURE you follow the directions carefully for preparing and seasoning the wok, so it will do a good job in cooking!
Date published: 2012-02-24
Rated

5

out of

5
by
CMCM49
from
Great Wok, Learn First!
This is a great carbon steel wok. Well made, very nice bamboo handles, nice lid, good tools with it. But buyers....please learn about carbon steel woks before you buy! This is not stainless, it is not non-stick. It requires a very specific care to get the full benefit of this type of wok!!! It needs to be carefully cleaned to remove the shipping protection both inside and out, then seasoned well in a very specific way, and when well seasoned YES, it is supposed to discolor and hopefully get quite black! That what you WANT it to do because that lovely, dark, seasoned surface becomes as non-stick as teflon, you then need very little oil in cooking, and this is a prized surface for use in Asian cooking. It will rust if not treated carefully, so learn to care for it properly. All the negative reviews that mentioned rusting are from people who didn't know how to use and care for these carbon steel type woks. Google how to season a wok, get a good stir fry cookbook. If this all seems too hard for you, then get a stainless or non-stick type wok, although your food won't taste as good. However, if you really want to get into true stir fry cooking, this is a very nice wok. I've looked at quite a few and this was the nicest I could find.
Date published: 2012-01-28
Rated

4

out of

5
by
Mrs Girard
from
Replacing old one, these are great!!!
I had my original Wok Set for about 15 years.I had it perfectly seasoned, I never used harsh cleaning sponges or fluids.So, my beloved wok was non-stick, adapted the old fasioned way.I made a dreadful choice of letting my tennant borrow it one night.The next day he gave back my wok, scrubbed down completely! I had given him strickt instructions on how to "not clean it".Now, I get to start over with a new pan, same as my old one.I was going to give the rusty one to my tennant, but hubby tossed it before I could reap my rage!The only reason that I am giving my beloved wok a 4 star rating is because it cannot recover from a scouring. It simply turned into rust.My advice, as it was given to me; never use soap when cleaning the wok, if you do, use a soft sponge.Never clean it down to brilliant, new condition.!!!!!!AND----- NEVER LEND IT TO YOUR TENNANT!!!
Date published: 2011-10-14
Rated

1

out of

5
by
SparklingRaven
from
Rust Rust Rust
Got this as a wedding present and was super excited! I followed the instructions for removing the protective layer, or at least I attempted to, but the first time I used it it rusted completely! I know i coated that thing at least 4 times with oil so I don't know if it is user error or a quality thing. I am used to dealing with cast iron which requires similar treatment so I am inclined to believe it is the wok that is the problem. Overall very disappointed.
Date published: 2011-08-31
Related Products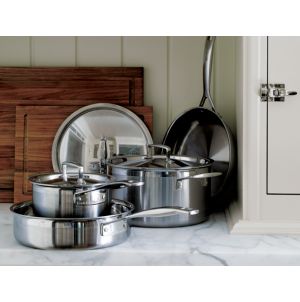 Now experience the heritage and quality of Le Creuset in new hi...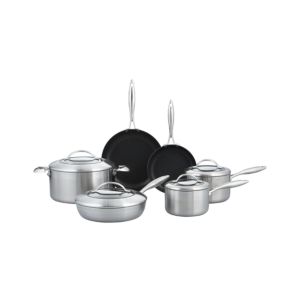 Upscale Danish design, eco conscious construction, and professional performance for a lifetime....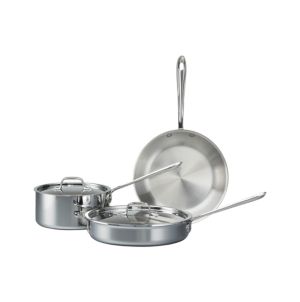 Put the cookware that's found in many four star kitchens to work...