Prices and availability are subject to change from the time and date that you print this page.
12/26/2014 2:35:11 AM. For Customer Service, please call 800.967.6696
Crate and Barrel Exclusive
There's more than meets the eye in our new compact entertainment bar. Two bartop leaves flip open to perch drinks and snacks, while revealing generous bottle storage. Front door drops down to create an open serving area. Below are a drawer for tools and an 18-bottle wine bin. Side shelves (three on the left, two on the right) store stemware or bottles. Finished back panel lets Parker be the center of the party.


More Parker Spirits Cabinets
Parker Spirits Ebony Cabinet
is rated out of
5
by
174
.
Rated

5

out of

5
by
Labbers90
from
Great piece for a dining room!
This piece has made an excellent addition to my dining room. Classy, well built, and sleek-looking, the cabinet is beautiful and functional. Easy to assemble--just make sure you align the top flaps correctly!
Date published: 2014-08-05
Rated

5

out of

5
by
EmmCee
from
Sturdy and fits perfectly into a small apartment
I've had this product for over a month and thus far love it. I live in a 914 sf apartment and find that this cabinet is the perfect size! I have 2 dogs who have bumped into the cabinet a few times- no broken glass!
Date published: 2014-07-30
Rated

5

out of

5
by
MeganC
from
Great for small space!
We bought this bar cabinet a couple months ago and are very happy with it. It looks great, and fits well into our small urban home. My one minor gripe is that the bottle well in the back is not quite tall enough for some bottles.
Date published: 2014-07-22
Rated

5

out of

5
by
ksrouse
from
Exactly what we were looking for!
This was given to us as a gift and we love it. It is exactly what we had been looking for. The assembly instructions were a little confusing at some points, but nothing that couldn't be figured out with a little thought. We get compliments on it every time people come to the house and we even know some people who love it so much they are thinking of buying one for themselves.
Date published: 2014-07-22
Rated

5

out of

5
by
Parker
from
Perfect bar
I bought this for my husbands birthday and he loved it more than anything.
Date published: 2014-06-10
Rated

5

out of

5
by
Carlos
from
The perfect accessory!
We bought it like a month ago, and everybody who enter to the house has a nice comment to say about the bar. It just match perfect with the furniture and gives the living room a nice and chick view. We just love it!
Date published: 2014-06-09
Rated

4

out of

5
by
SPenn
from
The Perfect Bar
This bar is a very beautiful, functional piece of furniture. It fits perfectly in compact places and provides a fair amount of storage for anything you need to make the perfect cocktail. The only drawback is that the top and drawer did not line up straight. It isn't terribly noticeable to most, but we see it every time we walk by it. Overall it is a great cabinet and would highly recommend it to everyone!
Date published: 2014-06-09
Rated

4

out of

5
by
danalroca
from
Very Nice Looking, Compact
I fell in love with this bar when I first saw it online, then at the store. We bought it for a 1000 sq ft apartment, as we need something small for the space we have. It fits perfectly with our apartment. It looks very good, it looks durable and it is spacious for its size. The only drawback (which we didn't see until we actually started using it) were: 1) The main compartment is a little short so you can't fit a tall whisky/scotch decanter and be able to close it. 2) I wish the put two (instead of one) hinges on the door that opens down. Other than that, the bar is awesome for small spaces.
Date published: 2014-06-09
Rated

5

out of

5
by
urbwoman
from
Great looking way to hide your booze
This is a beautiful piece of furniture that hides all of your alcohol and bar accessories. We have it in our office and it looks great!
Date published: 2014-06-09
Rated

5

out of

5
by
chicagogirl
from
So pleased with this piece!
We received this gift off our wedding registry and couldn't be happier with it! For the price, the quality is excellent and there is substantial room to store all our bar accessories (we received the Gatsby bar tools, Orb tray, Direction old fashioneds and highballs, and the Tino decanter as well). It feels sturdy and was pretty simple to assemble. We didn't have any issues with the top leaves not lining up as other reviewers have mentioned. They fit snugly together and hold substantial weight even when the front panel is down. Would definitely recommend this piece!
Date published: 2014-06-04
Rated

4

out of

5
by
misc72
from
Perfect home for my drinks
I spent about 6 months looking for a place/way to store my liquor, wine and tools. The Parker Spirits cabinet is exactly what I wanted - it hides the bottles without screaming "LIQUOR HERE", it is sleek and is versatile enough that I can plan on keeping it for a long time to come. The assembly requires 2 people, as does carrying the boxes up 3 flights. I found only a few bottles that don't fit in the cabinet, but the do fit on the side. I am so please with this purchase I am thinking of having a party.
Date published: 2014-06-03
Rated

5

out of

5
by
ckc1158
from
Perfect drinks cabinet
My husband and I are very pleased with the Parker Ebony Spirits Cabinet. Just the right size for our bar/media area in the basement. Easily holds liquor and various size glasses. Love the drawer for napkins, corkscrew, bottle opener, etc. We did hire a handyman to put it together. Too complicated to handle on our own. The finished product is lovely and well made.
Date published: 2014-06-02
Rated

4

out of

5
by
KKerr
from
Bar-- perfect for small spaces
We bought this bar last year. It is a perfect fit in our living room area-- not overwhelming, but has room for everything. Looks wonderful when it's open and company is over. Not as sturdy as our other C&B purchases, but it's still a wonderful and unique piece.
Date published: 2014-05-31
Rated

4

out of

5
by
Steverino
from
A good bar cabinet
I am always dubious when ordering assemble yourself furniture and find it best for college kids in dorms so imagine my surprise when this finally arrived after a long delay. It cam two very heavy boxes so right away I felt comforted by this. The instructions said that you will need two people to assemble this but I was able to do it by myself. It went together easy and looks very nice now assembled and serves the purpose as nice spirit cabinet. It does not feel or seem cheap to me as other reviews state.
Date published: 2014-05-30
Rated

4

out of

5
by
trishap
from
great for the price
This was back ordered and took too long to arrive, but it was worth the wait. It is a great size for small entertaining.
Date published: 2014-05-27
Rated

5

out of

5
by
kar435
from
Love
This bar was very easy to assemble and looks great in our bar! It's excellent storage for wine glasses and frees up space in the kitchen.
Date published: 2014-05-27
Rated

5

out of

5
by
susie76
from
great spirit cabinet, so cute!
Great cabinet, super easy to assemble, took me under an hour. I love the way it opens up and shows off all the surprises inside. I bought smaller size bottles of alcohol and they fit just fine. I only wish it had space for vine glasses to hang.
Date published: 2014-05-12
Rated

4

out of

5
by
TSauce
from
Perfect size cabinet
Even though our den is quite large this cabinet was the perfect fit. Some of the other cabinets seemed a bit too large but this one was just right. It holds everything you need in a bar. Wine section, glass section, tools drawer and liquor in the top section. It's also impressive when it opens up.
Date published: 2014-04-08
Rated

5

out of

5
by
GinaNChad
from
Excellent cabinet
We purchased this cabinet a few months ago and have been very pleased! The cabinet was available for immediate pick up and ready for assembly. The cabinet was mostly assembled and required less than 15 minutes to put together. We've had a lot of fun filling it with our favorite wines and spirits!
Date published: 2014-04-07
Rated

4

out of

5
by
Ash_S
from
Looks great...could be more functional
This is a great piece that we have received a lot of compliments on! VERY good price point, and works really well if you are in a smaller space. My only complaint is that because of the drawer addition above the wine rack, the actual liquor storage space is quite limited, and you only have a single back-row for taller bottles (for example, a Grey Goose bottle won't fit inside). There is a good amount of wasted space on the inside, as a result. Plenty of space on the sides for glasses and other mixers-- just not a ton of space for taller bottles.
Date published: 2014-04-07
Rated

4

out of

5
by
Bianca924
from
Perfect color
We are in the process of turning our front parlor (the room that no one is allowed to sit in) into a bar and this cabinet fits the feel perfectly. Only thing I wish I knew before purchasing it was that you can only fit three extra tall botles in the deep back. No maginums fit in this piece
Date published: 2014-04-07
Rated

5

out of

5
by
Lau01
from
Beautiful bar
We buy for my son wedding list . And it's perfect in the apart .
Date published: 2014-04-07
Rated

5

out of

5
by
caramelis
from
One of My Favorite Purchases!
I get so many compliments on my Parker Spirits Cabinet! You can leave the top open and place fairly thick wine glasses. It's not the most spacious bar ever but I have a one bedroom apartment and it's exactly what I was looking for. I placed the bar in the nook of my living room; put some nice crystal decanters and bottles on top, and placed a blingy mirror on top of it. It gets lots of compliments. Definitely get it if in doubt. Can't beat the price for how nice it looks!
Date published: 2014-03-26
Rated

5

out of

5
by
ricky44
from
Great bar cabinet
I bought this bar cabinet during a 15% off sale. It's a great price. I love how it folds up for a sleek/clean look. Highly recommend
Date published: 2014-03-26
Rated

4

out of

5
by
CinciSK
from
Love this Bar Cabinet
Absolutely love this cabinet. Drawers open and close nicely and drop down shelf is great for storing bottles. A new modern addition to our home.Only downfall was the ordering process. Originally ordered in the store and came back to pick up. Once returning home and opening boxes (Comes in 2) one of them was in Ebony (which we ordered) and the other was in Bourbon. Upon talking to the store, we were told that it was ordered incorrectly so they would deliver the new box in a few days. The box came and C&B made it right. Just a note to always check your boxes and make sure it is what you ordered.
Date published: 2014-03-25
Rated

5

out of

5
by
JeanneHaa
from
Just as beautful as the pictures!
I bought this a month ago and it is beautiful! Easy to put together and definitely finishes off my dining room......love it!
Date published: 2014-03-25
Rated

4

out of

5
by
blondovrblu
from
Great cabinet--perfect little bar
This is a pretty fantastic little bar. It holds a lot more than you might think. The wine storage isn't big enough for a liter-sized bottle of wine, but you can put it on one of the side storage areas. And the inside holds a lot of standard-sized liquor bottles. I'd recommend this bar to friends. The only reason for 4 stars instead of 5 is that it can be a little tricky to get together perfectly. For mine, I couldn't get the top doors to lay flush.
Date published: 2014-03-25
Rated

5

out of

5
by
Cbraggi
from
Love it, easy to build and move!!
This Bar is one of the best buys at Crate & Barrel! We have used it so much and it was easy to clean and to move. Came with all the tools, no scratches or unwanted marks.Looks great almost anywhere in the house! I would highly recommend it!
Date published: 2014-03-25
Rated

5

out of

5
by
larrys
from
Great Cabinet
I purchased this item and I just love it. It holds a lot for such a compact piece of furniture. I downsized to a one bedroom condo and this bar unit has helped tremendously.
Date published: 2014-03-25
Rated

4

out of

5
by
CarmenM
from
Love it
I builded myself... very easy, just need to follow the instructions.Perfect size (what I was looking for).My only complaint is that tall wine glasses won't fit on the sides.
Date published: 2014-03-06
Related Products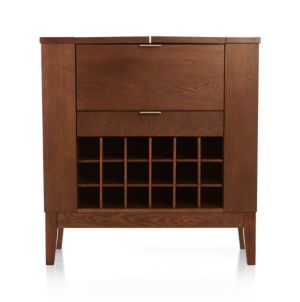 There's more than meets the eye in our new compact entertainment bar....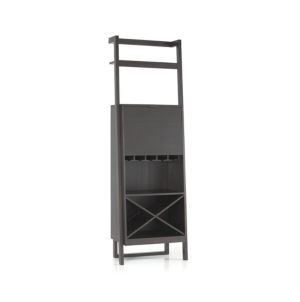 Space saving, clean looking Sawyer uses an ingenious leaning, modular design to...
Inspired by a vintage steamer trunk, our updated steamer bar cabinet opens...