Prices and availability are subject to change from the time and date that you print this page.
4/19/2014 11:13:26 PM. For Customer Service, please call 800.967.6696
Life meets style™ at the intersection of form and function courtesy of the bright minds at Polder® Housewares. Sturdy yet lightweight aluminum shopping cart rolls easy with front wheels that rotate a full 360 degrees for easy steering. Cart holds up to 30lbs. and folds flat with a simple lift motion for easy portability and storage.


Polder® Folding Shopping Cart Accessories
Polder® Folding Shopping Cart
is rated out of
5
by
50
.
Rated

4

out of

5
by
29Teddy
from
Nice cart, with some reservations...
Echoing other reviewers, this is a well-make, lightweight cart (and not as ugly as many) and is sold for a fair price... but unless you are short and take little baby steps it is difficult to walk behind it and get any kind of stride going. Maybe the designer thought only very senior citizens would use this. I find the only way to get moving with it is to walk along side of it and hold the handle from the side. Polder should consider an extendable handle and slightly bigger wheels to get over pavement cracks and door thresholds easier.The Crate and Barrel 13" x 13' sweater box fits on the bottom of the cart inside the liner perfectly. I bought this to cart my old French Bulldog to the park in. He is a hefty 25 pounds and fits nicely. It is quite a goofy sight, but is working out well.
Date published: 2014-02-23
Rated

5

out of

5
by
Minami
from
Love it! Good size and height!
I have been looking for a smaller size trolly for grocery shopping and transporting stuffs but was unable to find a good size and height. When I saw this shopping cart online, I decided to give it a try. Now I am very happy with this cart; the handle height is just fit for my height (4'11''). I am using it for 2 days now and happy with it, the only concern is the wheels, since it's focusing on light-weight, the wheel somehow is also lighter, which feels a little bit "weird"; maybe it's just because I've used to the heavy wheels with other bigger grocery shopping carts. Hopefully the wheels will not fall apart!! Overall, like it and will recommend it :)
Date published: 2013-09-05
Rated

5

out of

5
by
PAshopper
from
Great product
This is a great shopping cart. I've been looking for one for a long time and haven't found anything as sturdy or well made as this. So many other carts had terrible reviews (difficult to assemble, took hours to put together, too many parts to assemble, fell apart). First. this cart comes completely assembled. Second, there are four wheels, all are sturdy, and the front wheels swivel. Third, it's made by Polder who make many other quality items (step stools, ironing boards, etc.). You can't go wrong with this cart. Much better than the cheap one's available elsewhere.
Date published: 2013-09-05
Rated

2

out of

5
by
SadShoppingCart
from
Not for grocery shopping or city-living!
I want to love this cart. I really, really do. It's cute and I like the soft grip handle. But overall the cart is just really not functional. I live in Chicago (in the city) and walk to the grocery store, and hauling this guy around is a pain.First, the bar is really short. I'm 5"10, so I'm not unusually tall or anything, and I have to hunch over to push it. The handle could stand to be 3-4 inches higher. Second, when there isn't anything in the cart it is really flimsy and feels like a gust of wind would knock it right over.Lastly, when it is filled with groceries, pushing it is such a pain because it won't cross over the lines in the sidewalk pavement easily, much less when you get to a cross walk. It's constantly a battle with picking it up over the lines in the cement or anything else on the sidewalk.Like the other reviewer wrote, it's very easy to tip. You have to hold both sides of the cart (while hunching over since it's so short) and it's at the point it's just too cumbersome.For laundry around the house or for light, small trips it'd be useful. If you own a car it might be helpful with carrying lots of bags or something. I just do not recommend it for grocery trips or people who do not own cars.
Date published: 2013-09-17
Rated

5

out of

5
by
EeeJay
from
Wow better than expected!
I literally just used the cart the first time 20 minutes ago to take out 2 heavy bags of trash. The cart is so lightweight but not flimsy. Very easy to maneuver. It folds open and closes so easily. I was expecting something of lesser quality for the price. It's great! It's easy to pull up the stairs if needed. Doesn't make a racket.
Date published: 2013-10-02
Rated

4

out of

5
by
josephineB
from
PULL don't push
I've had this cart for about 6 months now. I've packed it heavy and used it hard on the sidewalks of Brooklyn, which is notorious for uneven slate pavements that can send you flying.TIPS:1) Load your heaviest items on the back side of the cart where the larger wheels are.2) Pull the cart BEHIND you, tilted on the larger wheels. I don't push the cart in front of me unless I'm indoors.3) Definitely get the thin plastic liner and the insulated liner < I use both and they are handy to have for different purposes.NOTE: I am 5'3" and think that this item is definitely NOT for a tall person. I think Polder would serve a wider customer base by adding an inch or two to the handles.The cart is very light and I've had many uses for it.
Date published: 2013-10-23
Rated

5

out of

5
by
Ellie11
from
could not live without it now
This cart has changed my life, I am 72 on oxygen and now I have a helper, I fold it up and put into the car go grocery shopping,and when I get home load them into the cart and only have to make one trip to the apt , also when my garbage is ready to go out load it into my car and away we go, I set my oxygen bag on top with every thing in it and that gives me the freedom to use 2 hands plus not have to carry the 8lb tank.
Date published: 2013-09-05
Rated

1

out of

5
by
APAUL
from
Too Short
This is exactly what I need, but I am tall!Having to push it bent over will not work!
Date published: 2013-09-05
Rated

5

out of

5
by
Marti58
from
Great buy..
I ordered this cart 2 days ago and I received it yesterday.I was willing to pay a little more to save myself the anguish of the assembly.The cart came fully assembled, ready to use. The quality was great. I already used it yesterday for grocery shopping, and now it's all folded up in my trunk.This cart is the best..I highly recommend it.
Date published: 2013-09-05
Rated

2

out of

5
by
mfox
from
It tips!
Sturdy, lightweight, yes. But today, with a full load of groceries, it tipped at the first spot of uneven sidewalk, banging me on the shins and spilling the contents. When loaded, it will not go over the slightest edge on the pavement. The padded handle is a good idea but it's too short - I'm 5' 2" and find I'm bending at an awkward angle. Pulling it is no better.
Date published: 2013-09-05
Rated

5

out of

5
by
daughter in law
from
Versatile, lightweight cart!!
I purchased this for my mother in law who was moving into assisted-living to use for shopping trips and laundry. We were both impressed with how lightweight and easy to fold it was. It is quite strong and sturdy, the handle is very comfortable and THIS THING TURNS ON A DIME!! She has told me over and over how much she loves it. Would be great for many uses!
Date published: 2012-12-08
Rated

5

out of

5
by
texasbullseye
from
A Must Have
I go to the Farmer's Market every week. This cart is the answer to my toting. Wish I had found this months ago. It folds up so easily to slide into the car or store in the house. Love it! I know I am going to find hundreds of uses for it.
Date published: 2012-02-22
Rated

5

out of

5
by
JackieGinMD
from
Love it!
I bought this for my mother who recently moved to a retirement community and no longer drives. The community has a bus that takes residents shopping. This cart folds easily to put in the bus, opens easily when they return. She loads her stuff and is on her way. She also uses the cart instead of her cane. It is a little low in height but it is not a problem for my 5'6" 80+ year old.
Date published: 2013-09-16
Rated

1

out of

5
by
cclarke
from
Flawed design
I bought this as a housewarming gift for my daughter who just bought a house in the city.  She is 5'6" tall.  This cart requires that she bend over to push it.  She was using it uncomfortably to market in her neighborhood until the wheel fell off.  I will be returning this and looking for a cart that is taller and more substantial.  
Date published: 2013-08-12
Rated

4

out of

5
by
c4369
from
Another cart
I have bought several carts other places, and find a problem with each. This one is the most attractive. I find the swivel wheels a problem for three reasons: they don't easily go over cracks in the driveway, they move downhill on their own on a sloping driveway, and the weight of the groceries bent the wheels.
Date published: 2012-12-01
Related Products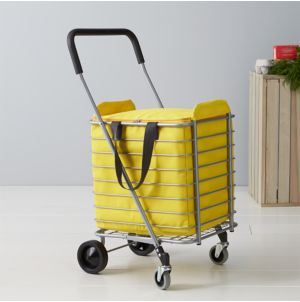 Life meets style at the intersection of form and function courtesy of...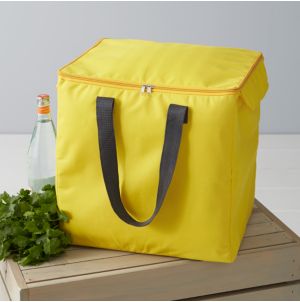 Insulated yellow liner with zipper closure, carrying handles and generous capacity affixes...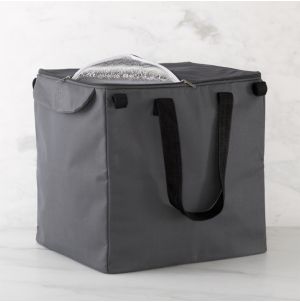 Insulated grey liner with zipper closure, carrying handles and generous capacity affixes...