Prices and availability are subject to change from the time and date that you print this page.
4/20/2014 2:58:28 PM. For Customer Service, please call 800.967.6696
Embossed rings on classic drinkware shapes in three everyday sizes.


Rings Glasses
More Items
Rings Glasses
is rated out of
5
by
460
.
Rated

5

out of

5
by
Bear003
from
New kitchen and new glasses
Just remodeled our kitchen, and bought all new dishes and glasses from Crate and Barrel. Bought all three sizes of these glasses for everyday kitchen and bar wear. Great value! They are hefty and can handle my kids. Love the rings, which makes them less boring than clear glass. Hope CB carries them for a long time.BTW, any glass will turn cloudy if you use automatic dishwashing detergent that contains phosphate. It can permanently etch the glass over time. It has nothing to do with the quality of the glass itself. So use phosphate-free dishwashing detergent.
Date published: 2014-04-06
Rated

5

out of

5
by
Thomasboomer
from
Photos are accurate!
I spent a lot of years doing commercials for tabletop items. I helped set up place settings for catalogue photos and video shoots for department stores. Set the table, polish, measure, light, place foam core bounce cards; even set tiny pieces of reflective medium to bounce the light in a soft, appealing way. It would take upwards of an hour (and more) to get it just right.The point to my anecdote? Some things need little more art than putting them in front of a lens. That's the case with the drinkware I purchased from Crate & Barrell.These beautiful colorless, clear, subtly etched rings, are precisely as advertised!Class for the table.
Date published: 2014-04-06
Rated

5

out of

5
by
Chicago Transplant
from
LOVE THESE GLASSES
I bought these glasses when C&B was selling them in sets of 12. I have all three sizes and love them. They feel good in my hand and look nice when serving any type of beverage. Yes, mine developed a cloudy appearance as well; however, it was only after my water softener broke and I didn't get it fixed. (I used a shower cleaner on them, which took away the cloudiness, washed them several times in hot soapy water and they were fine.) Until the softener broke, I had used them (and washed them in my dishwasher) every day and they always looked clean and clear. I still wash them by hand, but only because I still have to fix the water softener. And, they are sturdy...not one of them has broken, even though I have dropped them several times. They are probably close to 10 years old now.
Date published: 2014-03-24
Rated

5

out of

5
by
Nanook
from
The best!
I have these for everyday use & have been using them for ten years now. (Bought 8 of each size) They stand the test of time! Incredibly durable & dishwasher safe. I've replaced approximately seven glasses in the ten years since I first bought them....and that is only because my husband  has a propensity for breaking things, and I refuse to have plastic glassware. And at the price these are, I never have to worry about the cost of replacement, they are a steal! I hope that these will continue to be a Crate & Barrel staple for the next forty years!!
Date published: 2013-12-14
Rated

5

out of

5
by
psmithinseattle
from
real value, great style
I ordered my mom a bunch a while ago, and I liked using them when I was at home so much that I ended up buying more when I got my own place. Not only are they super cheap and durable, but they have a subtly attractive style and satisfying weight in the hand. Something about the way they're designed even seems to prevent condensation from leaving "rings" on the furniture.The only improvement I could suggest would be to put the pattern on the outside of the glass too; I'm always a little worried that it will slip from my hands, especially when the beverage is frosty -- though this hasn't happened yet (knock on wood).
Date published: 2014-04-06
Rated

1

out of

5
by
RLOR
from
dumb design - rings should be on outside
I'd give these glasses 5 stars if the rings or ribs were on the outside. Having the rings on the inside prevents things like malts and smoothies from gliding smoothly out of the glass, and retains citrus pulp, milk residue, smoothie, etc. Plus, with use these glasses, like all glassware, eventually scratch and pit and having the rings on the inside makes them appear dirty even when clean. If the rings were on the outside it would also help maintain a good grip on the glass minimizing the chances of it sliding out of your hand.The single star is for durability - these glasses have not chipped, cracked, or broken over a few years of use. That being said, they do certainly look used - the glass is scratched from normal use.
Date published: 2014-04-10
Rated

5

out of

5
by
ivyvine111
from
My favorite glasses - even still!
I purchased a set of the glasses a few years back (all three sizes). Well, life happens, and the hubby broke one. ACK! Now, I have an uneven amount stored in my cabinet - no longer a full set!!! (yes, I have OCD issues, ha!) So, on a trip into town, which happens rarely, I stopped in just to check and see if these glasses were still possibly (hopefully?) still available. YES! Still there!!! And, I could buy just one - not a whole set of them!!! Even better! I love when you can find replacements at a specatcular price and get only the amount you need. Oh, and I love the glasses, by the way - can you tell?
Date published: 2014-04-06
Rated

5

out of

5
by
Mommy of 2
from
Versatile and Durable Glasses
These are probably the best glasses I have ever owned. We received these as a wedding gift 6 years ago. We have 8 of all three sizes. They are great for serving all types of drinks; the best part is that they are soooo durable. They are thick and sturdy- very far from whimpy glasses I've had in the past (you know which ones: the ones that break so easily if put in the sink the 'wrong way' or shatter if dropped. They have been abused most certainly and not one have broke! I've looked around for a better look and have looked here an there for years, and not ONE glass comes close to the quality and durability of the rings glassware. I'm not joking one bit!
Date published: 2009-06-22
Rated

5

out of

5
by
doula
from
best ever
I know drinking glasses don't seem like something that most people would rave about but glassware in the kitchen can either be a great purchase or a very disappointing one. I have purchased glassware many times from other vendors and they break easily or they don't wash up well or stand the test of time.These glasses are amazing! They look as beautiful as they did when I purchased them years ago! I have not lost one to breakage either! Every time I reach for them for a dinner with guests, they think I am putting out my fancy glasses when truth be told, these are our everyday glasses - perfect for orange juice in the morning or displayed as part of a fancy tablescape for a dinner party! You can't go wrong with these glasses!
Date published: 2014-04-06
Rated

4

out of

5
by
Tapbah
from
Ribbed Glasses
First of all, they are fine glasses, especially for the price. Now, the nits. The tall one (14oz) should have a slightly wider base for stability and appearance, the 12 oz, a slightly smaller base for appearance, and alll three should have the ribs on the outside for feel and safety: they would feel really cool with the ribs on the outside. Finally, a little color would help. I was expecting some rings of red, blue, green, yellow, etc., maybe every inch or so with a bump that juts out just a bit every so often around each colored glass ring. Otherwise I like the thickness and think they will be with us a long time.
Date published: 2010-11-04
Rated

4

out of

5
by
Beth Anne
from
Ring Glasses
I had purchased a set of 6 12 oz. (old fashioned)glasses aprox. 2 yrs ago while shopping at C. and Bin Calif. They have held up so well. That lead to the decision topurchase a complete set of 8 in all 3 sizes. Sincewe don't live near a Crate and Barrel in Oregon Ifinally decided to break down and do mail order. Itwas unbelievable just how well they were wrappedand protected for shipping. Great job and hats offto C. and B. on the care given to shipping! The glasses are all that everyone states in the reviews.The small 7 oz. size is great for our little 6 yr. oldgrandson. It is actually easier for him to hold thanthe plastic designed for little ones. I am mostpleased.
Date published: 2013-05-18
Rated

5

out of

5
by
Salspix
from
The BEST glasses ever!
I have owned a full set of these glasses for years, and use them daily. They are both sturdy enough to put up with the rigors of everyday life (rowdy grandkids, etc.), yet classically elegant and a joy to own.I never felt like this about any other glassware I have ever owned! Most of my "fancier" glasses sit gathering dust as we use these for everything but wine, aperitifs or after dinner brandies or liqueurs.But... like all things glass, they can and do occasionally break. So I'm now thrilled to find them still available and have placed an order!
Date published: 2012-08-02
Rated

5

out of

5
by
mch990
from
Good for office/business
I purchased the 12oz and 16oz sizes for community use in our office. Great value and quality. Water from dishwasher does not pool in bottom of glasses, and glasses are of a good thickness for everyday use. No worries about breaking or chipping from repeated use.
Date published: 2012-11-15
Rated

5

out of

5
by
Orchid7
from
Exactly what I'd been looking for!
These glasses are wonderful-nicely weighted, easy to stack and not too thick/thin. The other reviews plus free shipping made me want to take a chance on these glasses. My husband really likes them too. His response was, "You finally found some great glasses." The best part is that they are replaceable as Crate and Barrel has had them for quite some time (another reviewer). The problem with most sets, if that after a few are broken, one is forced to try and find replacements. If that is not possible - then start over with an entirely new set. That adds up and is just frustrating. An added bonus is that they are classic yet modern - clean and nice to look at. I really appreciate the ability to stack them without hurting the glasses. Great design!
Date published: 2013-04-27
Rated

5

out of

5
by
CanesFan
from
Pleased with purchase !!!!
It was quite worth the wait of shipment!! Glassware is heavy and well made!! Price paid was well worth it! I will order more to add to a Housewarming gift in the near future!!! And even more for me!!!!
Date published: 2011-01-25
Related Products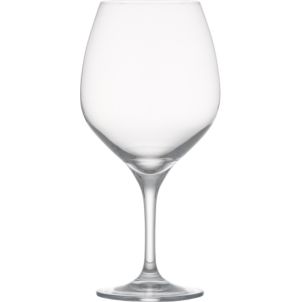 Everyday stemware with a classic profile, beautifully crafted from top to bottom....
Square profiled acrylic wine glass in blue takes the edge off entertaining,...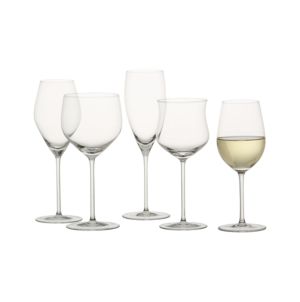 Great wines deserve the right glass to bring out their distinct aromas...