How to Make a Closed Terrarium
Looking for an easy way to add a splash of green to your home decor? We've partnered with Kim and Scott Vargo of Yellow Brick Home to show you how to make your own closed terrarium.
Without a doubt, adding a jolt of greenery to your home is a quick way to liven up any room. Slowly, Scott and I have been doing this ourselves, tucking potted plants onto windowsills and hunting down planters for larger cacti and the always-forgiving snake plant. Our new-to-us, very old Chicago house receives a large amount of natural light, and we've been mindful of all the ways we can harness that light from room to room. A small ZZ plant on the end table? Yes! A grouping of succulents on the front porch? Absolutely.
Perhaps my favorite way of injecting plant life into this house is with a terrarium. We've built many of them over the years, some with longer shelf lives than others, but we've learned a lot along the way, too. We've recently been wrapping up a kitchen renovation, and I wanted to give making our first closed terrarium a go using a kitchen-themed vessel. The Heritage Hill glass jar fit the bill, being hearty and classic all at once, and we're thrilled with the results! Let's dive in.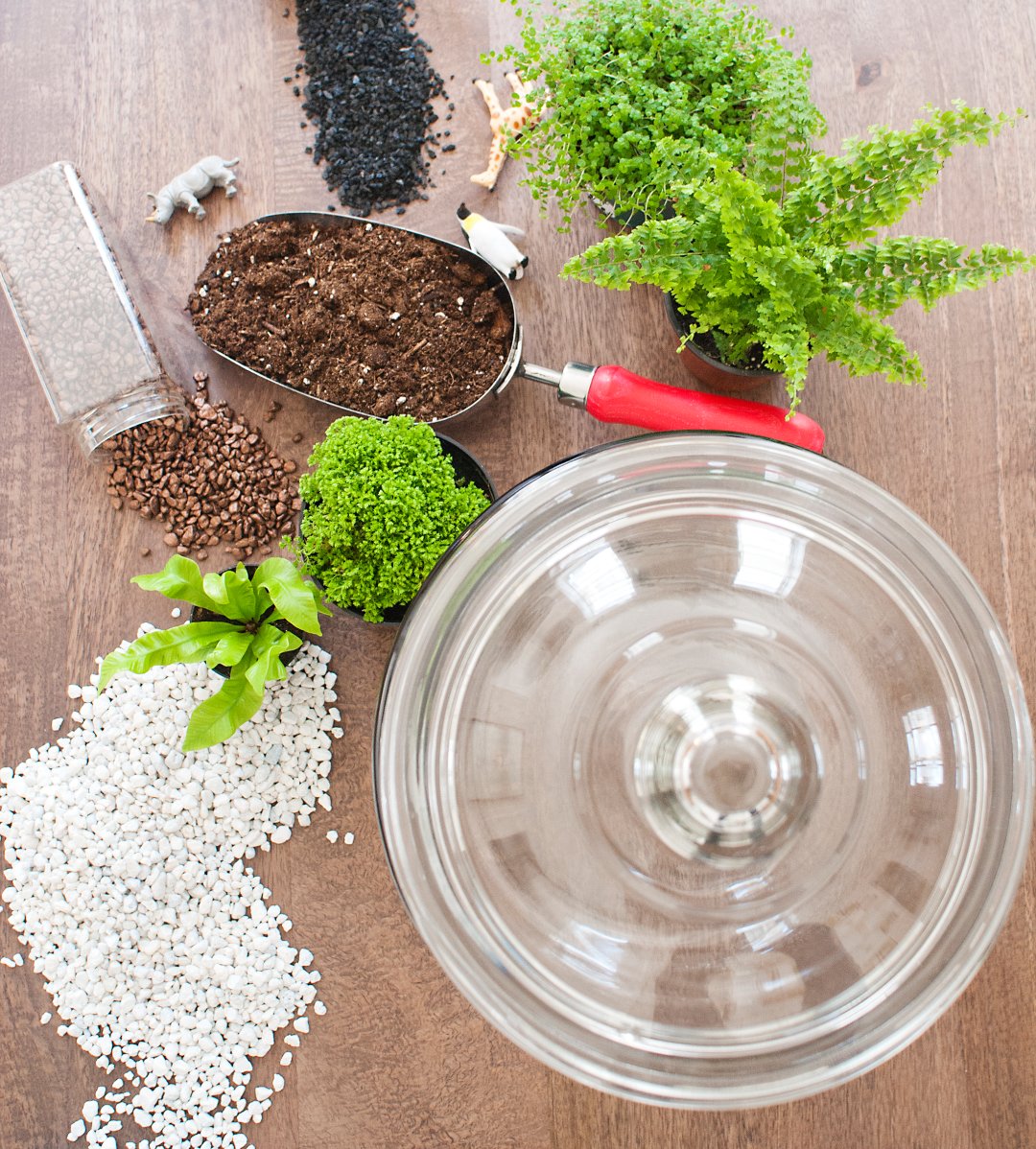 Supplies for a Closed Terrarium
Heritage Hill glass jar
Rocks
Charcoal soil conditioner
Potting soil
Plants that enjoy moisture and humidity
Small accessories, rocks and/or preserved moss
Garden scoop
Almost every supply in this shopping list can be purchased on Etsy in small kits for terrariums, but we picked up everything we needed at a local nursery and pet supply store—more on that in a minute. Once I had all my ingredients for making a DIY terrarium, I was ready to begin layering, starting first with decorate rocks. The rocks will act as drainage for our plants, and I used a combination of decorative bronze pebbles and white aquarium gravel (pet supply!).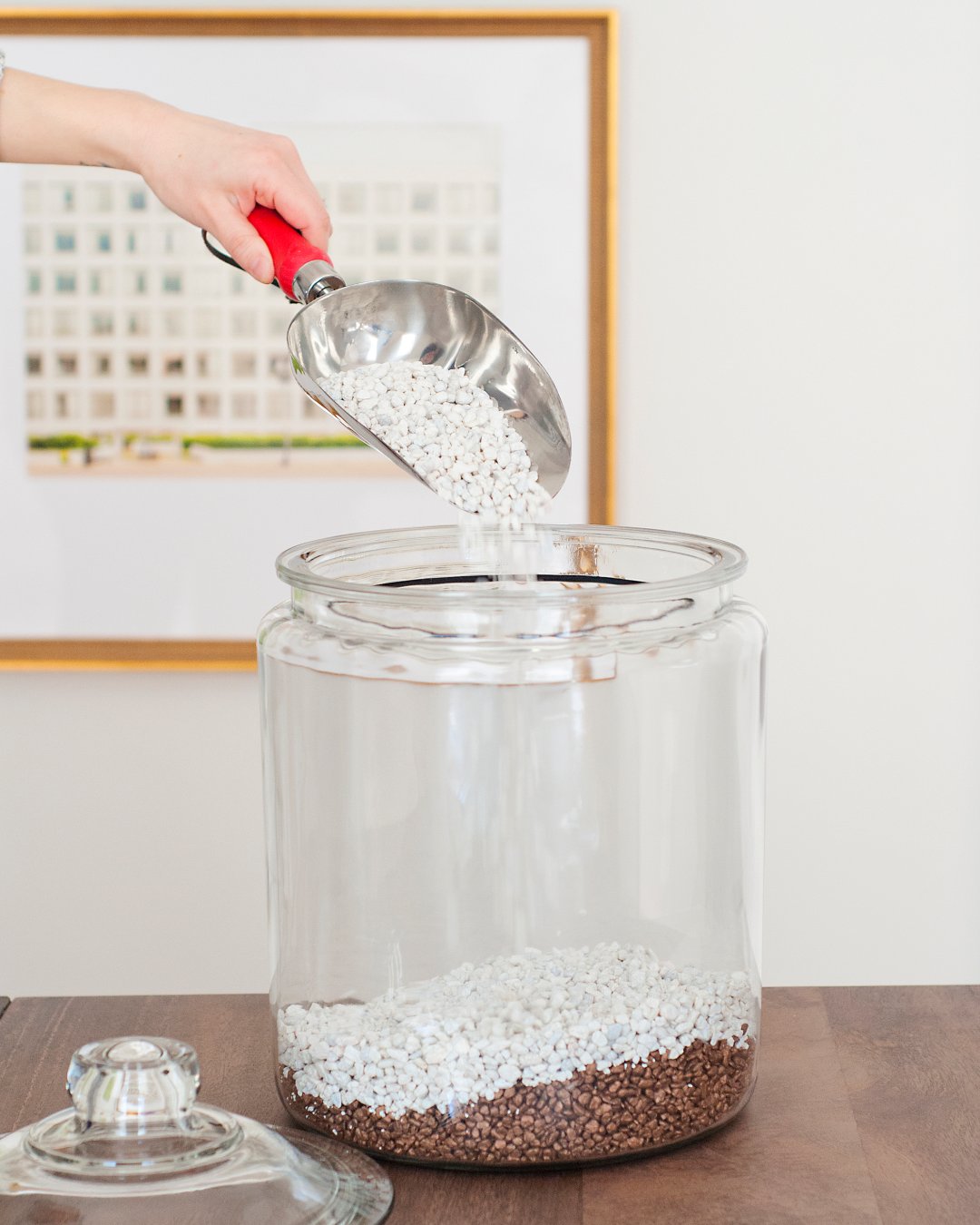 Building Your Terrarium
With the drainage layer in place, I spread a thin amount of charcoal on top, which helps to absorb excess moisture and prevent mold. With those crucial steps completed, it's simply a matter of planting. I added a generous amount of potting soil to the glass jar to get me started.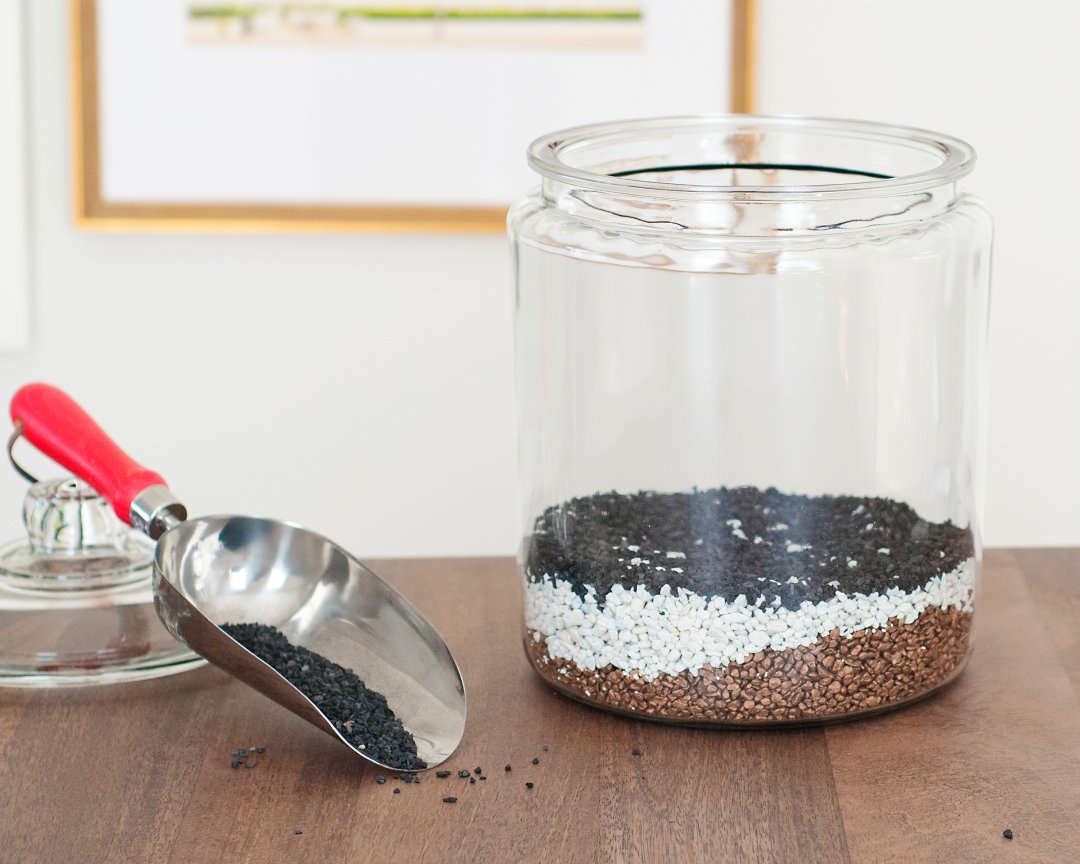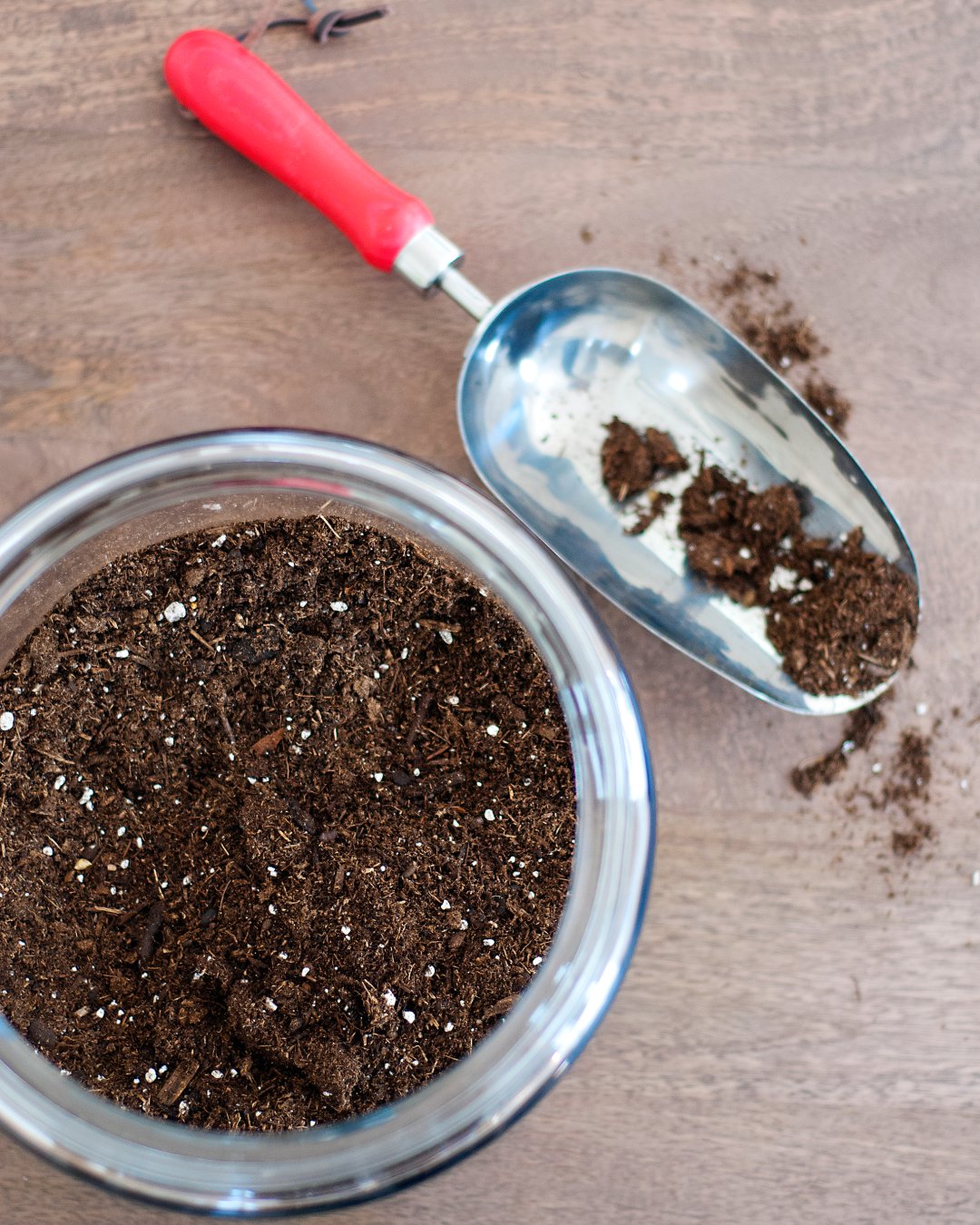 Adding in Terrarium Plants and Soil
With a closed glass container, it's important to choose plants that enjoy moist soil and humidity, and with the help of the crew at the nursery, we picked up baby's tears, a small fern, club moss and a couple crinkly waves—my personal favorite. The trickiest part of this process is the actual planting, as it can be sometimes difficult to maneuver your hands around the terrarium plants. Be gentle and persistent.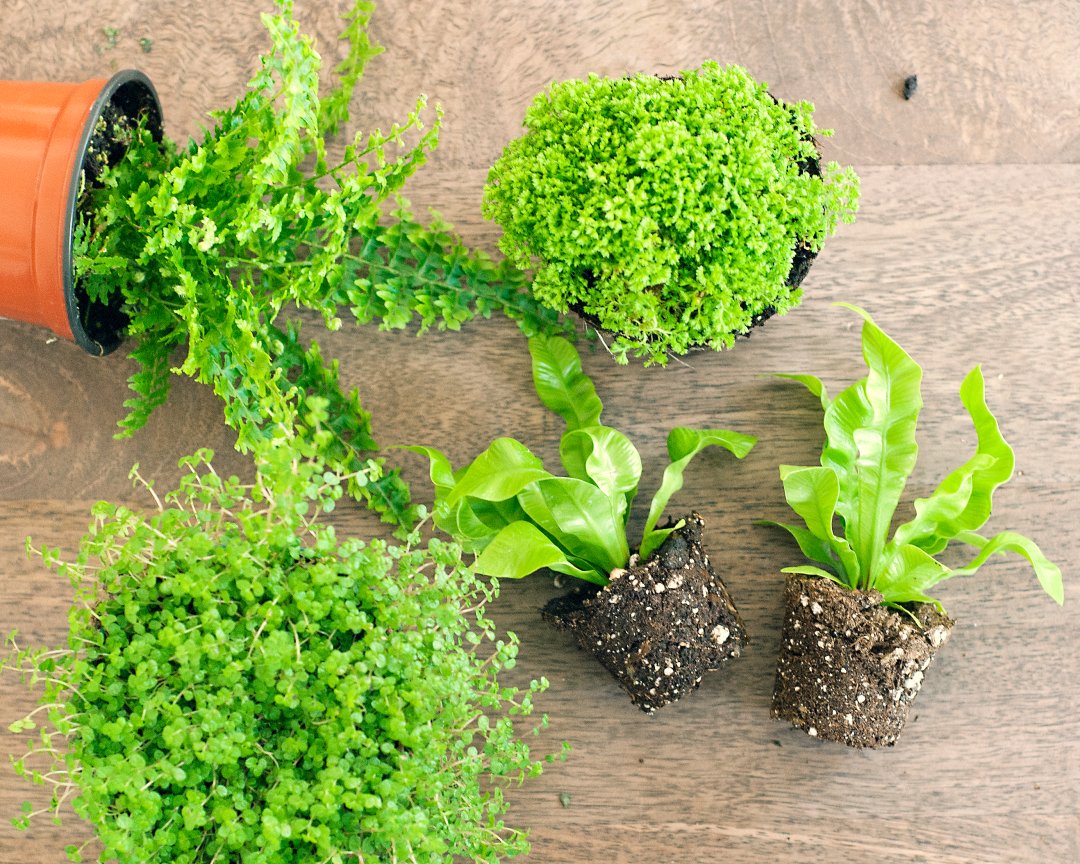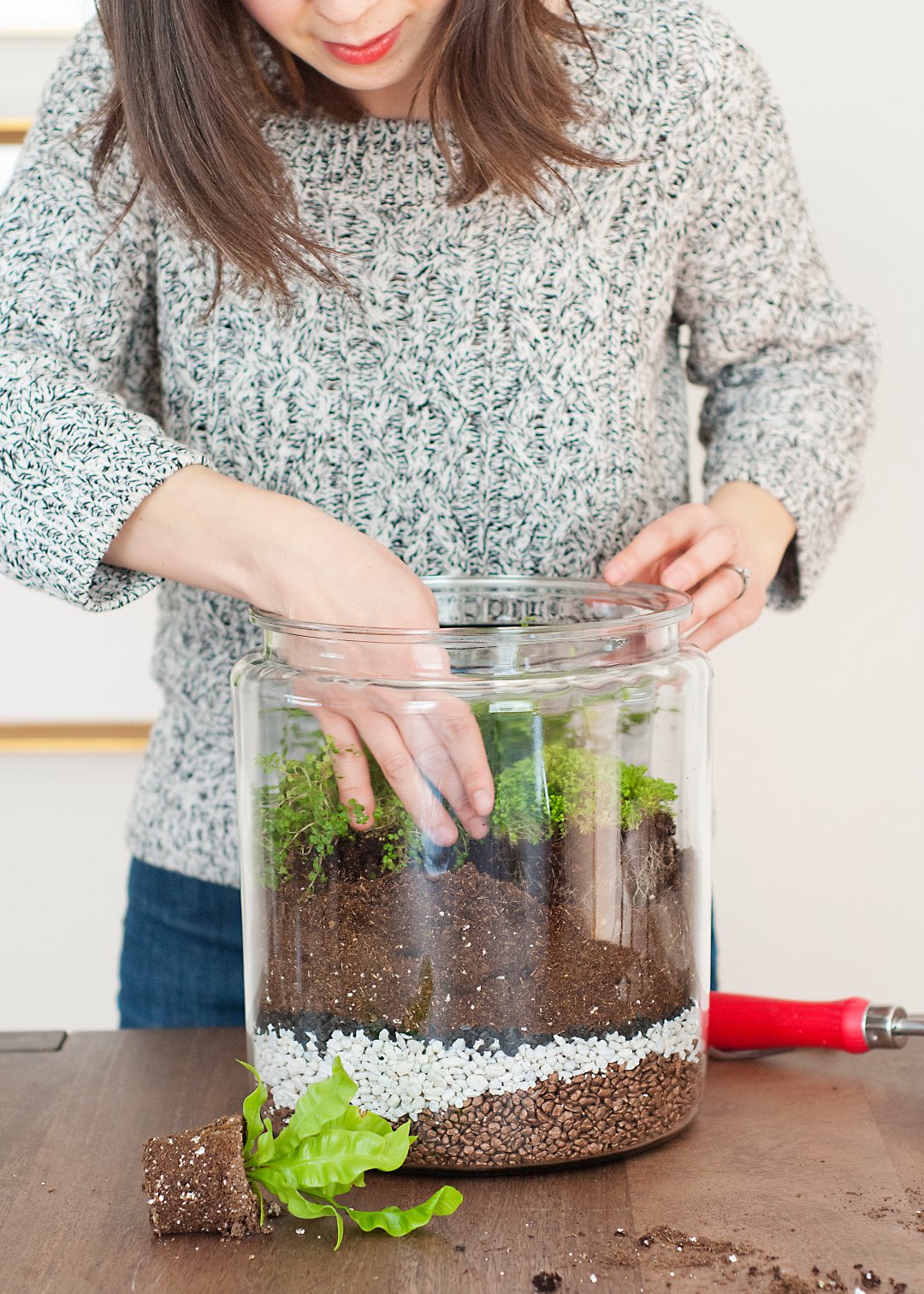 Adding in Final Touches
The final step is to making your terrarium is to add a little flair. I included a tiny penguin (my favorite animal), but this is also a good time to drop in small geodes or preserved moss plants. Have fun with it!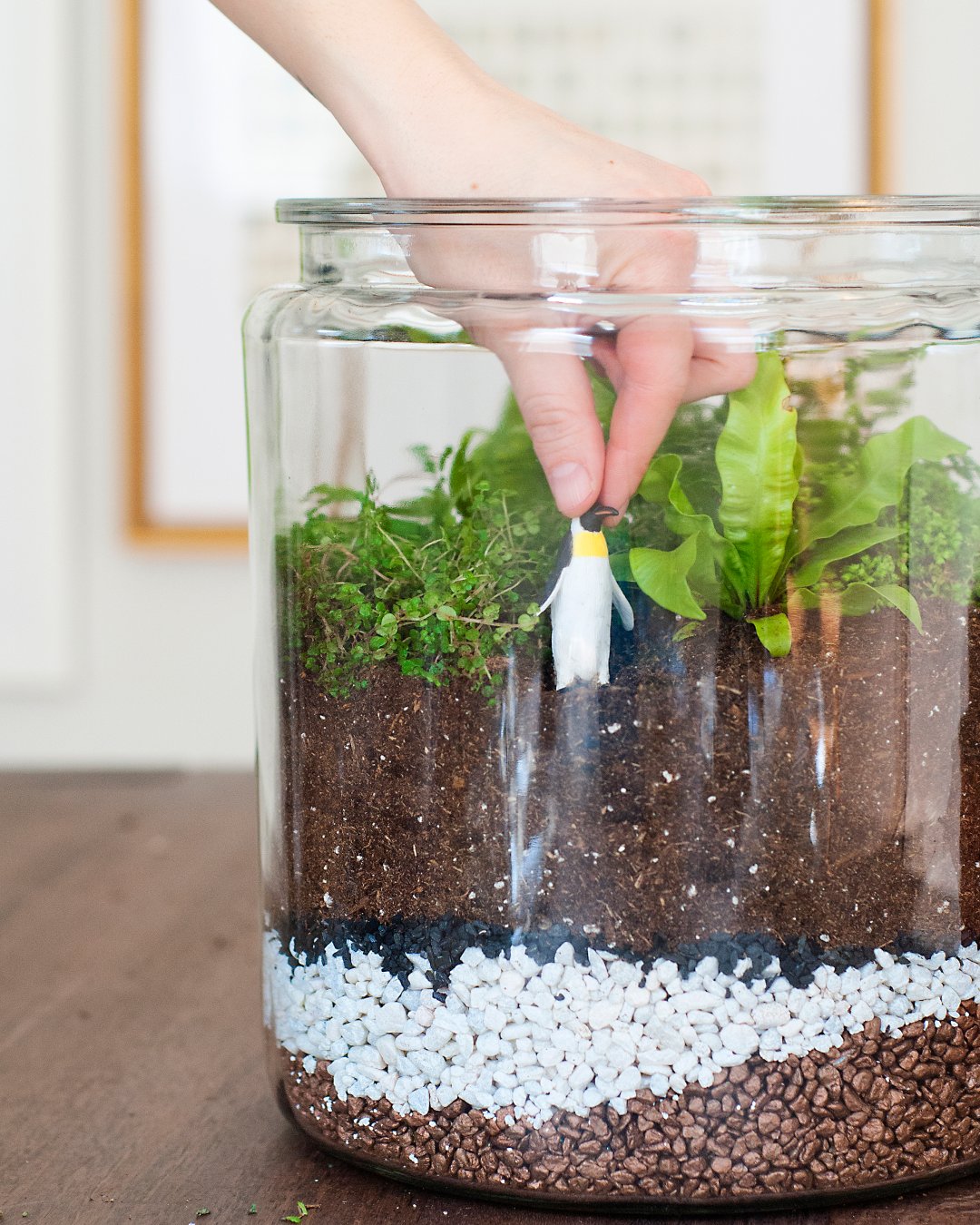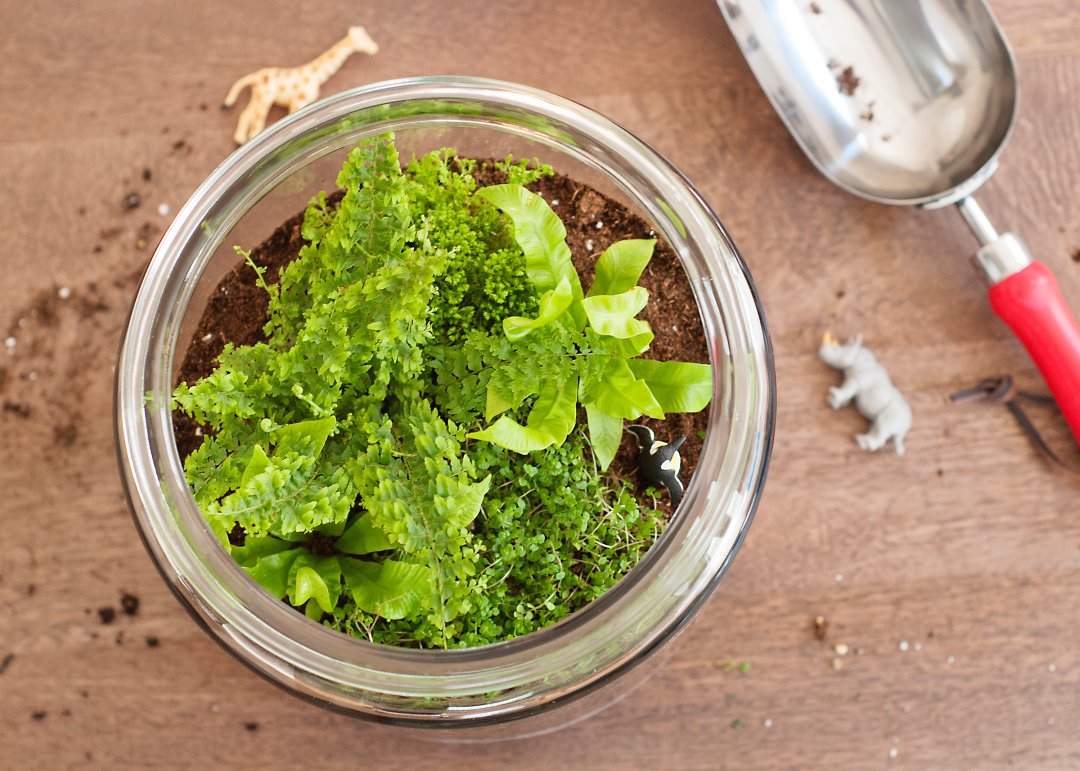 Displaying Your Closed Terrarium
I eagerly put the terrarium in our all-white kitchen, adding instant contrast against the counters and ceramic subway tile. A small watering ensured the potting soil was slightly damp, and by keeping the lid on, the moisture stays contained.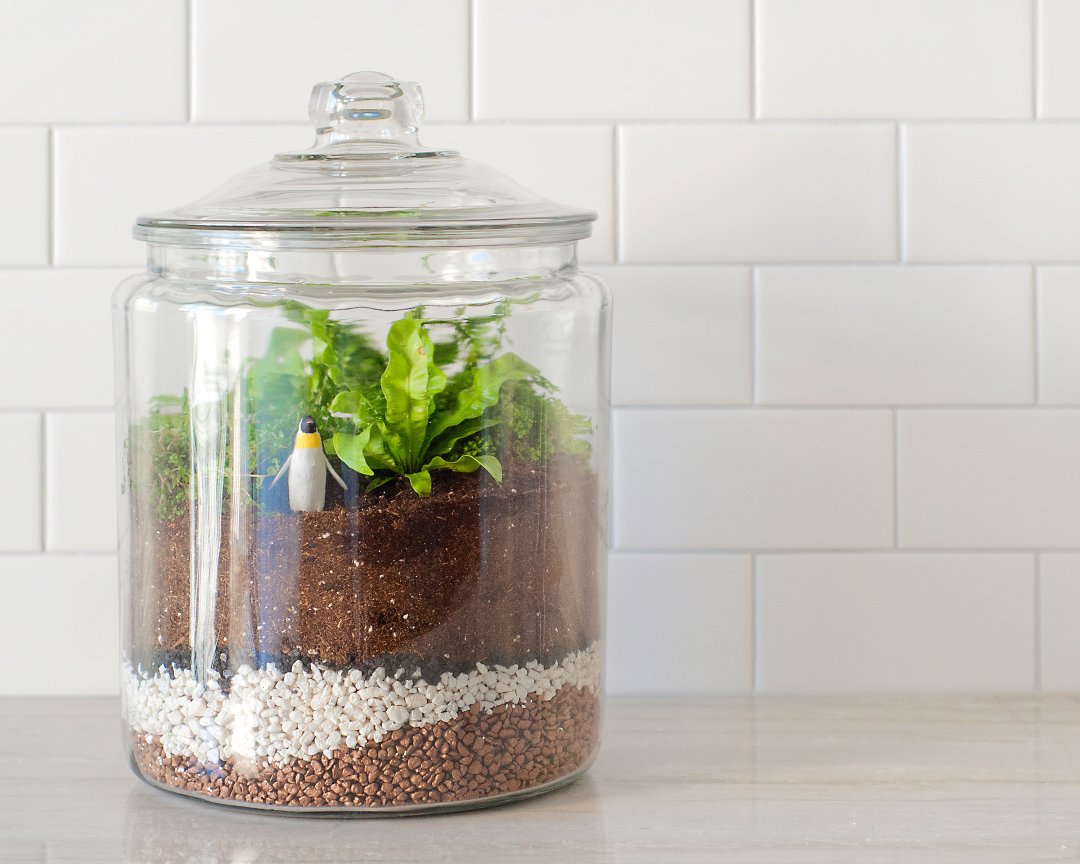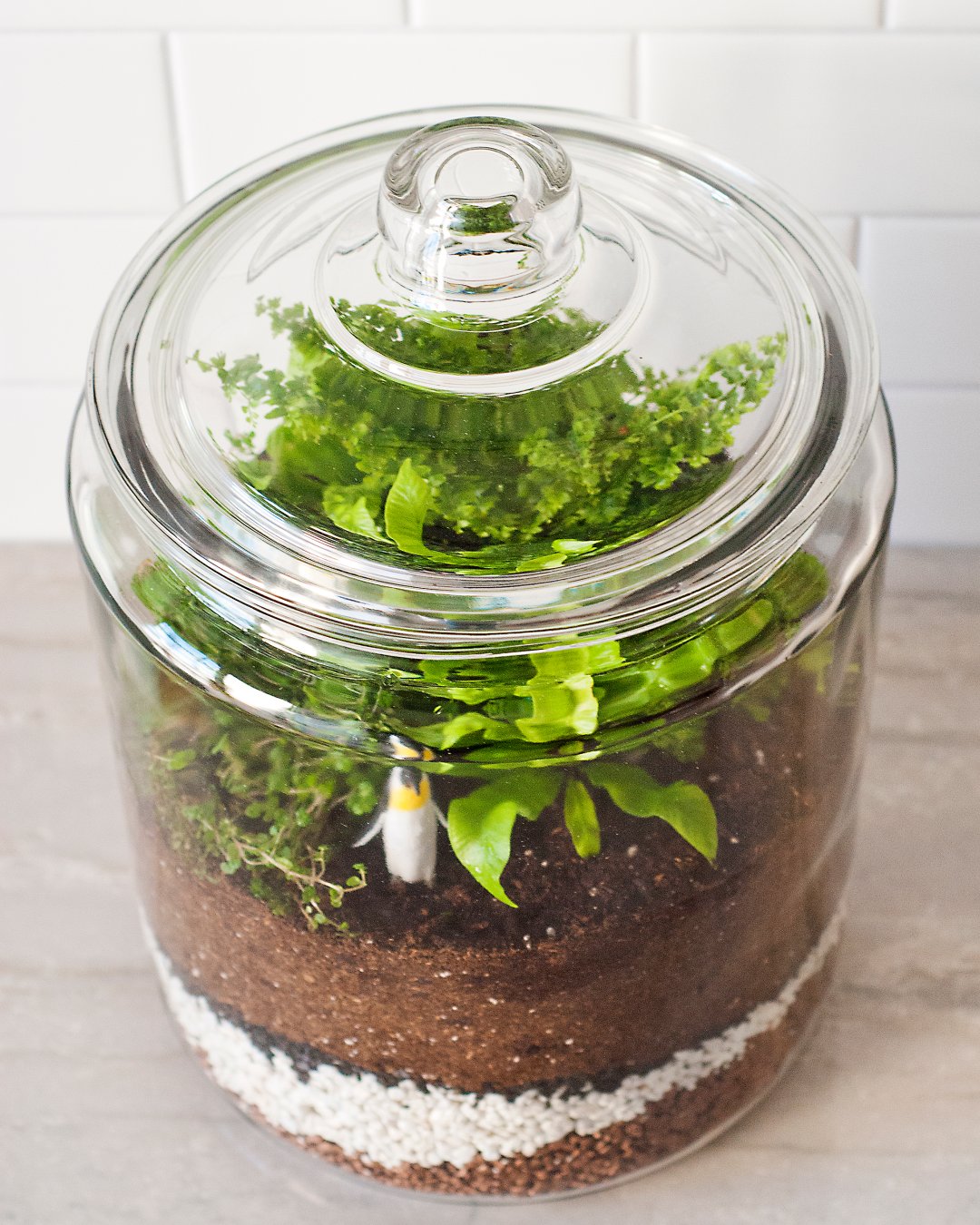 Scott and I check in on it every couple of days, sticking our fingers in the soil to see if it needs any more water. Because it's a closed terrarium, it has stayed surprisingly wet, so we haven't messed with it much at all. We've been guilty of over-watering in the past, and we're being extremely cautious in this case. We have learned one lesson in the month that we've had our terrarium, and it's that our baby's tears didn't seem to love their environment. We've since pulled them out, and the rest of our plants are happy little clams, as they say.
We love the personality our miniature indoor garden adds to our kitchen, and our friends are constantly asking us about it and squinting to get a better look at what's inside. The closed glass jar terrarium is so sweet, it invites you in for a closer look, and there's so much joy in that.
Want more ideas for gardening indoors? Get our tips.